Group Transportation to Boulder, Colorado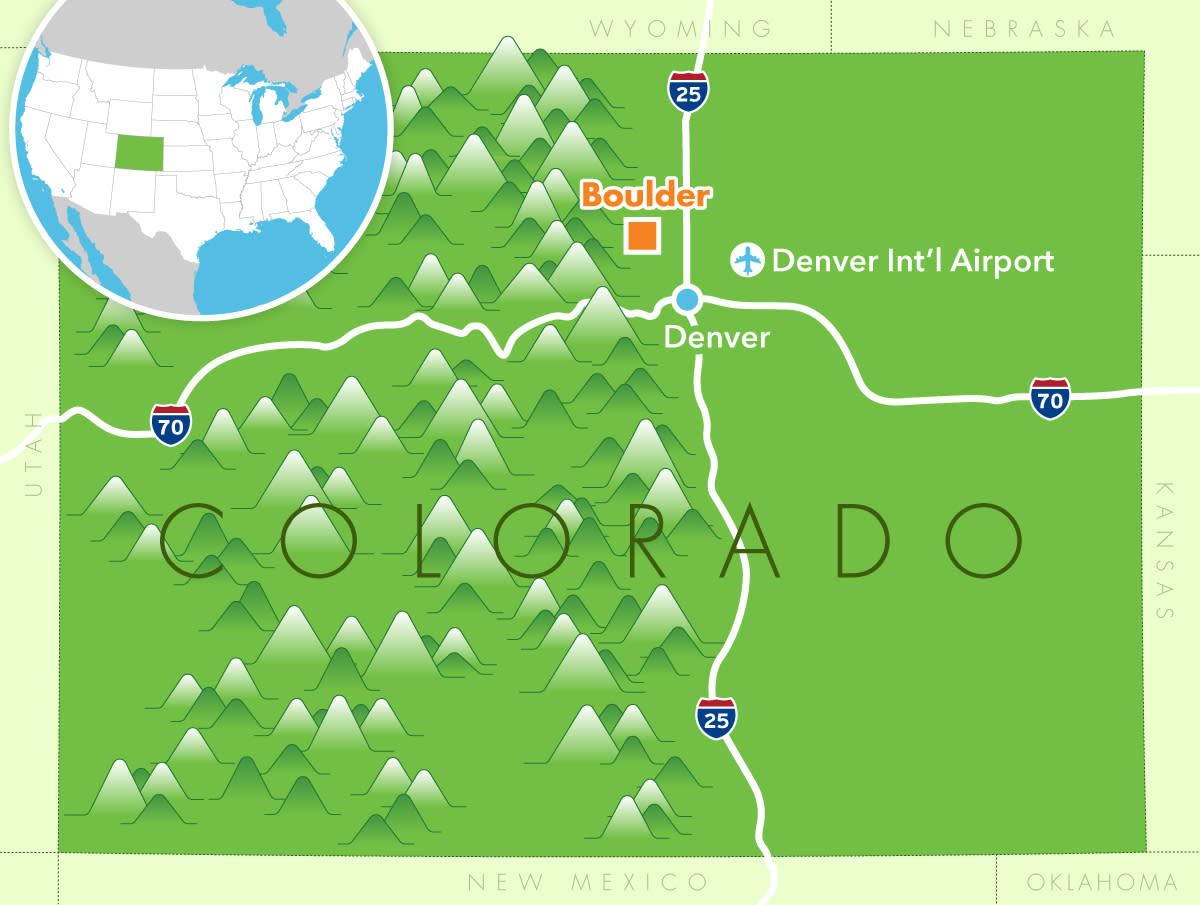 Boulder is a 45-minute drive from Denver International Airport (DEN) — only 15 minutes longer than the drive from downtown Denver — along an easy stretch of Highway 36.
As your meeting attendees make their way into Boulder, cresting the hill known as Davidson Mesa and looking down into the Boulder Valley, you may hear a few gasps. It's a breathtaking view of the city spread out before you, cradled by the red sandstone and pine-dotted foothills and with glimpses of the white-capped Rocky Mountains beyond.
Getting around Boulder — a compact, walkable city — is easy, too. Read our tips.
Flying to Boulder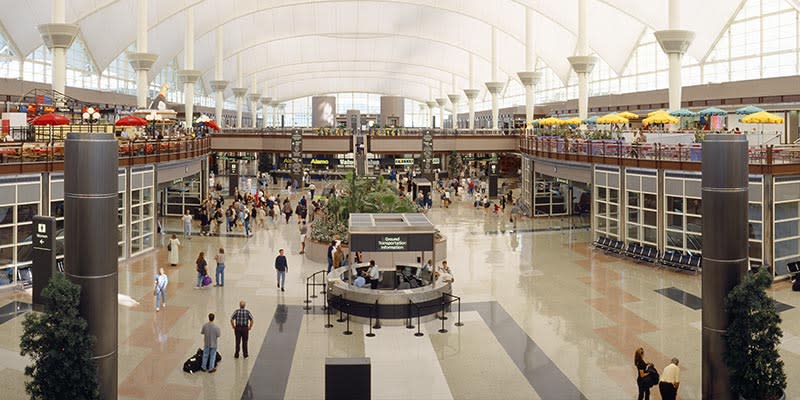 Arriving by Air
Denver International Airport (DEN) is Boulder's closest major airport. It's 42 miles away, served by 25 airlines, and has approximately 160 daily nonstop flights from major U.S. cities. Among many awards, Skytrax World Airport Awards named DEN No. 3 Best Airport Serving 50-60 Million Passengers Per Year (the highest among U.S. airports).
Getting to Boulder From the Airport
Driving From DEN to Boulder
Rental cars are located on site at Denver International Airport. With well-maintained, easy-to-access roadways year-round, driving to Boulder from DEN is easy. Because Boulder is located right where the plains meet the mountains, the drive from DEN is relatively flat, unlike a trek into the high-mountain towns of Colorado.
Take Peña Boulevard and merge onto I-70 west. Take I-70 to I-270 west. Continue onto Highway 36, which will take you to the east side of Boulder. This route is free of tolls and takes about 45 minutes during non-peak traffic hours.
From Peña Boulevard, take the toll road exit north (E-470 north to the Northwest Parkway toward Hwy. 36 West/Denver Boulder Turnpike). Exit onto Hwy. 36 and continue west into Boulder. Please be aware this route has tolls, and if you are renting a car, you will need to make arrangements with your rental car agency.
Shuttle Services
Eight Black Airport Shuttle is a reliable provider, delivering guests directly to many of Boulder's hotels or other locations. Rates, schedules and details are available on the Eight Black website.
Boulder Transport provides luxury limousine, airport, and contract transportation services in Boulder, Colorado.
---
Accessibility Info

Currently, there are no accessibility features or options for these services.
Public Bus
You can take the Regional Transportation District (RTD) bus from DEN to Boulder (Route AB). The route makes several convenient stops in Boulder, including a final destination at the Downtown Boulder Transit Station at 14th and Walnut, in the heart of downtown. Buses leave approximately every 60 minutes from the airport. The schedule and route information can be found on RTD's website (select Route AB/AB1/AB2).
Tickets are paid directly to the driver upon boarding the bus. You'll need cash and exact fare only, as drivers cannot make changes. This is an economical option, with one-way tickets costing $10.50. RTD has an information booth on the baggage claim level of the Main Terminal. The trip takes approximately 80 minutes. www.rtd-denver.com.
Uber now has a partnership with RTD (which runs the public buses). You can use the Uber app to plan your route and pay for your bus fare. Just open your Uber app, choose your destination and starting location, and hit "Transit" among the product options. 
Accessibility Info

All RTD buses and rail vehicles are accessible for mobility aids such as wheelchairs, electric scooters, segways, walkers and crutches. Bus and rail operators are trained to assist passengers with disabilities boarding or exiting the vehicle. Learn more about accessibility features, including those for blind or visually impaired passengers, on RTD routes.
Getting Around Boulder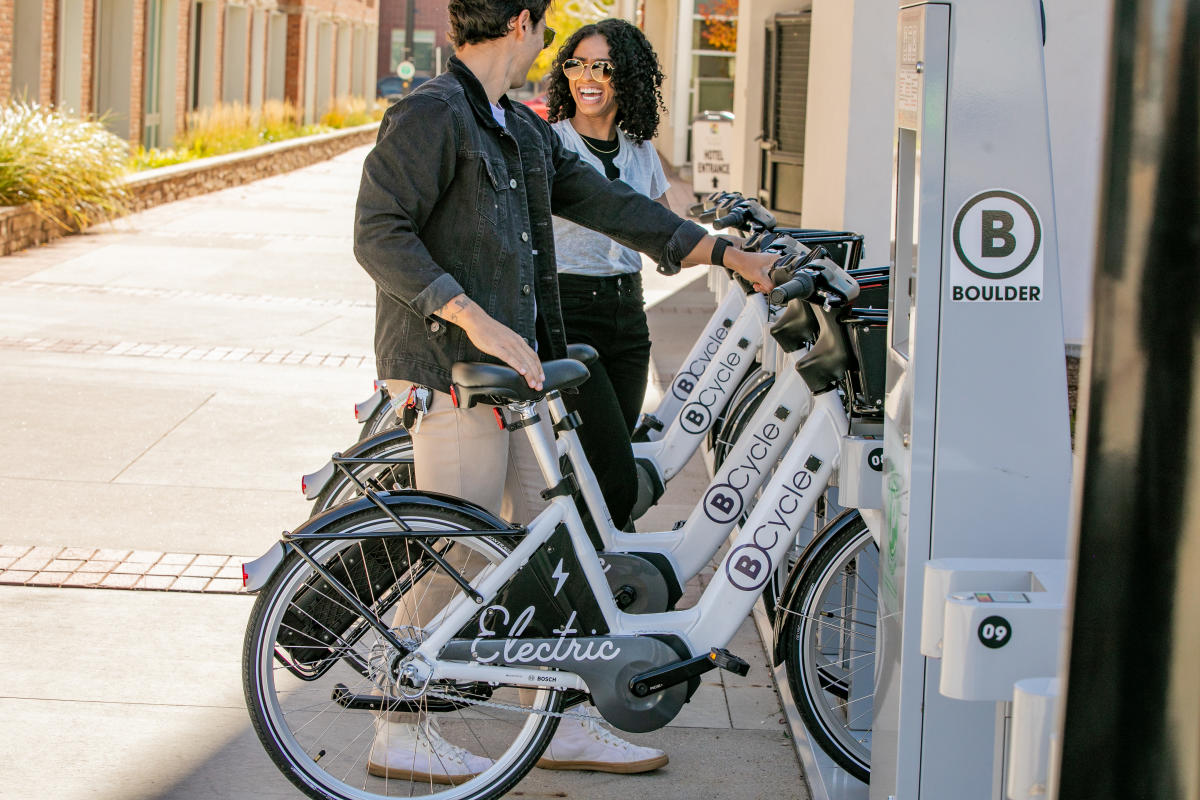 Meeting planners find it convenient to hold a "walking conference" in Boulder's compact downtown, with conference hotels and great venues in one easily walkable area.
Boulder Public Transit
The regional bus system, Regional Transportation District (RTD), can also help attendees travel throughout the entire city and to nearby towns and Denver. The downtown bus station at 14th and Walnut is a convenient hub for getting around town, to nearby towns, and to and from the airport via Route AB.
The Hop and City Buses
Boulder's in-city bus routes (named the Hop, Skip and Jump) offer another way for attendees to get around town. The Hop, in particular, is great for attendees because it makes a large loop to key visitor areas of the city: Pearl Street, Twenty Ninth Street shopping center and the University of Colorado. 
BCycle
Public bike-sharing kiosks, called BCycle are located throughout Boulder and make it fun and easy to pedal from station to station at an affordable rate. 
Lime E-Scooters
Lime e-scooters can be found in designated zones on or near sidewalks across the city. Use the Lime app to find available e-scooters. Note: E-scooters are geofenced and will shut down in "no-go" zones, such as on Pearl Street Mall, trails and cemeteries. For more information, read the City of Boulder's FAQ page on e-scooters.
Parking
In downtown Boulder, your best bet for parking will be in one of the city's parking garages. Parking in city parking garages is free Saturdays, Sundays and city-recognized holidays. Parking less than 15 minutes is always free, too. Monday-Friday you can park in any city parking garage after 3pm and leave before 3am and you'll be charged a flat rate of just $3 for your entire stay. No special tickets or codes are required (but you must scan a QR code from one of the many signs throughout the garages to pay via the city's gateless and touchless parking operation).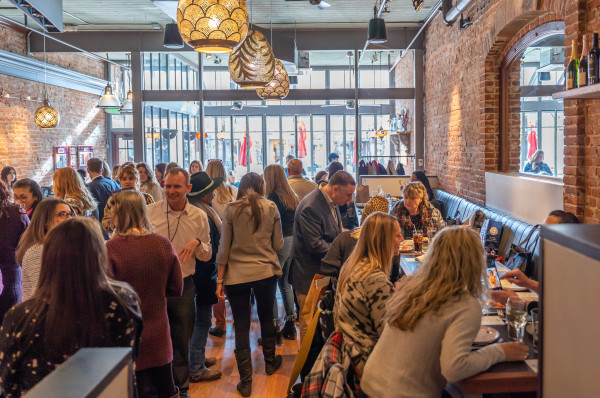 Let us connect you to the right venues, conference hotels and service providers to make your event shine!

Contact Us

Angela "Fig" Wirkler, CMP

Director of Group Sales

Lindsey Rohrbaugh

Group Sales Manager

Natalie Cutter

Group Sales Manager