Fishing in Boulder
While famous for rock climbing, hiking, and trail running in the magnificent Flatirons, Boulder is a prime — and often overlooked — fishing destination as well. Fishing is one of the best ways to explore Boulder since you can find places to fish here whether you are simply standing underneath the public library, paddling a SUP on the open waters of Boulder Reservoir or bushwhacking in the high country.
You can also make your home base in Boulder and roam into classic waters in national forests and parks just a short drive away.
Help protect Boulder's natural beauty by remembering these Leave No Trace principles.
Trout Streams
Boulder Canyon
Past town, you will find plenty of spots to stalk browns and rainbows along the higher sections of Boulder Creek. Dry droppers are usually the ticket here, giving you the chance to test the bottom and topwater simultaneously.
South Boulder Creek at Walker Ranch
The roaring mountain stream at Walker Ranch feels far from the crowds of town and offers up plenty of trout for those willing to hike down the banks here. The fishing is not easy, but the spot itself is worth the effort and it's a beautiful location to draw up rainbows on dry flies or cast a tenkara rod.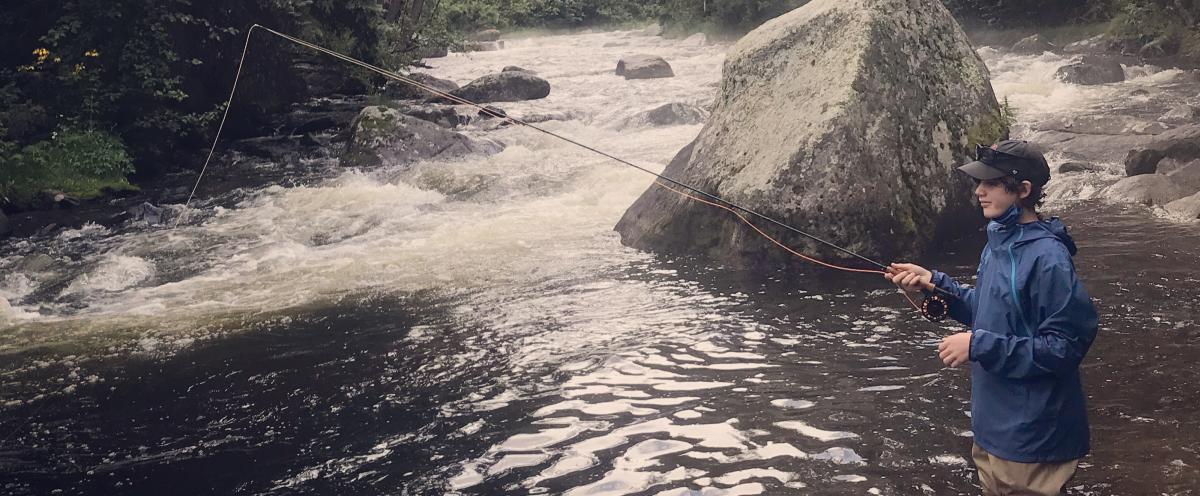 Keep Wildlife Wild
Step lightly, dear angler. Avoid trampling aquatic vegetation when wading and refrain from wading in spawning areas when possible.
Reservoirs
Two reservoirs in and near Boulder offer up two very different environments, and plenty of fishing, especially for paddlers. 
Boulder Reservoir 
The popular Boulder Reservoir, or "The Res" as the locals call it, is stocked with rainbow trout and supports a population of feisty smallmouth bass — as well as species more suited to spin anglers including walleye and big catfish. The best way to fish for them is to get out on a kayak or standup paddleboard. Note: You must pay $10 as a non-resident to enter the reservoir park and watercraft must purchase permits for the Res, but Rocky Mountain Paddleboard rents boats and boards right on the water.
Gross Reservoir
Located in the mountains behind the Flatirons, this spacious Gross Reservoir is another spot that's perfect for anglers who want to stalk fish from a kayak or SUP. You'll find brown and lake trout here, and if you don't fancy fishing from a boat, you can always paddle to a remote spot and cast from the shoreline. (Note: Gross Reservoir is undergoing an expansion project, so you'll want to check public access information first.)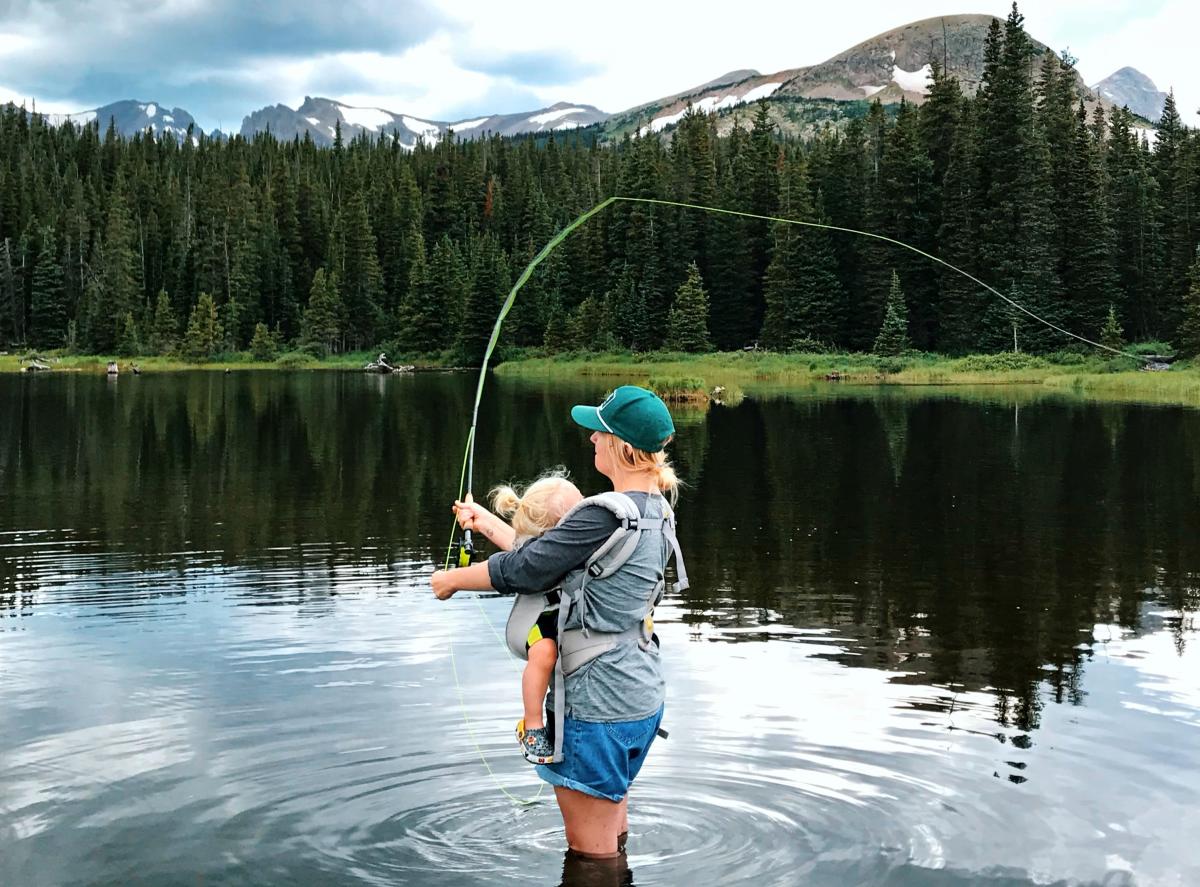 Bass Ponds
The hidden gems of Boulder County are the small bodies of water out on the open eastern plains. These bodies of water, that range from big enough to paddle to so small you wouldn't think they could even hold fish, are fertile ground for dedicated fly anglers who want to land largemouth bass and carp. They also can be the ideal training ground for kids (and adults) to learn how to cast and hook bluegills.
Wally Toevs at Walden Ponds 
Open only to those over 65, people with disabilities, and companions under 16, Wally Toevs, a productive pond stocked with bluegill, rainbows, and largemouth bass, levels the playing field for those who can hike out to difficult-to-reach spots.
Walden Ponds 
Walden Ponds is a popular birding area that can be gold for patient anglers seeking largemouth bass and that oddest of quarries on a fly rod — big, powerful carp.
Please note: The west side of Walden Ponds will be closed starting October 2023 for a multi-year utility project through March 2024. Learn more.
Pella Crossing 
Pack your float tube and paddle out into the quiet waters at Pella Crossing, an east-side spot that support largemouth and smallmouth bass.
Farther Afield
The fishing in Boulder is only augmented by great streams just a short drive away.
Trash the Trash
Take care not to introduce non-native species to water sources and surrounding areas. Pack out all unused bait and dispose of it properly (e.g. worms, minnows, leeches). It's also a good idea to wash all equipment between fishing trips.
Rocky Mountain National Park 
Majestic Rocky Mountain National Park is just an hour away. The park shelters and has recovered a strong population of beautiful native greenback cutthroat trout. Head to the North Fork of the Big Thompson River from just outside of the park in the Comanche Wilderness and head upstream on the trail into the park for a good shot at a greenback. If you're visiting late May through mid-October, you'll need to reserve a timed-entry spot for Rocky Mountain National Park in advance.
Shops and Resources
It requires a ton of knowledge to really be successful fly fishing in Boulder, so ask for help. Two local shops, Rocky Mountain Anglers and Front Range Anglers, sell all the gear you need; can give crack recommendations on flies, water and recent fish behavior; and offer guides who can help you dial in your game no matter your experience level. Plus, local hardware legend McGuckin Hardware stocks a full range of fly fishing supplies and specializes in Tenkara rods and reels if you want to try the simple, effective Japanese form of fly fishing that uses no reel. Want a guide? You'll find listings for guides and outfitters below.
Fishing Licenses 
You must purchase and possess a current fishing license from Colorado Parks and Wildlife to fish in the state if you are older than 15. You can purchase one at a fly shop or other retailers, but it's easy to buy a license online here. Note you now must have a Colorado fishing or hunting license to visit any Colorado State Wildlife Area, even if you are not fishing. Obey all restrictions on public lands and be respectful of private property and any public lands closures.