How to Up Your Game with "Fit Chick" Selene Yeager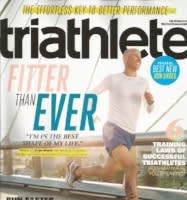 In November of 2015, Selene Yeager (known as Bicycling Magazine's "Fit Chick") came to Boulder to preview the new Up Your Game Traincation, featuring a week of rigorous yet eye-opening physiological testing at the CU Sports Medicine and Performance Center. Selene brought equal chutzpah to the rest of her itinerary, sinking her teeth into numerous Boulder dining options and rubbing elbows with some of endurance sport's most intriguing luminaries. Selene wrote about her Boulder experience in the upcoming June 2016 issue of Triathlete Magazine.  On the eve of its release, we had a chance to interview Selene about her trip to Boulder and have shared her inside scoop below.
Q&A with Selene

Overall, how did you enjoy your latest visit to Boulder?
I had a wonderful time. Everyone talks outdoor activity, of course, when it comes to Boulder. But there are also a ton of great places to eat and grab a drink and just hang out. It was fun to be able to shower up and go out and bum around town and window shop (and actually shop!)
How did you enjoy your stay at the historic Hotel Boulderado?
Loved it. The place has such a rich and crazy history, especially during the prohibition days. Still has a little of that Wild West ambiance in an upscale vibe.
Which of your many dining experiences stood out as exceptional?
The Kitchen was my favorite. Great ambiance and flavors. Really liked Arabesque, too. I like spicy food.
What were your preconceptions of your scheduled sessions at the CU Sports Medicine and Performance Center? Were you nervous?
Was I nervous? Ha. Yes, I guess I was to some extent. More excited though, honestly. I've had testing done before, so I knew what I was in for. Though I have to say I completely forgot how much the final stretches of the metabolic VO2 testing stuff really sucks. It cracked me up that Kim and Jan (neophyte onlookers) didn't realize I was going to suffer. But anyway…I was pretty excited to be tested at the facility, as I knew the caliber of professionals I'd be working with, so I was very interested to hear their feedback and advice.
Did you visit any unique or memorable Boulder sites?
I went to Valmont Bike Park, where the permanent cyclocross course is. That was cool. Also saw the Flatirons, if that counts. That was also cool. Did some trail running there that was very sweet.
Did you meet up with any fun and interesting Boulder endurance sport VIPs?
Many. Some I'd already known pretty well. Others I'd only spoken to on the phone. Tim and Nicole DeBoom, Will and his lovely wife Coral Frischkorn of Cured (now Dedalus Wine Shop & Market), and Allen Lim — got to see the Skratch Labs offices, which frankly was a real treat. I've known Allen before he was "Allen." I really enjoyed seeing behind the scenes there — it was bigger than I'd imagined it would be. Oh, and of course, I had time to spend with Andy Pruitt, which is always a treat, as he's legendary with this stuff.
Amid all the "voluntary discomfort," what can you recall about your experience during your SRM Bike Ergometer physiology test?
That's such a painful test. I have the memory of a goldfish, however, which serves me well in these situations because I forget how horrible it's all going to be. What was interesting is that they were able to pretty much predict my diet and my training based on the numbers they were seeing. I would tell everyone: Bring music. It's a deep dark pain cave that is amplified by silence.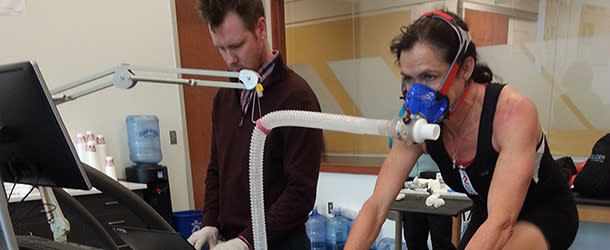 Your "Fit Chick – Selene Yeager" social media fans were super engaged with your posts during your Boulder trip. Why do you think that was the case?
A couple of reasons. Most of my followers are busy folks who have jobs and families, but also who are really committed to their sport and improving their performance. They spend a good bit of their time flying a little blind, reading the advice that I and others post, asking questions, doing a great deal of trial and error. They're looking for someone to help them take the guesswork out of it all. So I think they were very curious to see what I had learned and what they could glean from it, as well as whether I thought it was a worthwhile endeavor for others.
Did you have any cool outdoor training sessions while in Boulder?
The trail runs in Chautauqua Park stand out because there was just a little snow and everything was really beautiful and scenic. I could have run all day up there.
You seemed to have quite an in-depth swim session/stroke analysis, conducted by an Olympic swimmer. What was that like?
That was the most difficult part of the whole package. I'm not a great swimmer, and I'm pretty rusty in the water at this point. I'd also never been in an "endless pool," so the whole thing was a giant learning curve for me. They were really great and patient, and by the end of the session we'd definitely made improvements. The nice part is that Chloe gives you that video with all the commentary and side-by-side visuals when you're done so you can continue to work on what you've learned.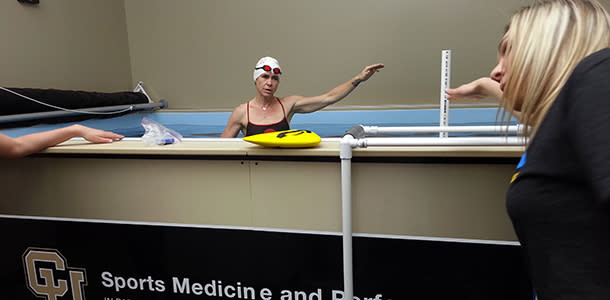 From Triathlete Magazine, June 2016:
The Stroke Analysis
I've been recorded in the pool before, but nothing like this 360-degree fish-in-a-bowl level of scrutiny. And oh, how far I've fallen in the seven years since Ironman. My hips are sinking as I'm slugging the water, kicking from my knees, and randomly rotating with no discernable rhythm. My analyst, swimmer Chloe Sutton, a two-time Olympian and five-time national champion in both pool and open-water swimming is poolside with plenty of advice.
    We work on making my kick small and quick on the surface, creating a straighter body line, and bending my elbows and hinging for a better catch and pull. It's a lot to process and many moving parts to pull together. It's not all going to improve overnight. I leave with a high-def dartfish.tv video that shows my entire session, complete with written instructions over-laid on the video and some side-by-side videos of me juxtaposed with elite swimmers who are showing textbook correct examples of how it's done.
    I also underwent swim lactate analysis at the end of the session. My poor swimming condition at present made it challenging. But it was a light-bulb moment when, after being instructed to relax, slow down and lengthen my stroke, my heart rate dropped and lactate mmols declined despite the fact that I was swimming at a faster rate of speed.
Takeaway: For many triathletes, swimming is the hardest of the three sports. Technique is everything when it comes to going faster and leaving the water fresher. This analysis is particularly helpful because you can refer back to the video to refresh your memory as you practice.   
Test Tip: If you've never swam in an "endless pool"-style flume, be patient. There's a learning curve to staying in the sweet spot against the current. Also the pool is very warm so you don't turn blue during analysis chitchat. If you're also getting an LT test, work it out with the center ahead of time to have the pool cooled, if possible.
I could write a book about that. It was the most eye-opening part of the entire thing.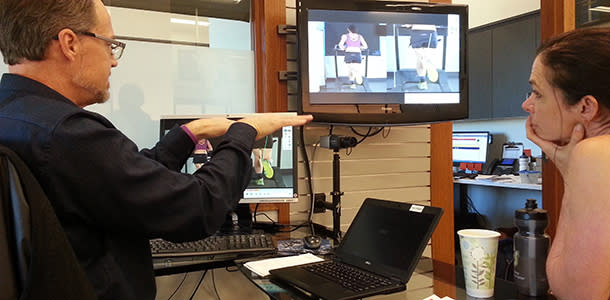 From Triathlete Magazine, June 2016:
Biomechanics and Gait Analysis  
Mind blown. Within 52 minutes of meeting physical therapist and exercise physiologist Tim Hilden, who acts as head of the center's Gait Analysis Lab, he identified and helped rectify a series of ongoing lower-body joint issues I've had on and off for years. Hilden works his magic by getting "your story" — and that means everything: what you did as a kid, your athletic history, injuries and issues, hopes and dreams, day-to-day life. He listens to your story as he assesses how you stand, walk, perform single-leg squats and as he tests your flexibility and muscular strengths and weaknesses through a series of tests on the assessment room table.
    I relayed bouts of IT band issues, random medial left knee and right hip aches and pains. Stuff that came and went but put a damper on distance running over the years. On my back, legs bent 90 degrees, I'm stunned when I can't resist against even minor pressure as he pulls my right foot and easily straightens my leg. Legs straight, I'm equally stunned when I can't keep my right foot pointed toward the ceiling and it flops helplessly to the side as he uses two fingers to press it outward. I tell him I've been diagnosed with weak glutes and have done a billion clamshells to no avail.
    "That's because your muscles aren't getting the signal to fire. It's like turning down the dimmer switch on a light bulb. It's not a problem with the bulb, but rather the electricity getting to the bulb.  All those PT exercises don't have a chance at making you stronger when the electrical input is compromised," he says. He gives what I have a name: S1 neuro weakness. The right side of my sacroiliac joint is all locked up. He manipulates the joint to free it. We do the tests again: Like a light switch, I can fully resist. "You're not 'fixed,'" he cautions me. "This could happen again. I want you to babysit this." He instructs me to have someone test me regularly. If it returns, he'll contact my sports therapist to get it freed again.
    Then we head to the treadmill where video cameras capture my stride from every angle to the fraction of a second. My form isn't bad. My arm pump is brisk and tracks through a healthy arc from front to back. General hip-knee-ankle alignment is good. But my feet are slow — around 160-foot strikes per minute — and noisy, and I'm leaning too far forward from the waist. It doesn't look or sound very pretty.
    Hilden cues me to pull my hips underneath me. I automatically straighten up. Then he starts a metronome and instructs me to synchronize with it and quiet my feet. I comply. Quicker and quieter and straighter, I look and feel like a whole new runner. Psyche! "You're not 'fixed,'" Hilden says again, bringing me back to reality. "You need to practice this or you'll unknowingly slip back into old habits. I see it all the time." He has me switch back and forth between old form, which is now surprisingly difficult to do, and new form. I am to do these switching drills progressively for a month to make them stick. I leave enlightened and elated. Since my evaluation, I have ramped up my mileage from nearly no running to 20+ miles week with zero incident.
Takeaway: Raise your hand if you're an Olympic to IM distance triathlete and have never suffered a bout of IT band pain, plantar fasciitis, knee pain or other niggling musculoskeletal issue that disrupted your training and/or racing. Thought so. A biomechanics and gait analysis can work wonders to improve your form and help prevent injury no matter what level triathlete you are.
Test Tip: Bring your tried and true running shoes and any orthotics. If you need custom orthotics, they can be fitted on the spot.
How has your trip to Boulder and your Up Your Game sessions at the CU Sports Medicine and Performance Center enhanced your endurance sport training and racing thus far this season?
I'm running more comfortably than I have in years. I also spent more time training in Zone 2 on the bike. It's a little early to say how it's all panning out. But I enjoyed the training, and I've had good early season results with a couple of wins in long endurance races — so you can't beat that!
About Selene Yeager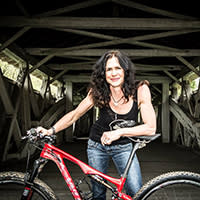 Selene Yeager is a top-selling professional health and fitness writer who lives what she writes as a NASM-certified personal trainer, USA Cycling certified coach, pro mountain bike racer, and All-American Ironman triathlete. She has authored, co-authored and contributed to more than two dozen book titles including ROAR; The Bicycling Big Book of Cycling for Women; Get Fast; Selene Yeager's Perfectly Fit; Ride Your Way Lean; Bike Your Butt Off; The Women's Health Big Book of 15 Minute Workouts and The Men's Health Big Book of 15 Minute Workouts. Her work has appeared in numerous magazines and newspapers including Details, Shape, O, the Oprah Magazine, Fitness, Redbook, Men's Health, Marie Claire, Better Homes & Gardens, Good Housekeeping, Mountain Bike, Runner's World, Better Health and Living, More, Cooking Light, The Bottom Line, and Cosmopolitan. Yeager dishes out training advice monthly as Bicycling Magazine's "Fit Chick" and was nominated for a 2007 National Magazine Award for excellence in service journalism for her work in Bicycling Magazine.