Training
As if Boulder itself wasn't already enough reason to base your next training vacation here, Up Your Game is proud to work with the University of Colorado Sports Medicine and Performance Center (CUSM&PC) and its unprecedented team of experts. As the main hub of your program, this incredible facility, completed in 2015 and located on the University of Colorado Boulder campus, is dedicated to providing world-class medicine and sports science to athletes and active people of all levels and ages. The multidisciplinary team of sports scientists, physical therapists and athletic trainers provide cutting-edge, evidence-based care to help patients and clients achieve their athletic goals.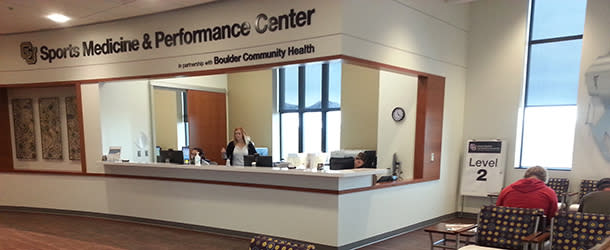 The vision of the CUSMPC is to be a community, regional, national and international destination for athletes and active people who seek the highest quality of medicine and science to optimize their performance and quality of life.
Up Your Game participants will receive the ultimate experience for an active multisport athlete, including physiological, biomechanical and nutrition assessments to elevate performance, health and confidence to the next level. The 3-day experience includes:
Fitness testing and personal consultation
Gait Analysis
3D Bike Fitting
Swim stroke analysis
Saddle pressure mapping
Sports nutrition consultation
Functional movement assessment
MuscleSound glycogen and body composition assessments
Guided ride or run in Boulder to apply exercise zones and receive expert coaching from CUSMPC Sports Performance staff
See Triathlete Package Details, starting at $1,400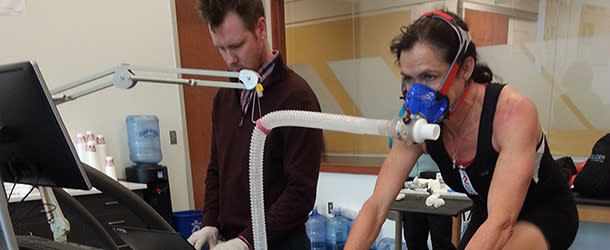 You will also have the chance to take it outside as you run and ride along Boulder's legendary roads and trails while enjoying expert tips and guidance from the Center's top coaches.
Activity Details
Full Phys Test (2.5 hours)
The full physiological test is the most comprehensive physiological assessment available. During this test, athletes will be taken from a light effort to a hard effort as physiological variables are measured across their entire range of training intensities. Oxygen kinetics will be measured to determine Caloric expenditure (grams and Calories per minute) and fat and carbohydrate oxidation rates. Lactate metabolism will be assessed during the test as an indicator of mitochondrial function and aerobic abilities. Athletes will learn how to improve aerobic fitness, extend endurance and improve metabolic functioning for fitness, performance and weight management. A full report will highlight these points and also provide individualized training ranges for heart rate, power and pace.
Runs/Rides (variable time)
Runs and rides during the Up Your Game experience are tailored to suit the needs of each athlete. The goal of these sessions is to highlight some of the beautiful trails and roads that Boulder has to offer while working with a member of the Sports Performance Team to provide education and instruction on applying the principles of training and fitness, or learning how to interpret and apply training ranges determined from the Full Physiological Test.
Gait Analysis (2 hours)
Each gait analysis begins with a thorough clinical evaluation with one of the center's expert Physical Therapists as they examine your anatomical structure, strength, flexibility and range of motion relative to your goals. Following the evaluation, you will run on the treadmill while video is taken to evaluate running gait. Recommendations are given based on your clinical presentation, level of training and performance goals. If necessary, your Physical Therapist may recommend modifications to the way you move during your visit. This includes practice to learn how to make gait changes safely and effectively. If custom orthotics are recommended, those may also be fitted during the appointment.
Functional Movement Assessment powered by Physimax (45 min)
Physimax provides objective movement evaluation utilizing evidence-based protocols. Users can expect to receive feedback on injury risk level and athletic performance inefficiencies with comprehensive results delivered immediately to their smartphone. CUSMPC works with athletic individuals from juniors through seniors, across all levels of development. Physimax provides actionable data for any individual to improve movement patterns to become a well-rounded athlete, improve sport-specific movements, and reduce injury risk to promote long-term health and performance.
3D Bike Fit (2 hours)
The bike fit service includes a thorough biomechanical evaluation prior to getting on the bike to assess, mobility, strength and function. Utilizing research-grade motion capture cameras, the rider is viewed in full 3D movement as adjustments are made. Even bone rotations are measured by the Motion Monitor system, the only one of its kind in Boulder. By providing the highest grade analytics, position is optimized for the individual's personal goals and limitations while providing a detailed guide to aid in appropriate upgrades and measurements.
Swim Stroke Analysis
Multiple in-pool cameras and pool-length mirrors are positioned strategically to capture a 360-degree view of the swimmer's stroke. Video-analysis software and large-screen monitors provide instant feedback to swimmers on how they can adjust their stroke to be faster and more efficient in the water. CUSMPC combines state-of-the-art technology, world-class instructors, exceptional facilities and a never-ending passion for swimming to offer the fastest and surest way for swimmers of all levels to learn, improve and achieve their highest goals. This helps swimmers be safer, compete smarter, feel confident and enjoy a life-long love of the sport.
Sports Nutrition (60 min)
Nutrition for the multisport athlete is often considered the 4th discipline. During a consultation, you will review results with the CUSMPC Sports Nutritionist to assess and plan nutrition for optimal readiness, performance and recovery around exercise and/or competition. In addition to assessment of current habits and needs for optimal performance, muscle glycogen is a critical component to this process. Glycogen is the storage form of carbohydrate, and carbs are the fuel choice of endurance athletes for optimal performance. Through non-invasive ultrasound assessment powered by Musclesound, we can accurately measure your glycogen stores (i.e., your fuel tank) and provide individualized recommendations on training and nutrition to optimize performance and recovery.
Photo credits: Runner Melody Fairchild, photographed by Glen Delman; Flatirons runners, Glen Delman; cyclist, Jim Hueck.