Heads Up!
Events Potentially Impacting Your Business
Here's a list of upcoming, large city-wide events. Knowing about them may be helpful as you make your staffing schedules, consider special offers, or just wonder why all the extra people are in town. It's not meant to promote the events, but to help you as you plan for business during the next 30 days.
For a calendar listing of all events, please see www.bouldercoloradousa.com/things-to-do/events/. To be listed on the calendar of events, contact Traci Schaefer. You can even do it yourself if you'd like.
June 7-10
IRONMAN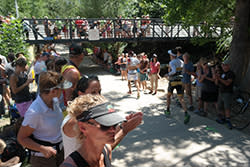 1000+ participants + addl 2000 volunteers, 200 staff,  hundreds of family members & friends 
June 7 – Check in, IRONMAN Village open (at Boulder High)
June 8 – Check in, IRONMAN Village open, Welcome Ceremony (at Boulder High)
June 9 – Check in (mandatory), IRONMAN Village open (also at Boulder High)
Sunday, June 10 – Race starts at the Boulder Rez with the swim at 6 am

No parking or entrance allowed at Boulder Rez , do not try to drive to the Rez on June 10. Shuttles available to and from Boulder High School.
Athletes will run almost entirely on the Boulder Creek Path
Ends downtown on Pearl Street. Athletes must cross the finish before midnight.
June 14-17
Hanuman Festival
Yoga festival primarily located at Boulder High, but events occur all over town
Festival starts at 8:30 am Thursday and runs until 5 pm Sunday
June 18-24
Colorado Latino Festival
A week of events celebrating the diverse and myriad cultures of Latin America and the Caribbean for a week of special attractions, musical acts, cultural offerings and delicious Latin American cuisine
https://www.thelatinofestival.com/festival
June 27 – July 1
Softball Tournament

•    An 80-team girls softball tourney – lots and lots of girls, and their families, in town this week.
•    http://boulderidt.com/