Bradford Heap of SALT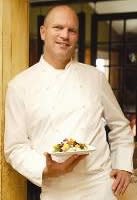 When chef Bradford Heap takes to the kitchen, his years spent with culinary legends like Alain Ducasse, Georges Blanc and Carlo Cioni are evident. His ability to create simple, clean flavors from ultra-fresh local products has earned him a loyal following.
The prestigious James Beard Foundation has also taken notice, honoring him with the coveted position as guest chef at the James Beard House and nominating him as the "Best Chef of the Southwest." He is a true example of "do what you love."
Heap runs SALT on Pearl Street in downtown Boulder.
My Perfect Day in Boulder:
I wake up with a strong cup of coffee and a bike ride up over Lee Hill Drive.
Back at the house, I let the chickens out, gather the eggs, then walk through the garden to see how all my plants are doing. With freshly picked kale and eggs from our hens, I decide to make my kale and grass-finished "Dubliner cheddar frittata." I enlist our 14-year-old twins to make the avocado and ripe tomato relish. Then we join my lovely partner Carol for breakfast on the patio.
Next, it's time to take the kids and pay a visit to David Asbury of Full Circle Farms. We pick sun-warmed raspberries for a couple of hours and eat most of them before they hit the container. I like the ones that are overripe and starting to get shriveled because their sugar content is much higher. We tour the fields to see what vegetables are available for the menus, then we swing by the packing shed and pick up the farm order for SALT.
Heading into Boulder for the afternoon, our first stop is SALT, where we drop off the produce and share some small plates on the patio.
After lunch, I'd stop by the Boulder Farmers Market to talk to my farmer friends about what fruits and vegetables are available for our menus and load my truck up with vegetables and fruit for the house and the restaurants.
It's now time to head home for a hot shower and then dinner with the family. After some nice family time, I head in for dinner service.