A Guide to Boulder's Murals
Mural, mural on the wall, who's the brightest of them all? Boulder has several public arts programs that have invested in more than 100 colorful murals over the last three years, and they're found all over town. From the annual Street Wise mural festival to the Creative Neighborhoods project, the city is turning blank walls around town into canvases for an inspired selection of local artists. With Boulder being the fifth most vibrant arts community among medium-sized U.S. cities, there are plenty to choose from.
How to Enjoy Boulder's Murals
For a great fall or winter activity, grab a Boulder Dushanbe Teahouse signature hot chai, a Piece, Love and Chocolate hot sipping chocolate or one of OZO Coffee's 21 flavored mochas and taking a self-guided tour of Boulder's murals. Street art, by its nature, often takes place in alleyways and off the beaten path, so be ready for a behind-the-scenes urban adventure. 
Here are several mural and street art projects to check out in Boulder:
Guided Mural Tour by Bike
Boulder's seen such an explosion of murals, that a new tour company has launched to take you on a bike tour of some of the best. JD's Joyrides' Wall To Wall Boulder eBike Mural Tour takes you to dozens of Boulder murals and on an electric Rad Power Bike. The leisurely two-hour tour covers more than 20 miles (e-bikes make it easy!) and takes you to many of Boulder's essential sights, such as Pearl Street and Chautauqua.
Street Wise Boulder: 53 Vibrant Murals
Street Wise Boulder launched in 2019 and installed 15 new murals around Boulder. In 2020 and 2021, 75 artists painted murals all over the city, each within the theme of "ARTivism." These murals are superb and a great place to start your own self-guided mural tour of Boulder. 

Above: Street Wise mural in the back alley of Boulder Theater
Street Wise Murals
Here's a taste of what you'll find among the 53 colorful Street Wise murals all over Boulder. Many have a scannable QR code beside the work, which will open a webpage with more information about the piece. Some of them even have an audio discussion to listen to on your smartphone.
'Sandra Bland' by Spray Their Name
Spray Their Name is a collaboration among Detour 303 and Hiero Viega with Just Inspire and CYA The Creator. 
Location: Dairy Arts Center
Family Friendly Location ✔️
Adrienne Norris (Afro Triangle)'s Mural
Location: 800 Pearl St., Boulder
Family Friendly Location ✔️
Gabriel Sanchez's Mural
Location: Behind the Boulder Theater
'Shadow' by Johnny Draco
Location: 2055 26th St.
Family Friendly Location ✔️
There are three other fantastic murals at this same location, too!
Armando Silva's Mural 
Location: Boulder Chamber of Commerce
Family Friendly Location ✔️
Pat Milbery and Lowkey Creative's Mural
Location: Sports Garage
Family Friendly Location ✔️
'Defend the Defenseless' by Max Coleman
Location: 2030 17th Street
Family Friendly Location ✔️
'The eyes of all future generations are upon you' by Chelsea Lewinski, Julia Williams and Grow Love
Location: 3550 Frontier Ave.
Family Friendly Location ✔️
More Notable Murals
Check out these other famous and buzzed-about murals.
Boulder's "Stranger Things" Mural
Location: 28th and Arapahoe
Family Friendly Location ✔️

This mural by Timoghini has been making quite a buzz for its nod to the "Stranger Things" TV show. (Side note of interest to "Stranger Things" fans: Fiske Planetarium in Boulder has a Stranger Things laser show.) 
Penfield Tate II Portrait by Detour
Location: Boulder Public Library
Family Friendly Location ✔️
Penfield Tate II was Boulder's first (and so far only) Black mayor and a champion of LGBTQ rights.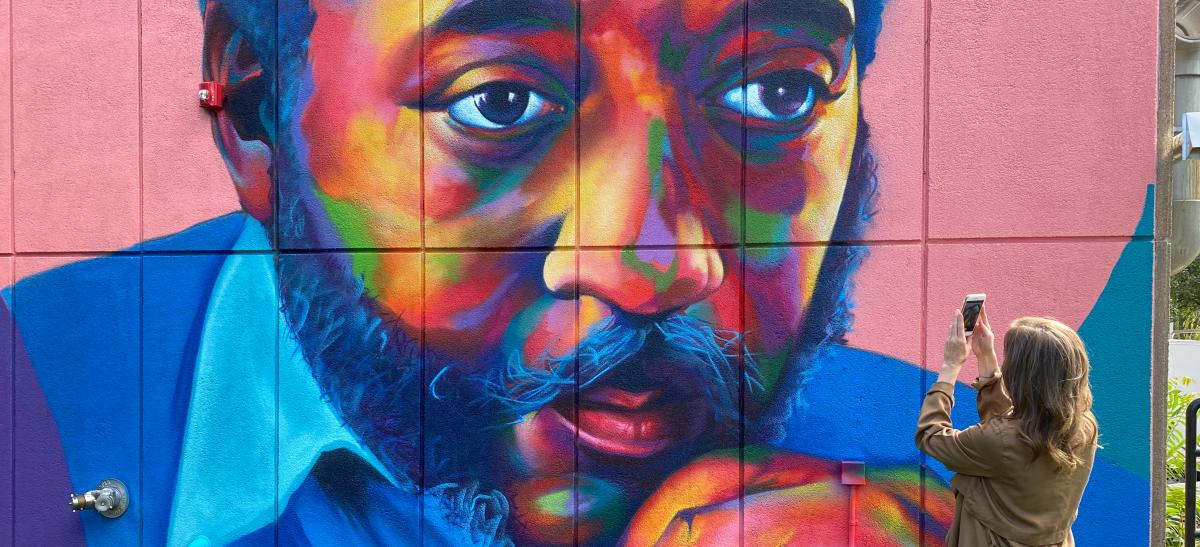 Portrait by Detour
Location: Pearl Street and Foothills Parkway
Family Friendly Location ✔️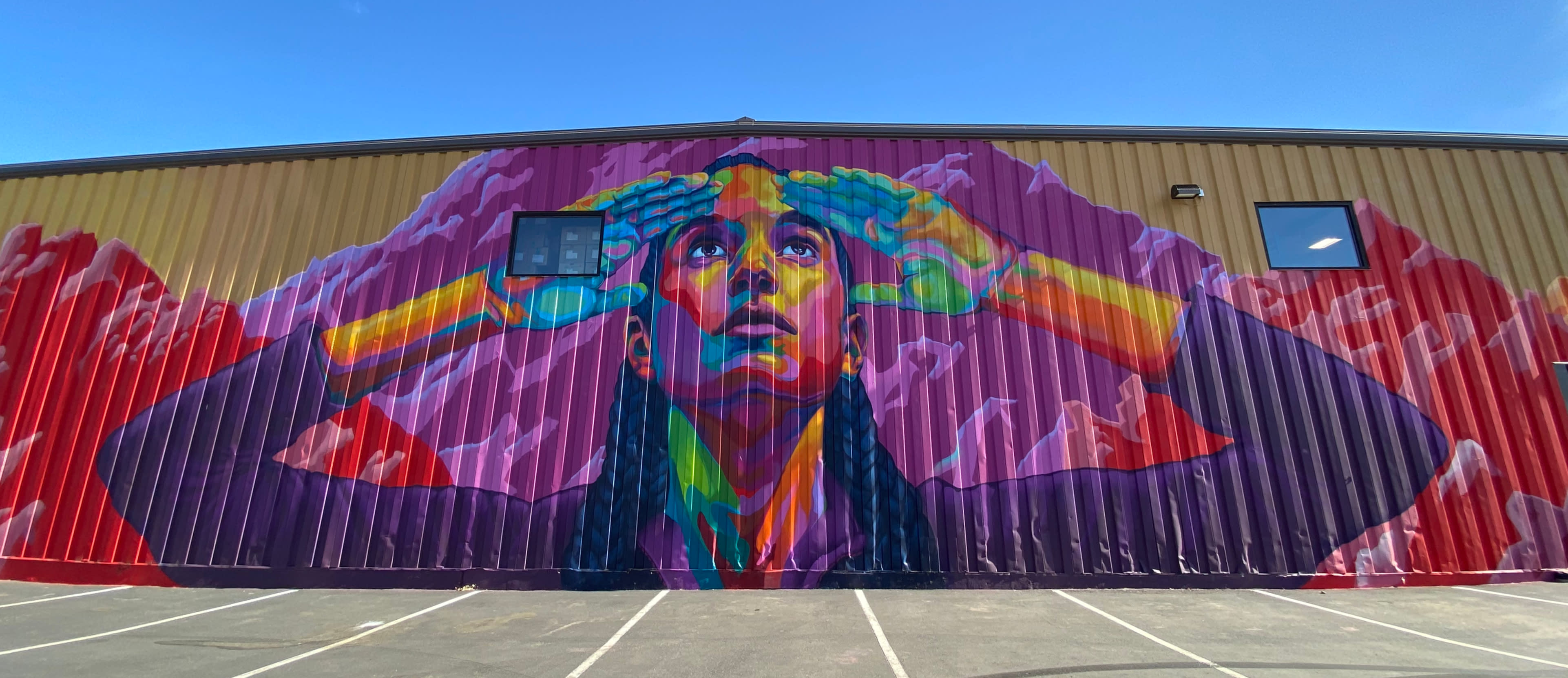 Runners' Mural
Location: Spruce and Broadway
Family Friendly Location ✔️
This large-scale mural has been at Spruce and Broadway for decades and depicts a diverse group of runners with the Flatirons in the background — a tribute to the spirit of Frank Shorter, a Boulder Olympian who helped spur the running boom in the 70s and contributed to Boulder's reputation as a famously active community.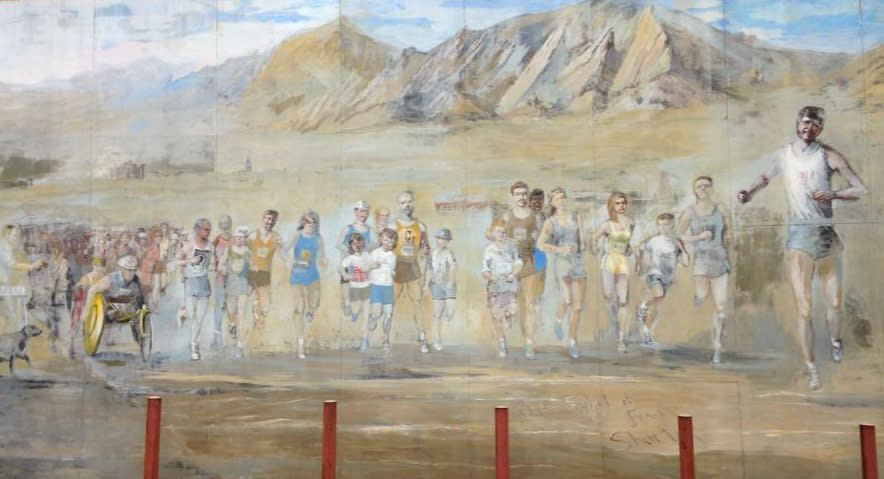 Downtown Boulder's Alley Gallery Project
Oft-neglected back-alley doors are the perfect opportunity to spur new inspiration. That's the theory behind Boulder's Alley Gallery project. So far, 19 alley doors have already been transformed into imaginative works by local artists, and more than 200 doors are being eyed for this ongoing project. Below is an example at the St Julien Hotel & Spa.
Public Art Walking Tour
See murals and more on Boulder's downtown public art walking tour. You'll cruise down Pearl Street, taking in murals, sculptures and more on this leisurely, hour-or-so-long stroll through vibrant downtown.
Family friendly ✔️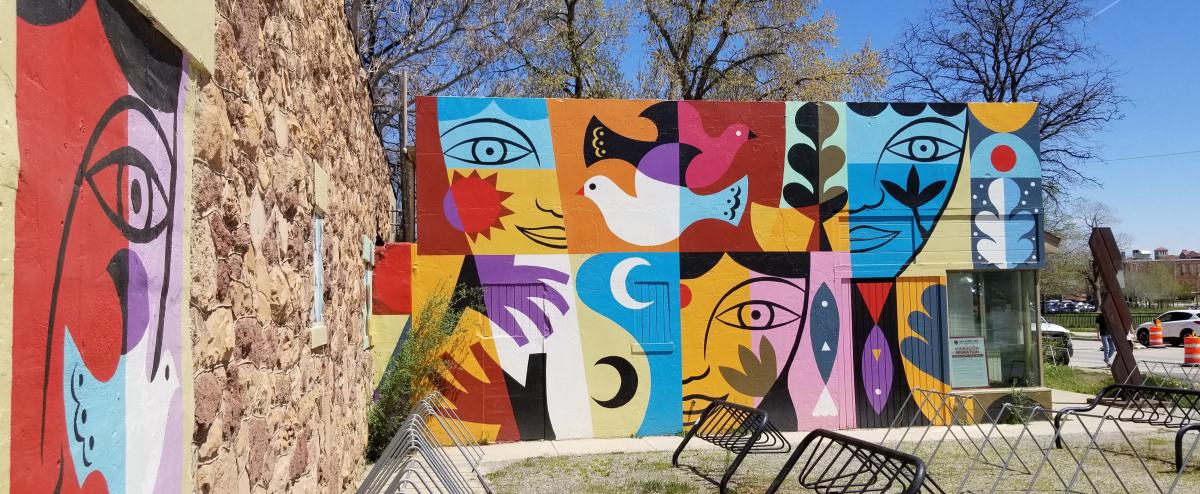 Spot Your Own
More and more murals and street art are popping up around Boulder as the town's artistic ambitions grow. Keep an eye out and you're sure to find more inspiration. Snap a photo and tag @VisitBoulder to share.