How to Include Self-Care in Your Boulder Meeting or Retreat
A new day is dawning in many workplaces, where encouraging employees' holistic well-being is becoming a key component for staff productivity, retention and overall company culture. Bringing these principles into meeting or retreat planning only makes sense and will help create a positive, fulfilling experience for your group.
Boulder is a self-care and wellness mecca, so you're in the right place! We have been called "the most relaxed city in America" by Inc., based on the fact that the city has 122% of the national average of wellness-focused small businesses. Locating practitioners, experts and services for on-site self-care experiences is simply easier here, and we can help. 
Get Moving With Gentle Yoga
A little stretching and deep breathing, by way of a yoga session, is a welcome break from sitting in sessions or meetings. Boulder is one of the top yoga cities in the country and we're flush with instructors who can come to your group to teach a gentle, all-levels session. We have gurus who can teach in Spanish, outside, with goats, at breweries and more. Just ask for recommendations!
Turn a New Page With a Pop-Up Book Club
Giving participants something in common to discuss can spur some meaningful personal connections in your group. Select a book a few months ahead of your event and set aside an hour-long session during your conference or retreat for attendees to snack, lounge and discuss the book with a few guided questions. Find local authors and recommendations from the iconic Boulder Book Store and consider holding your book club off-site at Trident Booksellers & Café in Boulder, which has a spacious courtyard.
Get Centered With Sound Healing
A sound bath is an immersive, meditative experience in which you are bathed in sound waves from singing bowls, gongs or other resonating instruments for a therapeutic effect. Participants typically rest on their backs as a facilitator guides the listening experience. In Boulder, several sound bath experts can lead small groups, from yoga studios like Yoga Pearl to individual healers. We can point you in the right direction to find one, just drop us a line.
Awaken the Senses While Forest Bathing
The concept of forest bathing comes from a Japanese tradition called shinrin-yoku. It's a chance to simply unplug and metaphorically "bathe" yourself in the splendor and sensory delights of nature. You can lead your own forest bathing outing on the trails of Boulder. Or Colorado Chautauqua offers a three-hour forest bathing experience for meetings or retreats on-site at the foot of the forested Flatirons.
Relax with a Soothing Tea Tasting
Experience the health benefits of tea and enjoy the soothing sensory and social benefits of tea tasting. Boulder, which is home to the largest tea manufacturer in North America and has an obsession with tea, is the place to do it. Head to the Boulder Dushanbe Teahouse, an exquisite Persian teahouse gifted to Boulder by its sister city in Tajikistan, or Ku Cha House of Tea, and arrange a tea tasting for your attendees to sip, sample and meditate on the flavors.
Practice Mindfulness with Flower Mandalas
At the Colorado Chautauqua, choose from a self-care menu tailored to groups for meetings and retreats. One option is making flower mandalas, a practice that lets you create a symmetrical and concentric pattern from fresh petals while focusing your attention and promoting mindfulness and healing. You can also choose a cacao ceremony, mala beading and more mindfulness activities available to retreats at Chatuatuqua. 
Revitalize With Massage
At Dragontree Spa's community space, the Sangha Room, groups can be nurtured and revitalized while enjoying each other's company. They serve guests tea and provide foot, hand and head massage treatments in a tranquil spa environment. There are also dozens of massage therapists in Boulder who can provide on-site chair massage for your group. The ultimate treat after a long day of learning or meetings.
Wellness Central
About 20% of Boulder's small service businesses are dedicated to massage, yoga, personal training, acupuncture and wellness.
Get a Health Infusion via IV Treatments
Help your group members feel their best while in town with a visit from Hydrate IV Bar. Accredited registered nurses will visit you on-site to administer saline IV treatments and B12 shots for extra energy and hydration. Choose from saline "cocktails" tailored to offer anti-aging, health and wellness, cold and flu, jet lag, altitude sickness or athletic performance benefits.
Breathe Easier with Salt Therapy
Salt of the Earth, in north Boulder, provides visitors access to a quiet, salt-lined chamber in which to relax, breathe and experience the benefits of salt therapy. It's believed to improve respiratory systems, relieve anxiety and support overall well-being. It's a sure way to bring some grounding to your group's time in Boulder.
Get Grounded in a Shungite Room
Boulder is home to the only shungite room (a room made entirely of shungite stone) in North America. The Shungite Ark, which is modeled after those in Russia, France and Austria, is lined with two tons of the carbon-rich stone, which is purported to have physical and metaphysical benefits and healing properties — imparted, in this case, just by sitting peacefully inside the chamber. Carrie-Anne Moss of "The Matrix" visited recently and enjoyed it!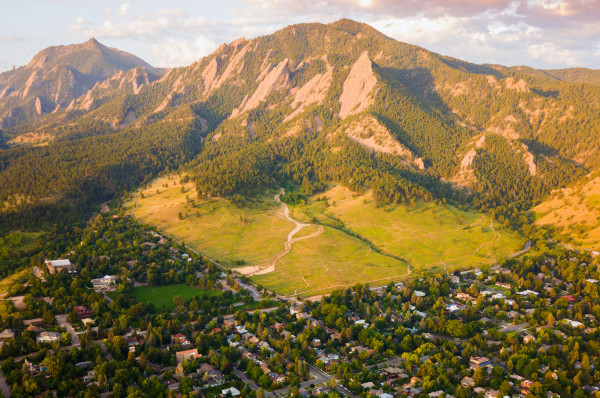 Think Boulder is a good fit for your group? Submit your details and we'll get started making your meeting shine.