Boulder's Hot Summer Music Scene
Several nights a week throughout the summer, you can head to a live show under the stars for dancing, picnicking and soaking up the sweet sounds of music on the Colorado breeze. There are also several annual music festivals to celebrate all things song. Or beat the heat with an indoor concert or silent film series with live musical accompaniment.

Outdoor Concerts
Arts in the Park
May–Sept. 2021
New for 2021, Arts in the Park plays host to vibrant arts and cultural performances at the historic Glen Huntington Bandshell in Boulder's Civic Area. Times and prices vary, so make sure to check the website for details. 
2021 lineup:
May 16, 23 and 30; June 6, 13, 20 and 27 – Boulder Creek Fest – Summer Sundays
May 29 – Street Wise Art JAM in the Park
June 22–24; June 27-July 1; July 5-9 and 12-15; – Discount Ghost Stories: Songs from the Rockies
July 16–18 – Boulder Creek Fest
July 22 and 29; Aug. 5, 12, 19 and 26 – Boulder Arts Outdoors
July 25, Aug. 15, and Sept. 19 – eTown presents Nick Forster's Hippy Bluegrass Church
July 31 – Colorado Music Festival Presents Ivalas Quartet
Aug. 1 – Zivanai Masango
Aug. 7 – Sustainable Summer DAZE
Aug. 13 – Flash Mountain Flood, Kind Hearted Strangers and Kingdom Jasmine
Aug. 14 – Opera in the Park
Aug. 27 – Mahlerfest's "Roaring 20s – Decadence and Debauchery"
Sept. 12 – Miguel Espinoza Flamenco Fusion Trio
Only live-music events are listed above. Check the Arts in the Park website for a full lineup of performances, including dance and more.   
Bands on the Bricks
Wednesdays, July 21–Aug. 11, 2021. 5–9pm. Free.
On Wednesdays, Bands on the Bricks rocks the 1300 Block of Pearl Street. Enjoy performances from top local and regional musicians, and get your groove on Pearl Street's famous brick walkway. 
2021 Bands on the Bricks lineup:
July 21: The Long Run – "Colorado's Tribute to the Eagles"
July 28: Hazel Miller & the Collective
Aug. 4: Selasee and the Fafa Family
Aug. 11: The Quemando Salsa Band
Twenty Ninth Street LOVE the Tunes
Aug. 13, 19, 26 and Sept. 2 and 9, 2021. Free.
Thursday concerts take place at Twenty Ninth Street, an outdoor shopping mall that opens up its Central Plaza so concertgoers can sprawl out and soak up the incredible Flatirons views while they listen to local bands. Details here.
2021 lineup:
Aug. 13 – The Hamilton Band
Aug. 19 – Hot Lunch Band
Aug. 26 – THUMPIN
Sept. 2 – That Eighties Band
Sept. 9 – FACE
Dairy Arts Center Back Porch Series
May-August 2021
Come round to the back of the Dairy on an afternoon or evening for a live performance — rain or shine. They use their loading dock as a stage, and the shaded parking lot for a safely distanced audience area, to enjoy the irreplaceable experience of real live people putting on a show.
2021 Dairy Back Proch lineup:
May 21-23 – Opera on Tap Colorado "See/Hear"
May 30, 2021 – Ley Line
June 6, 2021 – Gen3
August 22, 2021 – Cary Morin and Ghost Dog
Check here for more Backporch Series dates.
Summer Midday Music Meditation
Aug. 11 and Sept. 8
Gather on the Boulder Public Library lawn by the Boulder Creek on the second Wednesday of the month from noon-1pm for all-improvised, meditative music. Bring a chair, cushion or blanket.
Meadow Music (for Families)
Most Mondays, 5:30–7pm. Free.
Meadow Music, an annual series of kids' concerts that normally takes place in Chautauqua Meadow, will be a bit different in 2021. The shows will happen at the Boulder Bandshell this year. They will still be free, science and nature-focused, with quick costume changes and loads of audience participation. Guests will need to make a reservation in order to attend. 
2021 Dates at the Bandshell:
May 24, 11am
June 8, 11am
July 26, 5pm
Aug. 9, 5pm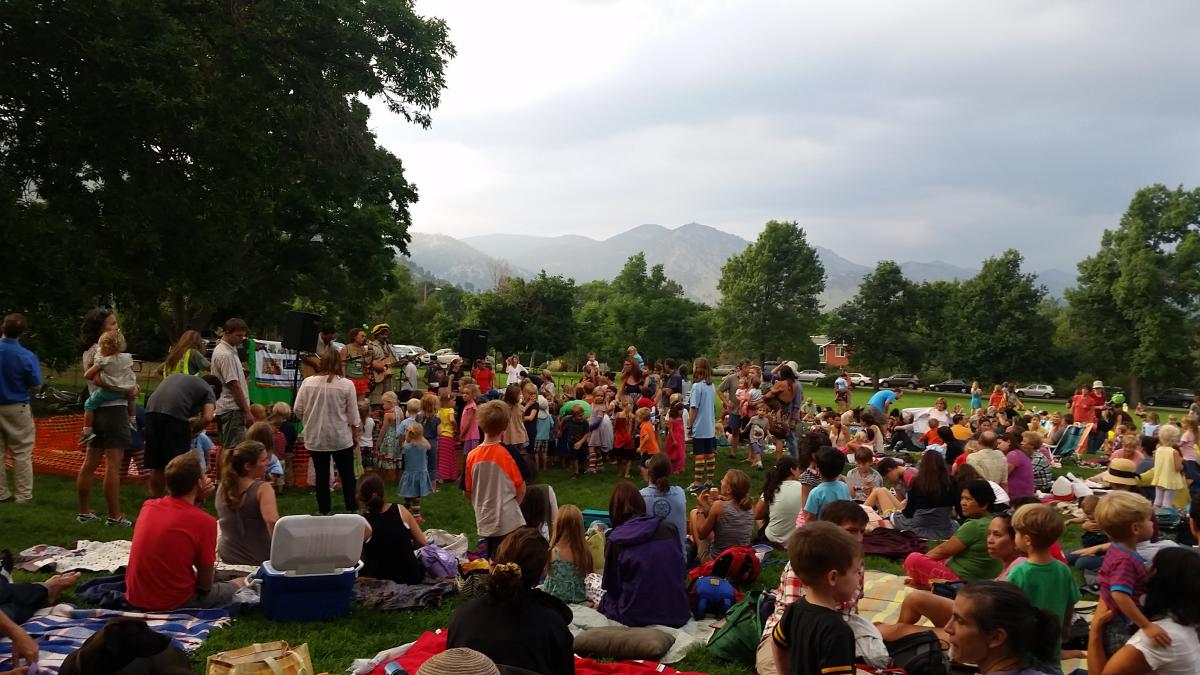 Red Rocks Park & Amphitheatre
Select dates, spring–fall. Prices vary.
The legendary Red Rocks Park & Amphitheatre in nearby Morrison (not to be confused with Boulder's own Red Rocks hiking trail) is a summertime must, hosting an unbelievable lineup of bands all season long. It is just a 45-minute drive from Boulder. In 2021, we can't wait to see Brandi Carlile, Trevor Hall, Michael Franti & Spearhead, The Avett Brothers, STS9, Nathaniel Rateliff and so, so, so many more! Here's the 2021 schedule.
Pearl Street Buskers
Anytime. Free (tipping encouraged).
Pretty much anytime you walk down Pearl Street — a brick-paved pedestrian lane in historic downtown Boulder — you'll see crowds gathered around street performers, as they put on their shows. And often those street performers are musicians: violinists, a bassist who stands atop his instrument as he plays, singer-songwriters, drummers and even a pianist.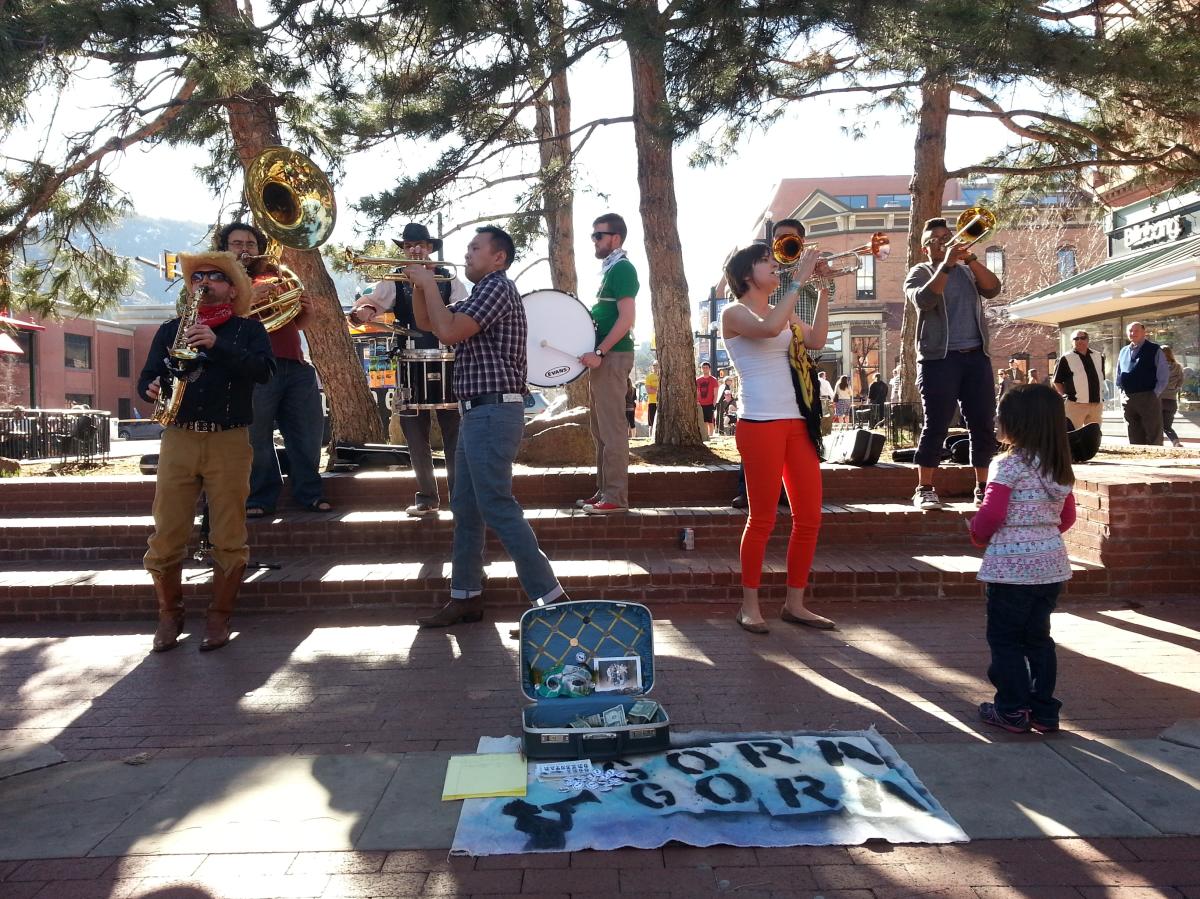 Indoor Concerts
Chautauqua Auditorium
Select dates, summer–fall. Prices vary.
Shawn Colvin said that playing in the Chautauqua Auditorium was like playing inside a guitar. That's how good the acoustics are in this all-wood structure built in 1898. Each summer the auditorium hosts musicians such as the Indigo Girls, Lucinda Williams, St. Paul & The Broken Bones and The Gipsy Kings during the Chautauqua Summer Music Series. Additionally, the Colorado Music Festival takes up residency in the auditorium each summer, June–Sept., putting on several weeks' worth of orchestral concerts.
2021 lineup:
Aug. 2 – Mat Kearney with Rob Drabkin
Aug. 15 and 17 - An Evening with the Indigo Girls
Aug. 20 – The Jayhawks
Aug. 21 – The Steeldrivers with Wood Belly
Aug. 26 – Keb' Mo'
Sept. 1 – Rodrigo Y Gabriela
Sept. 3 and 4 – Amos Lee
Sept. 7 – Toad the Wet Sprocket
Sept. 17 – Steep Canyon Rangers with Jon Stickley Trio
Sept. 18 – An Evening with Kenny G
Sept. 26 – The Wailers
Oct. 2 – Andrea Gibson & Zoe Keating
Oct. 7 – Rett Madison & Brianna Strout
Dec. 4 – Edwina the Great and Her Flea Circus
Fox Theatre
Select dates, year round. Prices vary.
Rolling Stone magazine named the Fox Theatre one of the best places in the U.S. for live music. Being on University Hill, it caters to a college crowd but draws a huge variety of accomplished artists. Shows happen year-round, and in August, the Triple A Radio Conference comes to town, and the Fox plays host to several top-name acts associated with the event. Previous performers have included Dave Matthews, Jason Mraz, Grace Potter and John Mayer.
Boulder Theater
Select dates, year round. Prices vary. Please purchase tickets and reserve your socially distanced table online in advance. 
The art deco marquee on the outside of the historic building is the first suggestion of an exceptional experience. Located in downtown Boulder, just steps from the Pearl Street Mall, the Boulder Theater is beautifully restored with art deco ornamentation, including hand-painted murals and a fresco ceiling. The Avett Brothers, Sheryl Crow, Madeleine Peyroux, Branford Marsalis and Johnny Cash have all performed here.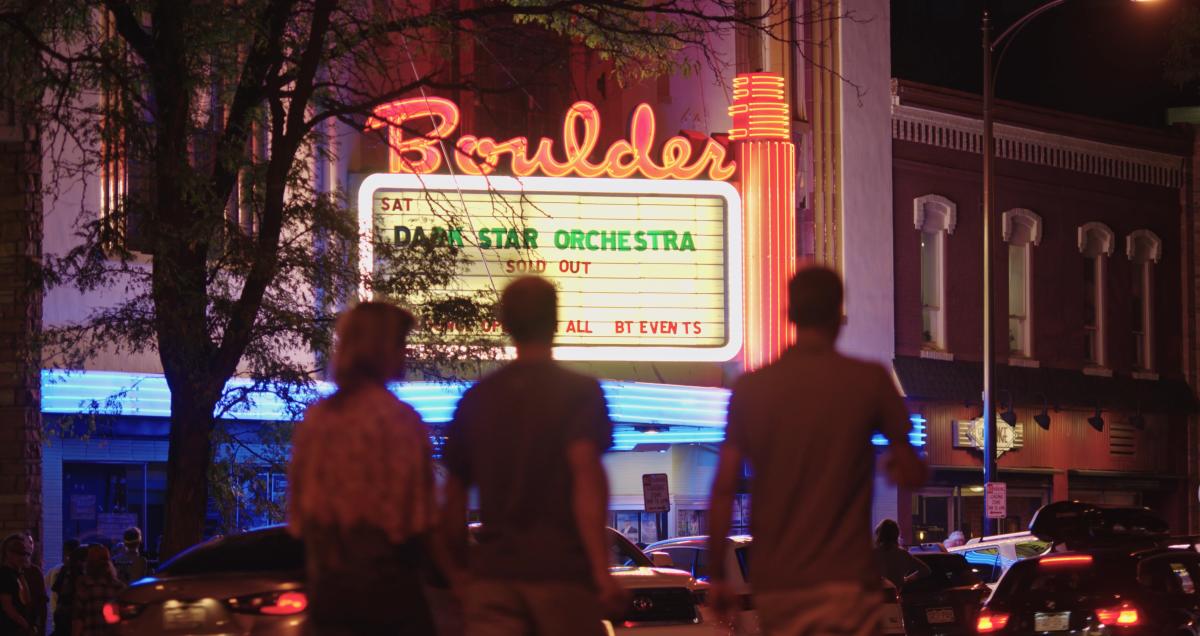 Etown Music Hall
Select dates, year round. Prices vary.
eTown is a weekly radio broadcast heard on NPR and commercial stations. The shows are taped in front of a live audience at eTown Hall, the most eco-friendly music venue in Colorado, with performances from musicians as well as conversations about the world. Being in the audience is a peek behind the scenes — you'll be a part of the soundcheck, witness how the show is produced and hear bloopers. Musicians like Warren Haynes, Martin Sexton and David Gray coupled with interviewees like Jimmy Carter create a one-of-a-kind, live radio show. It is a fun evening of music and inspiration.
Chautauqua Silent Film Series
July 7-Aug. 4, 2021. $14 adults ($7 for members; $8 for children under 12).
Live musical accompaniment to films of the twenties makes the Chautauqua Silent Film Series a truly unique summer experience inside the Chautauqua Auditorium. Films starring favorites like Rudolph Valentino, Charlie Chaplin and Lillian Gish, play on the big screen while rousing, live music (often piano) is provided by local artists. 
Music Events and Festivals
Colorado Music Festival
July 1-Aug. 7, 2021
The internationally acclaimed Colorado Music Festival is held four nights per week for seven weeks at the historic Chautauqua Auditorium, showcasing an orchestra of professional classical musicians from all over the world.
Upslope's Summer Music Series Kick-Off
May 15, 2021, 4:30–9pm. Prices vary.
Upslope's Summer Music Kick-Off will be a socially distanced soiree featuring Upslope beer, Spiked Snowmelt seltzer, a food truck on-site with food and non-alcoholic options for sale and live music from The Pimps of Joytime & The Low Road. It's held at the Upslope Flatiron Park brewery.
Colorado Brazil Fest
June 18–19, 2021. 
Colorado Brazil Fest is hosted by Boulder Samba School, the only organization in the state dedicated to promoting the rich heritage of Brazilian music, dance, and culture. Enjoy live music performances and dance lessons at the Glen Huntington Bandshell in Boulder's Civic Area.
Boulder Creek Fest
July 16–18, 2021. Free. 
Boulder Creek Fest is Boulder's biggest annual celebration of music, markets, food, craft beer, family-friendly activities and much more.