Boulder's Hot Summer Music Scene
Several nights a week throughout the summer, you can head to a live show under the stars for dancing, picnicking and soaking up the sweet sounds of music on the Colorado breeze. There are also several annual music festivals to celebrate all things song. Or beat the heat with an indoor concert or silent film series with live musical accompaniment.

Outdoor Concerts
Bands on the Bricks
Wednesdays, June 14-August 2, 2023. Free.
On Wednesdays, Bands on the Bricks rocks the 1300 Block of Pearl Street. Enjoy performances from top local and regional musicians, and get your groove on Pearl Street's famous brick walkway. An outdoor beer/wine/margarita garden is available at 5:30pm, with the opening musical acts starting at 6pm and headlining acts 7-9pm.
2023 lineup
June 14 – The Long Run and opening act The Keeps 
June 21 – The Goonies and opening act Intergalactic Peace Jelly 
June 28 – Hazel Miller & The Collective and opening act Julia Kirkwood
July 5 – Chimbangle and opening act Amaryllis
July 12 – Chain Station and opening act Lucas Wolf 
July 19 – The Sweet Lillies and opening act Natural Motives
July 26 – JJ Brown's Raw Soul Band
August 2 – Mighty Mystic and opening act Sarah Banker 
Twenty Ninth Street Summer of Love Concert Series
July 7-August 25, 2023. Free.
Friday concerts take place at Twenty Ninth Street, an outdoor shopping mall that opens up its Central Plaza so concertgoers can sprawl out and soak up the incredible Flatirons views while they listen to local bands. A beer garden will be open, food trucks on hand and games of cornhole for play.
2023 lineup
July 7 – Face
July 14 – Chris Daniels & the Kings 
July 21 – Jacob Larson
July 28 – Daddyblue
August 4 – Hunter Hamilton
August 11 – Quemando Salsa
August 18 – Cody Qualls
August 25 – Hazel Miller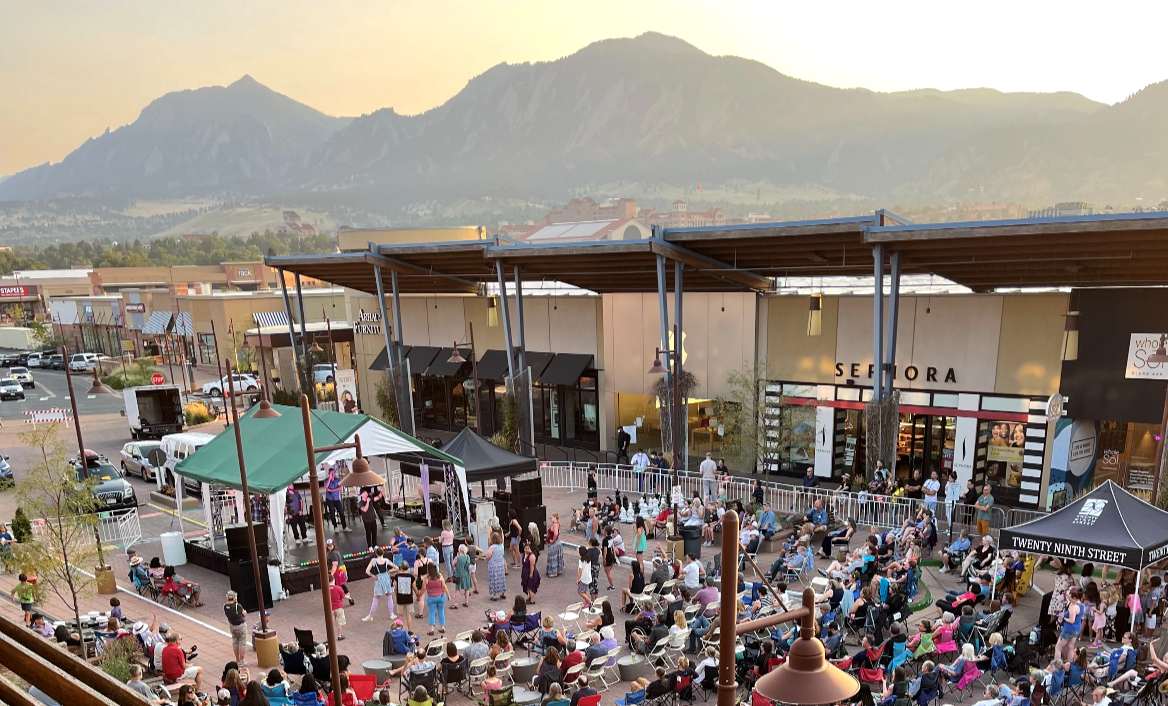 63rd Street Farm Dinner Concert Series
May 5-October 20, 2023. $15 suggested donation.
Music on the farm! Grab your friends, some beer, chairs and a blanket for 63rd Street Farm's Farm Dinner Concert Series this season. The series will feature amazing local musicians, wood-fired pizza and farm meals. We recommend checking for the latest event updates on the farm's social media.
2023 lineup
May 5 – Hunter Burnette and Erika Ryann
May 19 – Greg Schochet and Little America
June 2 – Lonely Choir and Travis McNamara 
June 16 – Sound of Honey
July 7 – El Javi and Dechen Hawk
July 21 – Covenhoven
August 4 – Anna Cutler and Morning Bear
August 18 – Bonnie and Taylor Sims Band
September 1 – Anna May and Liz Barnez
September 15 – Sturtz
October 6 – Scott T. Smith and Alysia Kraft
October 20 – LVDY
Arts in the Park
June-July. Ticket prices vary.
Arts in the Park plays host to vibrant arts and cultural performances at the historic Glen Huntington Bandshell in Boulder's Civic Area. Times and prices vary, so make sure to check the website for details.
2023 musical lineup (additional events listed here)
July 4 – Boulder Symphony
July 29 – Boulder Opera
Concerts in the Park
City Parks, June-August, 2023. Free.
Monday evenings throughout summer, the Boulder Concert Band plays a different Boulder park each week for Concerts in the Park. Bring a picnic!
2023 locations 
June 12 – East Palo Park
June 19 – East Boulder Community Park
July 3 – Harlow Platts Community Park
July 10 – Scott Carpenter Park
July 17 – Salberg Park
July 24 – Martin Park
Meadow Music for Families
Various dates, June-July, 2023. Free.
Meadow Music, an annual series of kids' concerts that takes place in Chautauqua Meadow, are free, science and nature-focused, with creative costumes and loads of audience participation. Come see the dynamic duo of Jeff and Paige perform to their little fans and sing about science in the most creative ways imaginable.
2023 dates
June 12 – 5:30pm hike, 6pm show
June 19 – 5:30pm hike, 6pm show
June 26 – 5:30pm hike, 6pm show
July 8 – Time TBD, Chautauqua's 125th Anniversary Celebration
July 22 – 9:30am hike, 10am show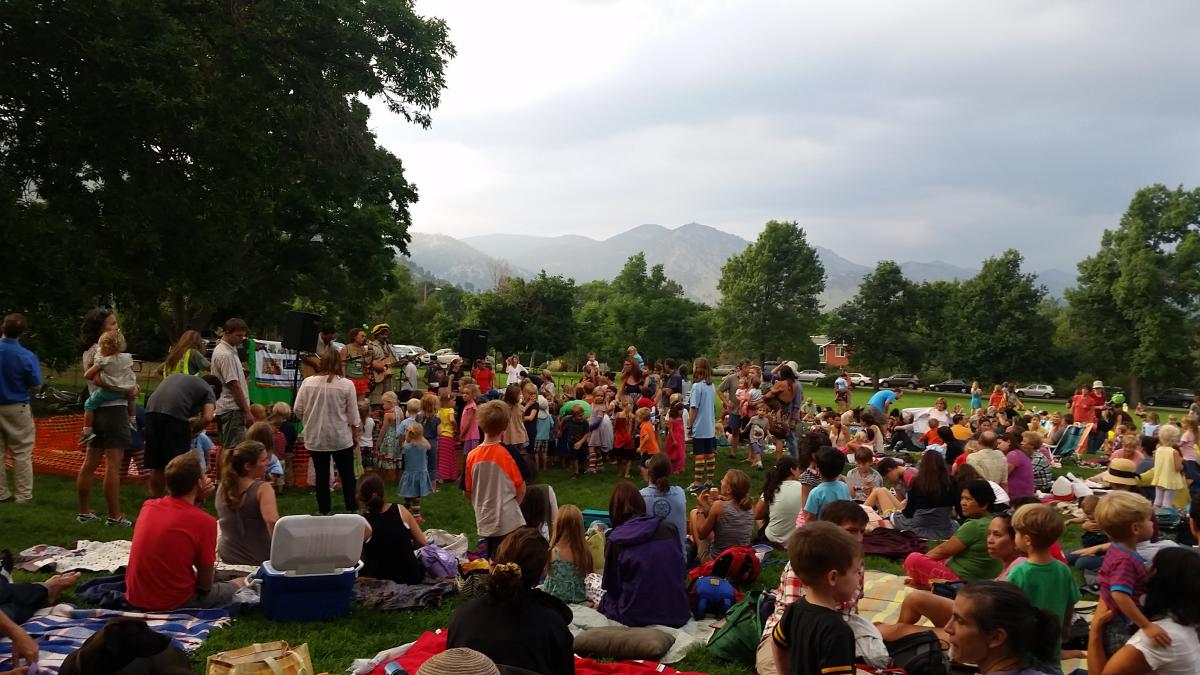 Red Rocks Park & Amphitheatre
Select dates, spring–fall. Prices vary.
The legendary Red Rocks Park & Amphitheatre in nearby Morrison (not to be confused with Boulder's own Red Rocks hiking trail) is a summertime must, hosting an unbelievable lineup of bands all season long. It is just a 45-minute drive from Boulder. In 2023, we can't wait to see Dermot Kennedy, Lord Huron, Yeah Yeah Yeahs, Rainbow Kitten Surprise, The Avett Brothers and so, so, so many more! Here's the 2023 schedule.
Pearl Street Buskers
Anytime. Free (tipping encouraged).
Pretty much anytime you walk down Pearl Street — a brick-paved pedestrian lane in historic downtown Boulder — you'll see crowds gathered around street performers, as they put on their shows. And often those street performers are musicians: violinists, a bassist who stands atop his instrument as he plays, singer-songwriters, drummers and even a pianist.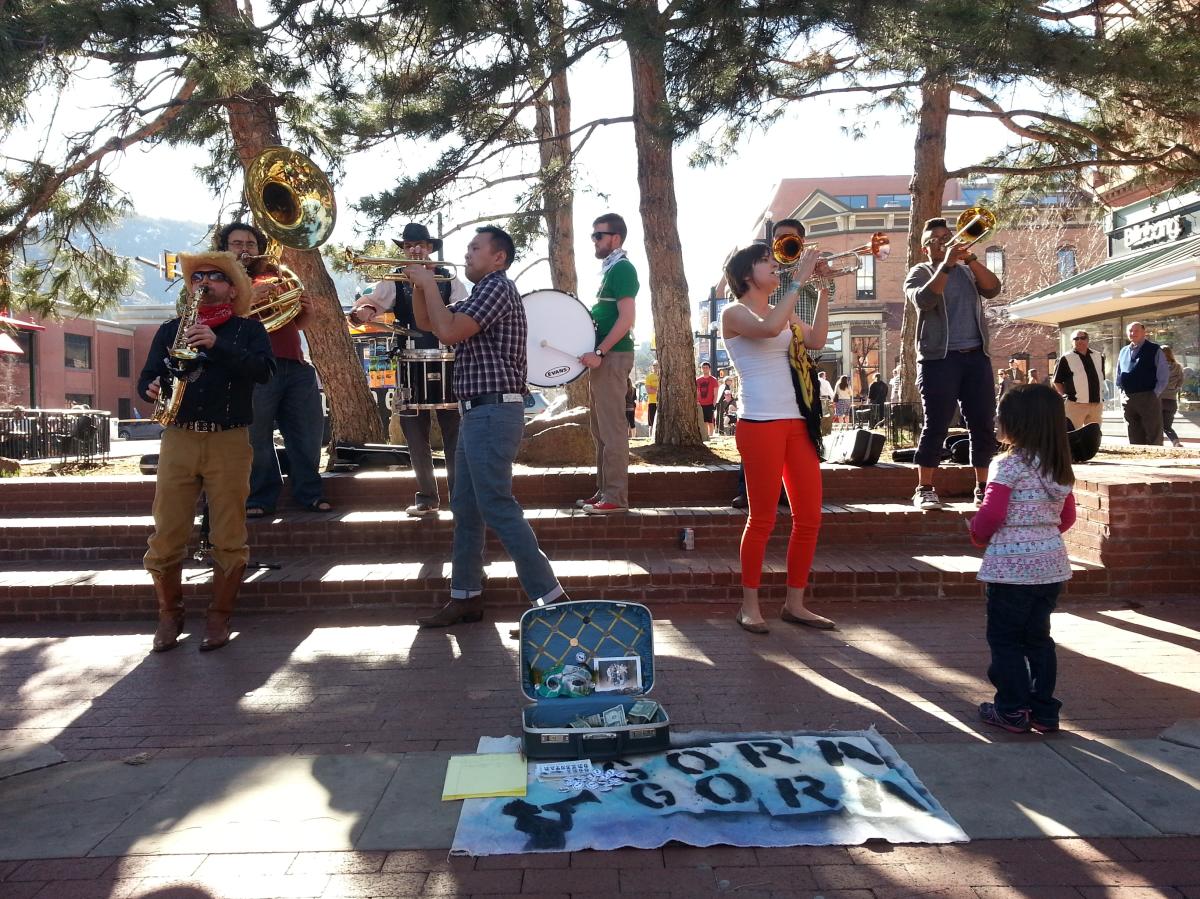 Upslope's Summer Music Series
May 20-August 5, 2023
Upslope Brewing is hosting summer music Saturdays all summer long at their Flatiron Park tap room patio. Concerts take place from 2-4pm.
2023 lineup
June 10 – Facebagel
June 17 – The Gilmore Family Duo
July 8 – Highgrade
July 22 – Rocket Parade
July 29 – Good Music Medicine Roots Project
August 5 – Steepland String Band

Indoor Concerts
Chautauqua Auditorium
Select dates, summer–fall. Prices vary.
Shawn Colvin said that playing in the Chautauqua Auditorium was like playing inside a guitar. That's how good the acoustics are in this all-wood structure built in 1898. Each summer the auditorium hosts musicians such as the Indigo Girls, Lucinda Williams, St. Paul & The Broken Bones and The Gipsy Kings during the Chautauqua Summer Concert Series. Additionally, the Colorado Music Festival takes up residency in the auditorium each summer, June–Sept., putting on several weeks' worth of orchestral concerts.
2023 lineup
This is Chautauqua's 125th anniversary and the musical lineup is stellar!
June 1 – The Wailers 
June 10-11 – Orebolo
June 13 – Mary Chapin Carpenter
June 20 – Marc Cohn and Shawn Colvin
June 24 – Graham Nash
July 5 – Indigo Girls
July 8 – Los Lobos and Ozo Matli
July 17 – Nitty Gritty Dirt Band
July 22 – The Wood Brothers
July 31 – Mat Kearney
August 4-5 – Andrew Bird
August 8 – Amos Lee
August 9 – Gipsy Kings
August 18 – Leo Kottke and Julian Lage
August 21 – The Wallflowers
August 30 – Watchhouse (formerly Mandolin Orange)
September 2 – Rising Appalachia
September 12 – Herbie Hancock
September 28 –The SteelDrivers
September 29 – Tig Notaro
October 1 – Snarky Puppy
Velvet Elk Lounge
Select dates, year round. Prices vary.
Boulder's newest music venue is the intimate, always-happening club you've been craving, with great food and cocktails on top of that. The Velvet Elk's musical lineup is perpetually packed with great acts and new discoveries, just a few steps off Pearl Street.
Fox Theatre
Select dates, year round. Prices vary.
Rolling Stone magazine named the Fox Theatre one of the best places in the U.S. for live music. Being on University Hill, it caters to a college crowd but draws a huge variety of accomplished artists. Shows happen year-round, and in August, the Triple A Radio Conference comes to town, and the Fox plays host to several top-name acts associated with the event. Previous performers have included Dave Matthews, Jason Mraz, Grace Potter and John Mayer.
Boulder Theater
Select dates, year round. Prices vary. 
The art deco marquee on the outside of the historic building is the first suggestion of an exceptional experience. Located in downtown Boulder, just steps from the Pearl Street Mall, the Boulder Theater is beautifully restored with art deco ornamentation, including hand-painted murals and a fresco ceiling. The Avett Brothers, Sheryl Crow, Madeleine Peyroux, Branford Marsalis and Johnny Cash have all performed here.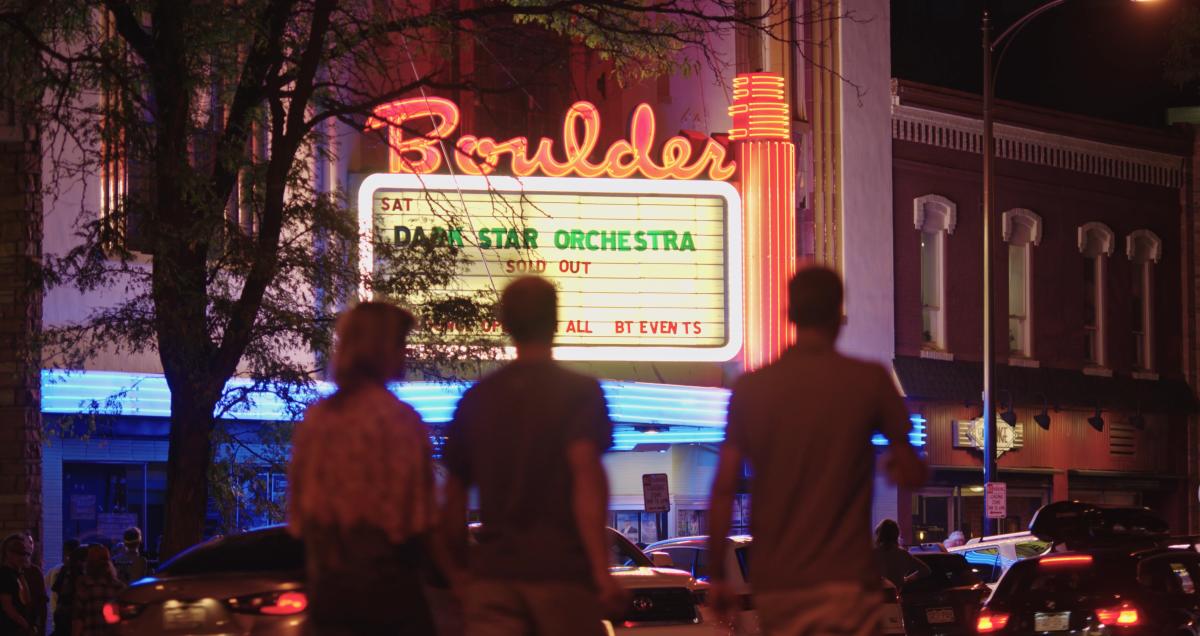 Etown Music Hall
Select dates, year round. Prices vary.
eTown is a weekly radio broadcast heard on NPR and commercial stations. The shows are taped in front of a live audience at eTown Hall, the most eco-friendly music venue in Colorado, with performances from musicians as well as conversations about the world. Being in the audience is a peek behind the scenes — you'll be a part of the soundcheck, witness how the show is produced and hear bloopers. Musicians like Warren Haynes, Martin Sexton and David Gray coupled with interviewees like Jimmy Carter create a one-of-a-kind, live radio show. It is a fun evening of music and inspiration.
BoCo Cider
Select dates, year round.
BoCo Cider hosts a staggering number of life shows each week, so if you're looking for a place to enjoy a cider and listen to live local tunes, this spot in North Boulder is a good bet. Musical styles range from classic covers to blues to jazz. There's always something going on at BoCo.
Music Events and Festivals
Colorado Music Festival
June 29-August 6, 2023
The internationally acclaimed Colorado Music Festival is held four nights per week for seven weeks at the historic Chautauqua Auditorium, showcasing an orchestra of professional classical musicians from all over the world.
Upslope Get Down
May 20, 2023
Upslope Get Down is a family-friendly event and features Upslope beer, barbecue and, of course, live music.
Colorado Brazil Fest
August 10-13, 2023
Colorado Brazil Fest is hosted by Boulder Samba School, the only organization in the state dedicated to promoting the rich heritage of Brazilian music, dance, and culture. Enjoy live music performances and dance at the Glen Huntington Bandshell in Boulder's Civic Area.
Boulder Creek Fest
May 26-39, 2023
Boulder Creek Fest is Boulder's biggest annual celebration of music, markets, food, craft beer, family-friendly activities and much more.
Chautauqua Silent Film Series
June 28-July 26, 2023
Live musical accompaniment to films of the twenties makes the Chautauqua Silent Film Series a truly unique summer experience inside the Chautauqua Auditorium. Films starring favorites like Rudolph Valentino, Charlie Chaplin and Lillian Gish, play on the big screen while rousing, live music (often piano) is provided by local artists. 
Boulder Social Streets
June 25-September 24, 2023
Grab your loved ones and meet on the streets of downtown for Boulder Social Streets, a series of free and fun activities happening all summer long, including several music events like a Melanin Funk Festival and Dancing in the Street to live music.