Skiing Near Boulder
Eldora Ski Resort
Eldora is the closest ski resort to Boulder. It's just 21 miles away (a 35-minute drive) and offers 10 lifts and 8 terrain parks on 680 acres. Eldora welcomes skiers, snowboarders, cross-country skiers and snowshoers.
Eldora is known for its laid-back, local vibe. (Read about it in the LA Times.) You'll see local moms and dads teaching their kids to ski — and lift attendants welcome you instead of herding you into a lift line. Yet a high-speed, six-person chairlift makes getting to the top a breeze.

Single-Occupancy Vehicle Fee Days
For the 2022-23 season, Eldora has expanded their parking lots and, as required by Boulder County, is implementing a $10 parking fee for single-occupancy vehicles (SOVs) on Saturdays, Sundays, holidays and holiday periods, and weekdays with 10 or more inches of new snow. On SOV fee days, parking is free for vehicles with two or more occupants. Learn more about parking options on their website and get live updates via Twitter.
Wander Wisely
Winter is an especially vulnerable time for animals. Observe wildlife from a distance. Do not follow or approach them.
Lessons
Daily group lessons, starting at $249, are available for children, adults and families. Eldora also offers lessons in nordic skiing, adaptive programs and private lessons. Learn more and book online.
Woodward Terrain Parks
The Woodward Mountain Park at Eldora is a network of featured terrain zones that offer a balanced variety of exciting on-mountain experiences for all ages and abilities. The Woodward Mountain Park is complete with base-area learning zones, large freestyle zones and everything in between.
Where to Stay
There is no lodging available at Eldora, so Boulder is your best bet for hotel options, plus it makes a great basecamp, with tons of dining and sightseeing opportunities when you're not skiing.
Great for Families
Unlike at the mega-resorts, at Eldora, you can park and just walk right up to the lifts, often without much of a line. It makes getting there much easier with little ones.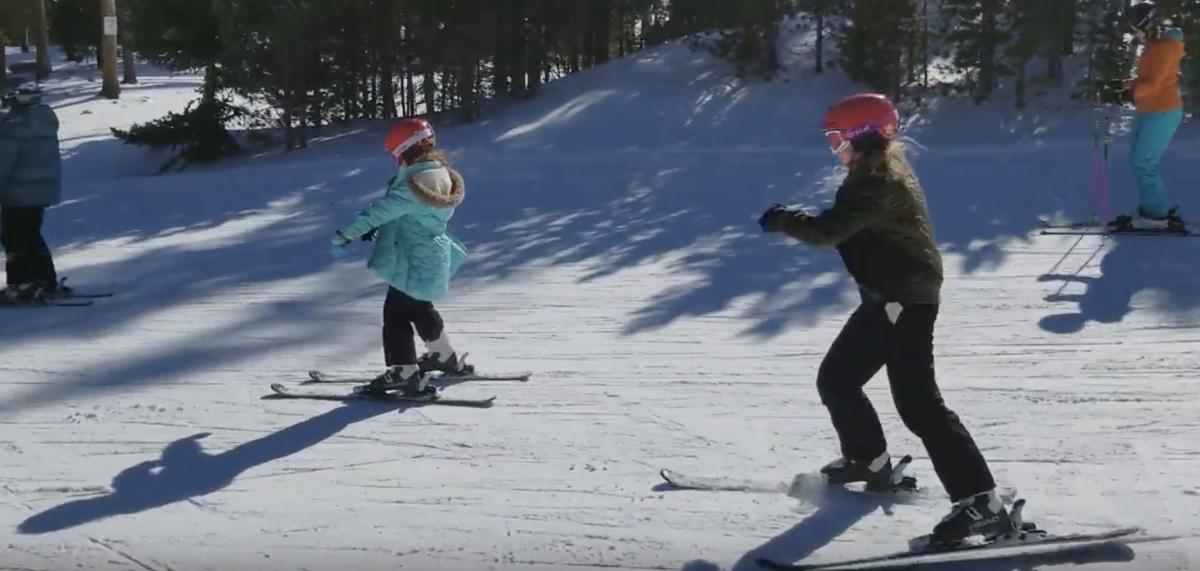 Rentals
A great rental shop is available on the mountain at Eldora. You will find options for alpine and nordic daily gear rentals, as well as a tune-up shop. Various rental packages are available depending on style and skill level.
Dining
There are five dining options on the mountain: Upstairs Indian Peaks, Timbers Grill, Timbers Taphouse, The Lookout and the mountain's newest addition, Corduroy's food truck. More info here.

Boulder for Apres, Dining and Lodging
Fewer options on the mountain mean you'll want to head back to Boulder for aprés patio drinks, fabulous dinners and comfortable lodging. A few years ago, National Geographic Traveler named Boulder one of the Top 10 Winter Towns in the U.S., with fans writing, "Ski the nearby mountains in the morning; bike ride in Boulder in the afternoon!" Winter weather tends to be fairly mild in Boulder, and there's plenty to do before or après ski: shopping on the historic Pearl Street Mall, beer tasting at 19 breweries, sipping tea at the Boulder Dushanbe Teahouse, or taking a food tour of groundbreaking restaurants.
Directions
It's a beautifully scenic drive from Boulder that will take you about 35 minutes. Take Canyon Blvd. west (Canyon Blvd. is Hwy. 119). Follow Hwy. 119 to Nederland. Turn left at the roundabout. Continue south on Hwy. 119 for one mile. Turn right on 130 and follow the signs to Eldora.
Bus Service
Take public transportation to the slopes for just $10.50 round trip. Sit back, relax and you'll be there in about an hour. Regional Transportation District (RTD) buses depart from the 14th and Walnut RTD Station in Boulder, stop in downtown Nederland, then drop you off right in front of the Main Lodge at Eldora where it leaves to go back at the end of the day. Look for the Ski-n-Ride Route NB from the 14th and Walnut station in Boulder. You will want to purchase a regional/airport day pass for $10.50. More information and Route NB schedule here.