Food Trucks in Boulder
In Boulder, food trucks are about much more than just grabbing a quick bite. They are incubators for some of the best culinary artists in town, and an accessible way to taste what's up and coming. Plus, they fit right in with Boulder's desire to do anything and everything outdoors — including eat lunch. Here's where to find Boulder's food trucks.
Rayback Collective
Rayback Collective is Boulder's food truck park, complete with seriously dazzling Flatirons views. Order up your meal from a rotating selection of the region's best food trucks, grab a craft brew on tap in the indoor beer garden, take a seat at the communal tables or sit outside on picnic tables. The owners reclaimed the old Rayback Plumbing building, so it has a cool, industrial vibe. And outside is like a backyard party year round: chat around the firepit, play a game of cornhole and maybe even catch some live music while you're there.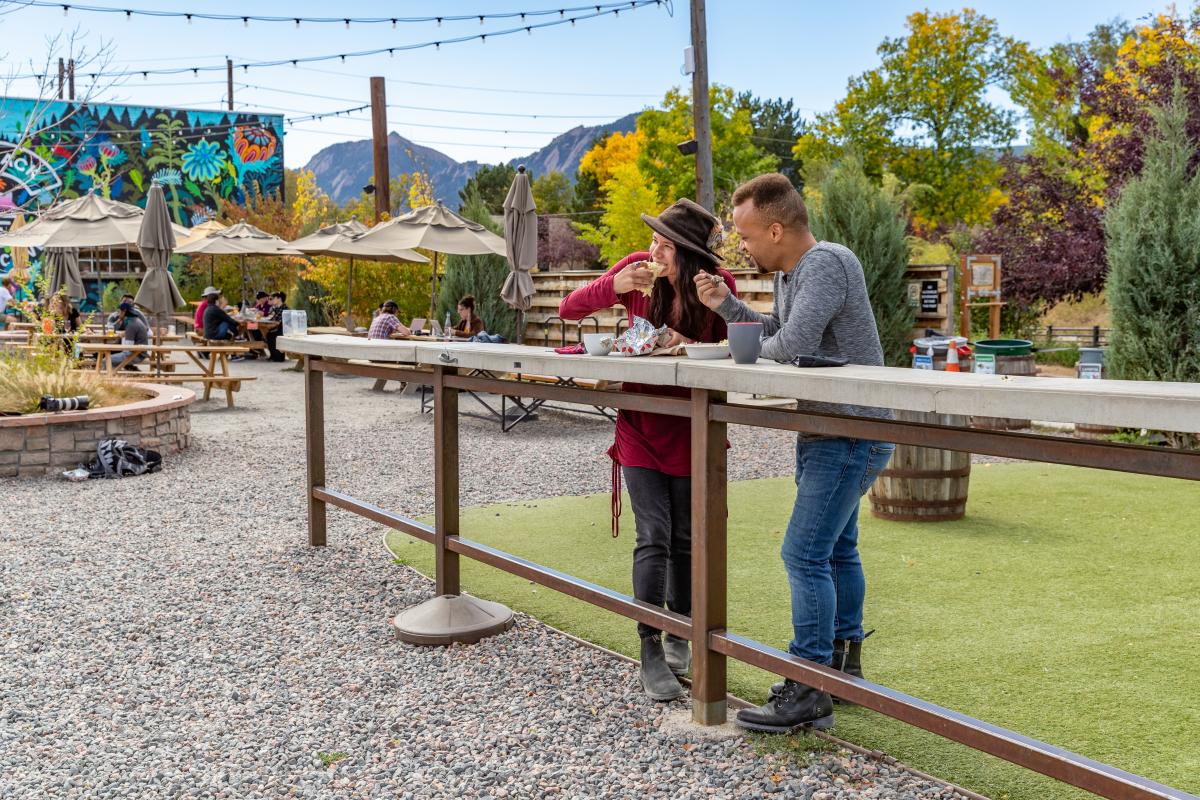 East Boulder's Flatiron Business Park
Boulder's tech startup community has transformed east Boulder into what's been called the "Brooklyn of Boulder," turning the once-industrial area into a tech office hub, surrounded by restaurants, coffee shops and breweries. And with a captive audience of office workers looking for lunchtime fuel, Boulder's food trucks are happy to park in the heart of it all. Find them at Flatiron Park (5500 Flatiron Pkwy.), and look for food trucks like Seb's Wood-Fired Pizza, Izote and Arepas Caribbean.
Photo: Arepas Caribbean from Flatiron Park
Food Trucks at Breweries
Savory food truck bites and cold beer just seem to be made for one another. And Boulder's brewers seem to agree. Of the town's 19 craft breweries, several of them invite food trucks to park outside their tasting room doors on a regular basis. Good bets include Upslope Brewery, where food trucks Miller's BBQ and Arepas Joint are frequent visitors; Gunbarrel Brewing Company, which has a huge food truck lineup all week long; and Sanitas Brewing Company, where McDevitt Taco Supply's truck is often parked.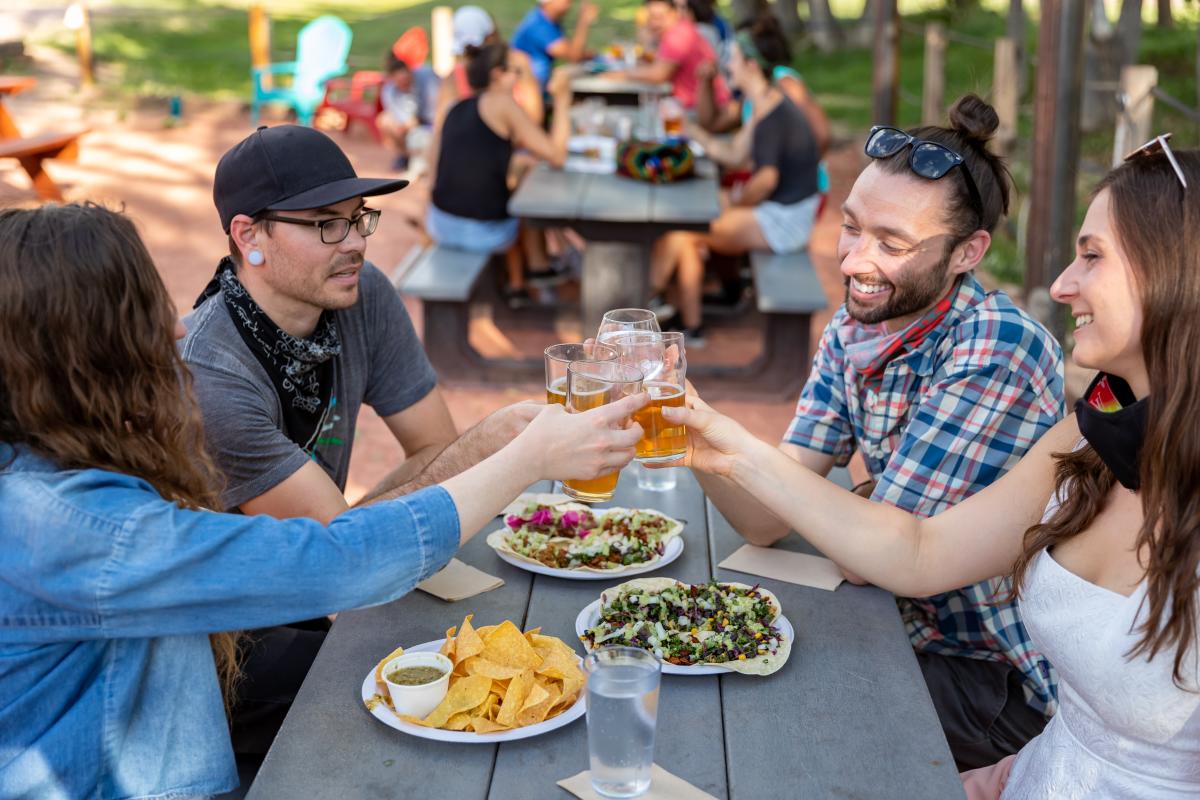 Photo: Sanitas Brewing Company
Food Cart Hot Spots
At several spot along Pearl Street's pedestrian walking mall (and especially in front of the courthouse at 13th and Pearl) are food stands serving up unique Boulder eats, such as nourishing Boulder Bowls and old-favorite Fast Eddie's World Famous Chicago Hot Dogs. 
Boulder Farmers' Market
Food trucks, carts and mobile ovens show up at the Boulder Farmers Market on Saturdays and Wednesdays. Popular spots include Sisters' Pantry's hot dumplings, Amazing Corn Tamales, Laudisio's wood-fired pizzas and Tres Pupusas, a delicious Salvadorian dish.
Hours: Saturday 8am-2pm (April-November) and Wednesdays 4-8pm (May-October)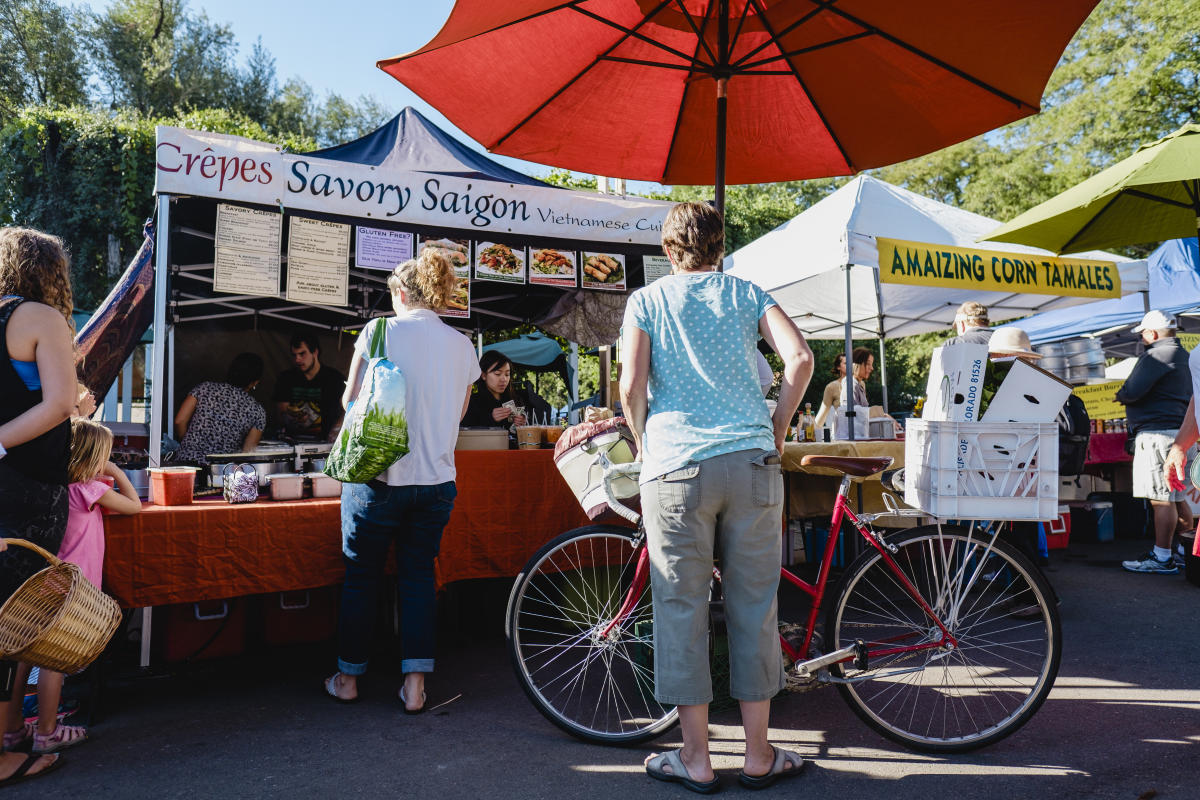 Food Trucks Turned Brick-and-Mortar Restaurants
Some of Boulder's most popular food trucks have gone and put a ring on it by opening brick-and-mortar restaurants of their own. Top Chef champion Hosea Rosenberg took his food truck experimentation to new levels when he opened Blackbelly Market. Super-fresh taco truck Verde now has a popular permanent spot. And if you'd like a sweet something for dessert, head to Fior di Latte (an Italian gelato stand that started at the Boulder Farmers' Market) or Sweet Cow (whose MooMobile truck makes its rounds to events in the area).