Favorite Boulder Holiday Traditions
Please Confirm Events and Happenings
Please check official event websites before making plans to attend. This site may not reflect the most recent updates, as events recover from Covid-19 disruptions.
Flagstaff Star
Veteran's Day Through Second Sunday in January
Boulder's holiday star has shone from atop Flagstaff Mountain every year for over seven decades. Its 365 bulbs are energy-saving LED lights that can be seen from anywhere in Boulder. Over the years, pranksters have changed the shape of the star to form letters representing rival teams or towns, or to make political statements, but the star has been lit every year since 1947. The Boulder Chamber is the proud steward of the star, and each year they sell holiday cards featuring a rendition of the star, painted by a local artist.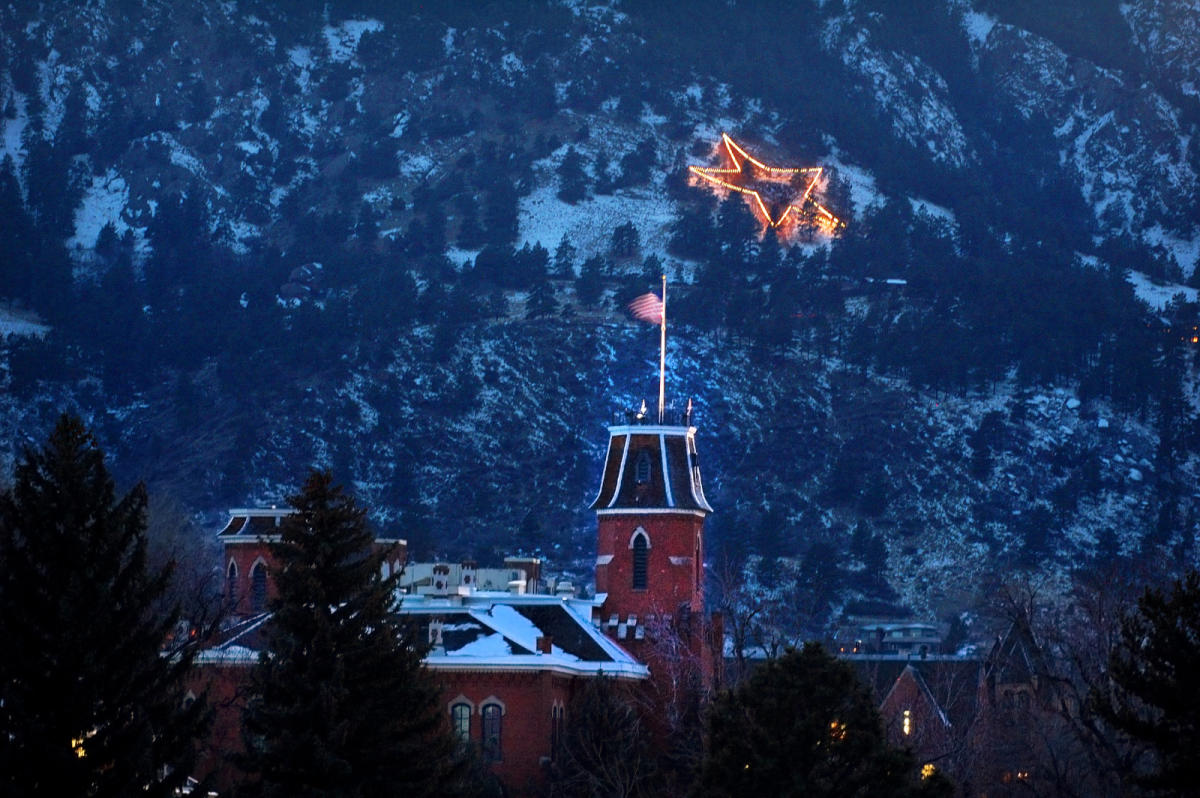 Photo: University of Colorado Boulder
Switch on the Holidays
Nov. 20, 2022
See downtown Boulder come alive with sparkling lights and stay on the lookout for a Santa sighting during Switch on the Holidays. Attendees count down to the grand illumination of downtown Boulder — including the iconic art-deco Boulder County Courthouse.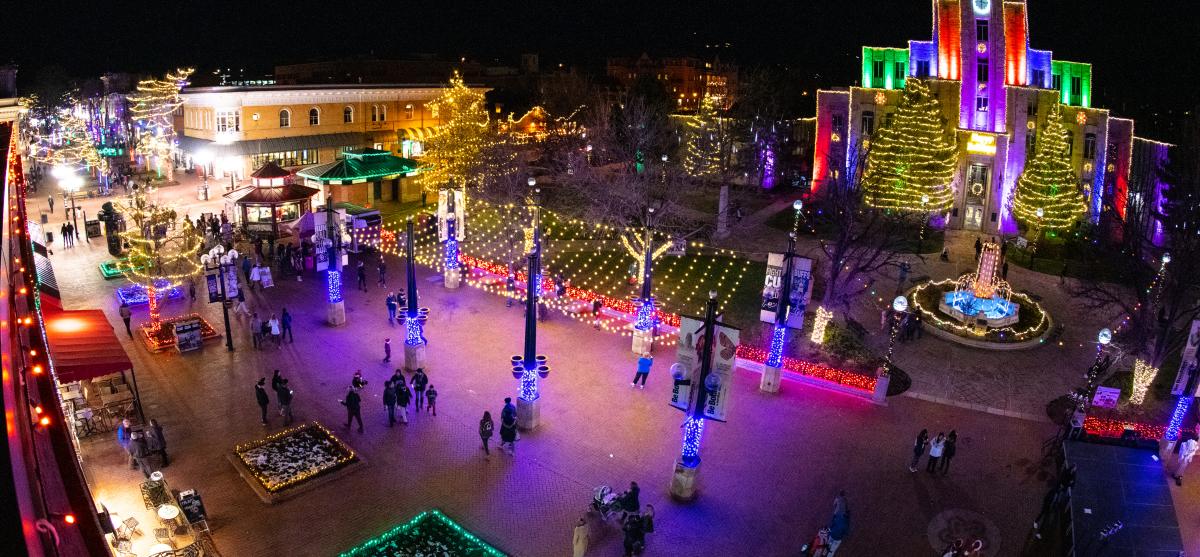 St. Nick on the Bricks
Friday, Nov. 25 and Saturdays, Nov. 26-Dec. 24, 2022
On the Pearl Street Mall in historic downtown Boulder, kids of all ages can visit with Santa during St. Nick on the Bricks. Have your camera ready!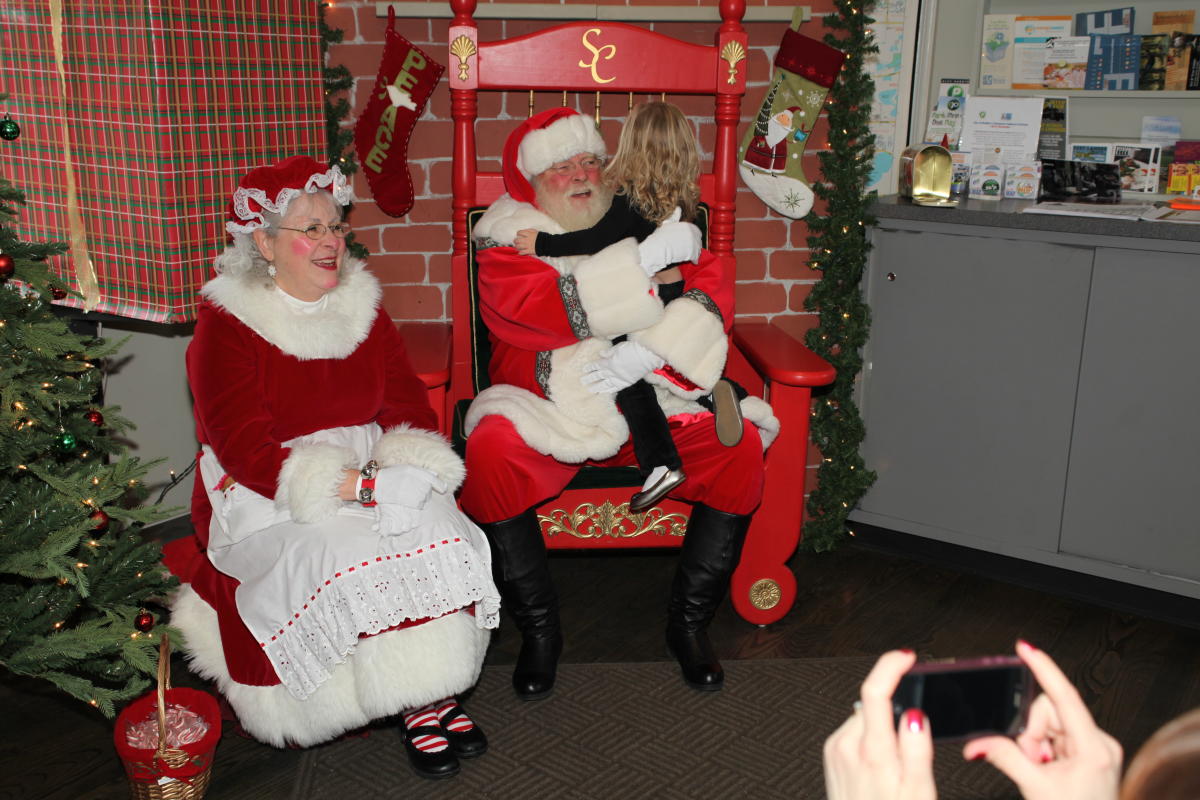 Lights of December Parade
Dec. 3, 2022
Boulder's annual hometown parade meanders through historic downtown. During the Lights of December Parade, hear marching bands, watch floats go by and get a feel of Boulder's distinctive lifestyle during this night-time parade. The grand finale includes an appearance by the jolly old man himself — Santa Claus!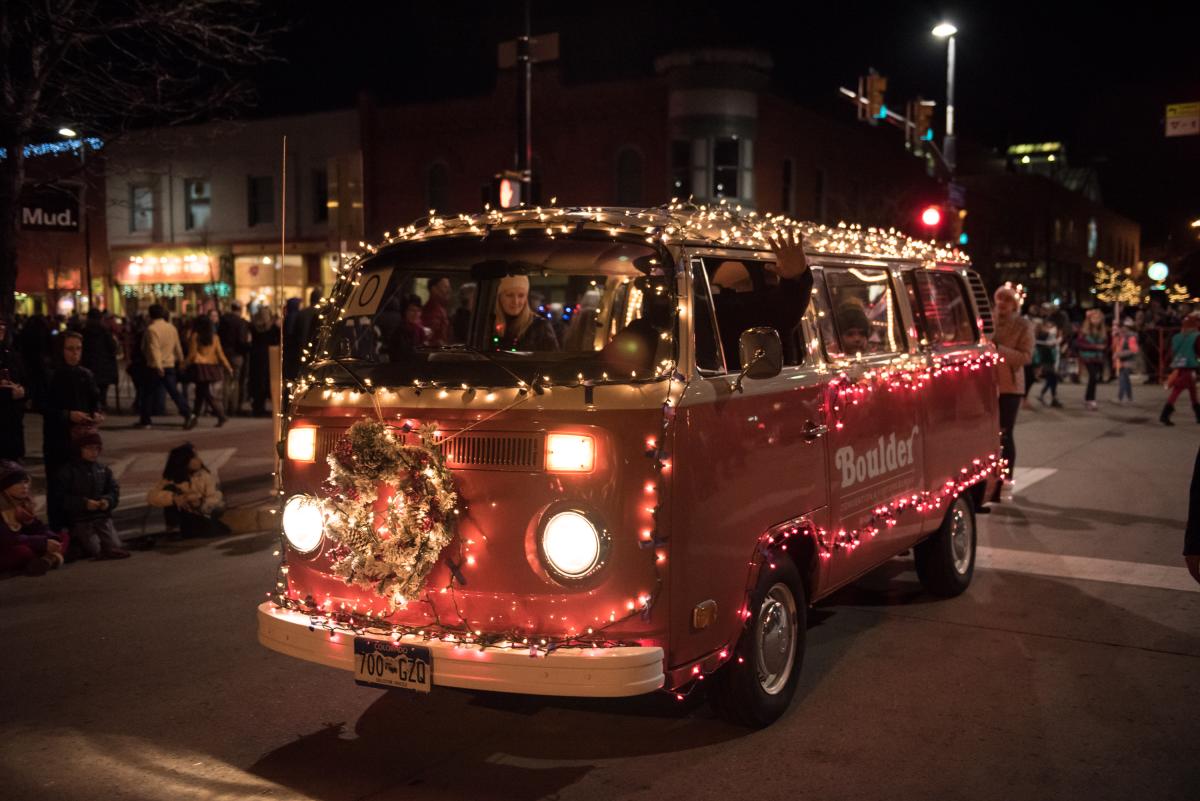 Snow Much Fun Light Displays
TBD, 2022-2023
During Snow Much Fun, hundreds of thousands of colorful LED lights illuminate Boulder's Civic Area, next to the Boulder Dushanbe Teahouse and the Boulder Museum of Contemporary Art, and throughout downtown Boulder, including all along historic Pearl Street. Each year there are fun, themed light displays (like a candy cane forest and gumdrop lane). Grab a hot cup of cocoa and enjoy a wonder-filled stroll outside.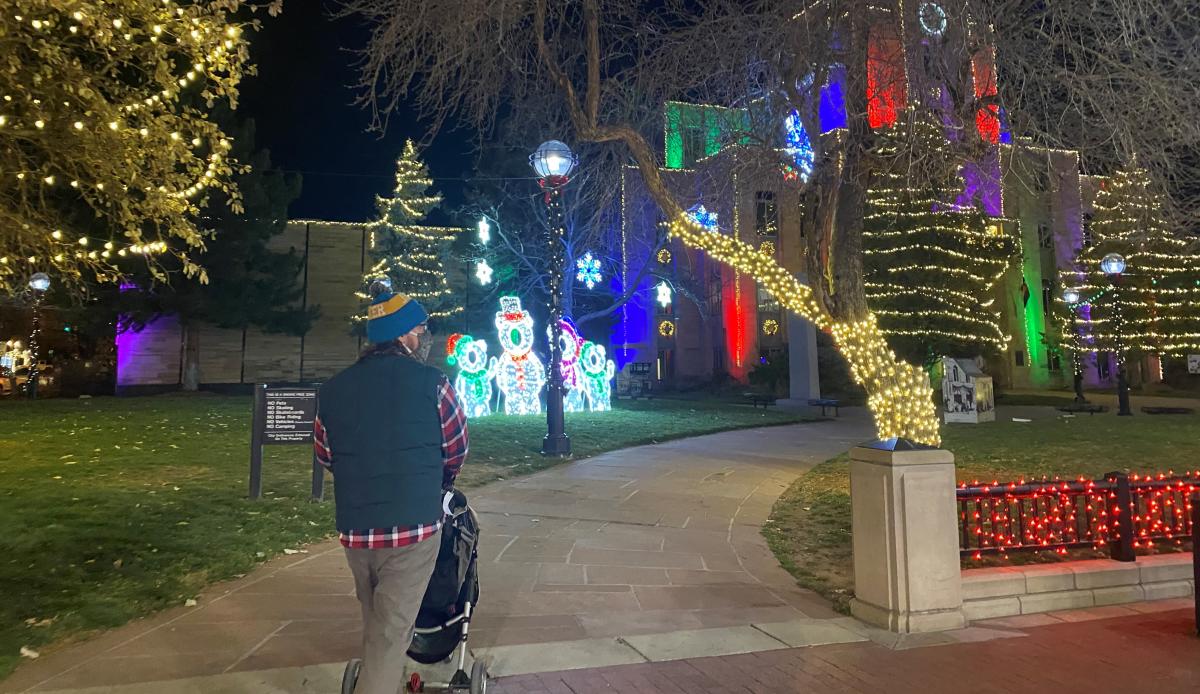 Photo courtesy of Downtown Boulder
CU Presents' Holiday Festival
Dec. 2-4, 2022
Each year for 40-plus years, Macky Auditorium, located on the CU campus, has hosted one of Boulder's most beloved holiday concerts as part of the CU Presents program. The College of Music's choirs, orchestras, ensembles and soloists perform the Holiday Festival in the beautifully decorated, historic auditorium.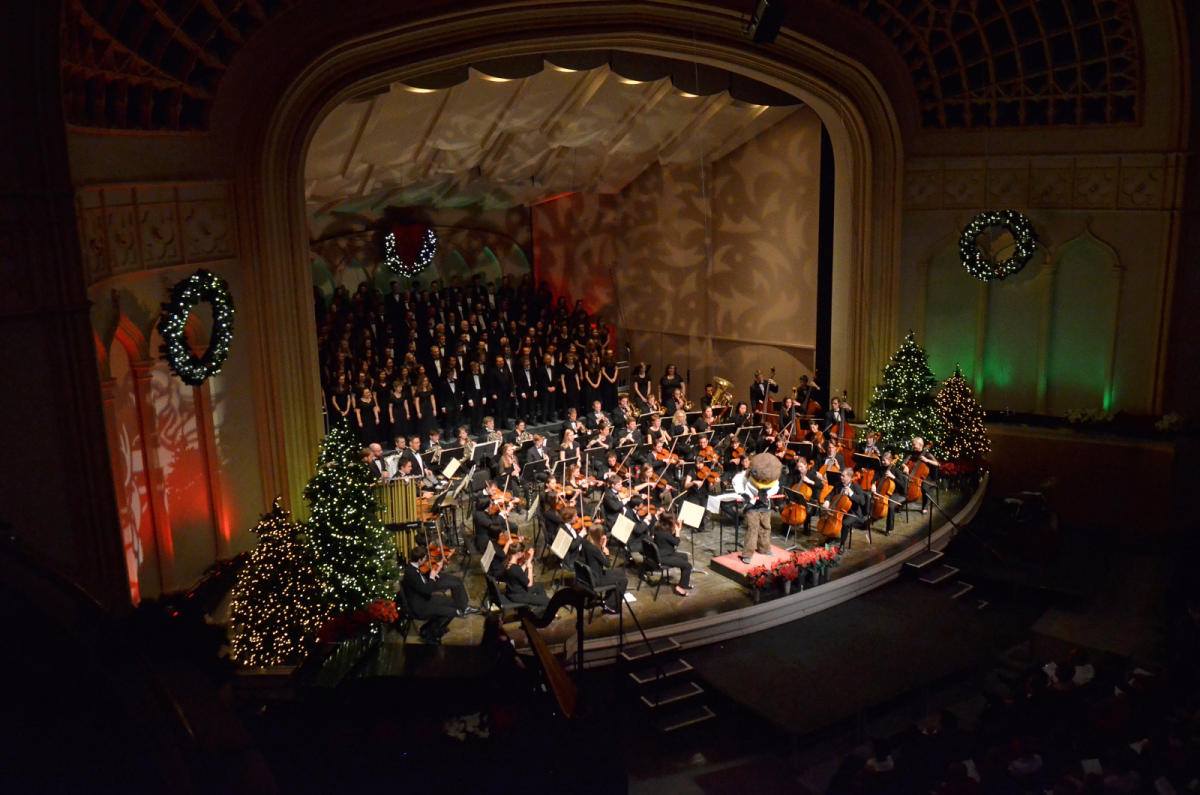 Photo: Casey A. Cass/University of Colorado
WinterFest at Colorado Chautauqua
TBD, 2022
Each year, at the foot of the Flatirons, the Colorado Chautauqua hosts a classic winter celebration. In 2021, it includes a festival of lights, a kids concert, breakfast with Santa, Santa's Cottage, horse-drawn carriage rides, historic tours, public art, a Winterfest market, a scavenger hunt and a photo station. More information here.
Holiday Hike
Ask any local, and chances are good that their Thanksgiving, Christmas Day and New Year's Days start with a refreshing winter hike. Try it and see what it's like! There's no better feeling than enjoying the crisp air on the trails in the morning and later sitting down to dinner knowing you've earned a feast. Each year, there's a guided hike, led by a City of Boulder naturalist, on Christmas Day. Many of Colorado's State Parks host free, guided First Day Hikes on Jan. 1, too.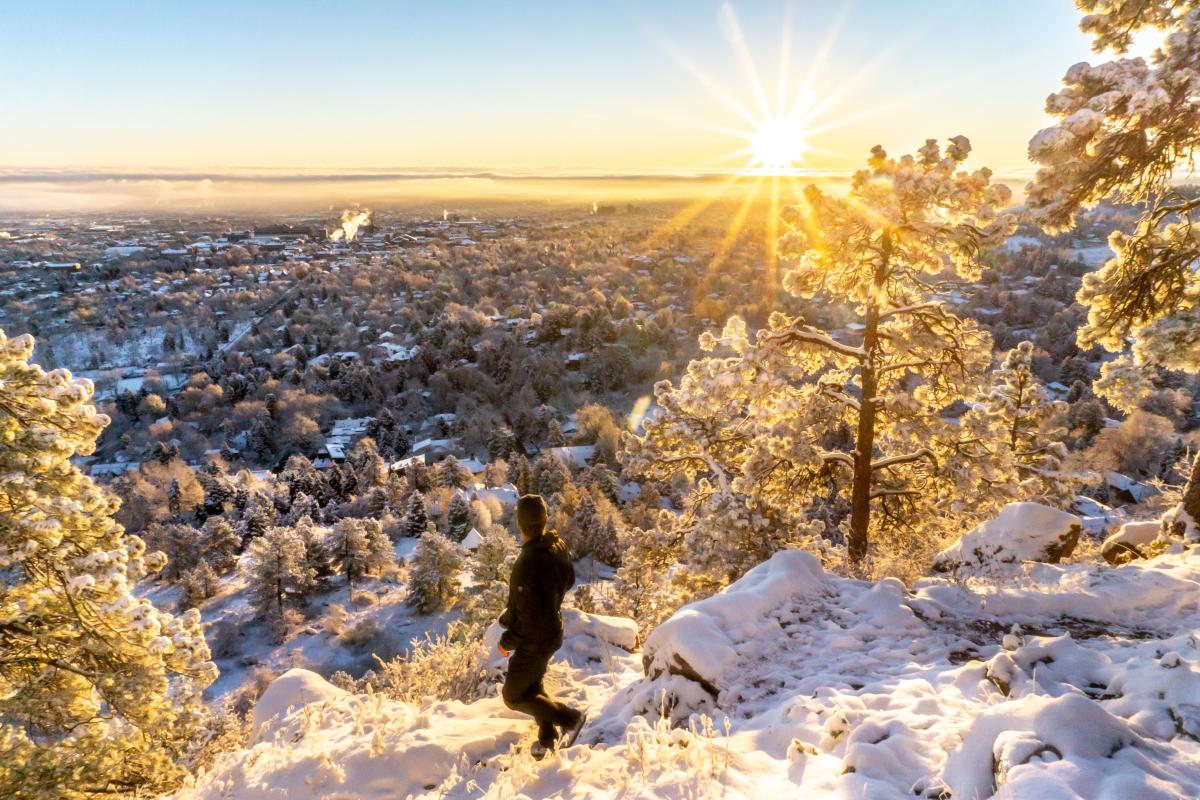 Shopping
Shopping on Pearl Street — a historic, brick-paved pedestrian lane that twinkles with holiday lights — is the picture-perfect way to tackle your holiday gift list. Stop for lots of hot chocolate warm-ups and to watch street performers (including school children playing their instruments to earn a little cash over the holiday break), and enjoy free parking at city garages downtown. Over at Twenty Ninth Street, more shopping awaits — and spectacular views of the Flatirons. Plus, don't miss Boulder's artisan markets to support local craftspeople.


Hotel Boulderado Christmas Tree
Stop in for a gander at this massive tree that towers two stories under the Hotel Boulderado's famous stained-glass mezzanine. While you're here, have a warm drink at the lobby bar, Corner Bar or downstairs at License No. 1.
Freezie Fest
Dec. 10, 2022
Freezie Fest is a fun annual event in which you dash into downtown stores to try to be the first one to spot a small, hidden stuffed snowman to win a gift card. Learn more.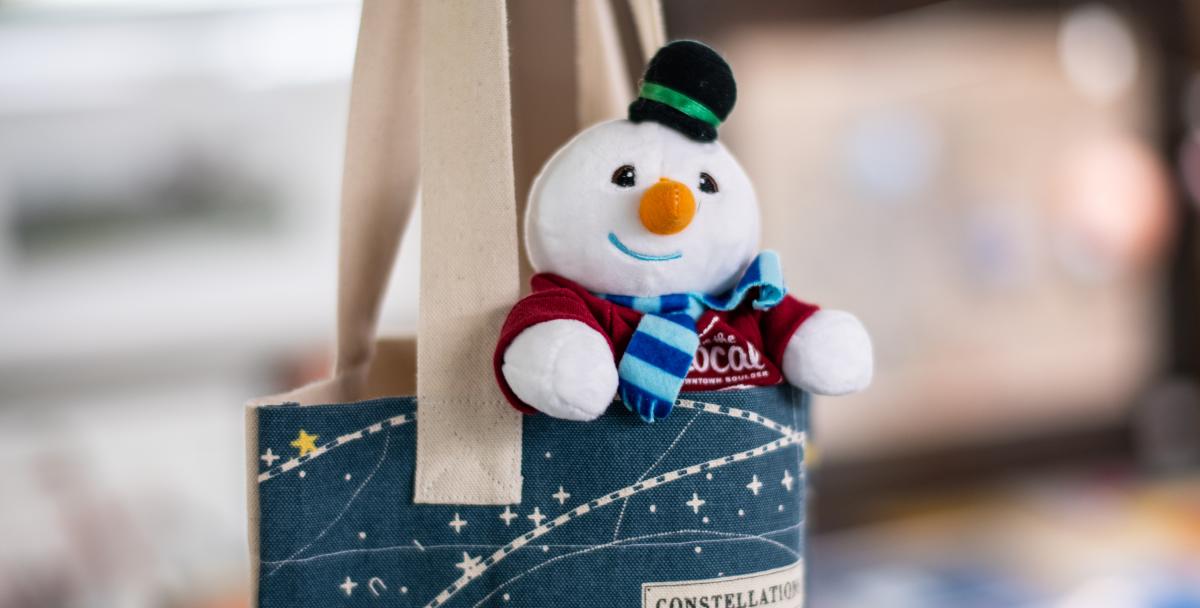 Photo courtesy of Downtown Boulder
Holiday Tea Service
Indulge in all the delicate little finger sandwiches, tiered plates of sweets, and steaming pots of tea you've dreamt about:
Hotel Boulderado – Set on the historic mezzanine overlooking the hotel lobby, with beautiful views of the hotel's famous renovated stained glass canopy ceiling.
Boulder Dushanbe Teahouse – An elegant afternoon tea is available by reservation. English-style white linens accompany all the tea time accouterments.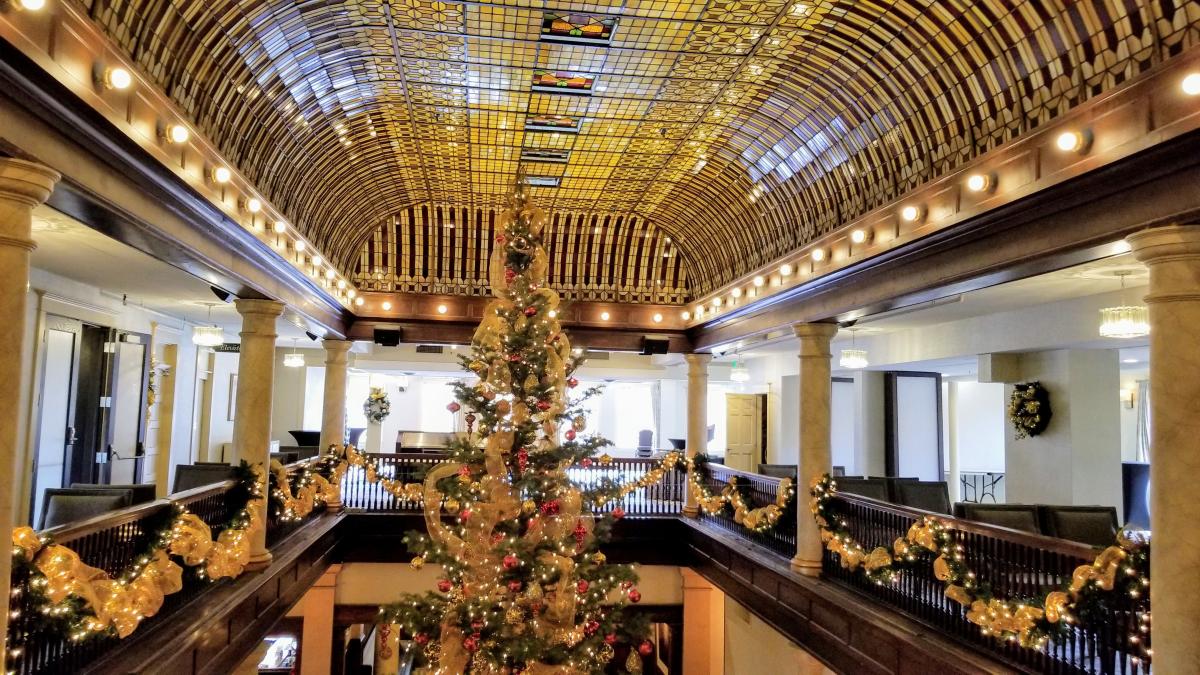 Special Holiday Beverages
Avery Brewing's Old Jubilation Ale has notes of hazelnuts, mocha and toffee to warm you up on a winter day.
Piece, Love and Chocolate's sipping chocolate is the warm, ooey goodness you need on a cold day.
Redstone Meadery's Vanilla Beans and Cinnamon Sticks Honey Wine is unique, delicious and will have you kicking up your heels to celebrate winter.