The Insider's Guide to the Boulder Farmers Market
On a sunny Saturday in Boulder, skip the brunch rush and visit the town's other foodie paradise: the Boulder Farmers Market. This outdoor market has been a hub for local food and community for nearly 30 years. Unlike many markets, everything here is strictly local — grown or raised in Colorado.
You'll see local chefs buying their ingredients for the week, locals who make a market visit their weekly ritual, and visitors gathering to shop, eat and spend time in Boulder's beautiful outdoors. And with all the sights, sounds, smells and tastes, it's truly a feast for the senses.
Days and Times: 
Saturdays 8am–2pm, April through November
Wednesdays 4pm–8pm, May through October 
Location: 
13th St. from Arapahoe Avenue to Canyon Blvd.
This is right next to Boulder Creek and on the front doorsteps of the Boulder Dushanbe Teahouse and BMoCA.
Wander Wisely
Fido and Spot will be happier at home than at the market. It's a bustling scene where they could easily get stepped on, and pets aren't allowed.
Taste
Remember how exciting it was as a kid when you got a free food sample at the supermarket? The farmers market is like that, but with the best local fruits, veggies, and gourmet goodies Boulder has to offer. On what other block can you try a slice of juicy, fresh-cut summer tomato, a piece of melt-in-your-mouth Haystack Mountain goat cheese, a kettle-roasted cherry vanilla almond for dessert, and then wash it all down with a cup of sweet, locally brewed Sanctuary Chai? 
The market also offers a food court where you can buy ready-to-eat food from local restaurants (think tamales, steamed dumplings, pizza and fresh-pressed juices). Grab a plate and take a seat at the tables or under a shady cottonwood on the grass.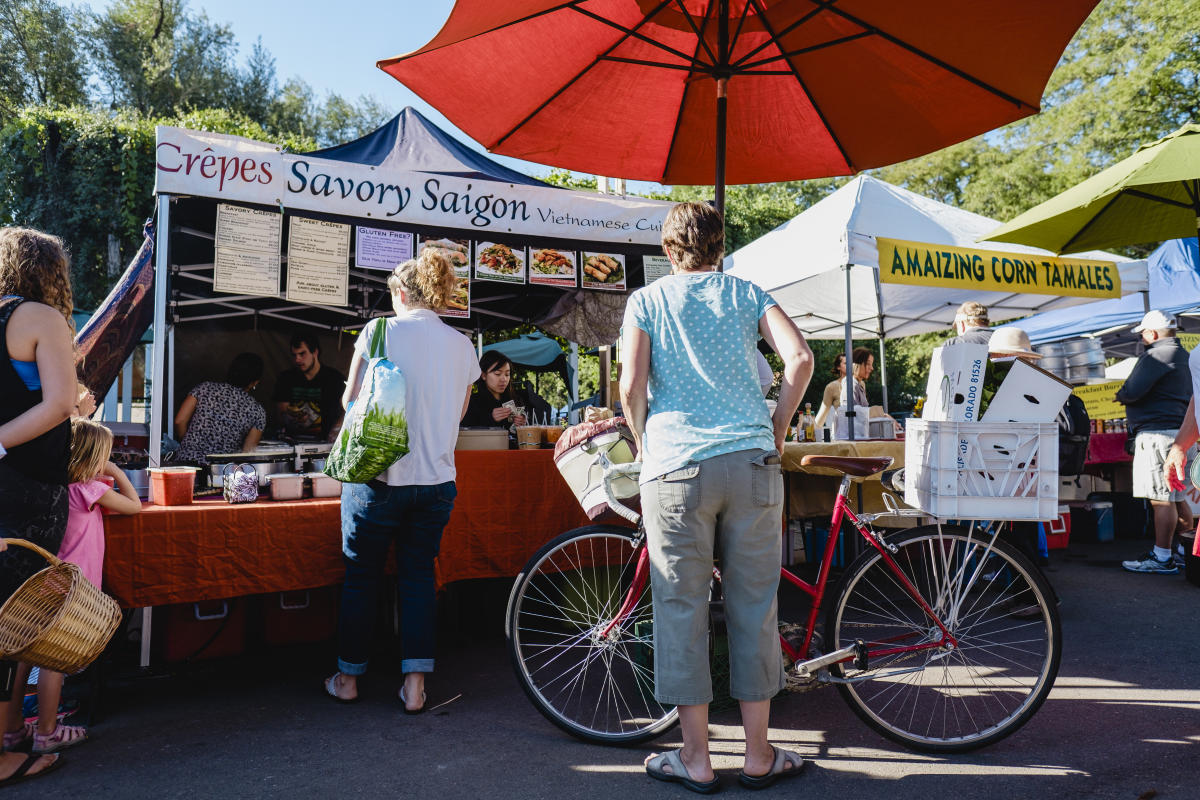 See
Part of the charm of the market is its festival-like atmosphere and gorgeous setting: Boulder Creek babbles by, grassy Central Park and its shady trees beckon picnickers, and views of the Flatirons can be glimpsed. The Boulder Museum of Contemporary Art's (BMoCA's) entrance is on the market path (and the museum is free on Saturdays), as is the awe-inducing hand-carved and -painted Boulder Dushanbe Teahouse, a gift from Boulder's sister city in Tajikistan.
And then there's the beauty of the fruits, veggies, bread loaves and bouquets of flowers. Ever seen a purple pepper? Or a white eggplant? Or a zucchini shaped like a tiny flying saucer? Every photo you take at the market is Instagram-worthy.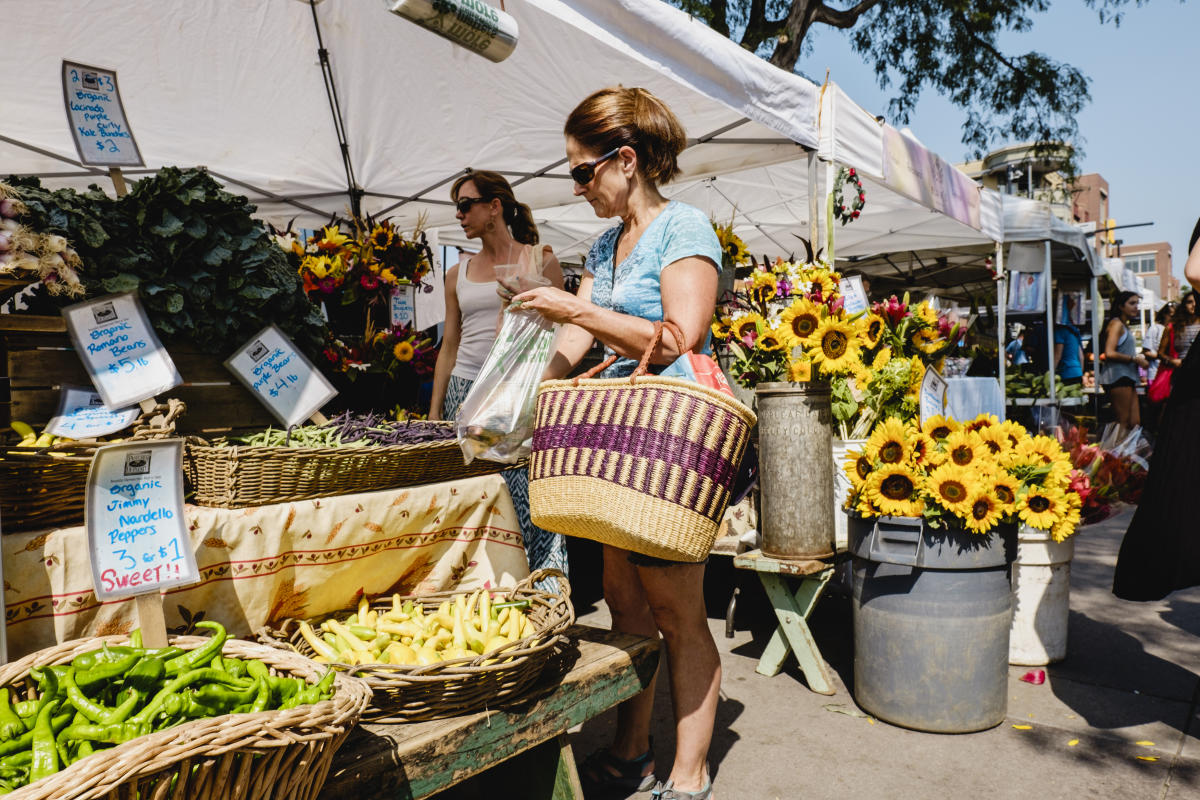 Insider Tip
BMOCA often holds a free kids' activity event on Saturdays, where little ones can get creative with art materials.
Smell
The Teahouse is home to a fragrant garden of hundreds of roses, both wild and heirloom species. Whether you snag a table on the patio for a quick bite or just stop to rest on one of the benches out front, be sure to take a whiff. In the market aisle, you'll pass plenty of fresh-cut, locally grown flowers for sale to scent your home or hotel room. 
If you're lucky enough to have your visit align with Colorado's prime peach season (late July-mid-September), you'll know by the smell before you even take a bite — Colorado's Palisade peaches are perfection.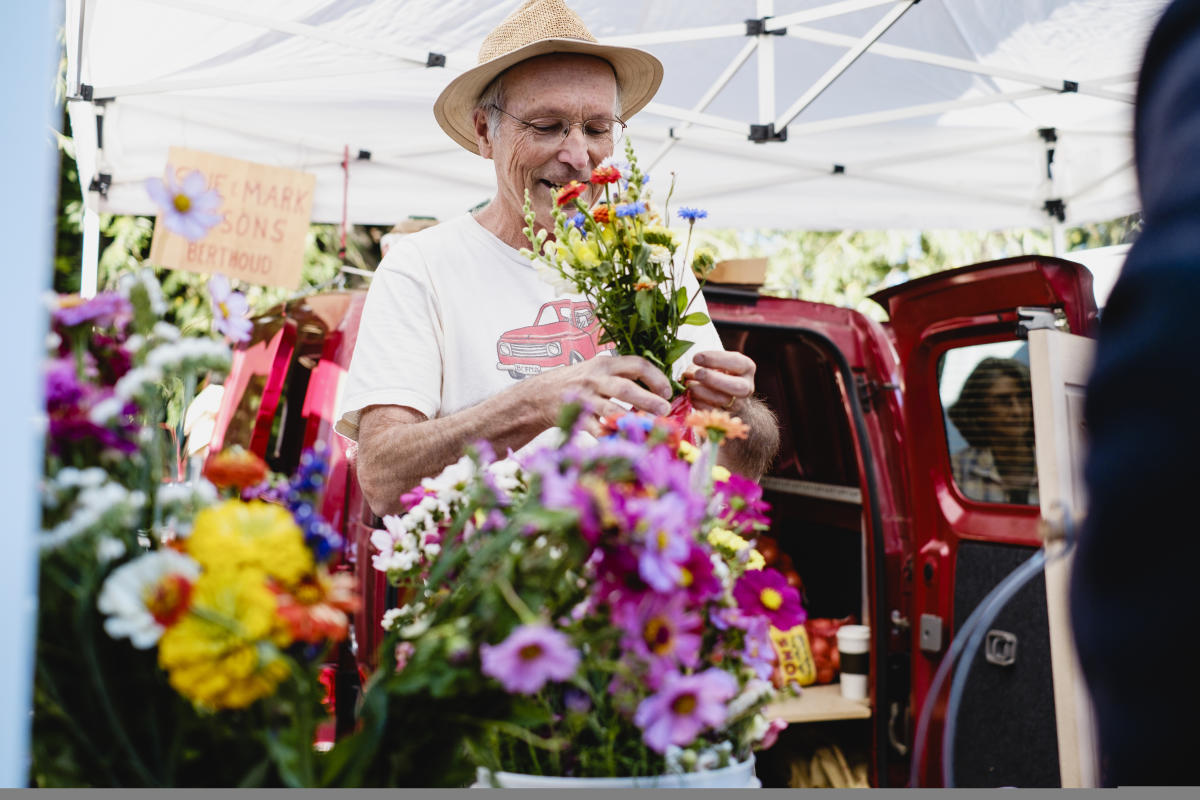 Insider Tip
Every second Saturday of the month includes a special "Artisan Market," featuring local non-food artisans and makers in addition to the regular edible treats.
Hear
Contributing to the festival atmosphere: the music. Local musicians entertain at the food court regularly, and even if you don't stop to eat, the music provides a soundtrack for your stroll past the stalls. Or, if the sounds of nature are more your speed, bring a blanket and enjoy a picnic lunch next to Boulder Creek.