Dakota Soifer of Café Aion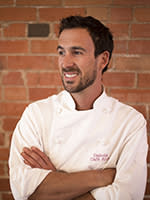 Drawing upon years of experience working in nationally acclaimed restaurants such as Zuni Café, Julia's Kitchen, and The Kitchen Café — and a summer with Meadow Lark Farm Dinners — Dakota's menus and cuisine reflect a philosophy of crafting the best quality food into simple, soulful bites.
Dakota combines respect for and knowledge of high-quality ingredients with a rare talent to craft them into immensely satisfying dishes. He doesn't rely on tricks to impress his guests, just experience, expertise and an understanding of the finest local products. As chef and owner of Café Aion, he has gained national recognition in First We Feast's "10 up and coming chefs to watch," Bon Appetit and Esquire. More recently, he won Food Network's "Cutthroat Kitchen."
My Perfect Day in Boulder:
Wake up to a sunny, warm, blue sky. Hop on bikes with my daughter and boo and head to the Boulder Farmers Market.
En route, swing by my restaurant, Café Aion for a large press pot of OZO Coffee and fresh, fried, cinnamon-sugar donuts.
At the farmers market, grab picnic fixings (tomato, onion, arugula, bread, cheese, peaches), stop by Oxford Gardens' tent to tease Peter Voltz and get a balloon sculpture.
Go home, grab swimsuits and climbing gear and head to Eldorado Canyon State Park.
Climb a few pitches up on the West Ridge (killer views of the Indian Peaks!) When it gets too hot, hike down to the Eldorado Springs Pool, swim, eat, snooze, repeat. (Please note the pool is closed for renovations and plans to reopen for summer 2023.)
On the way home, stop by the Southern Sun for a few happy hour pints.
Then it's tapas and paella with friends on the patio back at Café Aion on The Hill.
Catch an old-school reggae show at The Fox. Maybe a late-night gyro from University Hill Market and Deli (just like back in my college days at CU!) and then back on the bikes, headed home.