How to Get to (and Around) Boulder
Getting to Boulder from DIA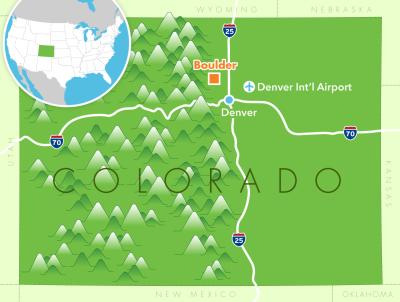 Denver International Airport is the closest major airport to Boulder. From DIA, it's an easy, 45-minute drive to Boulder along an easy stretch of highway. For detailed information about Denver International Airport, please visit www.flydenver.com/.
Low-Contact Travel at Denver International Airport
DIA has launched Verifly, which reduces your contact with others at the airport and offers reservations for a dedicated TSA screening lane and a limited-capacity train car to the concourse. 
Options for getting to and from the airport include:
Driving
With Tolls: This route is easy and will have you zooming right into Boulder any time of day! From Peña Boulevard, take the toll road exit north (E-470 north to the Northwest Parkway toward Hwy. 36 West/Denver Boulder Turnpike). Exit onto  Hwy. 36 and continue west into Boulder. Please be aware this route has tolls, and if you are renting a car, you will need to make arrangements with your rental car agency.
Without Tolls: Take Peña Boulevard and merge onto I-70 west. Take I-70 to I-270 west. Continue onto Highway 36, which will take you to the east side of Boulder. This route is free of tolls and takes about 45 minutes during non-peak traffic hours.
Public Bus 
The Regional Transportation District (RTD) operates a bus from DIA to Boulder (Route AB) that makes several convenient stops in Boulder, including the downtown 14th and Walnut station. Buses leave approximately every 60 minutes from the airport. The schedule can be found on RTD's website (scroll to Skyride Schedules and select route AB/AB1/AB2 Boulder/Denver Airport). Tickets are paid directly to the driver upon boarding the bus (cash and exact change only). This is an economical option, with one-way tickets costing $10.50. RTD has an information booth on the baggage claim level of the Main Terminal. The trip takes approximately 80 minutes. 
Uber now has a partnership with RTD (which runs the public buses). You can use the Uber app to plan your route and pay for your bus fare. Just open your Uber app, choose your destination and starting location, and hit "Transit" among the product options. 
Shuttle Services 
Eight Black Airport Shuttle is a reliable provider, delivering guests directly to many of Boulder's hotels or other locations. Rates, schedules and details are available on the Eight Black website.
Boulder Transport provides luxury limousine, airport, and contract transportation services in Boulder, Colorado.
Taxis
Taxis charge a flat, one-way fare (airport access fee already included) of $89.03 to or from Boulder.
Lyft, Uber or Z Trip 
DIA is served by the Lyft, Uber or Z Trip driver service apps. Load the app of your choice and request a ride to receive up-front pricing and personal service to and from DIA.
Getting Around Boulder with Public Transit
Due to Covid-19, all passengers are required to wear face masks on RTD services. Capacity is limited to approximately 15 passengers per bus and 20 on larger buses. If you are unable to maintain social distancing, do not board. Instead, wait for the next vehicle.
The Regional Transportation District (RTD) bus system services just about every corner of Boulder. The main downtown bus station, the Boulder Transit Center, is located at 14th and Walnut, with in-town routes serving Boulder and regional routes serving nearby destinations including Denver. 
Boulder's Community Transit Network (CTN) also provides bus service for Boulder with the easy-to-ride HOP, SKIP, JUMP and other routes. The HOP's circuit, in particular, is a very useful shuttle-like service for visitors traveling to popular locations including downtown, the Twenty Ninth Street shopping area and the University of Colorado campus. The HOP arrives at clearly marked stops every 7-15 minutes, depending on season and time of day. For more information, visit the City of Boulder's website.
Park to Park Shuttle Headed to the Chautauqua area on the weekend to hike among the Flatirons? Ride the free weekend shuttle, which operates weekends from Memorial Day to Labor Day, to get there stress-free and avoid parking fees. Here's all the information on the Park-to-Park hiker shuttle.
Eldo Shuttle Take the Eldo Shuttle to get to Eldorado Canyon State Park for hiking, picnicking, rock climbing and more — and avoid parking woes on summer weekends. Learn more here.

Drive Times
Mileage and estimated travel time from surrounding U.S. cities are as follows:
| | | |
| --- | --- | --- |
| City | Total Distance | Total Estimated Time |
| Albuquerque, New Mexico | 475.5 miles | 8 hours, 43 minutes |
| Aspen, Colorado | 184.6 miles | 4 hours, 50 minutes |
| Cheyenne, Wyoming | 91.2 miles | 2 hours, 1 minute |
| Colorado Springs, Colorado | 97.3 miles | 1 hour, 51 minutes |
| Denver, Colorado (downtown) | 28.4 miles | 37 minutes |
| Estes Park, Colorado | 36.6 miles | 1 hour, 11 minutes |
| Fort Collins, Colorado | 53.9 miles | 1 hour, 20 minutes |
| Grand Junction, Colorado | 269.5 miles | 5 hours, 9 minutes |
| Greeley, Colorado | 48.1 miles | 1 hour, 26 minutes |
| Lincoln, Nebraska | 503 miles | 9 hours, 20 minutes |
| Oklahoma City, Oklahoma | 698.5 miles | 12 hours, 46 minutes |
| Omaha, Nebraska | 555.8 miles | 10 hours, 11 minutes |
| Salt Lake City, Utah | 523.6 miles | 9 hours, 54 minutes |
| Santa Fe, New Mexico | 419.8 miles | 7 hours, 48 minutes |
| Vail, Colorado | 123.4 miles | 2 hours, 23 minutes |