Dave Query of the Big Red F Restaurant Group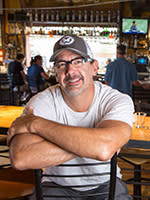 Known as DQ, Dave Query is a hometown guy. He grew up in Boulder, went to the Culinary Institute of America in Hyde Park, New York, cooked his way through France, worked in kitchens throughout the U.S., returned home and became part-owner of his first restaurant, The LickSkillet Cafe in Gold Hill, in 1989. He now owns and operates the Big Red F Restaurant Group which has 13 restaurants, five of which are in Boulder County.
My Perfect Day in Boulder:
Wake up early. Have breakfast at Village Coffee Shop.
Get some delicious organic juice at Wonder to take on a hike, a bike ride or to go fly fishing up Boulder Canyon.
If you don't have a bike, rent one from my buddy Doug at University Bicycles (the greatest bike shop in America).
Come back down and go see Danny at Mustard's Last Stand for the greatest Chicago Dog this side of Wrigley. Mustard — no ketchup! — onions, pickles, relish, tomatoes, (no kraut or peppers), fries and a root beer.
Take a nap (clutch).
Get up feeling great and hit the rooftop of West End Tavern for a refreshing bourbon cocktail from their expertly prepared list and some dank BBQ from the smoker.
Stop by Jax Fish House next door for a dozen oysters at the bar. Then slide down the block to Centro for a margarita and some killer tacos at Boulder's best people-watching patio bar.
Walk the Pearl Street Mall and check out all there is to see. Make a stop at The Post Brewing Company for some award-winning beer and fried chicken. 
Make one last stop for a leisurely nightcap at The Bitter Bar. Best adult cocktails anywhere. Good day. Good day, indeed. 
Here's Dave fly fishing with Top Chef judge Gail Simmons when she was here for "Top Chef" Season 15 (learn more in our Top Chef Boulder Itinerary):