A. "Butterfly əˈfekt" Mural
Created during StreetWise Boulder's 2019 festival, Tony Zellaha's mural, entitled "Butterfly əˈfekt," can be found in the pedestrian alleyway just across the street from Trident Booksellers & Cafe (be sure to pop in for a coffee and some literary inspiration, as well!).
Artist: Tony Zellaha
929 Pearl St.
B. Kendall Kippley's Mural
If you're having trouble finding this mural, look up! It's located on the second and third floors of the exterior of West End Plaza (in between My Neighbor Felix and Mable and Moss). This Colorado-based artist worked with the National Snow & Ice Data Collection Center, an organization within CU Boulder, to create a mural that illustrates the decline in sea ice over the last forty years.
Artist: Kendall Kippley
1035 Pearl St.
C. Buffalo Sculpture
The Buffalo is an important symbol to Boulderites, as Ralphie the buffalo is the adored mascot of the University of Colorado. This one on Pearl Street gets her fair share of hugs and selfies daily. 
Artist: Stephan LeBlanc
Pearl St. and 11th St.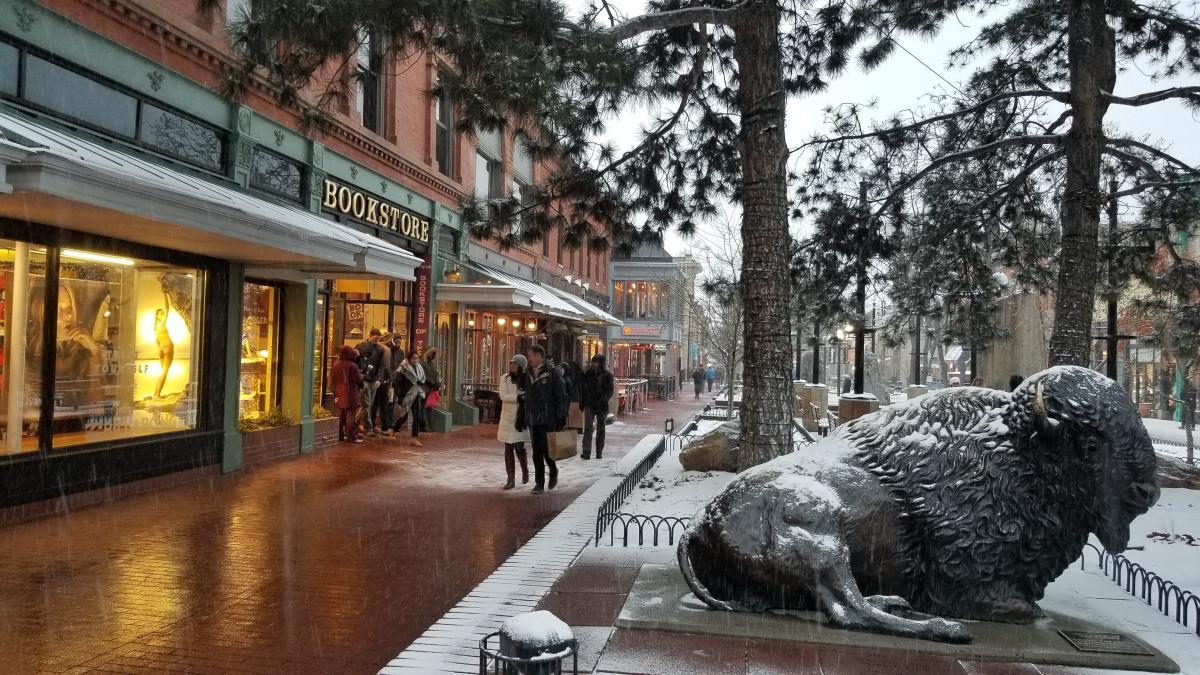 D. "Hearts on a Swing" Sculpture
She's the darling of Pearl Street, and you'll often see that someone has placed a flower in her right hand.
Artist: George Lundeen
Broadway and Pearl St.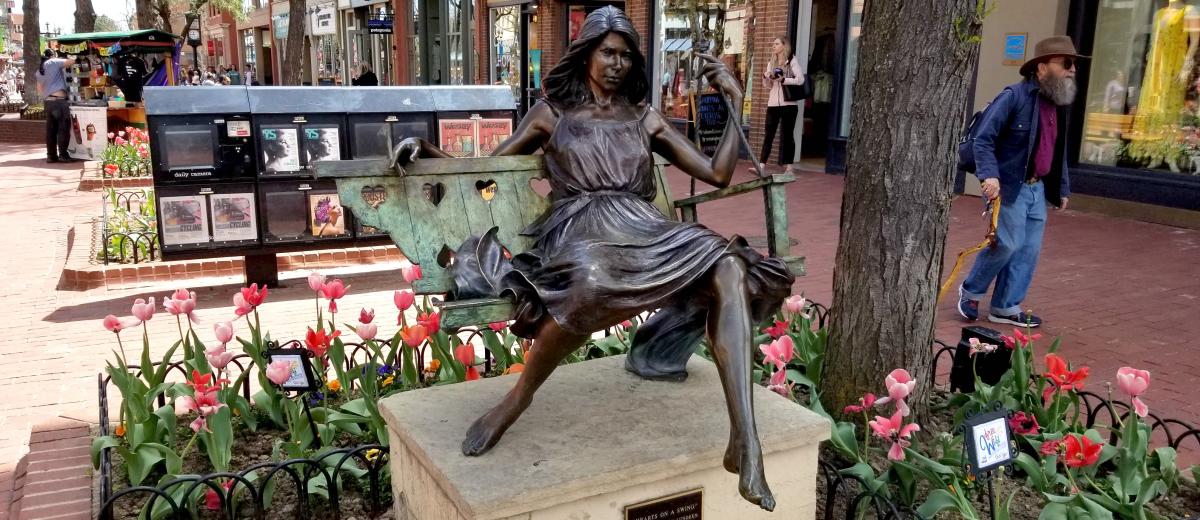 E. "Love Always Wins" Mural
Find this vibrant and hopeful mural ever-so-slightly tucked away in the alley facing Bohemian Biergarten.
Artist: Pat Milbery
1245 Pearl St.
E. Boulder County Courthouse Courtyard
It's easy to whisk by this courtyard and only notice the distinctive courthouse building and fountain, but there are several sculptures and statues here to admire, too.
"Messenger of the Skies," Joellen Domenico
"Arapahoe Tribute," Steven Weitzman and Tara Brice
"Miner Memorial," WR Vielehr, CK Vielehr and J Holmes
Other installations also on display.
Pearl St. and 13th St.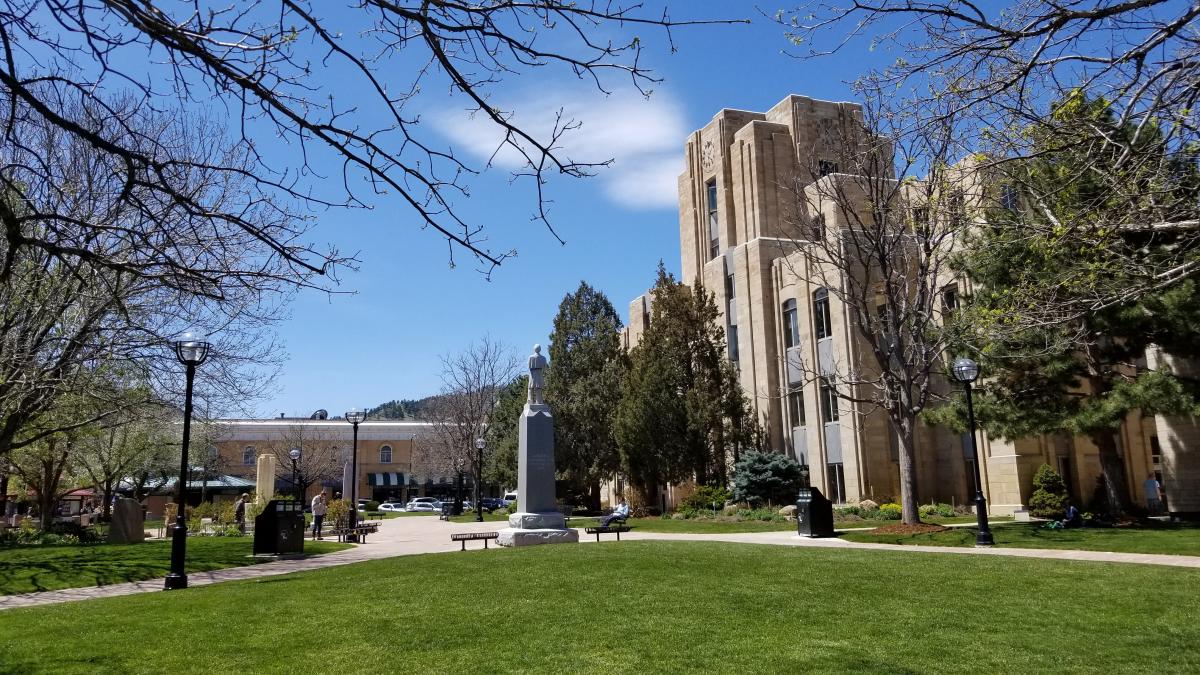 F. Animal Sculptures
Kiddos cannot resist these climbable creatures — nor should they! This area is designed for children to engage with the sculptures.
Pearl St. and 14th St.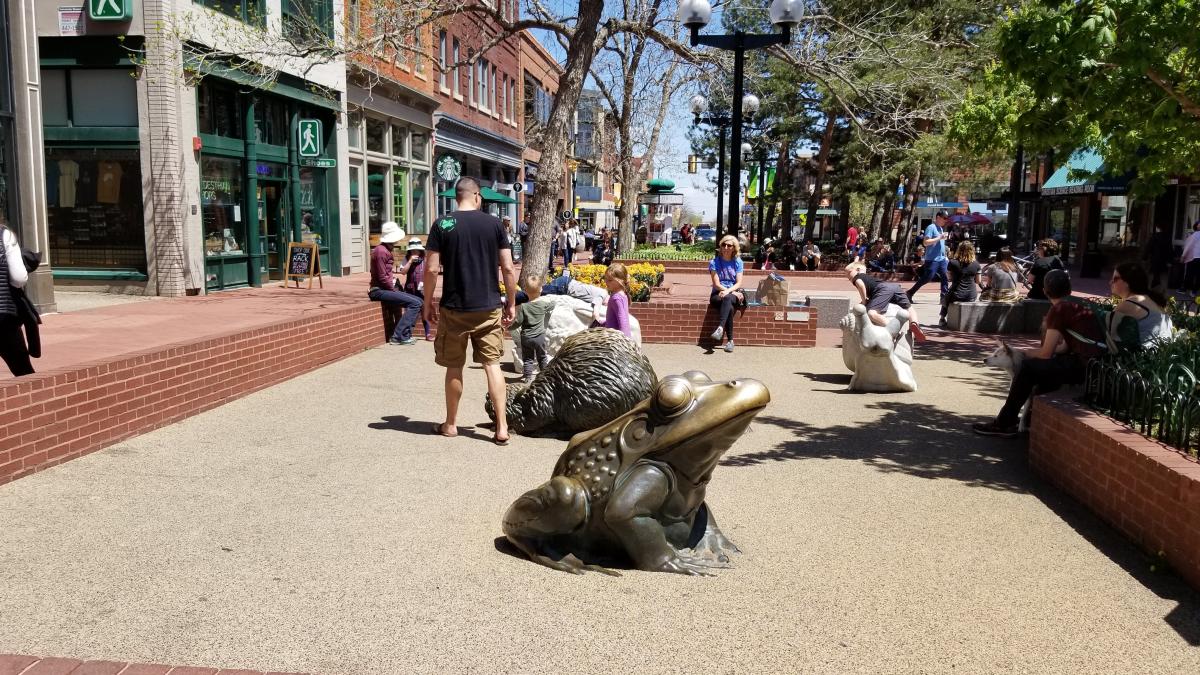 G. "Green Harmony" Mural
This 3,000-square-foot mural stretches across both walls of the pedestrian alleyway adjacent to Pearl Street Mall, just to the west of Black Diamond and Gelato Boy.
Artist: Austin Zucchini-Fowler
1421-1425 Pearl St.
H. Bear Hugs
Mama and her two cubs are much loved by passersby on Pearl Street.
Artist: Scy Caroselli
Pearl St. and 15th St.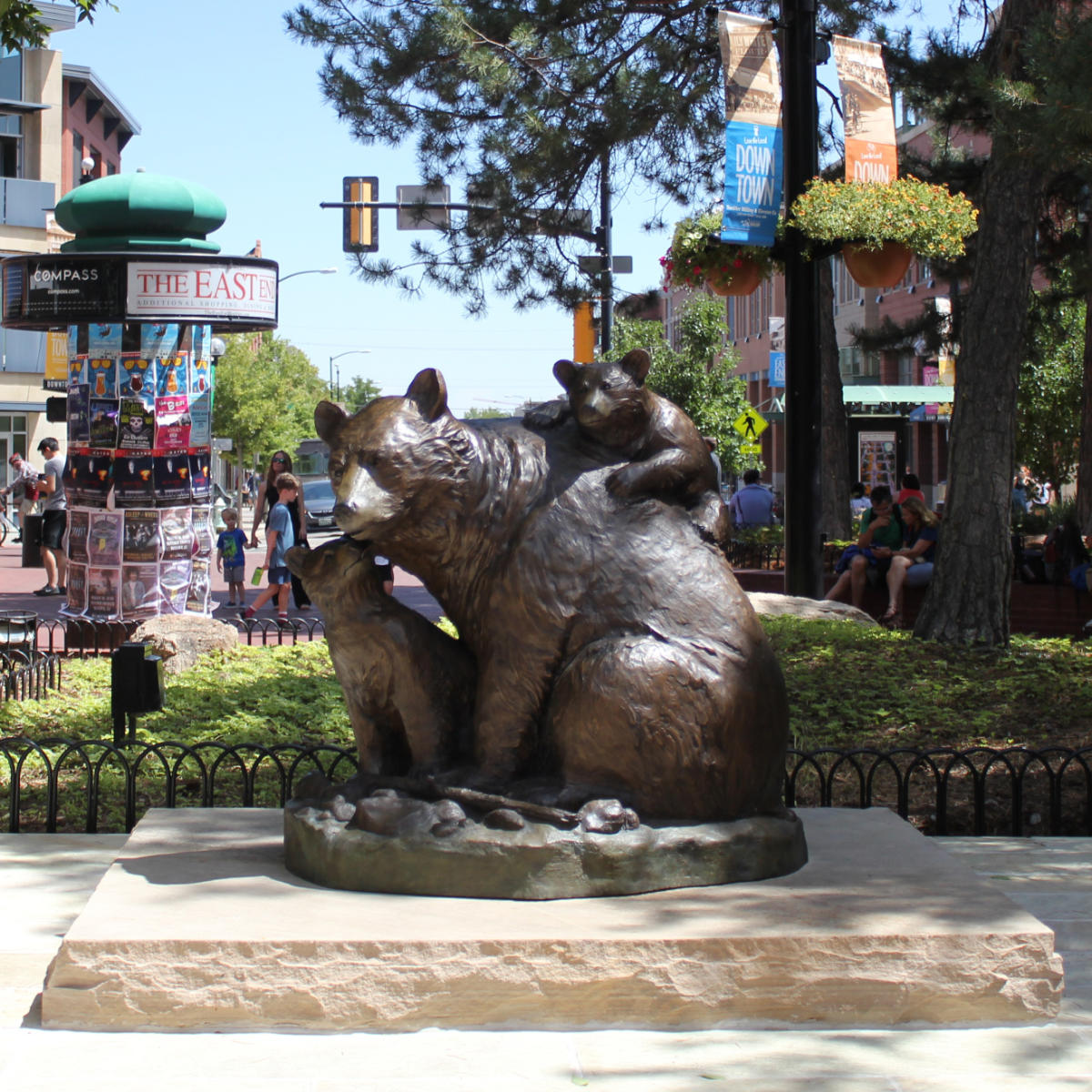 Discover More
There's public art around every corner in Boulder, and the Boulder County Arts Alliance has most of them cataloged on bouldercountyarts.org.