Literary Boulder
"To the eyes of the man of imagination, nature is imagination itself." 
― William Blake
With the Flatirons forever leaning in reverence to the pine-prickled foothills and the bluer-than-blue sky above, Boulder's natural beauty has played muse to more than a few authors, poets and scholars in Boulder. The presence of the University of Colorado, Naropa University and a growing tech startup culture add fertile ground for the town's intellectual and creative energy.
As the literary arts continue to flourish in Boulder, writers and book lovers can read on to find inspiration in the following literary events and attractions.
Literary Events
Colorado Shakespeare Festival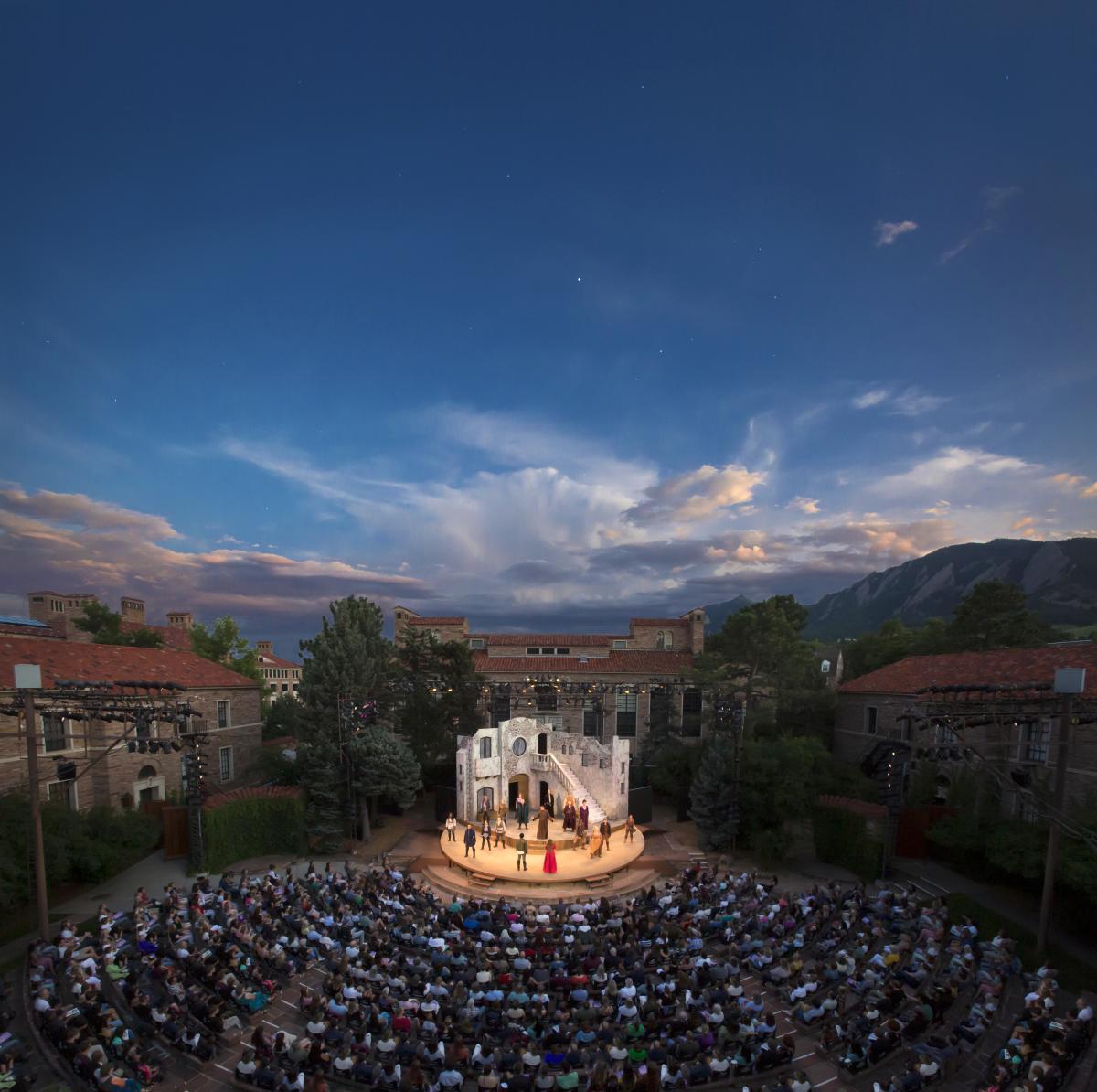 Since 1958, this celebration of the Bard has been one of the country's favorite summer Shakespeare festivals. Colorado Shakespeare Festival plays are performed under the stars in the historic Mary Rippon Outdoor Theatre and in the indoor University Theatre, both on the beautiful University of Colorado campus. The fest runs June through early August each summer.
Zee Jaipur Literature Festival
A festival founded in India and devoted entirely to the literary arts and creative thinking brings a caravan of writers, thinkers, poets and storytellers from around the world to Boulder each September. Guests can attend lectures, readings, discussions, live-music events and more — all for free — during the Zee Jaipur Literature Festival – JLF at Boulder.
'So, You're a Poet' Open Poetry Readings 
Going strong for 30-plus years, the "So You're a Poet" open poetry reading series has a venerable list of past participants: Allen Ginsberg, Anne Waldman, Spalding Gray, Bernadette Mayer, Diane di Prima, Janine Pommy Vega, Anselm Hollo, Amiri Baraka and many others. The series was hosted by poet and Kerouac School alumnus Tom Peters, owner of the Pearl Street landmark Beat Book Shop. It currently takes place Monday evenings at 9pm at 1290 Folsom across from the CU campus.
Truth Be Told
At Boulder's Boulder's Story Slam, seven storytellers perform their five-minute tales in front of an audience and five judges, who select the evening's winner. Live music provides accompaniment. It makes for a fun and riveting evening!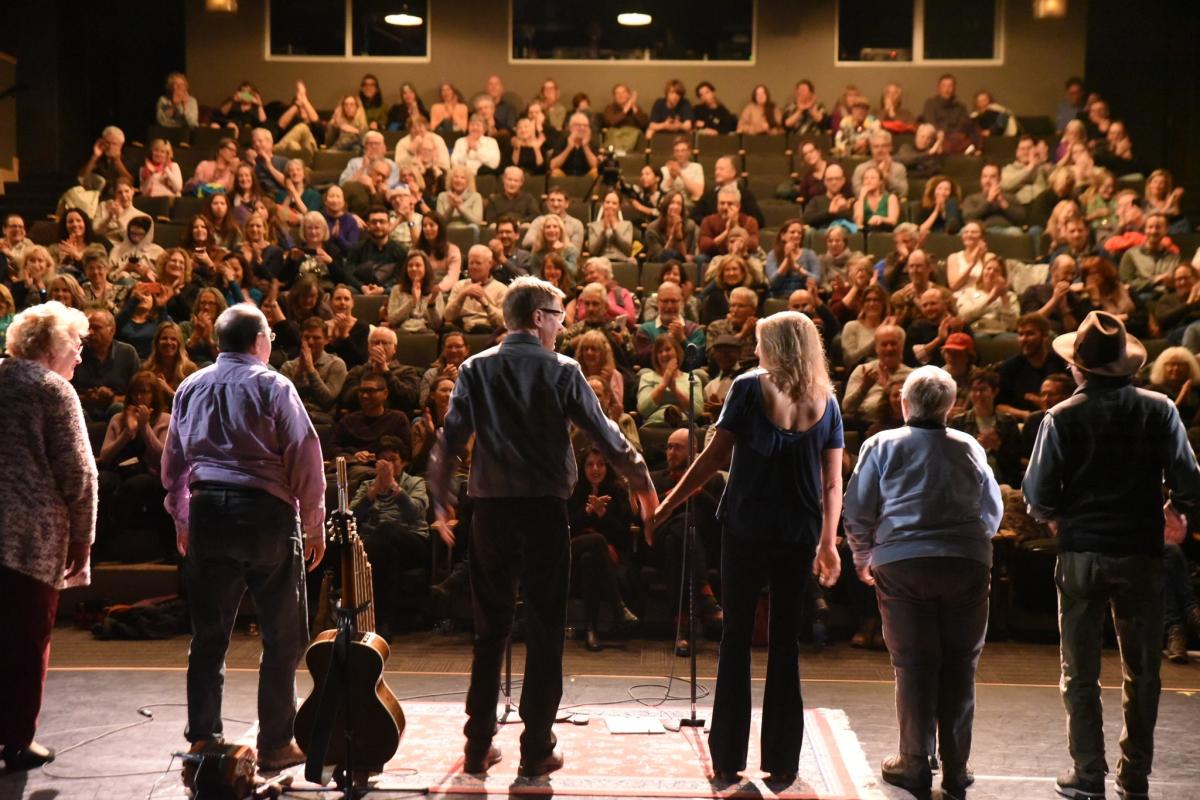 Stories on Stage
Storytime isn't just for children! About once a month, Stories on Stage hosts literature readings by professional actors. In a typical evening, the actors read three or four short stories, sometimes on a theme, followed by a reception where audience members can chat with the actors, artistic director and staff. The Boulder readings often take place at the Nomad Theater, but check the calendar for details. 
Naropa Summer Writing Program
Naropa University, founded by Tibetan Buddhist Chogyam Trungpa Rinpoche in 1974, has a long literary history. It is home to the Jack Kerouac School of Disembodied Poetics, which was established by the famed beat poet Allen Ginsberg and Anne Waldman. Waldman continues to live in Boulder and counts the Guggenheim Fellowship Award in Poetry, PEN Center Literary Award in Poetry and a National Endowment for the Arts Grant among her honors. She is a member of the Outrider experimental poetry movement and runs Naropa's acclaimed Summer Writing Program, offering four weeks of workshops, lectures, panels, readings and events.
Writing By Writers Workshop 
The annual Writing by Writers workshop brings aspiring writers into contact with nationally known writers for a weekend of inspiration and writing.
Colorado Chautauqua Summer Talks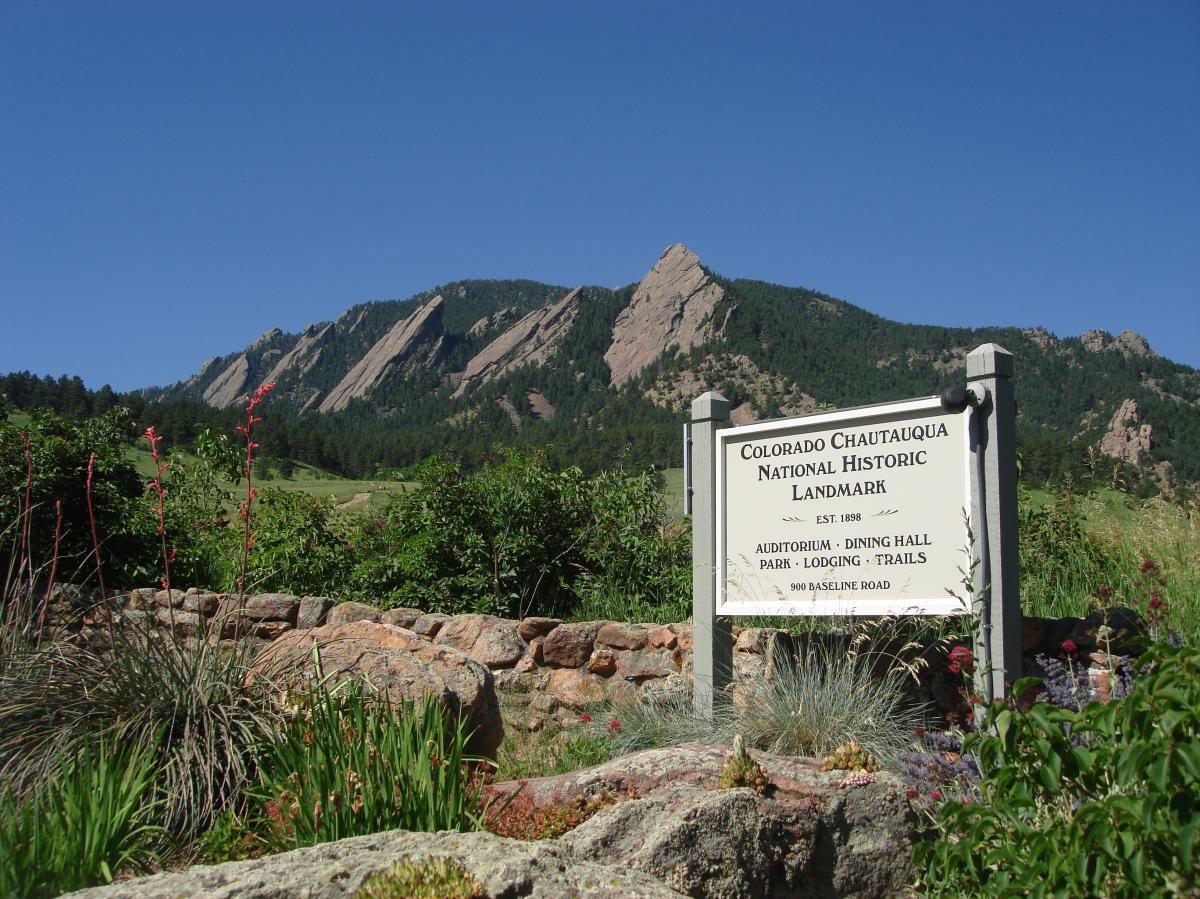 Chautuaqua's summer event series invites writers to Boulder to discuss their books with audiences in the historic Chautauqua Community House. 
More Literary Things to See and Do
Boulder Book Store
In the tradition of the world's best bookstores, the Boulder Book Store welcomes readers with colossal, oaky-smelling bookcases, creaky wooden staircases between its three levels, excellent staff picks and appearances by nationally known and local authors. Boulder Book Store was named Publisher Weekly's Bookstore of the Year in 2018.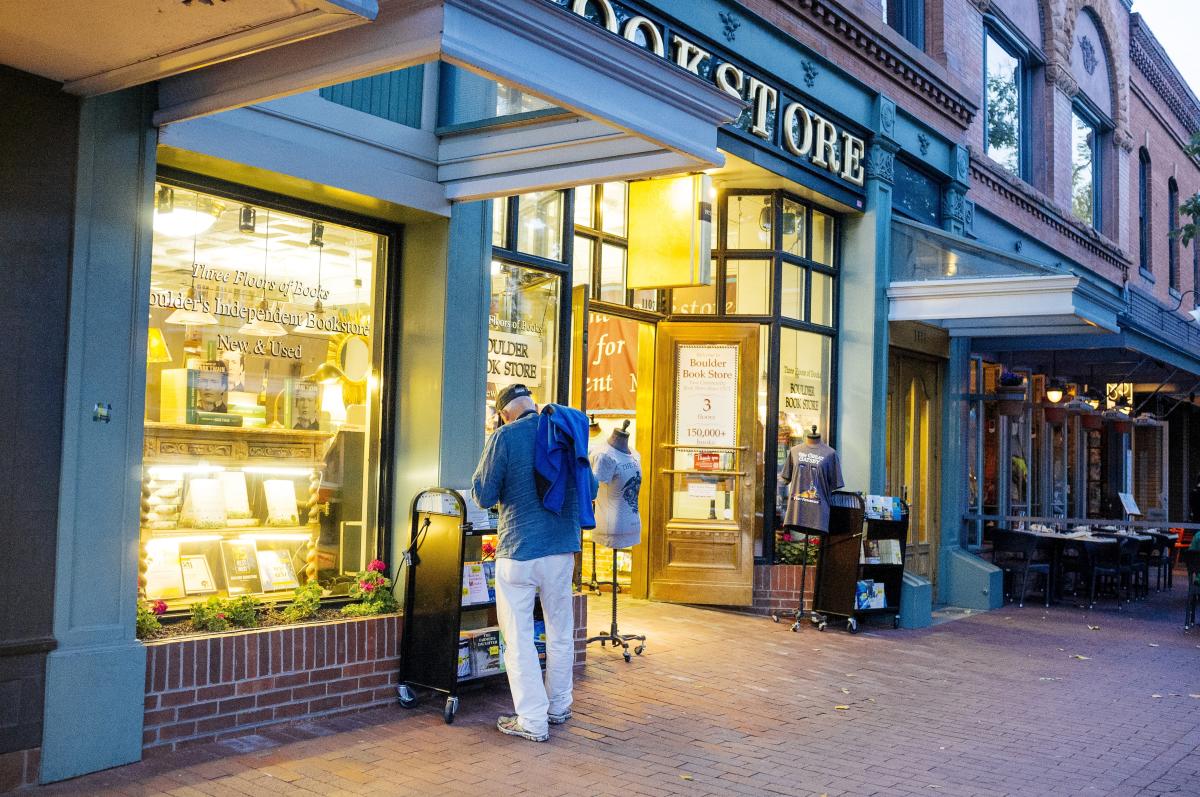 Unique Bookstores
Boulder is packed with original bookshops, each with its own niche or flavor. Get lost among used and rare books at the filled-to-the-brim Beat Book Shop; get lost in three floors of tomes at Boulder Book Store; or sip coffee beside locals at an old favorite founded by three Buddhists in 1979, Trident Booksellers and Café. This is just a tiny sampling of Boulder's bookstores.
CU's Special Collections
The reading room at the University of Colorado Library's Special Collections is a hidden gem in Boulder. Among its many treasures (which you can learn about in this video) is a rare leaf from the Gutenberg Bible, a handwritten letter by Emily Dickenson, and an innovative, felt-constructed, egg-shaped book containing a manuscript in the shape of a snake. 
Sunrise Amphitheater
Fans of Stephen King will want to visit Sunrise Amphitheater, off scenic Flagstaff Road. In King's The Stand, the amphitheater is featured prominently as a meeting place for both good and evil characters. The historic Hotel Boulderado was also mentioned in King's book Misery.
Juniper Books
Book stylist to the stars Thatcher Wine has gained fame for his bespoke libraries, custom-curated and wrapped to enhance a home's aesthetic design. It all happens from Juniper Books' headquarters in north Boulder.
Boulder Public Library
The Boulder Public Library's unique architecture straddles babbling Boulder Creek and houses the innovative Seeds Café, which collaborates with the Boulder Farmers Market to serve farm-fresh snacks and handcrafted coffee drinks. Grab a good book from the stacks, and relax with a view of the creek. 
Robert Frost Sculpture
Seated just outside the University of Colorado's Old Main building is the bronze likeness of Robert Frost, hard at work on a poem. (Frost was a frequent guest at Hotel Boulderado while his daughter was a patient at the Boulder Sanitarium.) Just a few steps from the Frost sculpture is the picturesque Varsity Bridge. You might have a seat at the edge of the pond beneath and be inspired to pen a few verses yourself.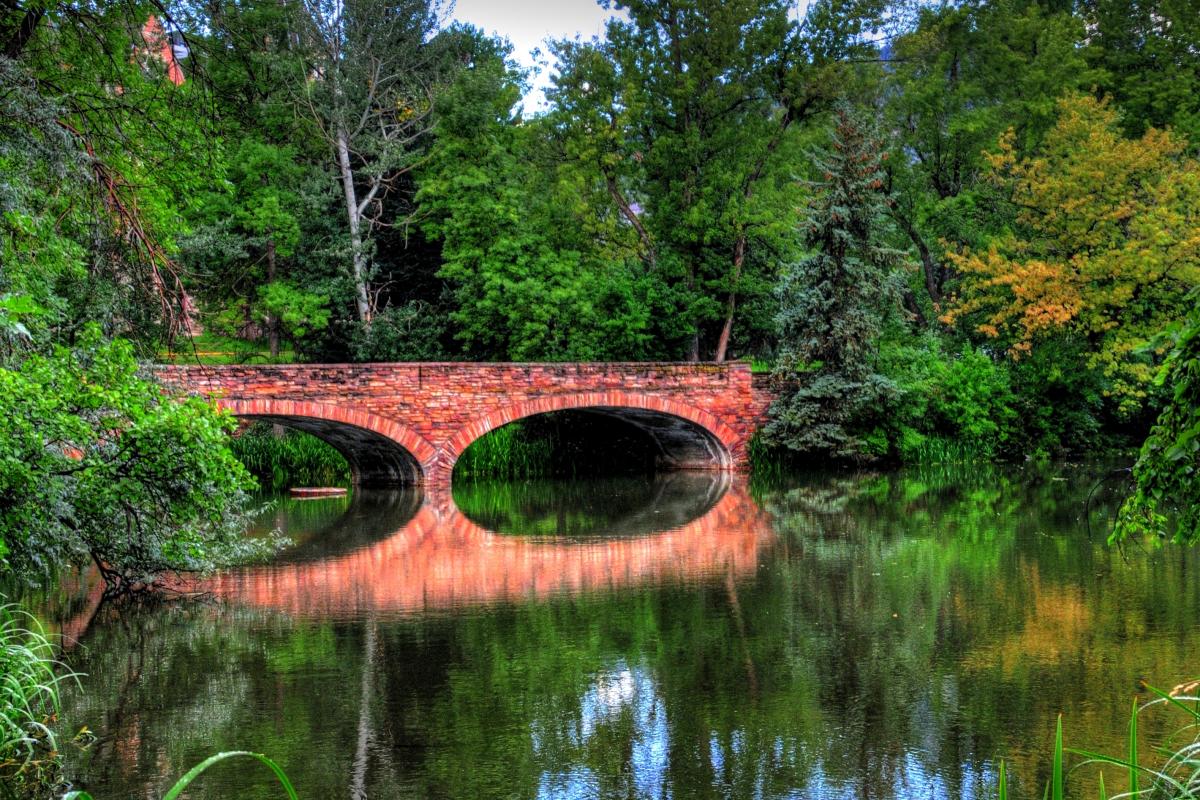 Photo: Jasen Miller/Flickr Creative Commons
Book Arts Classes
For those whose love of tomes is tactile, consider a bookbinding class at Boulder's Book Arts League or a paper-making or letterpress class at Two Hands Paperie.
Insider Tip
Boulder is home to a dozen or so magazine publishers, from Outside, Ski and Skiing magazines to Delicious Living and Women's Adventure.
Did You Know?
Here's a fun insider look at Boulder's literary scene via an interview with the owner of Boulder's Trident Booksellers.
Boulder has two Short Story Dispensers, standalone kiosks that deliver free fiction into the hands of readers with the push of a button. Find one at the Boulder Public Library and key an eye out for a second one that travels around town.  
Insider Tip
North Boulder (or NoBo to locals) is dotted with a handful of artist-created Little Libraries, where anyone can loan or borrow a book on a self-serve, honor system.