Truth or Myth?
6 Questions About Meetings in Boulder
When we're out talking with folks across the country about Boulder as a meeting and conference destination, we're often surprised to hear their impressions. It's understandable — the only way to really get to know a place is to see it for yourself (and we invite you to come for a site visit!). But until then, let's sort the fact from the fiction. 
True or False...
Boulder Is Located Up in the Mountains

False. Some pics can make it look like Boulder is in the mountains at high altitude, but Boulder is located exactly where the plains and the Rocky Mountains meet. Yet we are nestled right into the piney foothills — so the scenery is still spectacular. When you land at the Denver airport, there are no mountain passes to traverse. It's an easy, 45-minute cruise down the highway. Boulder's elevation is just 5,430 feet above sea level (in comparison, Vail's elevation is 8,150 feet and Estes Park's is 7,522 feet).
We Are Buried in Snow All Winter Long

False. We get it — you think Colorado, you think piles and piles of snow! But Boulder has a mild, fairly dry climate, and the sun shines much of the time. The average temperature in January is 47 — not too shabby. When it snows, it's often just a pretty dusting that makes the Flatirons look like they've been sprinkled in powdered sugar. Could you experience a blizzard here in winter? Sure. But it's more likely that it will be sunny and locals will be bundled up and riding their bikes, out hiking or even sitting on patios for lunch. Plus, you could earn a handsome cash incentive to host your meeting here in winter.
Our Only Obsession Is the Outdoors

False. There are indeed a lot of people here who live for outdoor recreation. But we're also into the urban side of life, too: great places to dine (after we've burned all those damn calories on the trails!), drink coffee (so much coffee), sample beer (so much beer) and the arts (we have the third-largest concentration of artists in the U.S.). Plus, our culture of innovation means there are cool, creative venues and hotels to choose from here — from event spaces in modern art museums to luxe hotels in the heart of downtown.
Boulder's Just a Bunch of Hippies

Tr…alse? We love our flower-power, hippy-dippy past — the Boulder CVB even has a vintage VW bus that serves as a mobile visitor center. Hippie culture definitely thrived in Boulder in the 70s and that vibe is still around, but times change, and so do towns. Boulder's now as much of a tech town and center for scientific research as it is a peace-sign-flashing hippy hub. Here are some of the top industries based in Boulder.
This Is a Big City

False (but kind of true). Boulder has all the amenities of a big city, but our modest population hovers around 100,000 (and some 30,000 of those are University of Colorado students). You'll feel like you're in a much more developed city than a small town of 100K — especially because of our thriving restaurant scene — but your group will also be able to walk most places, get to a hiking trail within five minutes, and meet a network of neighborly, well-connected folks who can work together to help your meeting be a success in Boulder.
Boulder Is So Far Away

False. You might think of Colorado as "out West," but really, we're geographically in the center of the country. So even if your attendees are flying from one of the coasts, you're likely not more than a couple of hours via airplane to Denver International Airport. And from there, it's an easy, flat 45-minute drive into Boulder. Read more about how we make it easy to get here.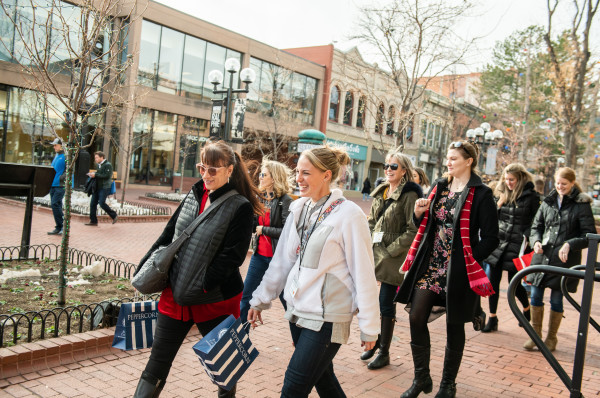 Let us connect you to the right venues, conference hotels and service providers to make your event shine!

Contact Us

Angela "Fig" Wirkler, CMP

Director of Group Sales

Lindsey Rohrbaugh

Group Sales Manager

Natalie Cutter

Group Sales Manager