10 Secrets Boulder's Chefs Don't Want You to Know
Boulder chefs tend to be an active bunch. They're out having fun in every corner of their hometown when they're not in the kitchen. So when we asked them about how to spend a perfect day in Boulder, we got the dish on some little-known hot spots worth exploring. From restaurants to shops to things to do, now you've got the scoop on these under-the-radar gems, too.
1. Amu is Boulder's hidden, chef-favorite restaurant.
Chef Kelly Whitaker of Boulder's Basta explains, "The highlight of an evening at Izakaya Amu is letting Chef Yuki cook for you Omakase style, which means that you leave it up to her." Izakakya Amu, also beloved by "Top Chef" champion Hosea Rosenberg, has an unassuming spot next door to its more buzzed-about and boisterous sister restaurant Sushi Zanmai. At Amu, be prepared to remove your shoes, have a seat in a tea room and be served exquisite traditional Japanese fare.
2. Off-the-beaten-path hikes do exist in Boulder.
Hugo Matheson (of The Kitchen) enjoys North Boulder's Foothills Trail, which eventually meets up with scenic Wonderland Lake, with views of the Flatirons in the distance. Lenny Martinelli prefers to stroll along Coal Creek Trail, a nice, mellow path great for birdwatching. 
3. Eldorado Springs Pool is priceless, old-school fun.
Eldorado Springs Pool, just outside the entrance of Eldorado Canyon State Park, is one of Dakota Soifer of Café Aion's favorite ways to cool off. And cool off you will. This no-frills pool dates back to 1905 and is famously brisk (it's fed by a natural artesian spring). On a hot day, there are few better pleasures than floating on your back, admiring the rock walls of Eldorado Canyon ahead. (Please note the pool will be closed for renovations and is expected to open after Memorial Day in 2023.)
​4. Tundra Restaurant Supply is a home chef's dream.
River and Woods' chef Daniel Asher tipped us off to this commercial restaurant supply company before it had its star moment as the shooting location for the Restaurant Wars episode of "Top Chef, Season 15." Come gawk Tundra's impressive stock of pretty, shiny pots and pans, pick up an affordable knife or peruse tongs in every color. Snack on some popcorn and get a greeting from the resident office pups, too.
5. Meadowlark Farm Dinners are worth the wait.
You'll have to plan ahead, put your name in a lottery, and cross your fingers, but we agree with chef Hugo Matheson that Meadowlark Farm Dinners are worth the trouble. To attend one is to find yourself in a glossy magazine spread: One long dining table stretches through a farm field. A string of lights twinkles above. Menus are crafted from that morning's harvest. Both farmer and chef toast to the evening's bounty. And food you'll never forget is yours for the savoring.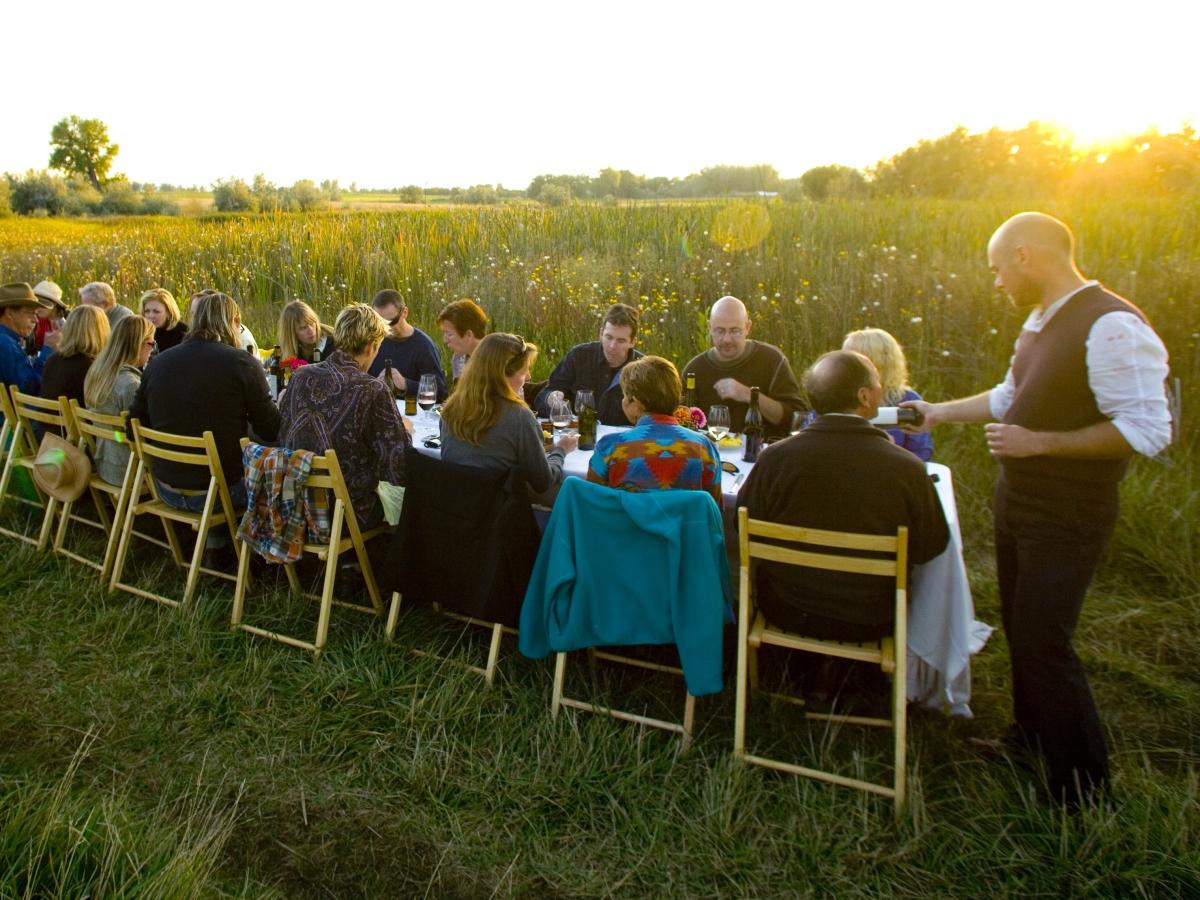 6. Boulder Spirits by Vapor Distillery nails the cool, speakeasy vibe (and smooth spirits).
It takes a little hunting, but once you've located this hidden gem in East Boulder, stop in for a cocktail or two. Boulder Spirits by Vapor Distillery crafts some of the smoothest bourbon, vodka and gin around — plus the novel and delicious ginskey (gin rested in whiskey barrels) and pumpkin cordial.
7. McGuckin Hardware is not just a hardware store.
Not one, but two, chefs (Hugo Matheson and Daniel Asher) include a stop at McGuckin Hardware as part of their perfect day. Supplying Boulder with everything from drywall anchors to scented candles since 1955, McGuckin's green-vested staff members are always available and armed with answers to just about any question under the sun. Canine companions are welcome to shop alongside you, too.
8. Three Leaf Farm is way more than a farm.
The boutique farm that supplies Lenny and Sara Martinelli's six restaurants with summer produce is a picturesque and fascinating destination in itself. On the banks of Coal Creek, Three Leaf Farm has a fragrant designated botanical sanctuary and a tiny, barn-attic apothecary run by Sara. Check the workshop schedule to participate in a guided walk among the herbs, fruit trees and gardens (you'll see chickens, horses and goats, too), an herbalist class or a crafting project.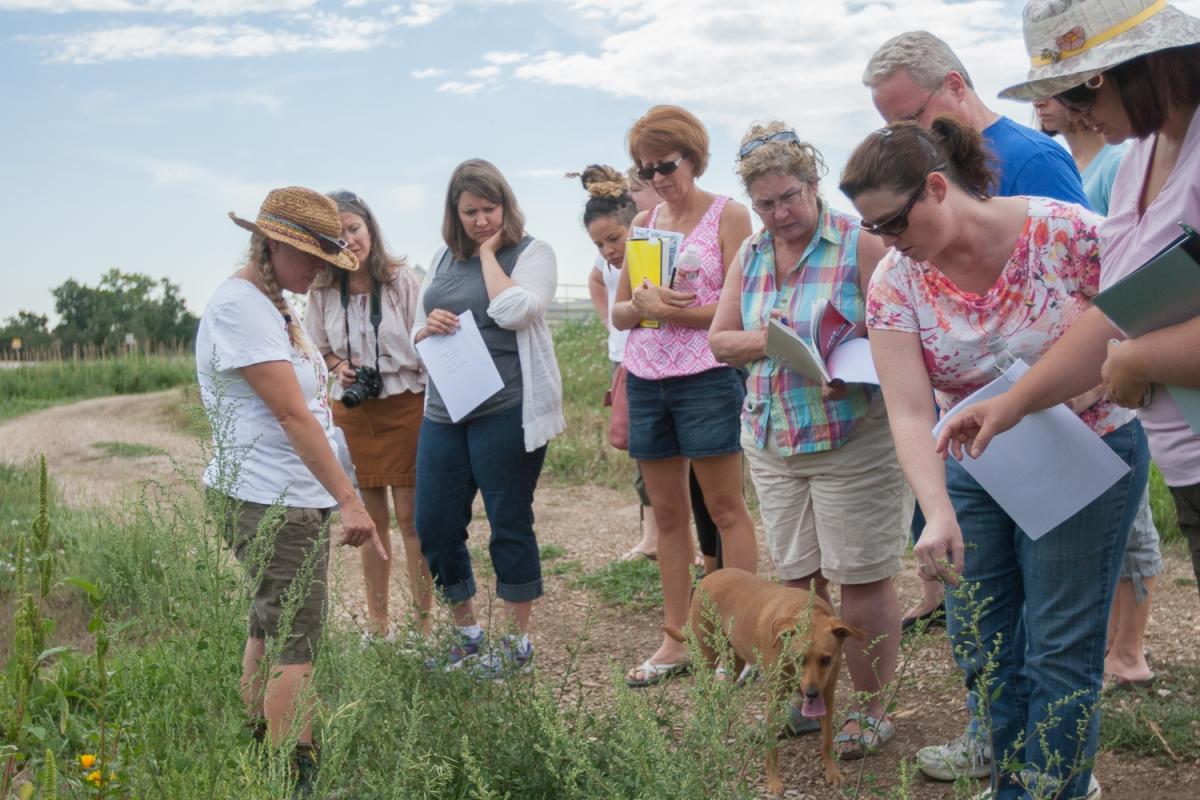 9. What Village Coffee Shop lacks in glamour, it makes up for in scrumptiousness.  
Dave Query (of Big Red F Restaurants) and several other culinary notables agree that a great day starts with a green chile breakfast burrito or scrambled eggs and hash browns at the Village Coffee Shop. This greasy spoon is popular with CU students, but nearly every local has a fond memory of a truly satisfying meal in this diner.
10. The Smelly Deli ain't so smelly after all.
The vintage-y green-and-white sign above this convenience store market reads "University Hill Market & Deli," but everyone has known it as "The Smelly Deli" since…basically forever. Don't let the nickname dissuade you. Go for a satisfying late-night falafel or pop in for gyros and fries for lunch. Keep an eye out for "Cutthroat Kitchen" champion Dakota Soifer, whose upscale Café Aion is just a block or so away.