Kelly Whitaker of Basta and Dry Storage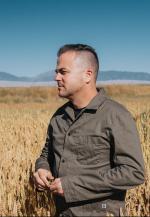 After years of cooking in world-renowned restaurants and studying and living in Italy, in 2008, Whitaker moved to Boulder and co-founded Id Est Hospitality Group.
In January 2010, he opened his first restaurant, Basta, centered around wood-fired, comforting, farm-based Italian plates (basta means "enough" in Italian). A few years later, he opened Wolf's Tailor to acclaim in Denver. In 2019, Kelly launched Dry Storage, a cafe, heirloom grain mill and bakery in Boulder, to be followed by two more projects in Denver: BØH and BRUTØ.  
Kelly believes strongly in responsibly sourcing ingredients and is deeply involved with Chefs Collaborative and Monterey Bay Seafood Watch. He also founded the nonprofit Noble Grain Alliance, dedicated to promoting the use of domestic milled-to-order grains. 
Numerous awards have been bestowed on Kelly, including Chef of the Year by Eater Denver, the Heart of the Collaborative award from Chefs Collaborative and 5280 magazine's Best Chef. In 2019, Kelly was recognized by the James Beard Foundation with a nomination for Best Chef: Southwest and the Wolf's Tailor was named a top ten best new restaurant in the United States by Bon Appétit. 
Kelly Whitaker's Perfect Day in Boulder:
Start with coffee! Boulder is one of the best cities in the U.S. for coffee. Although OZO Coffee and Boxcar are some of my go-to spots, my new favorite shop is our own Dry Storage. We are serving up all the things I love: matcha, great coffee and breads made in our scratch kitchen that mills our own flour. The onigiri and sandos are perfect for lunch, and I can't get enough.
On my nights off, when I get to go out, one of my favorite new spots is AOI Sushi and Izakaya. The highlight of an evening at AOI is letting Chef Yuki guide my decisions. 
Boulder is also home to some of my favorite late-night spots: The bar Jungle is serving up some super-legit tiki drinks and snacks. I also love several of the food stalls at Rosetta Hall. The best place for late-night drinks is no doubt the Bitter Bar, where James Lee will take care of you.