5 Secrets to Find on Boulder's Trails
There are 155 miles of hiking trails in Boulder (and even more in surrounding state park and national forest land), and along those wooded paths are countless surprises to be discovered — a jaw-dropping view here, a rare flower species there, a hidden rock-climbing area or gem of a picnic spot. Such little discoveries are part of the fun of hiking!
If you need a little motivation ahead of time, below we've revealed a few on-trail secrets known only to locals. Set out to uncover these hidden gems and unique features while enjoying some of the area's best hikes.
Help protect Boulder's natural beauty by remembering these Mountain Manners, and before you go, check here for trail closures due to trail conditions or wildlife protections.
1. Walk through a prehistoric forest.
During the last Ice Age, Colorado was covered in paper birches. But at the end of the Ice Age, some 11,000 years ago, the climate warmed and the paper birches nearly went the way of the woolly mammoth. But tucked in this small canyon in Boulder, a stand of paper birches has survived and is now one of the only places to see ancient birch in Colorado. The lovely, shady Long Canyon hike even has signage to help you find them. Also surviving are white adder's mouth orchid, black snake root, wild sarsaparilla and carrion flowers. 
Trail: Long Canyon
Trailhead: Realization Point
Difficulty: Easy
Map
Getting there: Head up Flagstaff Road and park at Realization Point. Cross the road and head down toward the sign that reads Green Mountain Lodge. Follow the trail to the old boarded-up Green Mountain Lodge and look for the paper birch plaque to the right and follow the sign for Long Canyon Trail.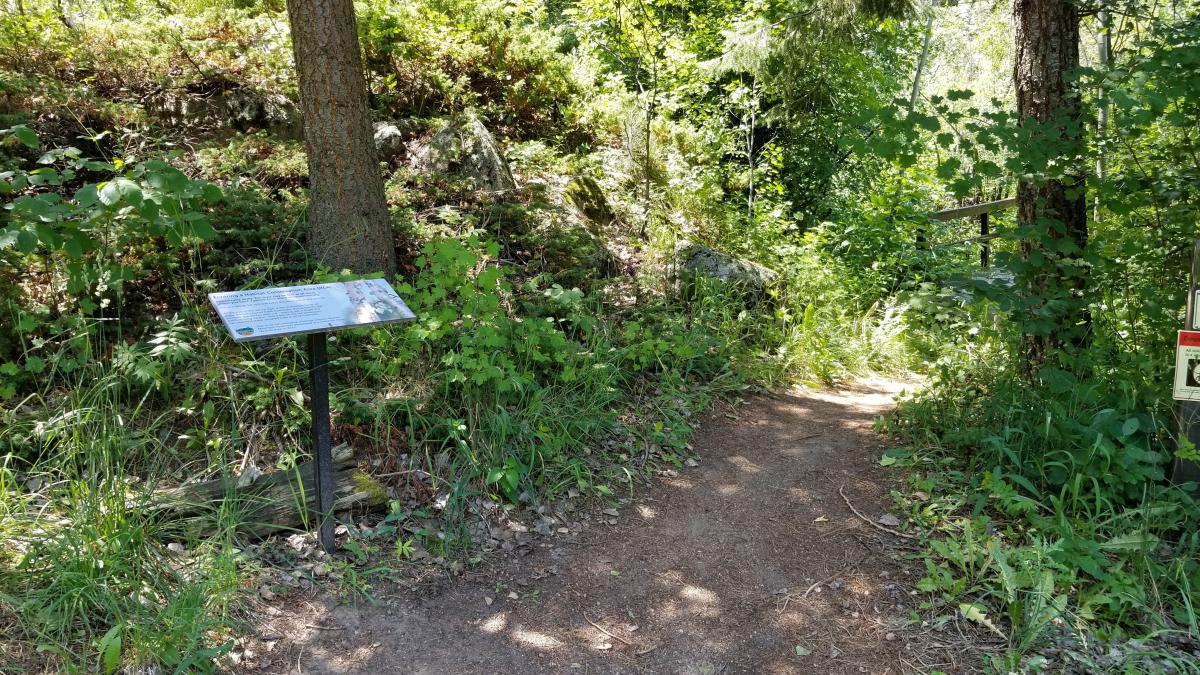 Tree-Hugger Tip
Keep in mind this is a delicate eco-system, so be sure to stay on the trail and obey signage. Straying from the designated paths can cause harmful erosion or irreversible damage to vegetation.
2. Relax in a living room made of stones.
While hiking the scenic Woods Quarry trail, you'll come across the remnants of an old stone quarry where large sandstone slabs are strewn about. A few creative hikers have rearranged the slabs into an outdoor living room of sorts, with a few chairs and love seats for reclining. The views of Boulder Valley below — lakes, reservoirs, treetops, the red rooftops of the University of Colorado and the Boulder Turnpike stretching all the way to Denver — can't be beat. Bring a picnic and enjoy reclining against the sun-warmed stones.
Trail: Woods Quarry
Trailhead: Chautauqua
Difficulty:  Moderate
Map
Getting there: From Chautauqua Trailhead, start on Bluebell Road, then take the Mesa Trail to a fork, then go right on Woods Quarry.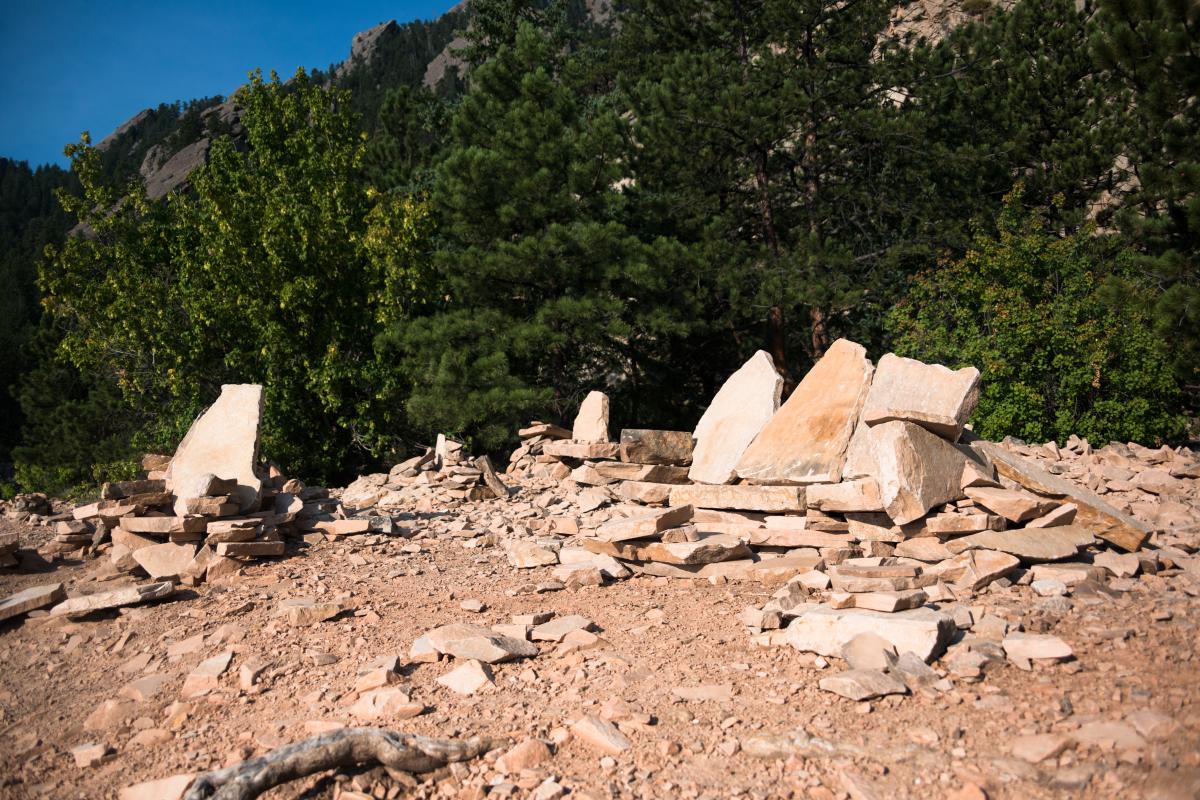 3. Join a huge gathering of ladies at 8,144 feet.
On the trails leading up to the top of Green Mountain, you'll see a huge variety of butterflies flitting from flower to flower during spring and summer. And if you make it to the summit of this challenging climb in late summer and early fall, you'll often find trees and rocks covered in a shiny, reddish shell. Your eyes do not deceive you: it is moving. That's because a swarm of live ladybugs descends on this mountaintop annually. It's a mystery as to why they love this particular spot, but it's common for ladybugs to converge upon mountaintops just before hibernation season. Maybe they just like the views, too.
Trail: Gregory Canyon and E.M. Greenman
Trailhead: Gregory Canyon
Difficulty:  Advanced
Map
Getting there: From Gregory Canyon Trailhead, continue on Gregory Canyon Trail until it meets up with Ranger Trail. Follow Ranger Trail to the summit or choose to fork right onto E.M. Greenman Trail, which also takes you to the summit.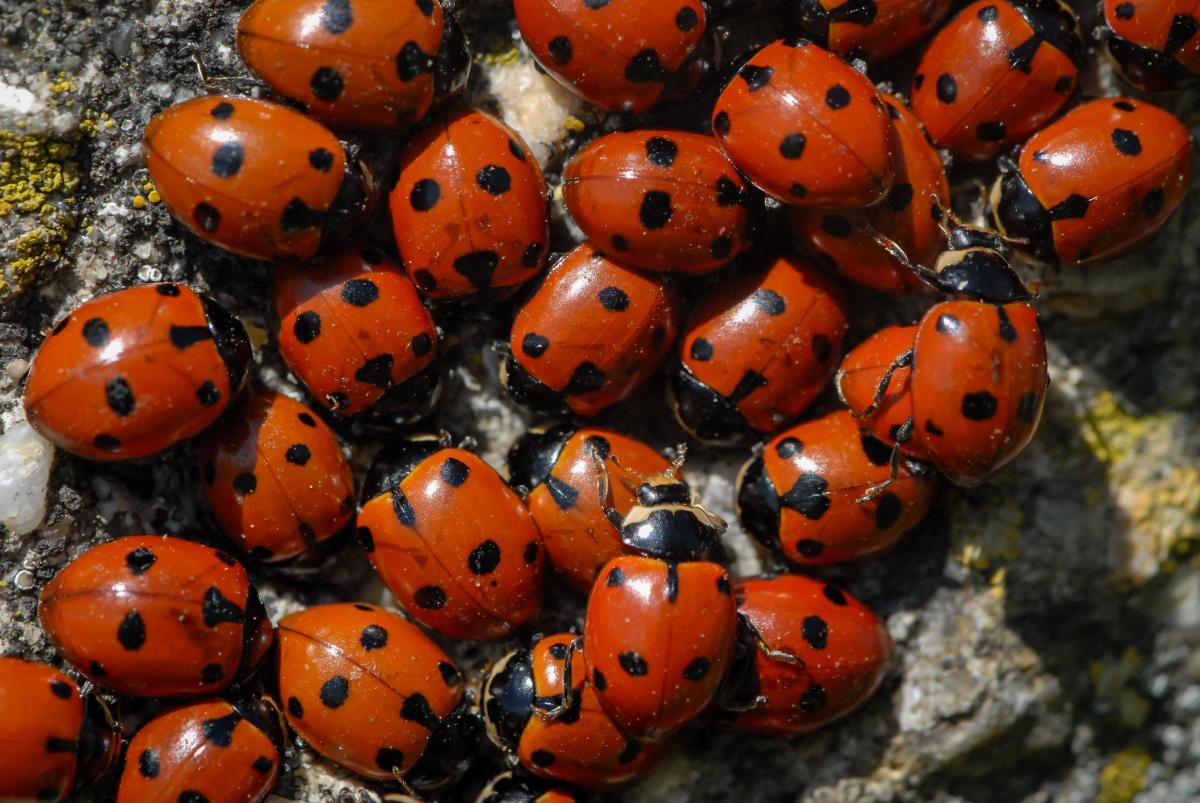 4. Inspect the mysterious remains of a 1908 hotel.
After traipsing the Rattlesnake Gulch Trail in the rock-climbing mecca of Eldorado Canyon State Park for a bit, you'll encounter a strange sight in the middle of the wilderness: The ruins of an old stone oven with a metal pot hanging from the mantel. These are the final remains of the Crags Hotel, once a popular mountain retreat that visitors could access via an inclined funicular railway. The hotel inexplicably burned to the ground in 1912. Today, the eerie remnants evoke early 20th-century scenes of hotel staff going about their work, preparing meals for their guests — before the hotel's operations screeched to an abrupt halt as a result of the fire. 
Trail: Rattlesnake Gulch
Trailhead: Fowler
Difficulty: Moderate
Map
Getting There: Begin at the west trailhead of the Fowler Trail about a half-mile drive after the entrance into Eldorado Canyon State Park. The hotel is a little over a mile in on the Rattlesnake Gulch Trail. Entry fees apply.
Important: Timed-entry reservations are required in Eldorado Canyon State Park on weekends and holidays from May 15-Sept 15. Passengers who ride the free Eldo Shuttle do not need reservations and are guaranteed entrance to the park (park fees still apply).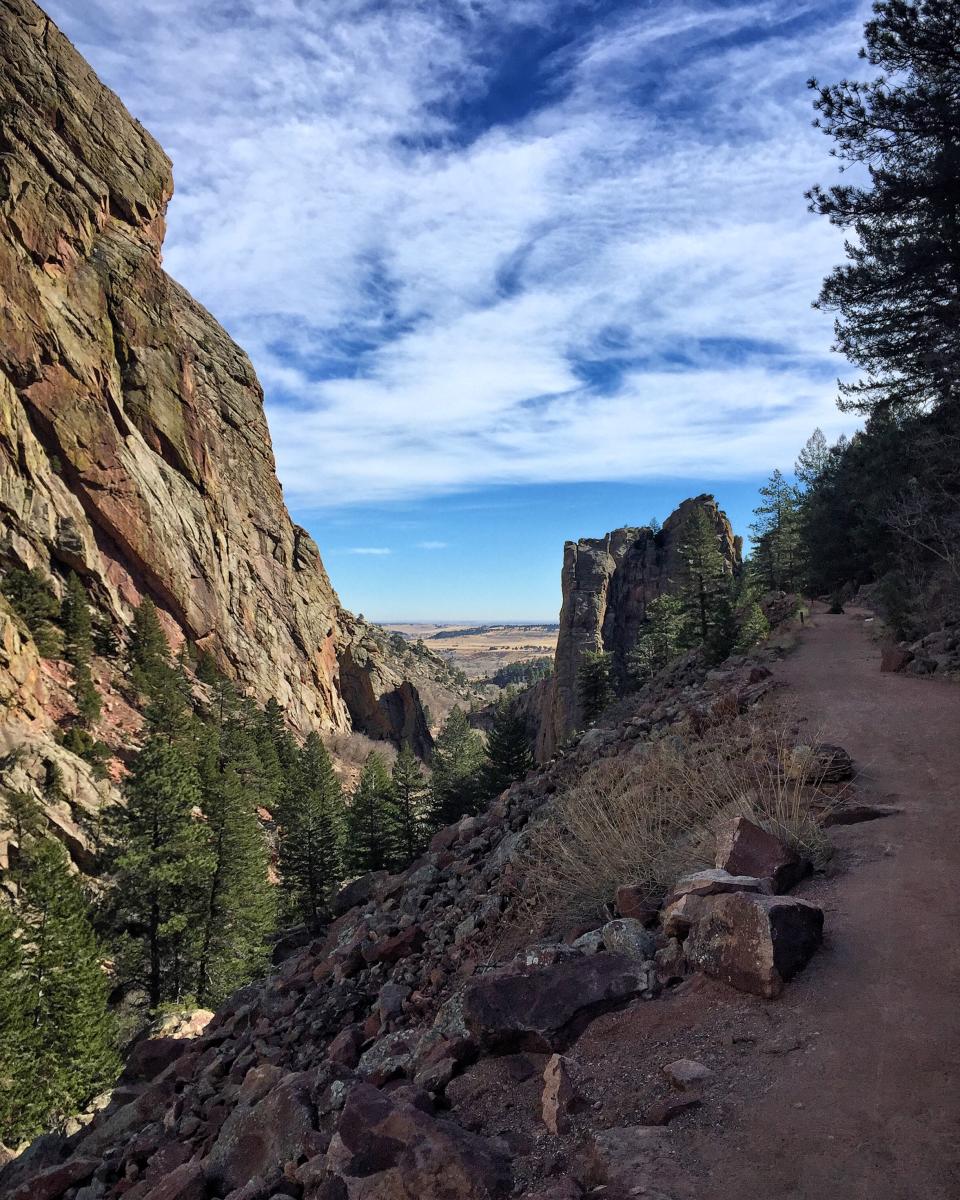 Wander Wisely
Artifacts and fossils left where they are help to tell the story of the past, so please take only pictures and leave historic, archaeological and fossil sites untouched.
5. Hike without your sense of sight.
Trail: Sensory Trail
Trailhead: Realization Point
Difficulty: Easy
Map
Bring a friend and take turns closing your eyes, with one of you acting as a guide. You'll be prompted to smell a fragrant ponderosa pine, listen for and identify distinctive bird calls, and sit in silence to "rest and remember family and friends." Now, who couldn't use a few moments like that? While Boulder's Sensory Trail was designed for people with vision impairment (it's directive signs are also printed in Braille), the path is an enlightening experience for anyone.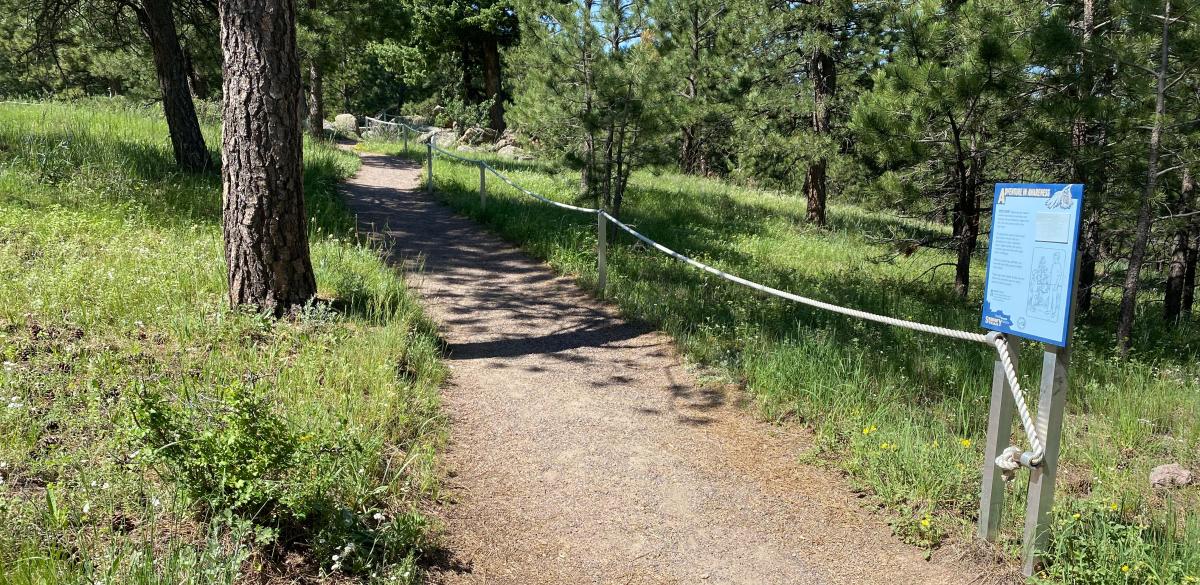 Getting There: Head up Flagstaff Road to Realization Point. Follow signs to the Sensory Trail, located near the northernmost parking area near Artist's Point.
Discover More Boulder Trails
The Boulder Hike Planner has suggestions for family-friendly hikes, winter hikes, hikes with views and hikes for every level.
Tree-Hugger Tip
Let nature's sounds abound. Many of us head out onto the trail system to find peace and quiet or to listen to the birds chirp and the leaves flutter in the breeze. If you're going to play music, don't assume everyone else wants to hear what you're listening to — kindly use headphones.