Father's Day Weekend in Boulder
Looking for ways to celebrate the dad in your life? Come to Boulder, where you'll have trails to hike, great food to taste and fun events to attend together. Here are a few ideas for the weekend of June 18-19, 2022 in Boulder. Check back soon; events will be added as they are announced.
Father's Day Hiking
Take Dad on a refreshing hike in Boulder's foothills — or send him out for some time alone on the trails. Here are several options. 

Dead & Company
June 17-18, 2022
This summer Dead & Company (comprised of members of the Grateful Dead plus John Mayer) returns to the University of Colorado's iconic Folsom Field, a venue frequented by the Grateful Dead in the 70s. If Dad happens to be a deadhead, grab some tickets and join in on the fun!

12th Annual 1940s WWII Era Ball
Saturday, June 18, 2022, 4pm
Dad will love stepping back in time for a magical night out in the '40s at the Boulder Airport. Activities include swing dancing, tours of WWII planes, air shows, a drive-in movie, dance contests and more, all against a scenic backdrop with movie-set lights and props.
Father's Day Whiskey and Chocolate Pairing
Saturday, June 18, 2022, 5:30-7pm
A Father's Day tasting event with spirit. Taste four single-origin chocolates from different parts of the world, hand-crafted by Moksha's own chocolate maker in Boulder. Each chocolate will be expertly paired with a Boulder Spirits craft whiskey.
Colorado Shakespeare Festival
Saturday, June 18 and Sunday, June 19, 2022
Two plays, All's Well That Ends Well and The Two Gentlemen of Verona, will be performed in the historic Mary Rippon Outdoor Theatre and in the indoor University Theatre on the University of Colorado's campus over Father's Day Weekend.
Boulder Comedy Show
Sunday, June 19, 2022, 7-8:30pm
For the dads who appreciate a good laugh, head to Rayback Collective to witness some of today's best working comics. The Boulder Comedy Show's headliners have been seen on Netflix, Comedy Central, HBO, Showtime, MTV and pretty much everything in between.
The SpongeBob Musical at BDT Stage
Sunday, June 19, 2022, 12pm and 6pm
Enjoy an entree, dessert and drinks at BDT Stage while laughing along with this much-loved musical featuring nostalgic pop hits from the '50s.
Boulder Farmers Market
Saturday, June 18, 2022, 8am-2pm
Named one of the 10 Best Farmers Markets in the U.S. by USA Today, the Boulder Farmers Market is a fun place to start a Saturday. Established in 1986 by a handful of local farmers looking to sell farm-fresh produce directly to the public, the market is now the largest in Colorado. It is a growers-only market, and shoppers can enjoy seasonal produce, eggs, cheeses, meats, herbs, flowers, wines and gourmet food products. Plus, the market enjoys a lovely setting next to shady Central Park and Boulder Creek, at the doorstep of the Boulder Dushanbe Teahouse.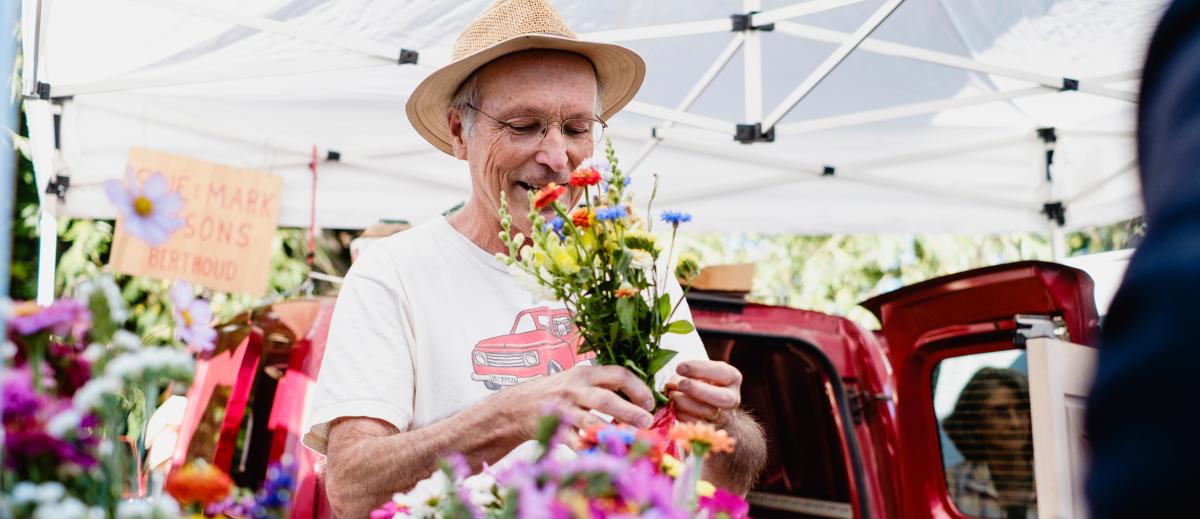 Brunch and Lunch for Dads
Treat dad to a special brunch or lunch at a Boulder restaurant on Father's Day. We recommend you call ahead for a reservation. 
Ado's Kitchen & Bar
Relaxed international bites with $5 Bloody Marys and mimosas.
Avanti F & B Boulder
Modern food hall with global cuisine.
Boulder Dushanbe Teahouse
Colorful and ornate hand-built teahouse serving global fare.
The Buff Restaurant
Popular all-American brunch spot with vegan options.
Chautauqua Dining Hall
Fresh bistro in a historic building near the Flatirons.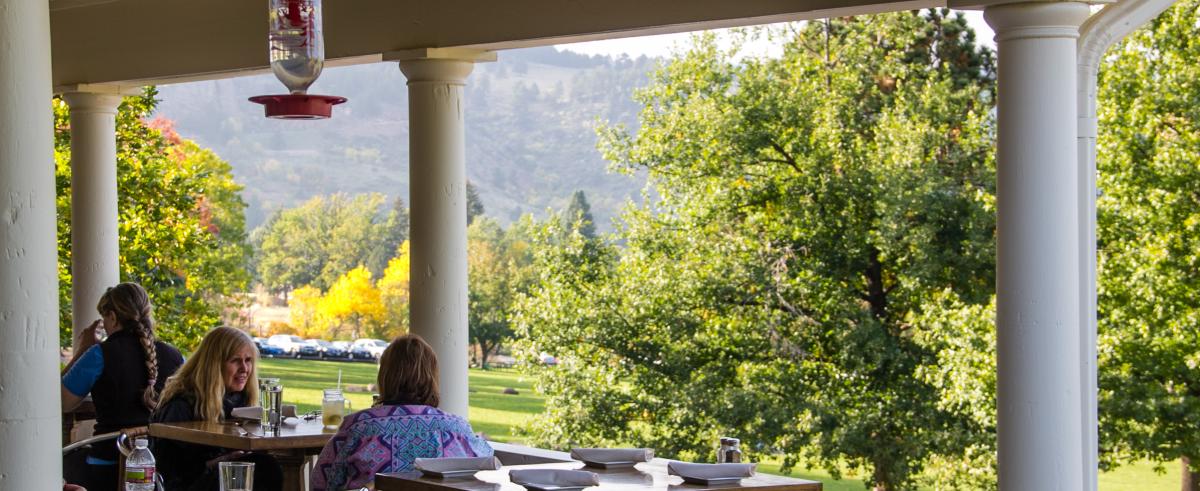 The Corner Bar
Quick bites and cocktails inside Hotel Boulderado.
Foolish Craig's Cafe
Crêpes and casual fare, featured on Diners, Drive-Ins, and Dives.
Le French Café
Authentic French pastries, breads, coffees, and more.
Gunbarrel Brewing Company
Craft brews in a lively beer garden with games and food trucks.
Leaf
Vegetarian, farm-to-table cuisine and breakfast cocktails.
Lucile's Creole Cafe
Cajun and Creole favorites for breakfast and brunch.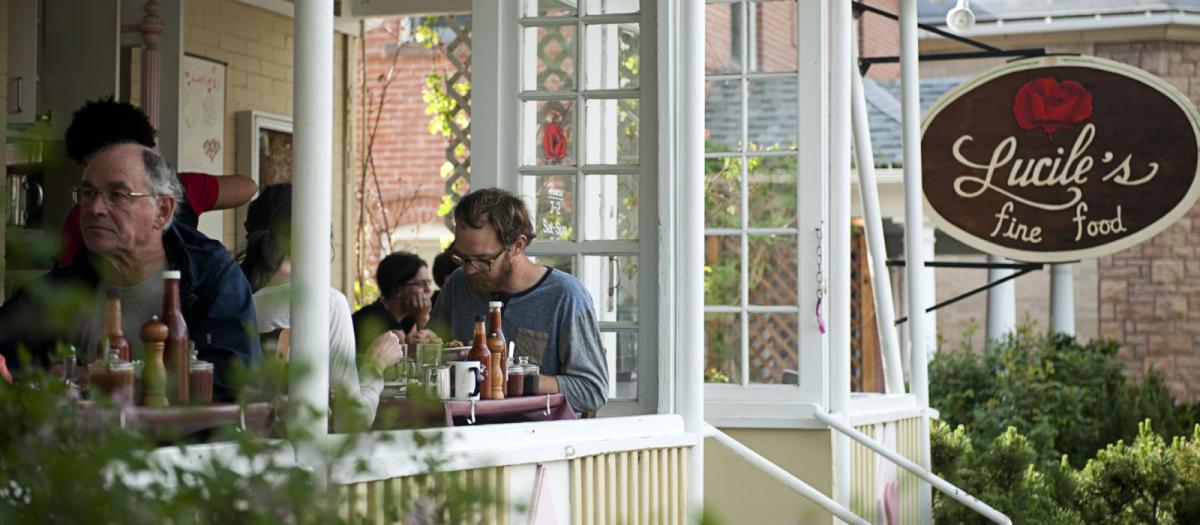 The Post Chicken & Beer
Fried chicken, comfort food and a rotating beer selection.
River and Woods
Comfort food in a charming cottage with a backyard.
Snooze, an A.M. Eatery
Vibrant, hip brunch spot on the Pearl Street Mall.
South Side Walnut Cafe
Hearty brunch and lunch with a family vibe.
Southern Sun Pub & Brewery
Large patio with tasty brews and kids menus.
Spruce Farm & Fish
Classy brunch in Hotel Boulderado with local and organic eats.
Village Coffee Shop
Family-owned diner with large portions and famous pancakes.