4 Spectacular Wilderness Escapes Near Boulder
Boulder's backyard is famously wild. Right at its doorstep are trails, trees, wildflowers, creeks and wildlife. And just a little further afield are even more natural riches.
Make Boulder your home base and explore the four outdoor escapes covered below — a national park, two state parks and a wilderness area — all within an hour's drive or less. Get out, breathe some fresh air, let the sun warm your back, have enchanting encounters with wild animals and reconnect with your sense of adventure.
When you're exploring these beautiful areas, please remember your Mountain Manners.
Rocky Mountain National Park
Eldorado Canyon State Park
Brainard Lake Recreation Area
Golden Gate Canyon State Park
Wander Wisely
Straying from the designated paths can cause harmful erosion or irreversible damage to vegetation and lower soil quality. So we ask you to take the road most traveled (much to Robert Frost's dismay).
Rocky Mountain National Park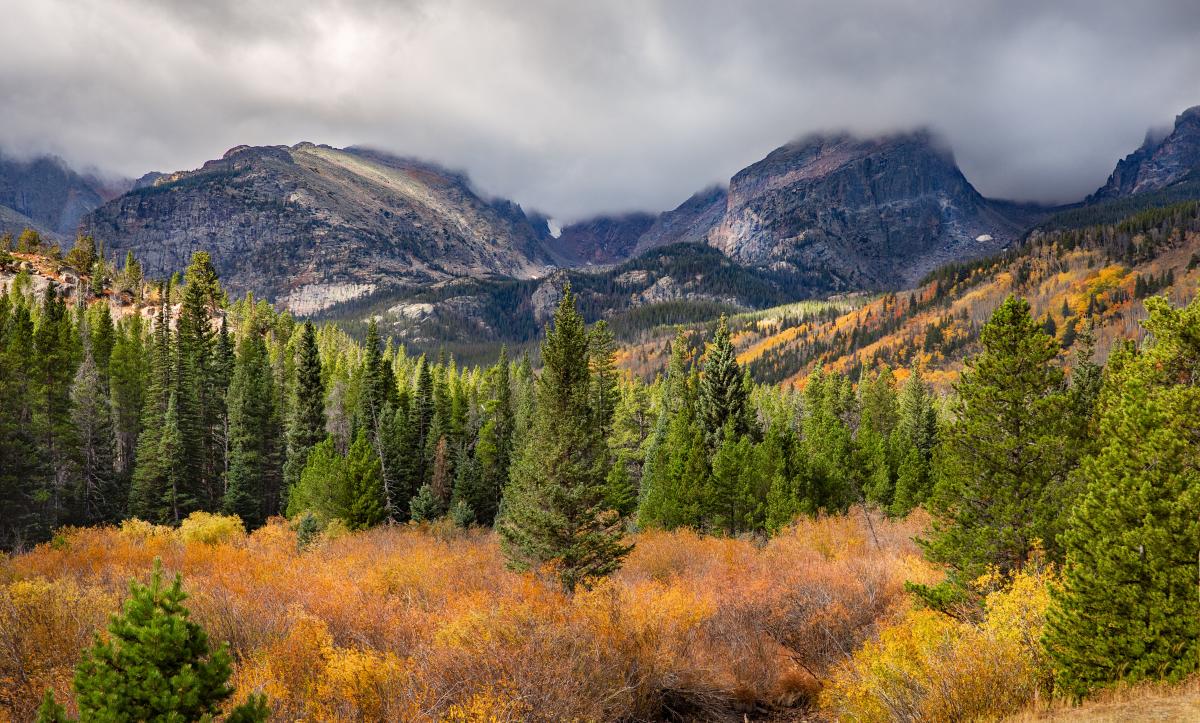 Photo credit Sonja Wilkinson
Important: You will need an advance reservation to enter the park from late May through mid-October. Find more information here. In 2023, construction at the Fall River entrance may create delays at east entrances.
This is truly Colorado wilderness at its very best. Crystalline lakes, jagged peaks rising up all around you, wildlife encounters, trickling alpine streams — it's all here. That's why it's no surprise that Rocky Mountain National Park is America's third most visited national park.
Drive Time from Boulder: 1 hour. It's a lovely drive up through the town of Lyons, where you can stop at The Stone Cup for a breakfast burrito, then continue up Hwy. 36 to the picturesque mountain town of Estes Park, situated on the edge of Rocky Mountain National Park. Alternatively, on summer weekends, there is an awesome bus from Boulder to Rocky Mountain National Park, with bathrooms and wi-fi on board. Please check road conditions before you go. Winter storms and ice can cause road closures and delays.
What to Do
Take a scenic drive on Trail Ridge Road (closed seasonally), the highest paved throughroad in North America. You'll follow a gently curving road through tundra and subalpine forest, admiring dramatic mountain views all along the way and stopping for photo ops.
Great family hikes in Rocky Mountain National Park include Gem Lake (the trailhead is located outside the park in Estes Park) and Bridal Veil Falls (a long, but gentle walk with a waterfall reward) in the summer. In winter, slip into a pair of snowshoes and hike from Bear Lake trailhead to Emerald Lake for an utterly peaceful, snow-blanketed escape from reality.
A prime wildlife-watching spot is Moraine Park, a gathering place for more than 3,000 elk and 800 bighorn sheep. At the edge of this sweeping (and stunning) valley, you might just see and hear some bugling elk.
Pitch a tent in one of five campgrounds (reservations highly recommended), and experience what it's like to wake up to pristine Rocky Mountain vistas and fresh alpine air.
Timed Entry Reservations: Reservations are required to enter the park from late May through mid-October. Find more information here. 
About Pets: Pets are not allowed on trails or in natural areas — only in parking, picnic and campground areas.
Accessibility Info

Rocky Mountain National Park has many accessible facilities for visitors, including visitor centers, scenic overlooks, self-guided trails, campgrounds, picnic areas and a backcountry campsite. The Park also offers rugged three-wheeled, all-terrain wheelchairs, which can be reserved at no cost. Learn more about all accessibility options.
Tree-Hugger Tip
When there's an animal in the distance, are you far enough away so you can close one eye and cover the entire creature with your thumb? If not, you're too close! Keep a safe distance from wildlife to ensure the safety and happiness of both parties.
Eldorado Canyon State Park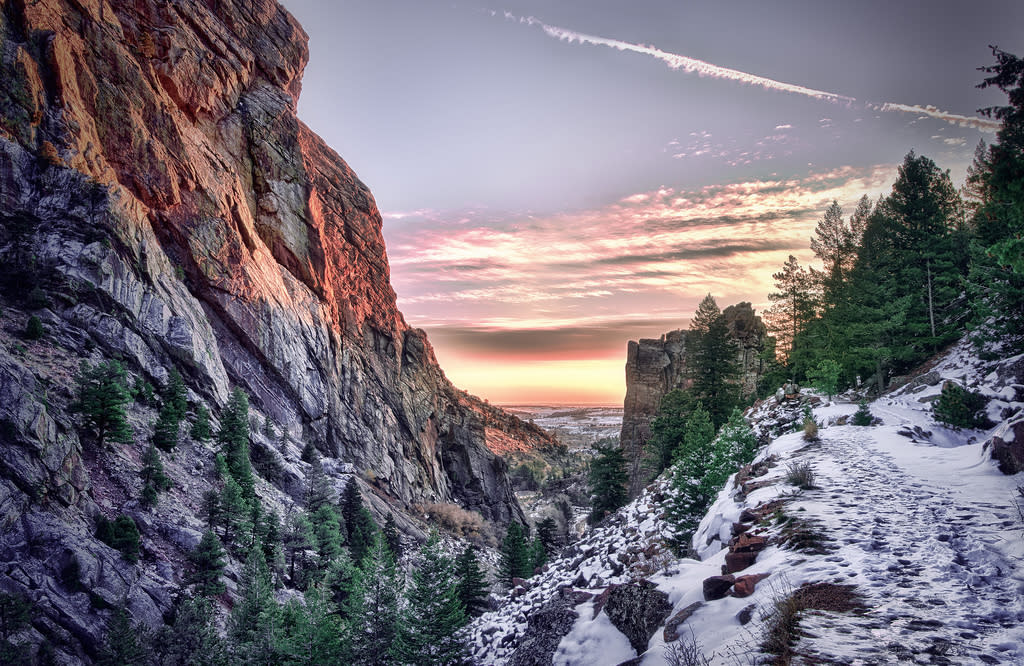 Important: Timed-entry reservations are required in Eldorado Canyon State Park on weekends and holidays from May 15-Sept 15. Passengers who ride the free Eldo Shuttle do not need reservations and are guaranteed entrance to the park (park fees still apply).
Eldorado Canyon State Park was named in Outside magazine's "6 of the Best State Parks in America." The park was known as a getaway resort for well-to-dos in the first half of the 20th century. In fact, the Eisenhowers visited as newlyweds. Dazzled by the geology and natural beauty, guests continue to make the pilgrimage today, but as day hikers, climbers, picnickers and bikers.
Drive Time from Boulder: 20 minutes. That's it: 20 minutes! You'll go through the teensy town of Eldorado Springs. Alternatively, a free Eldo shuttle is available on summer weekends, so you can park in Boulder and skip the drive. During summer weekends and holidays the park fills up fast (reservations are strongly recommended) but by taking the shuttle you can bypass this reservation system. Please check road conditions before you go. Winter storms and ice can cause road closures and delays.
What to Do
Take in views of the lichen-covered canyon walls, listen to the babbling creek below, and watch climbers negotiate the canyon's nooks and cracks — all from the beginner-level Fowler Trail. If you're up for more, hike or mountain bike Rattlesnake Gulch Trail, a 3.6-mile loop that takes you by the ruins of a hotel that was destroyed by fire in 1913 and to panoramas from the Continental Divide Overlook. A more challenging hike is the Eldorado Canyon Trail.
Rock climbers won't want to miss a chance to scale the famous routes at "Eldo." There are more than 500 technical routes that draw climbers from around the globe. Use caution and check out the park's climbing regulations.
Picnic on the banks of the South Boulder Creek and be carried away by peaceful gurgles and a creek-side breeze. There are 10 picnic sites along the water, all of which have picnic tables and several of which are close to restrooms.
Go fishing! Brown and rainbow trout can be snagged with a fly rod just about anywhere along the canyon. Check the park website for updates on how they're biting.
Take Note: Stop in the ranger station for hiking suggestions and advice on how far up the canyon to drive to the trailhead. Bonus: The ranger has dog treats.
Insider Tip
Driving in the mountains during winter is no joke. If you're planning to venture out and up in elevation, you will need snow tires or chains in snowy conditions.
Brainard Lake Recreation Area
Important: Timed-entry reservations are required early June to mid-October.
Beautiful Brainard Lake is ringed by thick forests and nestled in a valley carved by glaciers in the Indian Peaks Wilderness Area. Recreation is abundant and year-round, ranging from gentle hikes to advanced cross-country ski trails. It's the most popular spot in the Front Range to connect with nature, and you'll see why as soon as you arrive.
Drive Time from Boulder: 55 minutes. The drive will take you up through Nederland (see below for some highlights of Nederland) and then north on the Peak to Peak Scenic Byway, which is awe-inspiring any time of year, but especially in fall when swaths of aspen light the hillsides in gold. A scenic way to return back to Boulder would be to continue north on the Peak to Peak highway for just a few miles. Then turn east on Hwy. 7 and down to the town of Lyons, where you can stop in at Oscar Blues Grill and Brew for a craft beer and burger.
What to Do
As you turn off onto Brainard Lake Road, just beyond the hamlet of Ward, you'll see some of the tallest mountains in the state — including Longs Peak at 14,259 feet.
The snowshoeing and cross-country skiing trails at Brainard Lake are exceptional — wide, powdery and under a pine-scented forest canopy. Try the CMC Ski Trail (named for the Colorado Mountain Club who build the trails in the 1970s) or Waldrop Trail.
Hike to Lake Isabelle, a fairly moderate but lengthy jaunt with a mirror-like mountain lake at the end. Give yourself plenty of time to enjoy the wildflowers, take selfies, and stop for a picnic. More alpine eye candy is available on the Blue Lake and Diamond Lake trails, both moderate to challenging in difficulty.
Take note: Brainard Lake is one of the most popular day-hiking spots along the Front Range, so it will behoove you to get an early start to secure parking and avoid crowds. Calling or emailing the Boulder Ranger District is a good way to nail down directions, fees, rules, etc. before you begin your drive. Also, please check road conditions before you go. Winter storms and ice can cause road closures and delays.
Tree-Hugger Tip
Flowers have powers when left on their towers. Leave plants, rocks and historical items as you find them so others experience the joy of discovery.
Golden Gate Canyon State Park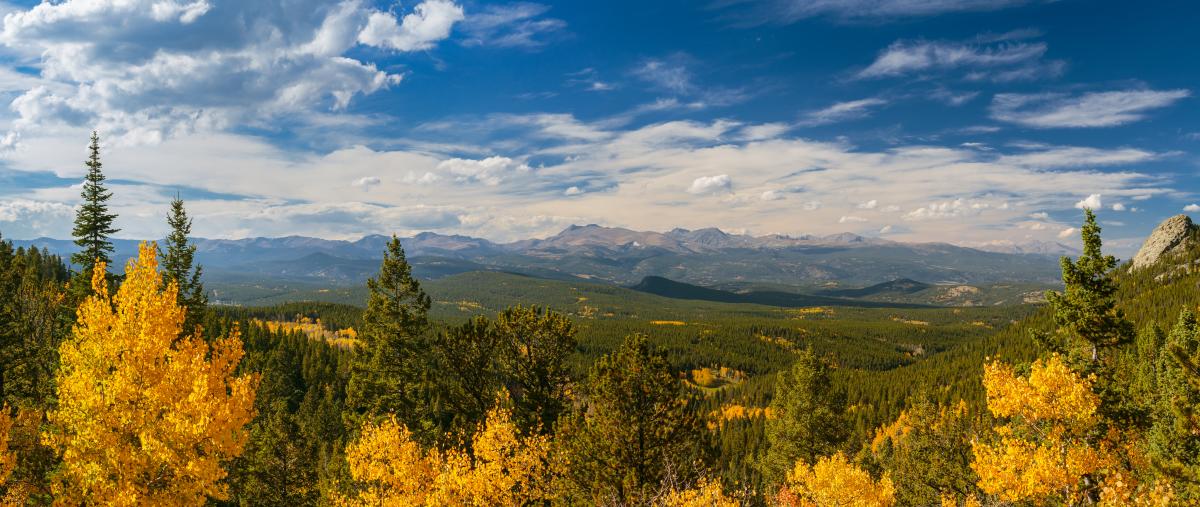 Golden Gate Canyon State Park is easily accessible from Boulder yet it feels like a remote, high-mountain escape. Its 12,000 acres are filled with aspen trees, granite boulders, tall grasses and fields of wildflowers, and the landscape is as inspiring as it is unique to the area.
Drive Time from Boulder: 45 minutes. If you choose the southerly route (Hwy. 93), you can make a stop in Golden, with a cute downtown that retains its Western heritage. Stop in D'deli for a corned buffalo Reuben or the Aspen Buddha sandwich. Another option is to take the westerly route up Canyon Blvd. and through Nederland to pick up some gemstone souvenirs, ride the historic and aptly named Carousel of Happiness and have hot chocolate and mini donuts at The Train Cars Coffee and Yoghurt Company.
What to Do
Stop in at the visitor center and get your bearings and visit a pond where you can feed large rainbow trout. Just pop a few quarters into the food dispenser and then watch the fish jump for your pellets.
Families will enjoy the super-easy and short walk to Dude's Fishing Hole. The trailhead starts at a small campground and then heads down to a little lake, great for fishing. More challenging hikes include those out of Nott Creek, such as the Coyote Trail. Here's a trail guide.
Mountain bike Mule Deer Trail, a moderate trail that winds through wildflower fields, aspen groves and lovely hillsides. It's a great hiking trail, too.
Stop at the Panorama Point Scenic Overlook, with views as far as 100 miles and with a map to help you identify mountains such as Mt. Evans and Longs Peak.
Stay and camp, choosing from two campgrounds, five cabins or two yurts, and be sure to get out at night for some incredible stargazing. Learn more and make reservations (required) here.
Take note: Temperatures at Golden Gate Canyon State Park's higher altitude tend to be at least 10 degrees cooler than Boulder, so don't forget to bring extra layers. Also, please check road conditions before you go. Winter storms and ice can cause road closures and delays.
Important note: Check these parks' and wilderness area's websites for fees, hours, regulations and more advice on how to enjoy your visit.