Easter Weekend and Passover in Boulder
Looking for a cheery spring getaway over Easter weekend or Passover? In Boulder, spring flowers will likely be lifting their heads for their first drink of fresh spring air all along hiking trails and Pearl Street flower beds. The Flatirons will start to show the first hints of spring green. See below for a few of the highlights.
Please Confirm Events and Happenings
Please check official event websites before making plans to attend. This site may not reflect the most recent updates, as events recover from Covid-19 disruptions.

Easter Brunches
Jill's Restaurant
Jill's, the restaurant of St Julien Hotel & Spa, will offer an Easter brunch from 10:30am-1:15pm. Reservations recommended: 720-406-7399.
Greenbriar Inn
Enjoy a special brunch at the Greenbriar Inn, an elegant traditional restaurant and tavern nestled in the foothills north of Boulder. 
Frank's Chophouse
This charming and upscale downtown spot, Frank's Chophouse, will offer holiday specials as well as its full regular menu.
River and Woods
Bring home a beautiful and delicious meal specially designed for Passover or for Easter from River and Woods. Find out more of the menu details here.
Hotel Boulderado
Enjoy a seasonally prepared menu in this fabulous historic hotel. Reserve your table for an intimate dinner for up to 10 people on Hotel Boulderado's mezzanine or dine downstairs at Spruce Farm & Fish. More details can be found here. 
Food Lab
Try an in-person class at Food Lab! This fun and fresh Easter brunch menu highlights a great balance of sweet and savory fare! View all the details here. 
West End Tavern
Enjoy a delicious Easter meal from West End Tavern from the comfort of home! See all the details here. 
More Things to Do
Tulip Time on Pearl Street
Downtown Boulder's brick-paved Pearl Street Mall is filled with flowerbeds that bloom with upwards of 15,000 tulips in springtime. The timing of the buds' opening is, of course, up to Mother Nature, but you will often see the tulips begin to pop up in early April, with peak time often happening mid to late April. Bring a camera and make a day of it with Pearl Street's amazing shopping and dining.

Egg Hunts
Gather up your little ones and some baskets and head out for a lively egg hunt over Easter weekend. At 10am on Saturday, April 16, Calvary Baptist Church will host an egg hunt that includes snacks, games and prizes. The Well Church is also hosting an egg hunt downtown on the lawn of the Boulder County Courthouse at 10am on Saturday, April 16.
Boulder Farmers Market
Starting on April 2, 2022, the beloved farmers' market will fill with local farmers, cheesemakers, bakers, winemakers, and flower-growers. Pick up goodies, or simply grab a meal from the food court and enjoy a picnic beside Boulder Creek or on the shady, green Central Park. Every Saturday 8am-2pm (April-November) and Wednesdays 4-8pm (May-October).
E-bike Tours
If you've never tried an e-bike, you're in for a treat. You'll feel like a superhero zooming up hills with the greatest of ease. With nubby, fat tires, you can do these tours in most weather. Find more bike tours here.

Wildflower Hikes
It could just as easily dump snow in spring as it could be a warm, sunshine-filled day. If the trails are clear, you might spot some early wildflowers like pasque flowers and spring beauties. Here's a guide to Boulder's wildflowers and which trails to find them on.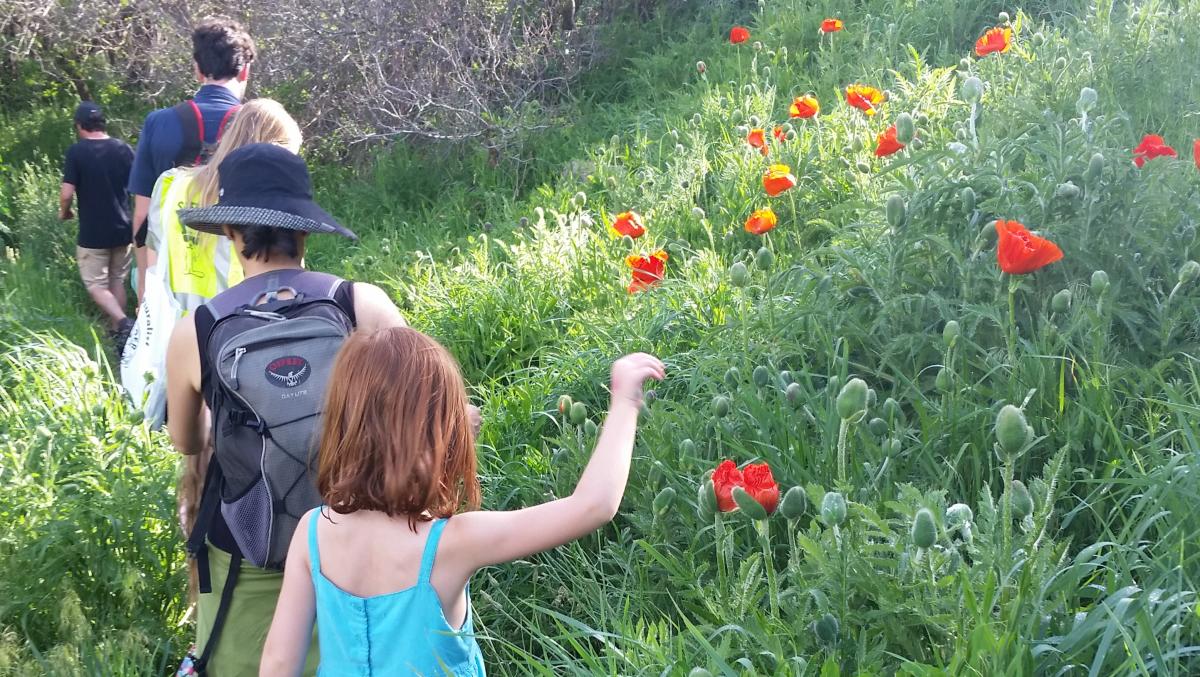 Art Walks
Some of Boulder's best public art is included on this easy, downtown walking tour, every step of which is detailed here. And you'll find plenty of spots to stop for beverages and snacks along the way. Boulder's collection of 90+ murals is worth exploring, too. There are also 19 alley doors painted by artists throughout downtown Boulder.