The Insider's Guide to Chautauqua Park
Things to Do  |  History  |  Meaning of the Word  |  Shuttle
If you're planning a visit to Boulder, there's a good chance people will say, "Oh, you have to go to Chautauqua!" And you might be thinking, "Sha-what?" 
In Boulder, the term Chautauqua (pronounced shuh-TAW-kwuh) is used to describe a vast area right at the foot of Boulder's Flatirons mountains. It encompasses the sprawling lawn of Chautauqua Park, the Colorado Chautauqua historic district and the Chautauqua Trailhead, from which 40 miles of hiking trails can be accessed. Help keep this spectacular area special by remembering your Mountain Manners. 
Award-Winning Spot
Boulder's Chautauqua Park was named the best place in local government in 2022 by the Engaging Local Government Leaders network. Learn more. 
9 Things to Do at Chautauqua
1. Hike!
A vast network of trails leave from the Chautauqua Trailhead and head right up into the Flatirons. The friendly folks at the on-site Ranger Cottage can recommend a hike at your level, plus provide brochures on wildflowers, wildlife and more. There's also a bathroom and water fountain at the cottage.
Only in Boulder
There are treasures to be found on trails leaving from Chautauqua Trailhead, including an outdoor living room fashioned from rocks (Woods Quarry Trail) and a natural amphitheater (Amphitheater Trail via Bluebell Baird Trail).
2. Have a Memorable Meal
Dine on Chautauqua Dining Hall's beautiful veranda or indoors next to the roaring fireplace. Enjoy this restaurant's delicious Colorado cuisine, often sourced from the chef's own farm. 
3. Catch a Live Music Show
The historic Chautauqua Auditorium, built in 1898, hosts folk, rock and pop concerts all summer long. This lofty, wooden structure is acoustically remarkable. It also is the venue for the venerable Colorado Music Festival — several weeks of classical music performances.
Insider Tip
If a Chautauqua Auditorium performance is already sold out, try bringing a blanket and sitting outside the venue on the lawn to catch some sounds on the breeze while you picnic.
4. Eat Ice Cream
The General Store (open seasonally) is an adorable, restored cottage that serves espresso, ice cream, locally produced teas, candy, trinkets and sundries.
5. Play or Picnic
In Chautauqua Park, the views are unbeatable and there's room to run, throw a frisbee and spread out a big blanket or picnic table.
6. Take a Self-Guided History Tour
Use your mobile phone to take an audio tour, which has nine stops and four interpretive panels. Look for the headphones icon on this map to locate the tour stops. To get started, just call 303-952-1600 from your mobile phone and press the corresponding tour stop to start listening.
Insider Tip
For those visiting here June-October, consider a theater hike with Arts in the Open. Both audience and actors are taken on a scenic hike while scenes from a theatrical production are performed along the way.
7. Stay the Night
Book a stay at one of the historic cottages or lodges run by the Colorado Chautauqua Association. You'll wake up to Flatirons views and hiking right out your door.
8. See a Film or Attend a Talk
The Community House was built in 1918 to serve as the "living room" to Chautauqua residents. Today, the venue hosts intimate concerts, forums, films and educational programs.
Insider Tip
From musical performances to film screenings to guest lectures, there's always something going on at Chautauqua. Check out their event schedule for all listings in one place.
Colorado Chautauqua's History
In the late 1800s and early 1900s, Chautauquas were highly regarded family retreats, focusing on culture, education, music, nature, activities and sometimes religion. In 1898, the Chautauqua movement took root in Boulder when a group of Texans chose the town as a retreat to escape excessively hot Texas summers. Through a collaboration with residents, the Colorado Chautauqua was born, instantly becoming one of the nation's most beautiful vacation spots
It is the only Chautauqua west of the Mississippi River that has operated continuously since its founding, and it was designated a National Historic Landmark in 2006. The Colorado Chautauqua was particularly important for the area, because it kicked off Boulder's parks and open space preservation efforts. The day after Chautauqua's grand opening, the city of Boulder purchased the eastern slope of Flagstaff Mountain from the United States Government. Purchasing land for preservation became one of Boulder's top priorities and still is today. 
In a sense, the story of Boulder itself is inextricably intertwined with the history of Chautauqua. The town's enduring principles on the importance of education, protecting its crown-jewel parcel of land, and broader land preservation efforts remain today and were all spurred by the Colorado Chautauqua.
What Does "Chautauqua" Mean?
"Chautauqua" is believed to be an Iroquois word that described the shape of Chautauqua Lake in New York state. It can mean "a bag tied in the middle" or "two moccasins tied together." The original gatherings of the Chautauqua Institution happened on this lake, so the group took their name from the setting.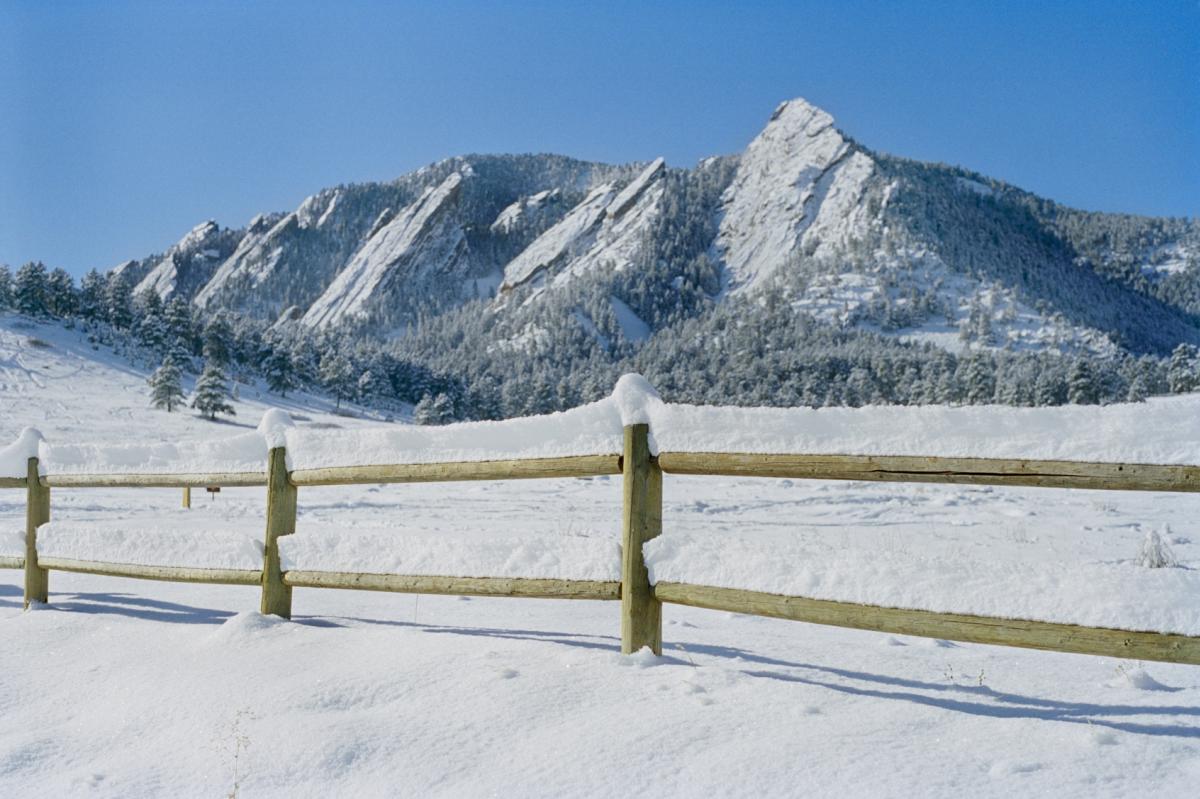 Headed to the Chautauqua area on the weekend to hike among the Flatirons? Ride the free weekend summer shuttle, a short, 10-minute-or-so ride to get there stress-free and avoid parking fees. The shuttle runs from Memorial Day to Labor Day. Here's all the information on the Park-to-Park hiker shuttle.