Stargazing Near Boulder
One of the most magical activities you can do from Boulder is to find a quiet spot, breathe in the crisp night air and stare up at a dazzling, star-speckled night sky. There's nothing like imagining distant galaxies to put things here on Earth into perspective.
Stargazing spots abound near Boulder and you can do this activity year-round, thanks to our mild, often clear-skied, weather. In winter, the sky is perfect for stargazing; pack up a thermos of hot chocolate and bring a pile of blankets.
The farther away you get from the city lights, the better. Here are a few of the best places to stargaze in Boulder and nearby. 
Stargazing Spots Near Boulder
Peak to Peak Scenic Overlook
The Peak to Peak Scenic Byway is less than an hour from Boulder and gets you far from the city lights, and closer to the stars, rather quickly. You'll find places to stop along the highway, including this Scenic Overlook, which is a good place to pull off and lift your eyes skyward to take in the wonder of distant stars, planets and galaxies.
Drive Wisely
Please use caution when driving mountain roads. It's best to download a map before you leave in case you go into areas with no cell coverage. In winter, ensure you have snow tires or chains. And if you need to take a moment to enjoy the scenery or consult your map, pull over in a safe, out-of-the-way spot.
Button Rock Preserve
Forty minutes north is Button Rock Preserve, a quiet river valley open until 10pm. With peace, quiet and a reservoir to reflect the star-studded sky above, this is a little-known spot for stargazing close to Boulder.  
Golden Gate Canyon State Park
This spectacular state park has a remote, high-alpine feel yet is only 50 minutes from Boulder. Golden Gate Canyon State Park is open until 10pm, and the best place to stargaze is at Panorama Point, which has an expansive viewing deck. To enter the park, you'll need to pay a $10 day fee.
Rocky Mountain National Park
This jaw-dropping, bucket-list-worthy national park is just an hour from Boulder and is open 24 hours a day, 365 days a year. There are plenty of parking lots to pull off at, and in the summer you can drive Trail Ridge Road, which travels to an elevation of 12,183 feet across treeless tundra. A day pass is $25 per automobile.
Important: You will need an advance reservation to enter the park from late May through mid-October. Find more information here.
Accessibility Info

Rocky Mountain National Park has many accessible facilities for visitors, including visitor centers, scenic overlooks, self-guided trails, campgrounds, picnic areas and a backcountry campsite. The Park also offers rugged three-wheeled, all-terrain wheelchairs, which can be reserved at no cost. Learn more about all accessibility options.
Panorama Point on Flagstaff Road
You likely won't be able to see the Milky Way from here because Panorama Point is so close to the lights of Boulder, but this scenic spot is only a 5- to 10-minute drive up winding Flagstaff Road. Choose a parking spot, open your sunroof, cuddle up with your loved one and turn your gaze upward for a beautiful night view. If your vehicle is not registered in Boulder County, there's a $5 parking fee at the self-serve station.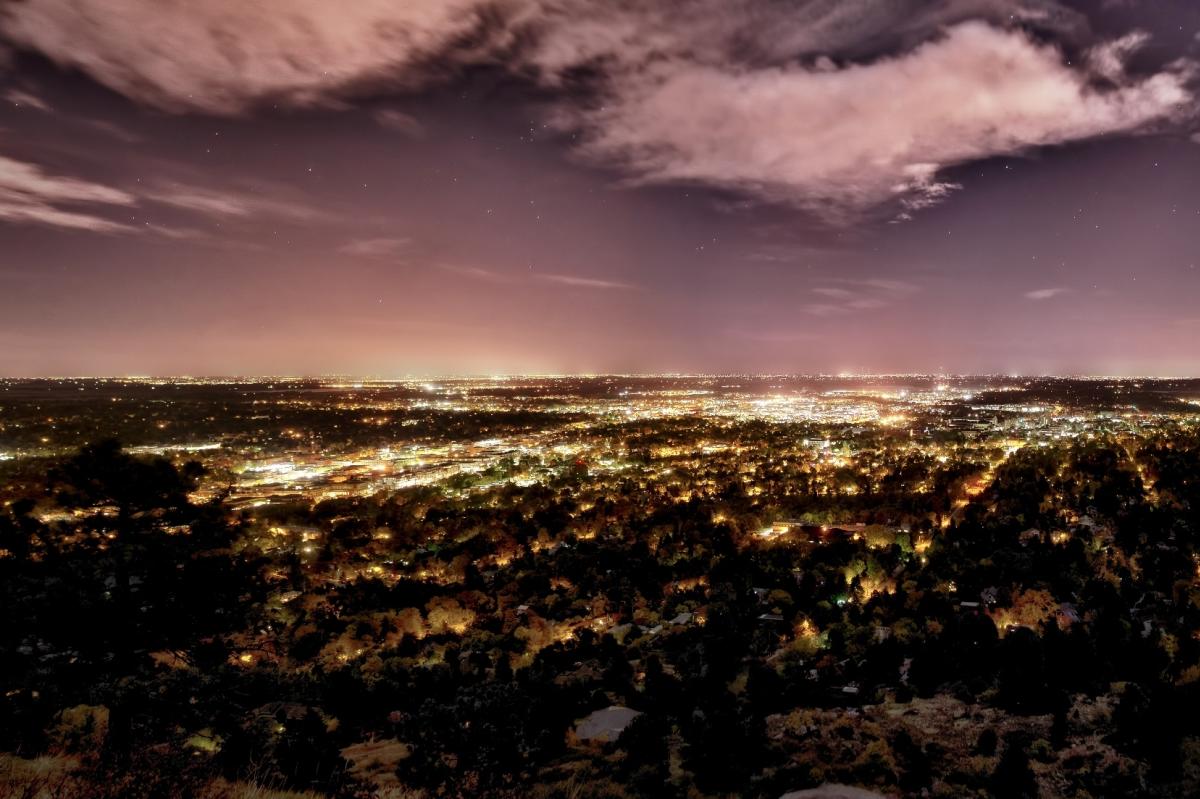 Photo: Max and Dee Bernt/Flickr Creative Commons
Go on an Astronomy Tour
Astro Tours
Boulder's own Astro Tours takes guests on an after-sunset trek to admire the night sky and learn what to look for. Your expert guide will bring some fancy telescopes and show you how to use them as they point out galaxies, shooting stars, nebula, satellites and more marvels of the night sky. The tours happen most clear nights.
Boulder Open Space and Mountain Parks Programs
At naturehikes.org, you'll find a calendar of upcoming nature outings led by knowledgeable naturalists, and sometimes the outings include stargazing adventures around Boulder's vast open space.
Sommers-Bausch Observatory and Fiske Planetarium
Located on CU's campus, and run by the Department of Astrophysical and Planetary Sciences, Sommers-Bausch Observatory hosts star parties open to the public from a rooftop perch equipped with several high-tech telescopes. Next door is Fiske Planetarium, where incredible star and laser shows are projected by one of the most advanced star machines in the country.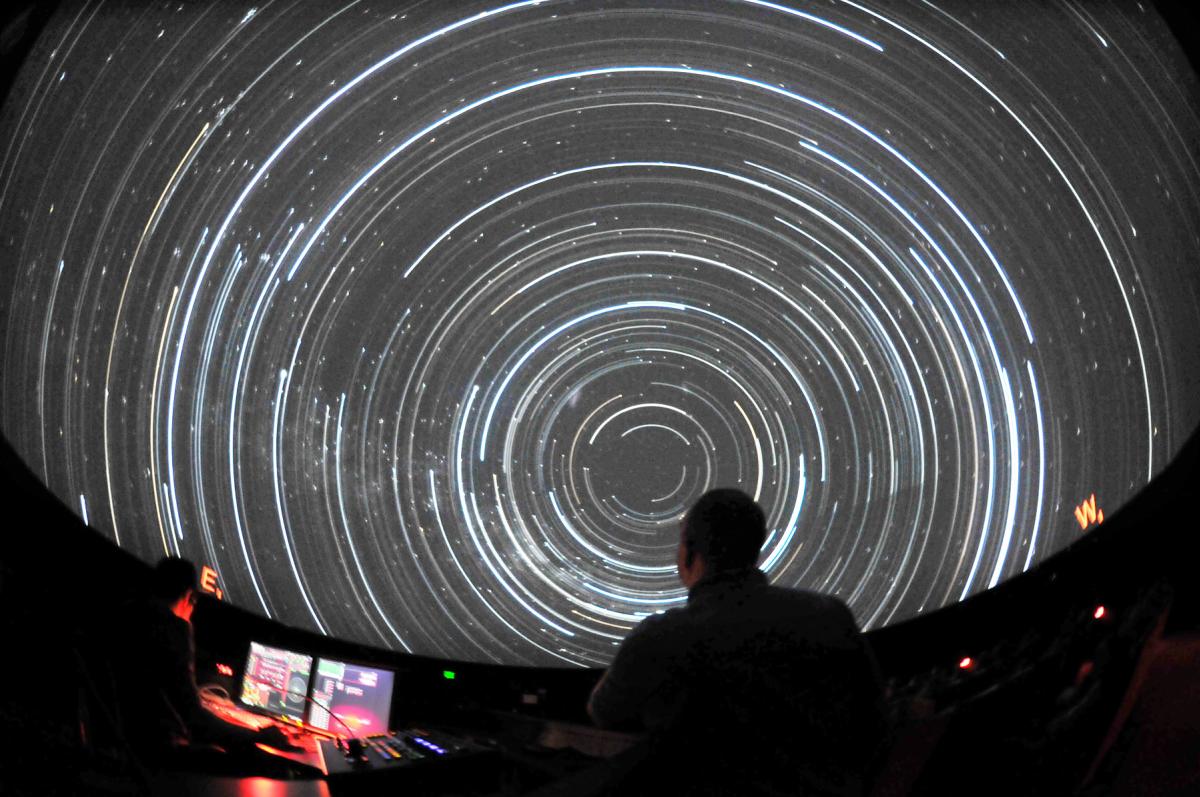 What to Bring Stargazing
Blankets
Folding chairs
Warm layers (even in summertime)
Binoculars or telescope (not necessary, but nice to have)
Headlamp or flashlight (use sparingly to keep your eyes adjusted to the dark)
Smartphone (handy star apps include Sky Map, SkyView, Stellarium, Star Tracker and Star Walk)
Here's a beginner's guide to stargazing from Mental Floss.
Boulder Hot Chocolate Stops
Bring a thermos and order some of this town's most amazing hot cocoa to make your stargazing trek that much sweeter.
Piece, Love and Chocolate You can't beat this chocolate shop's handcrafted hot cocoa and sipping chocolate (a thicker, stronger, smaller cup of warm liquid chocolate).
Gelato Boy These folks know their chocolate, having whipped up countless batches of fresh gelato. Here, you can order your hot chocolate with a scoop of ice cream in it (heaven!). Or have yours with fresh whipped cream from a local dairy.
OZO Coffee This locally adored coffee roaster has 20 varieties of mocha lattes that can be ordered sans espresso — from the Grasshopper (with dark chocolate and mint) to the Island (dark chocolate with coconut and macadamia nut flavoring).   
Boxcar Coffee For a decadent hot chocolate, Boxcar uses pure Valrhona chocolate, giving it a smooth, rich flavor with a tiny bit of a bite. No whip cream or marshmallows available (or needed).