Boulder Visitor Center and Kiosks
See below for information about how to get maps, information, reservations and more on your visit to Boulder. 
The Boulder Convention and Visitors Bureau helpful staff are available via phone Mon-Fri 8am-5pm at 303-442-2911 or 800-444-0447.
Or email us at visitor@bouldercvb.com.
Feel free to get in touch via social media, too:
Social Media: Instagram: @VisitBoulder
Facebook: Visit Boulder
Twitter: @VisitBoulder
Brochures and Maps: Available online 24/7, or request brochures be mailed to you.
Hotel rates and availability: Our online Book Direct hotel search tool is awesome. Honestly, when you call us and ask us about hotel availability and rates, we use it behind the scenes to help you! And unlike other hotel search options, you can be assured every hotel listed on Book Direct is in the Boulder city limits, putting you close to all the fun.
Pearl Street Visitor Information Center
Pearl Street Visitor Center
Downtown Boulder Visitor Information Center
1301 Pearl St.
The VIC is currently scheduled to be open seven days a week from 11:30am-4:30pm.
This convenient little booth is located on Pearl Street in front of the old courthouse between 13th and 14th Streets. Guide books, maps, news and brochures are available, and downtown ambassadors are there to help guests with directions, dining and activity recommendations and information on events.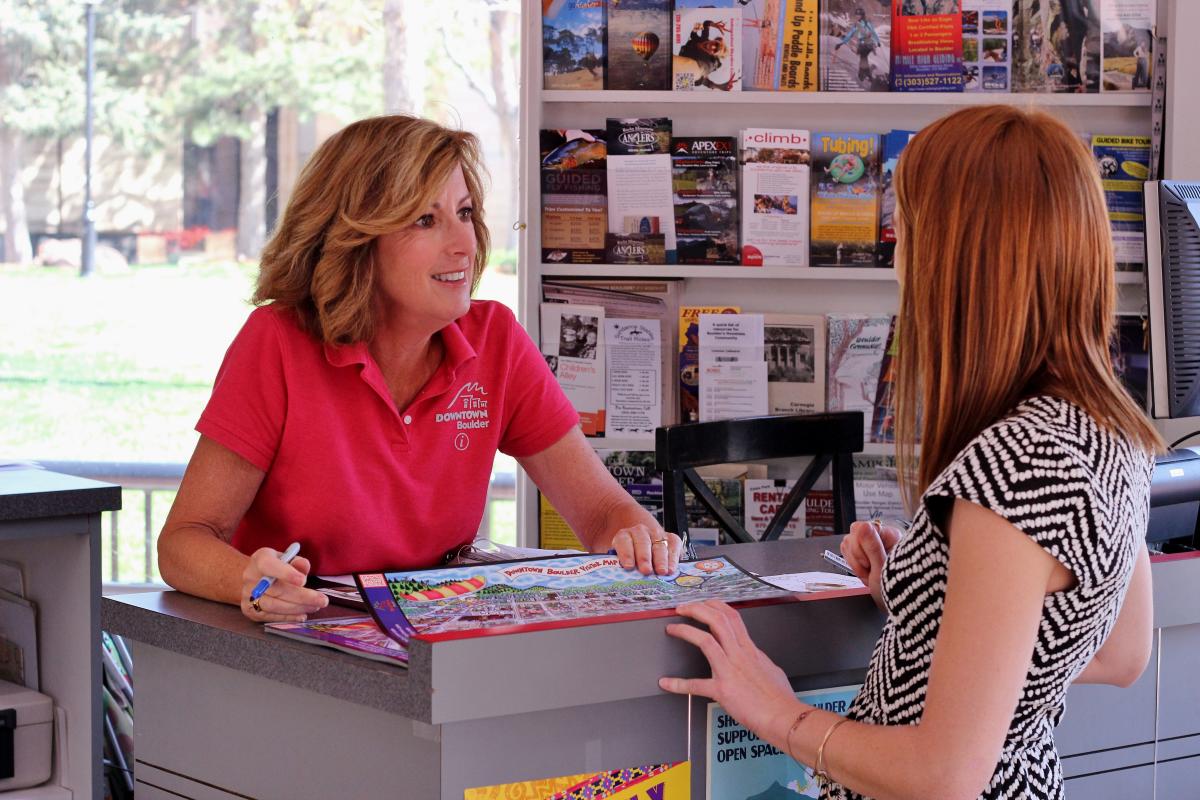 Visitor Kiosks Around Town
Gateway Park Visitor Information Center
4800 28th St.
Open daily, 10am-8pm
Inside the arcade at this charming, family-friendly, indoor/outdoor fun center is a desk with visitor information and staff who can help you.
Davidson Mesa Overlook Self-Serve Kiosk
Located just off U.S. Highway 36 as you come into town from Denver. The views are amazing, and you'll find interpretive signage and free observation viewfinders to take it all in. Plus a self-serve kiosk is stocked with brochures year-round. Open 24/7.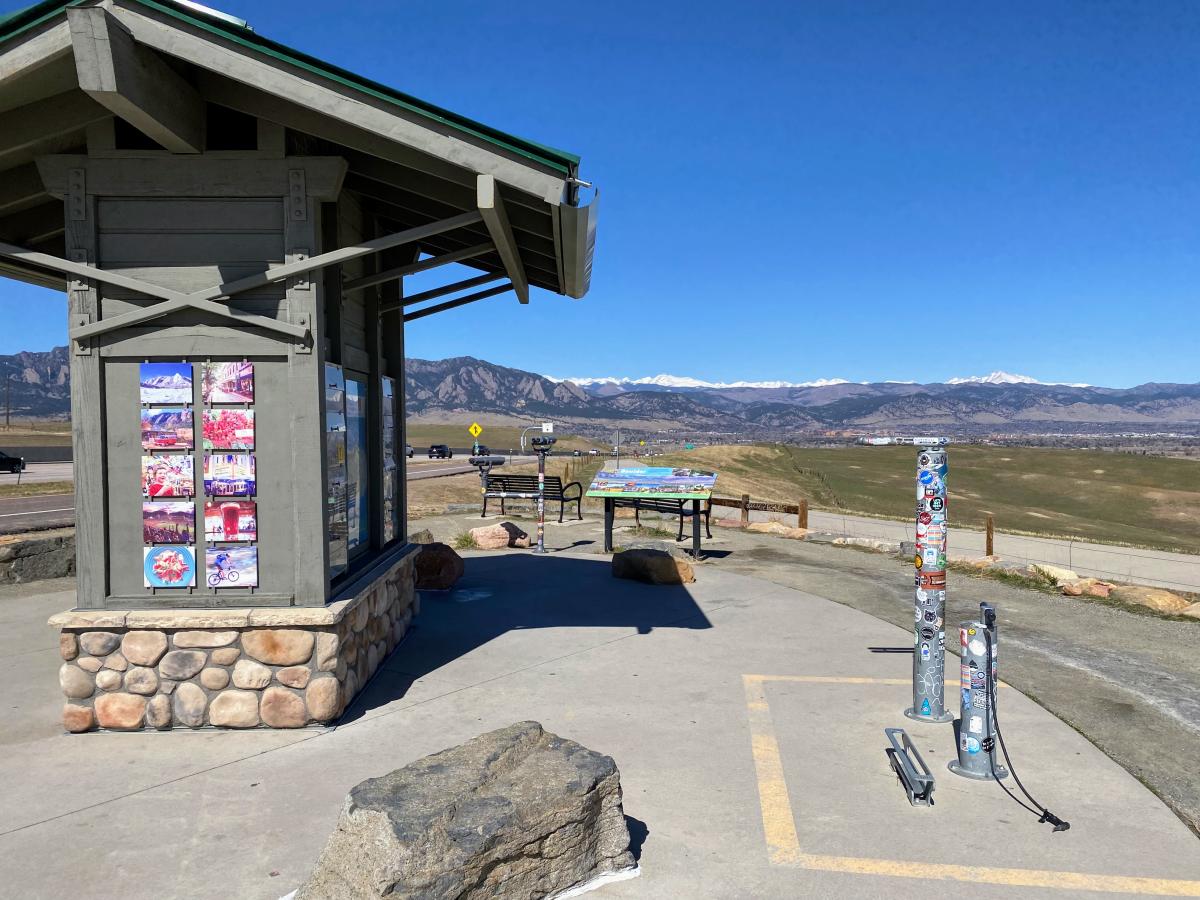 Downtown Self-Serve Kiosk
14th and Pearl Street
A self-service, brochure-only kiosk. Open 24/7.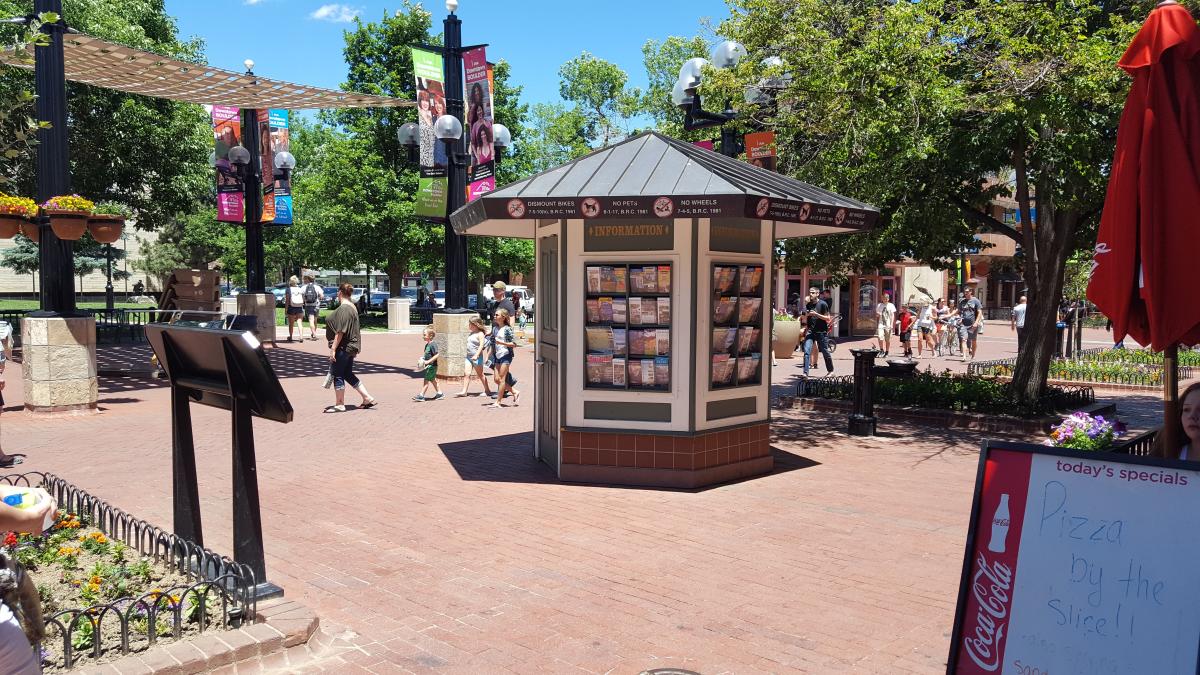 VW Mobile Visitor Bus
You might spot Delilah, our little, orange 1979 VW bus, parked at the Chautauqua Trailhead or other spots around town. If you see her, staff will be on hand to answer questions about lodging, dining, shopping, trails, attractions and more. Open midday during the summer.
If your group is hosting a meeting in Boulder and is interested in reserving Delilah as your own private visitor information center, you can find more information here.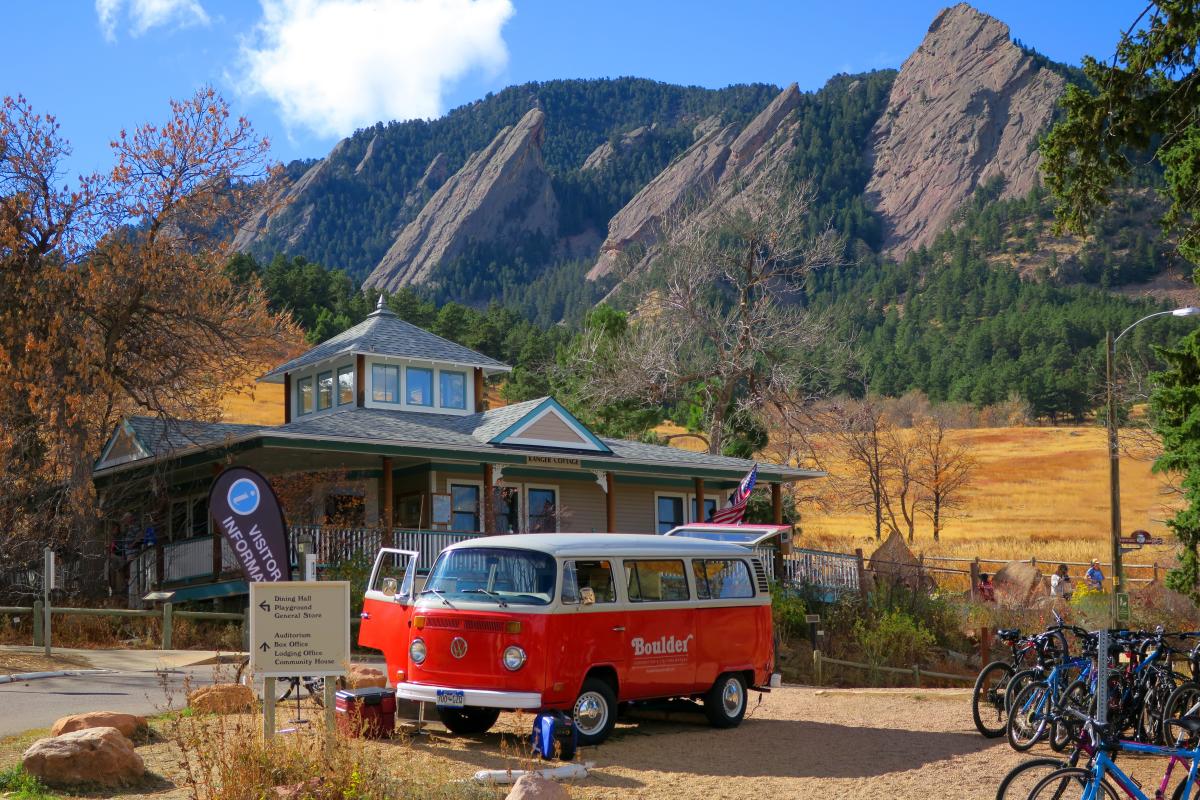 Visit Boulder Visitor Center Location
Visit Boulder, the Convention and Visitors Bureau
2440 Pearl Street
Boulder, CO 80302
Our Visitor Center at 2440 Pearl Street is currently open for walk-ins Tuesdays, Thursdays and Fridays, 10am–3pm. Call 303-442-2911 if you'd like to schedule an appointment outside of these times. Alternatively, the Pearl Street Visitor Information Center is open daily, weather permitting.
Map of Boulder Visitor Centers and Kiosks