Gravel Biking in Boulder
Have you tried this activity that's been on the rise with the cycling crowd? Gravel biking routes, which often take the form of dirt roads, abound in the Boulder area, and often have sweeping mountain, foothill and forest views. Many routes are accessible year-round, and because you can cover a lot of distance on most gravel rides, you're likely to see a big variety of terrain and highlights, from lakes and farm animals to aspen groves and wildlife. 
Help protect Boulder's natural beauty by remembering these Leave No Trace principles.
What Is Gravel Biking?
Gravel biking is a blend between road cycling and mountain biking. It opens the door to a variety of new cycling adventures, and usually involves a combination of gravel roads, paved roads, bike paths, and single and double-track trails. With a vast network of all of these options and a huge variety of terrain through the town's protected open space, surrounding rural landscapes and adjacent mountains, Boulder is uniquely suited for gravel biking.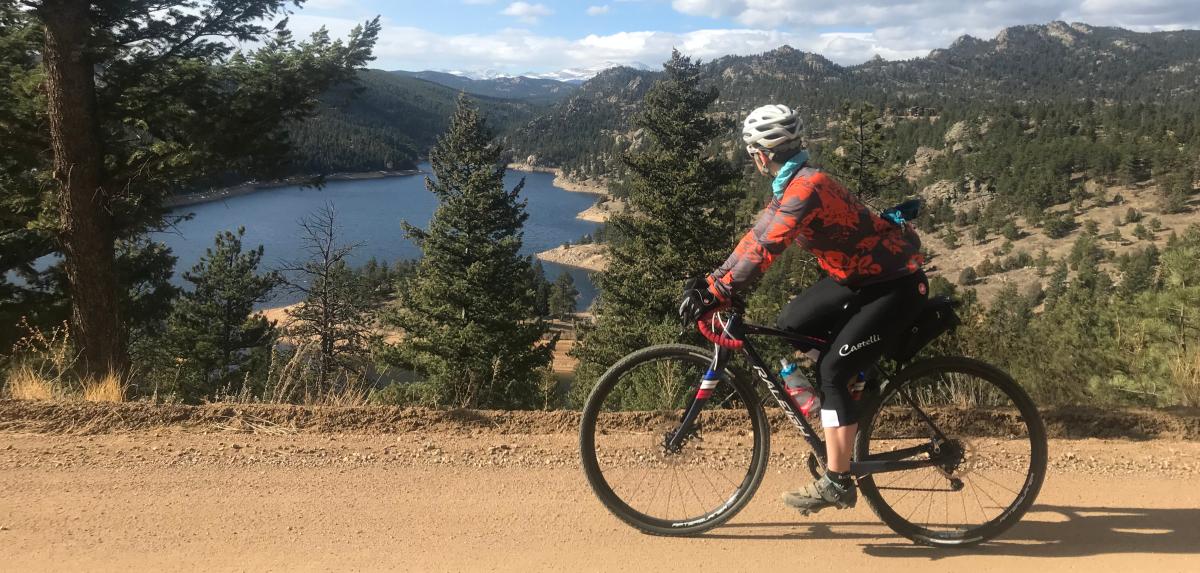 "The heart of gravel riding's popularity is that it allows you to see an off-road view you would never reach on a road bike or that a mountain bike would take days to pedal," says Laura Karpinski and Rose Barcklow, founders of the Gravel Bike Adventures, which provides gravel biking advice and routes with downloadable maps to encourage local road cyclists to "get off the pavement and try venturing onto dirt roads."
About the Bikes
While you can certainly ride these routes on a mountain bike, some folks prefer a specialized ride. Gravel bikes are heartier than road bikes and able to handle rougher terrain, but they are lighter than mountain bikes, with smaller tires. They generally don't have shocks, allowing riders to maintain speed and efficiency when transitioning between different types of terrain. And, because gravel biking is less technical than mountain biking, it's perfect for beginners looking to test themselves out on two wheels. See where to rent gravel bikes in Boulder below.
Boulder Gravel Biking Routes
Boulder is a dream for any gravel cyclist, from the mostly flat terrain in North Boulder to more mountainous areas like Gold Hill and the roads near Four Mile Canyon. Just remember: gravel biking can take you into some remote locations, so it's helpful to have a pre-planned route, since you may not always have phone service, and always bring plenty of water, snacks and rain gear in case of unexpected showers. If you have access to one, a bike computer with mapping, routing and navigation ability is a plus.
Here are three favorite Boulder routes.
Left Hand Canyon in North Boulder
From the pretty, cottonwood-ringed Left Hand Valley Reservoir to the distinctive Haystack Mountain, the views from here are expansive and diverse. You'll start your ride from the Left Hand Trailhead parking lot and follow wide crushed gravel trails, dirt-packed roads, narrow single-track trails, and paved roads. 
Level: Beginner
Length: 34.1 miles via this route
Elevation gain: 1,581 feet
Fourmile Canyon to Boulder Canyon
For a lengthy, challenging climbing gravel route, this linkage of several roadways quickly whisks you out of the city and into the mountains, with forest-framed peak views and rustling trees. You'll start your climb in Sunshine Canyon to Fourmile Canyon and the Switzerland Trail. Then return via Sugarloaf Road and the Boulder Creek Path through Boulder Canyon.
Level: Advanced
Length: 29.1 miles via this route
Elevation gain: 3,681 feet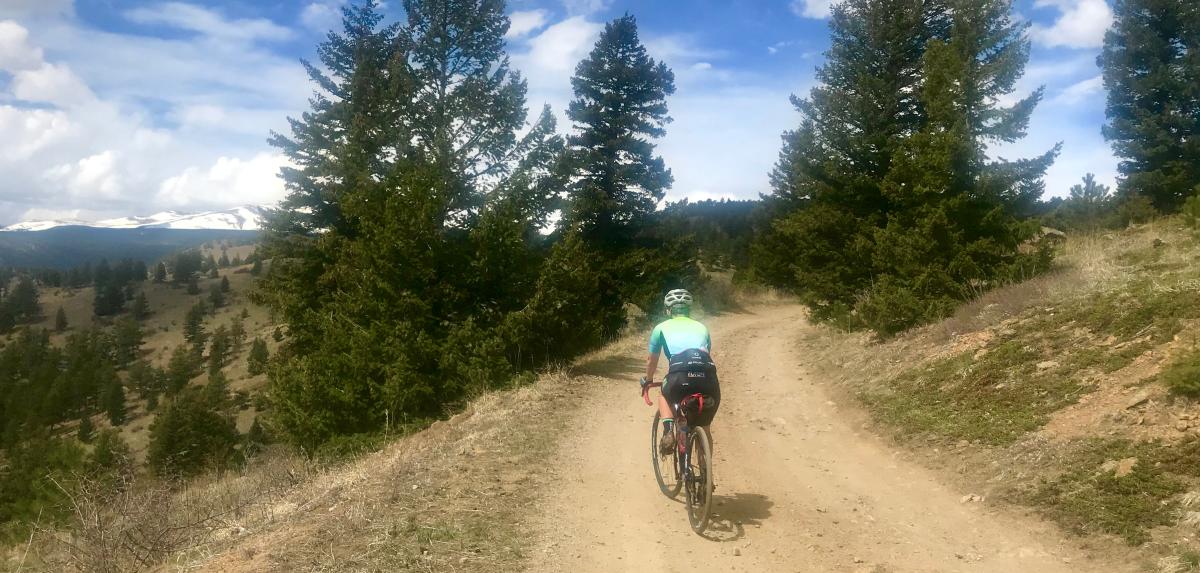 South Boulder Groad
No, that's not a typo. "Groad" is a combination of the words "gravel" and "road" and that's what you'll be riding on this route, as well as bike paths, singletrack trails and dirt roads. Enjoy fantastic views of the Flatirons.
Level: Beginner
Length: 30.3 miles via this route
Elevation gain: 1,257 feet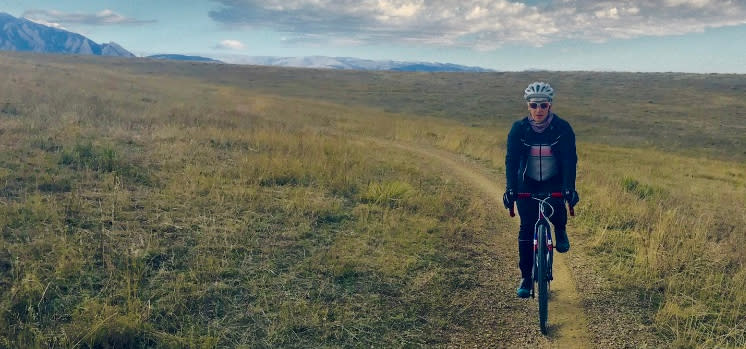 More Routes
You'll find more Boulder routes on Gravel Bike Adventures. Rides are ranked by difficulty on a scale of one to five (look for the little orange mountain icons). Also check out Boulder Sports Garage's recommended gravel routes, helpfully arranged from those with the least amount of elevation gain to the most. 
Where to Rent
If you want to try gravel biking, the first thing you'll need is a gravel bike. Luckily, there are several Boulder bike shops that cater to gravel cyclists! 
Located on Boulder's Pearl Street, Full Cycle rents a variety of bikes, including gravel bikes. Helmets are included with your rental. While you're there, visit The Tune Up, Full Cycle's in-store espresso bar and craft beer taproom.
University Bicycles got its start as a bike rental shop, and it's still a big part of the company culture. Rent a gravel bike and gear from their popular Downtown Boulder store.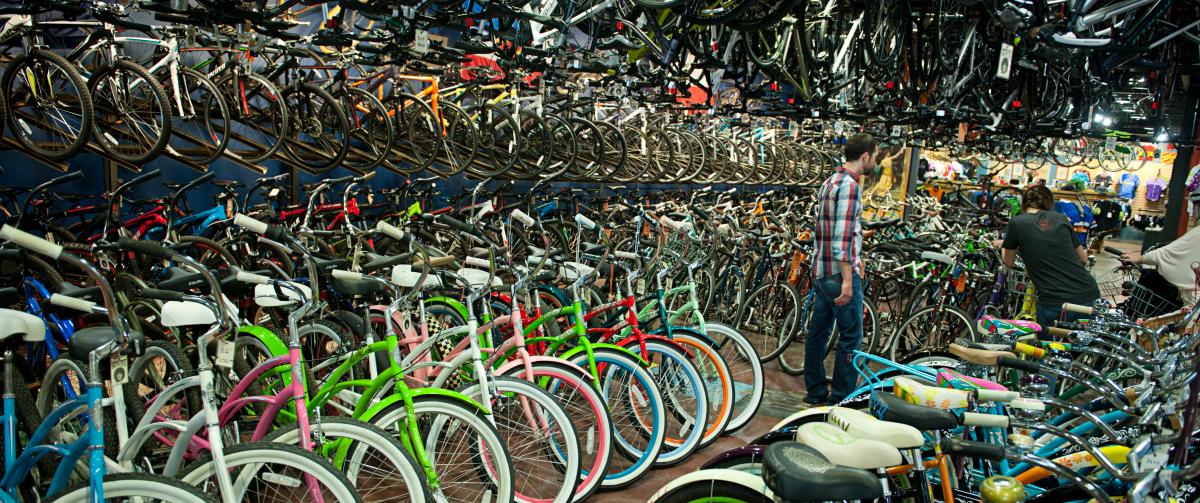 Group Rides
Boulder boasts an inclusive and friendly gravel bike community that is always willing to share new routes and advice. Join one of these group rides to get in on the fun!

Full Cycle
Full Cycle offers several weekly rides which include pre-ride coffee, discounts on bike demos and post-ride drink specials at The Tune Up.