Why Retreats Are Better in Boulder
The goal: Time away from your desks to put your heads together, get to know each other and refresh your thinking.
The strategy: Escape to a place with refreshing views, meaningful group activities, and inspiring venues.
The solution: Have your retreat in Boulder. Read on to see why company, board and group retreats are more productive, fun and memorable in Boulder.
"This was definitely the smoothest retreat I've planned. [The rock] climbing was exactly the right amount of 'uncomfortable' for our team, and everyone talked about how nice and supportive and helpful the guides were. It was a pleasure working with you and all the vendors." — Susanna Sheehan, Knighted Ventures LLC, speaking about their President's Retreat in Boulder
City Meets Nature
Yes, the Flatirons mountains really are right there. In fact, the concepts of wilderness and city tend to run together in Boulder, with trails right out your hotel door. Yet tech entrepreneurs, world-renowned scientists, and academic magnates have also made a name in Boulder, where no idea is too big. Your retreat can capitalize on that unique combination — putting your group close to fresh air, forest trails and mountain views while riffing off the city's culture of innovation. Plus, you can't beat the mix of cosmopolitan hotels and restaurants, tech-ready venues and the ease of access to Denver International Airport.

Did You Know?
Boulder was named the 10th best small metro area in the U.S. for corporate retreats, thanks to its high concentration of team-building establishments, coworking spaces, historical sites and cultural activities.
Activities They'll Talk About for Years
Retreats take a ton of coordination to clear everyone's schedules (not to mention budget!) with the important goal of reconnecting and getting some fresh perspectives. Don't waste this precious time together by doing a bunch of trust falls under fluorescent lights in a boardroom. Boulder's outdoor beauty and unique culture beckons: Go on a nature walk together with a naturalist (Boulder has tons of accessible trails, too). Take a cooking class together in a chic demonstration kitchen on Pearl Street. Cuddle with baby goats. Do yoga poolside, in a park or in a brewery. This town is full of creative folks ready to lead a memorable experience for your group — and we can help narrow it down.      

Creative Venues to Spark Ideas
There's no point in getting out of the office if you choose a retreat space that feels like...an office. In Boulder, meetings rooms are available at rustic adventure lodges, inside breweries, in a Victorian-era hotel, at national science labs, overlooking Boulder Creek or in light-filled art galleries or museums. Whatever suits your group, there's a venue here to inspire you, and we can help you find it — just ask!
Planning Made Easy
Ready to get started planning a company retreat or group getaway to Boulder? Or maybe you have a few questions first. Please don't hesitate to contact us below. Our team is on the ground here in Boulder, our services are 100% free to you, and we can assist with venue selection, rate information and quote requests, arranging site visits or providing complimentary services once your group is here.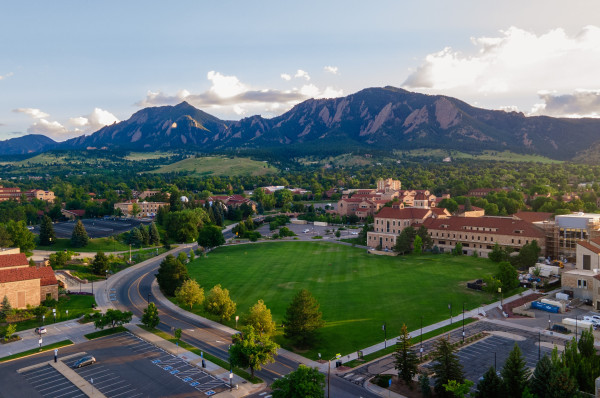 We can connect you to the right venues and hotels to create a productive and creative retreat in Boulder.

Contact Us

Angela "Fig" Wirkler, CMP

Director of Group Sales

Lindsey Rohrbaugh

Group Sales Manager

Natalie Cutter

Group Sales Manager