Boulder County Scenic Farm Drive
Looking for a pretty drive that rolls along past a number of farms with vistas of the Rockies in the background? Follow the suggested highlighted route on the map. Without stops, it will probably take you about 60 minutes. With stops, maybe 2 1/2 hours. Food is available along the route in Hygiene and Lyons. Surprises can be found at the honor-system farm stands, so bring some cash. And remember, some of the food on your restaurant table tonight may be from these farms! 
View the full Boulder County Farm Trail brochure to see all farm listings in addition to those below.
Drive Wisely
It's best to download a map before you leave in case you go into areas with no cell coverage. In winter, ensure you have snow tires or chains. And if you need to take a moment to enjoy the scenery or consult your map, pull over in a safe, out-of-the-way spot.
A. Start in Boulder
Grab some fresh-brewed caffeine from a local coffeehouse, rally the troops and head out for a beautiful afternoon filled with fresh air, farm animals and seasonal produce, all with the Rocky Mountains as a backdrop.
B. Cure Organic Farm
7416 Valmont Rd, Boulder
Cure Organic Farm is a family farm that grows 100 varieties of certified-organic vegetables, herbs and flowers on 12 acres. All crops are distributed within 50 miles of the farm through a CSA program, to local restaurants, via farmers markets and at the farm's store (May–December). The farm is also home to several honeybee hives, a flock of hens and ducks, and heritage Berkshire and Mangalitsa pigs.
C. Munson Farm
7355 Valmont Rd, Boulder
Munson Farms is a local family farm raising fresh fruit and vegetables for more than 30 years. They are famous for their sweet corn and fall pumpkin patch. The farm stand has great views and has been voted the "Best of Boulder" farm stand for the last 12 years.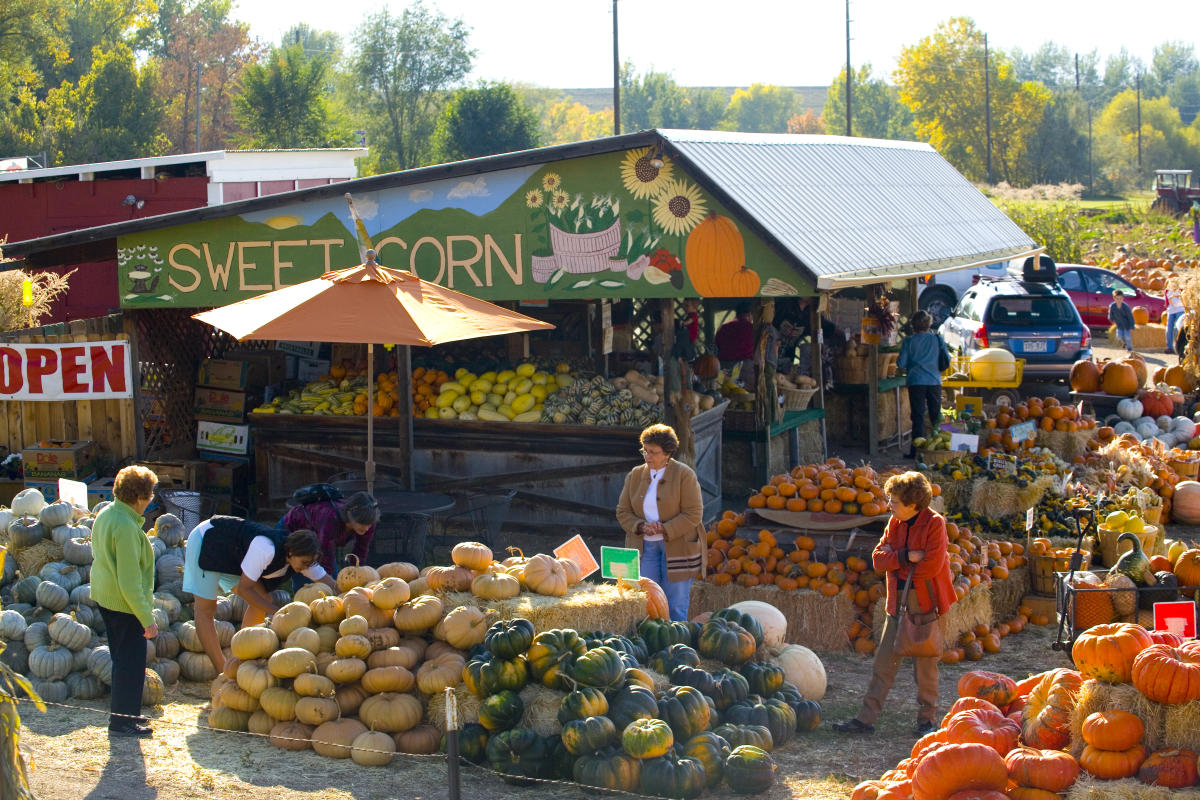 D. McCauley Family Farm
9421 N 63rd St, Longmont
Nestled into the foothills and irrigated by Rocky Mountain snowmelt, McCauley Family Farm is a certified-organic, whole-farm ecosystem that nourishes people and the planet with delicious food. In holistically managed pastures, they raise truly pastured chicken for meat and eggs, as well as pork and lamb. Other offerings include seasonal ferments, pickled vegetables, pepper flakes and hot sauces. McCauley welcomes visitors to learn, connect, volunteer and grow.
E. Aspen Moon Farm
7927 Hygiene Rd, Longmont
Aspen Moon Farm has a seasonal, open-air roadside farm stand. Fresh, certified organic and biodynamic in practice, all of the produce and flowers they sell are 100 percent grown on the farm.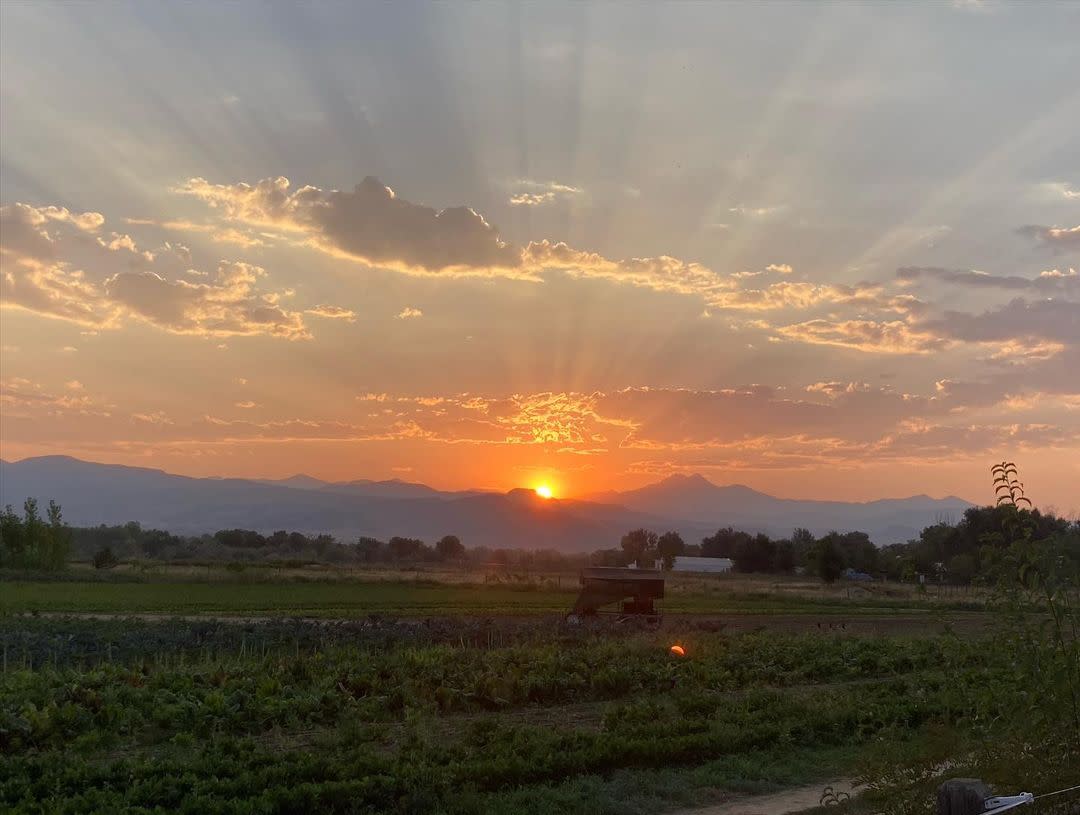 F. YA YA Farm & Orchard
6914 Ute Hwy, Longmont
This picturesque orchard and historic farm offers the chance to pick your own apples, pears, cherries and flowers. Due to high demand, a limited number of picking reservations are available online. However, you can visit anytime during business hours without a reservation to walk the orchard, bring a lunch to picnic in the orchard, visit with chickens, turkeys and donkeys or feed the horses. On site are apples, apple cider donuts, apple cider, apple butter, pickles and more for sale.
G. Lone Hawk Farm
10790 N 49th St, Longmont
Lone Hawk Farm, 10 miles north of Boulder, encompasses 120 rolling acres of gardens, pastures, orchards and wildlife habitat. The farm offers opportunities for gardeners, birders, hikers, photographers, and those interested in conservation and restoration ecology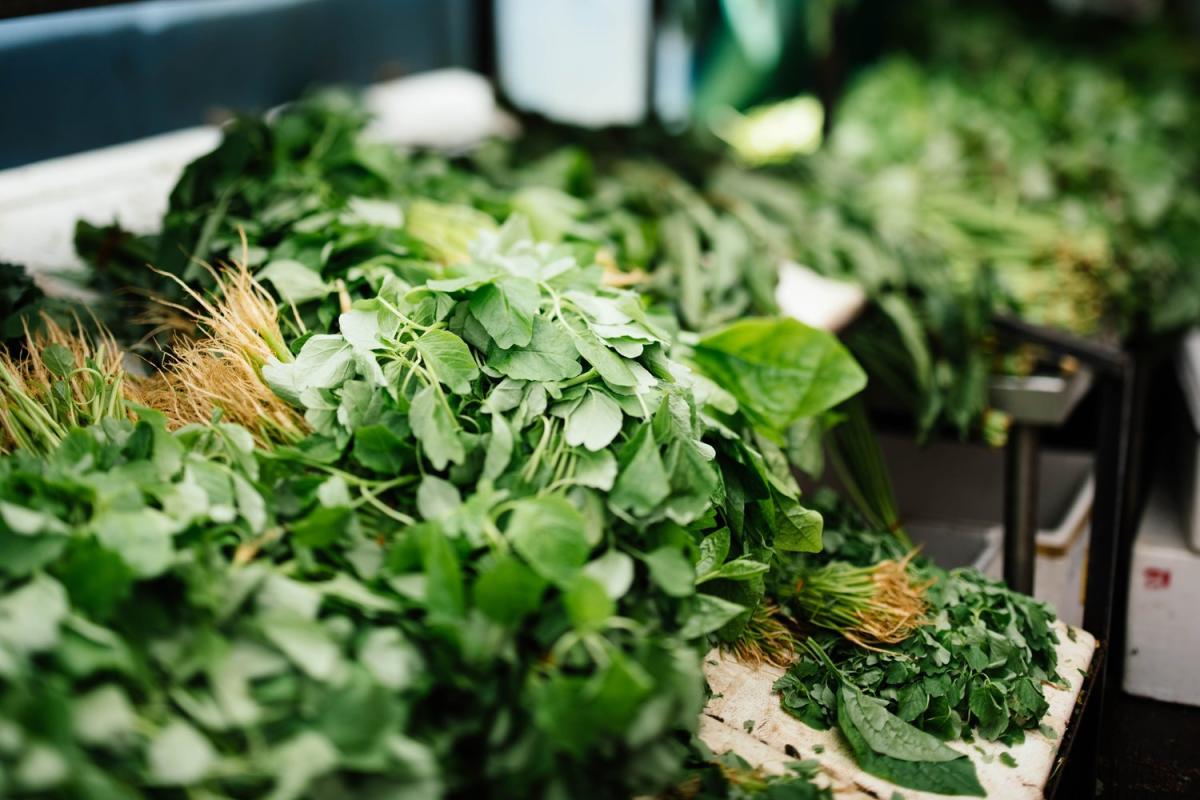 H. Dinner in Boulder
Finish your day by tasting the produce from these farms, transformed by award-winning local chefs into a delicious meal for the whole family.