Halloween in Boulder
Here's where to go in Boulder to get your thrills and chills this October. Halloween falls on a Tuesday this year, so consider staying for a couple of nights to make a weekend of it with the following activities.
Ghost Walk/Ghost Talk
Saturday, October 21, 2023 2:30-7:30pm
A spirited fundraiser for Historic Boulder, participants can visit five local venues in downtown Boulder and learn about each location's architecture and history, while trained psychics from a local psychic center interpret the spirit energy they experience. Tickets can be purchased in advance.
Frequent Flyers Aerial Dance: Spooky Cabaret
Saturday, October 21, 2023, 6-8pm
An aerial performance filled with daring aerial acts, hauntingly beautiful choreography and a touch of Halloween magic.
Rayback Halloween Bash
Friday, October 27, 2023, 6-10pm
Dress up in your favorite costume and enjoy a spooky evening at the Rayback with the one and only Guerrilla Fanfare Brass Band. Free and open to the public
Motown Halloween Prom
Saturday, October 28, 2023, 7-11pm
Journey back in time to prom night in the '60s with Roots Music Project's Motown Halloween Prom. Dress up, dance and sing to all the classics, including a live performance by Denver soul singer Dzirae Gold on female vocals and special guest "Detroit" Daryl Smith on guitar.
Wild Goose Masquerade Ball
Saturday, October 28, 2023, 6-10:30pm
Dance to live music from Denver Pops Orchestra at The Avalon Ballroom. Dress for a Halloween extravaganza; there will be a people's choice costume contest!
Terrapin Flyer at Outback Saloon
Saturday, October 28, 2023, 9pm
Boulder, Halloween and Grateful Dead music. Celebrate this perfect combination on the Saturday of Halloween weekend at Outback Saloon on Terrapin Flyer's Fall Tour.
Halloween Bar Crawl
Saturday, October 28, 2023, 4-10pm
Start at Velvet Elk Lounge for a night of dressing up (in costumes), enjoying custom drink specials and an after party. Get tickets and learn more.
Fall Curiosity Concert with the Boulder Symphony Orchestra
Saturday, October 28, 2023, 3-4pm
Dress in costume for this 45-minute family-friendly concert sure to be an interactive and educational experience. There will be an instrument petting zoo before and after for kids to try an instrument. Be sure to get tickets ahead of time.
Boulder Farmers Market
Saturday, October 28, 2023, 8am-2pm
Come sample, shop, meet local farmers, enjoy pumpkin-flavored treats, hear live music and eat great food in the harvest season at the Boulder Farmers Market.
Halloween-Themed Date Night: Stained Glass & Chill
Saturday, October 28, 2023, 3:30-5pm
Switch up date night and take a Halloween-themed stained glass class at Colorado Glassworks in downtown Boulder.
Halloween Kids Workshop
Saturday, October 28, 9am-12pm
Drop the kids off at Food Lab for an afternoon of whipping up some special Halloween-themed treats while you get a little alone time to celebrate this spooky day as you'd like.
Halloween Dance Class on the Rooftop
Saturday, October 28, 2023, 9-10am
Dance your way to a healthy weekend with a themed Zumba class on the rooftop of the Museum of Boulder.
Random Rab with Sugar Nova, TLooP
Saturday, October 28, 2023, 9pm
Electronic music performance at the Fox Theater.
Zombie Theater Hike
Saturday and Sunday, October 28-29, 2023, 3pm
Arts in the Open is a group that combines hiking and theater, fusing nature with live performance. Their fall production of "All I Really Need to Know I Learned From Being a Zombie," by Jason Pizzarello, will take place in the historic Chautauqua Park.
The Rocky Horror Picture Show With Live Shadowcast Performance
Sunday, October 29, 2023, 7pm and 9pm
A classic film with an audience participation twist at Boulder Theater! A shadow cast is an ensemble of performers that act out the movie while it is playing and serves as the catalysts for the audience cues to participate in callbacks or use their props. Be prepared to dance, yell, sing and more.
Downtown's Munchkin Masquerade
Tuesday, October 31, 2023, 3-6pm
For scary amounts of cuteness, head to downtown Boulder on Halloween for Munchkin Masquerade. Unicorns, stormtroopers, Batman (er, Batmen?), princesses, monsters, butterflies…they all converge upon Pearl Street for the best trick-or-treating in town, with many businesses filling kiddos' buckets to the brim with candy. Parents tend to go all out, too, and you'll see some amazing costumes. Free.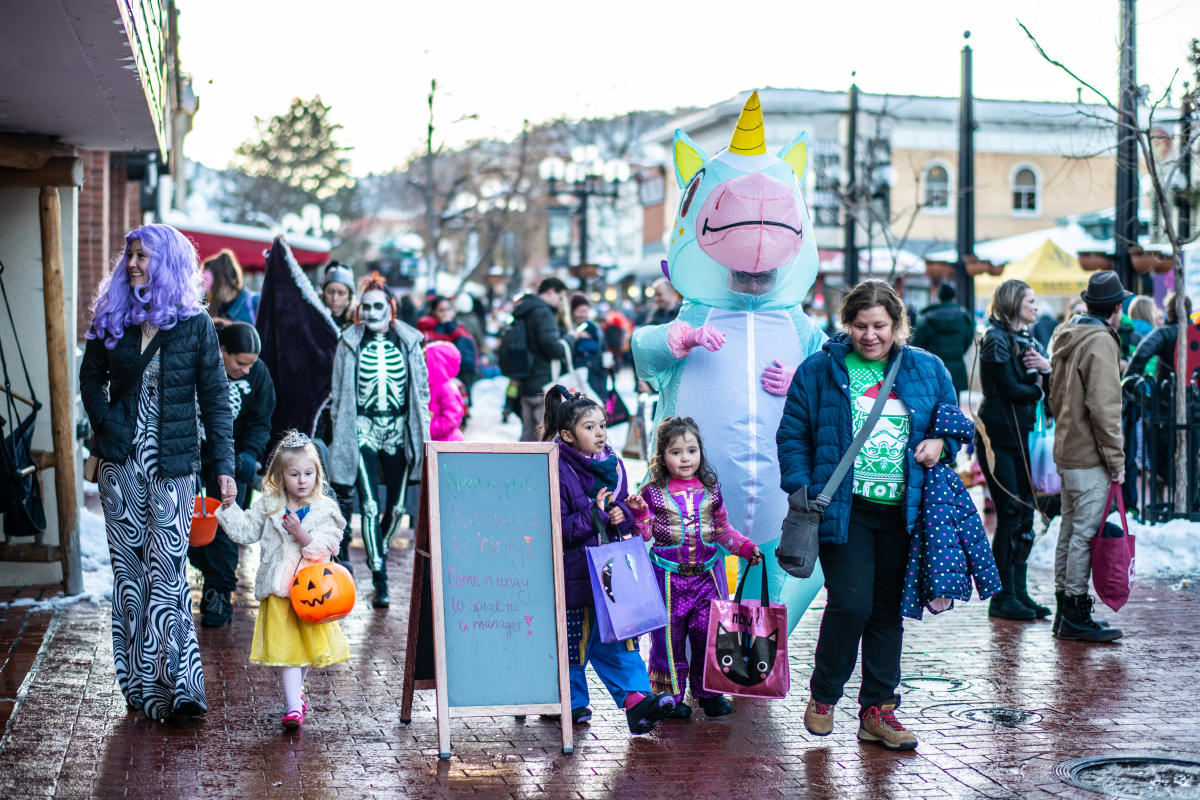 Exotica Erotica Ball
Tuesday, October 31, 2023, 9pm-2am
This adult masquerade ball at The Riverside is a night of dancing, debauchery, burlesque shows, fantasy costume contest, DJs and fire performers. Must be 21 or older.
Halloween FunFlow!
Tuesday, October 31, 2023, 6:30-7:30pm
Celebrate with this all-level, music-driven flow class to get your Halloween started right. Come in costume!
Día de los Muertos Pearl Street Procession
Thursday, November 2, 2023, 5:15pm
Join El Centro Amistad for an exciting, inaugural Día de los Muertos Procession starting at The New Local's Annex at 713 Pearl St. Watch as colorful Catrinas stroll downtown Pearl starting at 5:30 pm, continuing to the lawn of The Boulder Courthouse, where an altar will be constructed.
Tour a Historic Cemetery
Located on Ninth Street between College and Pleasant streets, Columbia Cemetery is Boulder's first permanent cemetery and dates back to 1870. It contains the graves of prominent Boulder pioneers and notable figures such as Mary Rippon, one of the first women professors in Western America. Take some time to simply walk among the granite and sandstone gravestones in the shadow of the Flatirons, and read fascinating gravestones commemorating those who died in mining accidents or of more unusual means, such as "a broken heart." Click here for the City of Boulder's guide to some of the more notable cemetery residents. In early October, head to Columbia Cemetery for Historic Boulder's "Meet the Spirits" enactments of the pioneering people who are buried in this historic cemetery.

Photo: Courtesy of City of Boulder
Go on a Paranormal Walking Tour of Pearl Street
Explore Boulder's haunted past on a paranormal walking tour ​of downtown Boulder. Join a historian and a psychic on a spirited journey through Pearl Street's past as they resurrect the stories and lives of the dead who reportedly still wander the streets.
Pick a Pumpkin and Walk a Hay Bale Maze
It's a straight shot on South Boulder Road to 7th Generation Farm in nearby Louisville, about a 25-minute drive. You'll find rows of pre-picked pumpkins stacked among vintage farm trucks, or you can stroll out into the field to pick your own. A farm store is stocked with all kinds of produce and goodies. Check their site for the latest. Entrance is $5 per person (under 2 is free), but it can be put toward a pumpkin purchase.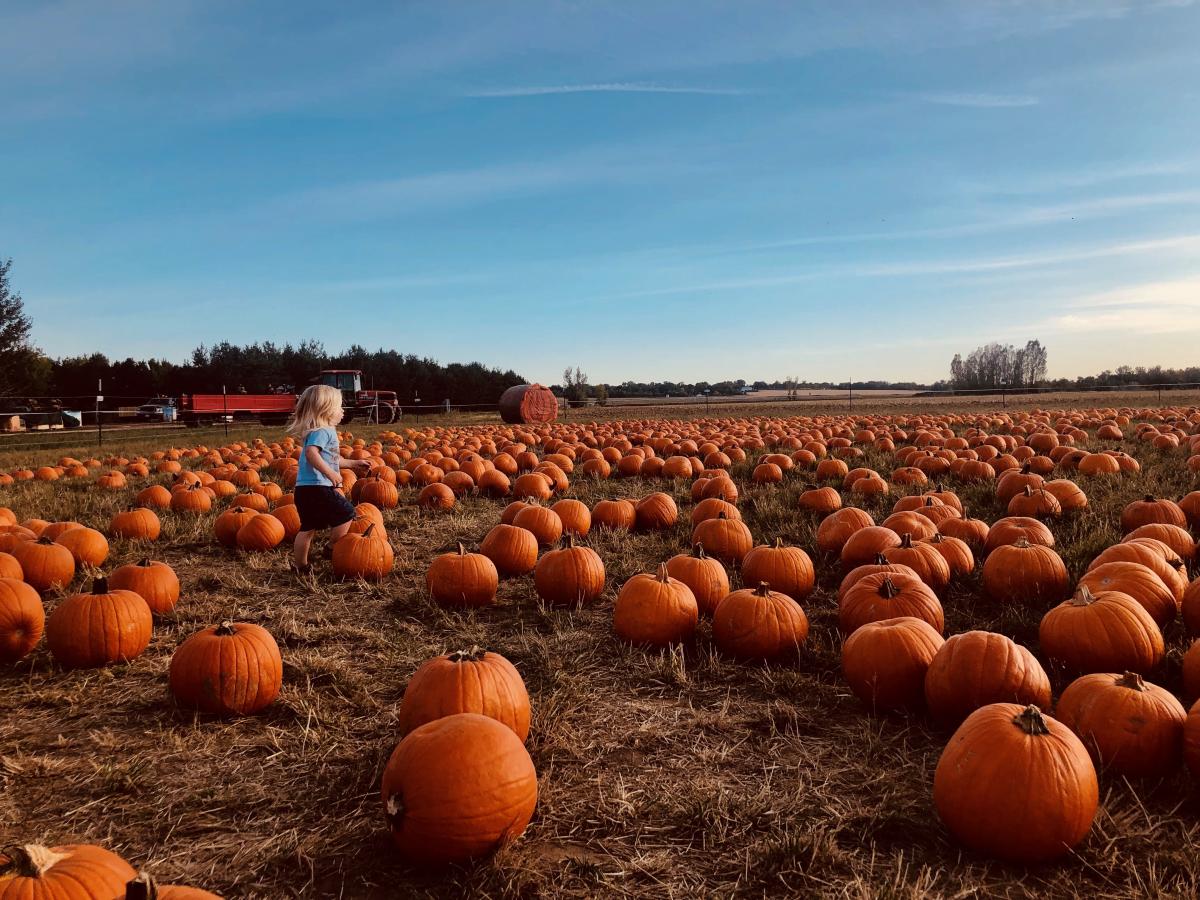 Go for a Haunted Hike
After traipsing the Rattlesnake Gulch Trail in the rock-climbing mecca of Eldorado Canyon State Park for a bit, you'll encounter a strange sight in the middle of the wilderness: The ruins of an old stone oven, seemingly in the middle of nowhere. These are the final remains of the Crags Hotel, once a popular mountain retreat that visitors could access via an inclined funicular railway. The hotel inexplicably burned to the ground in 1912. Today, the eerie remnants evoke early 20th-century scenes of hotel staff going about their work, preparing meals for their guests — before the hotel's operations screeched to an abrupt halt as a result of the fire. Here's a map to get to this moderate-level hiking trail. State Park entrance fees will apply.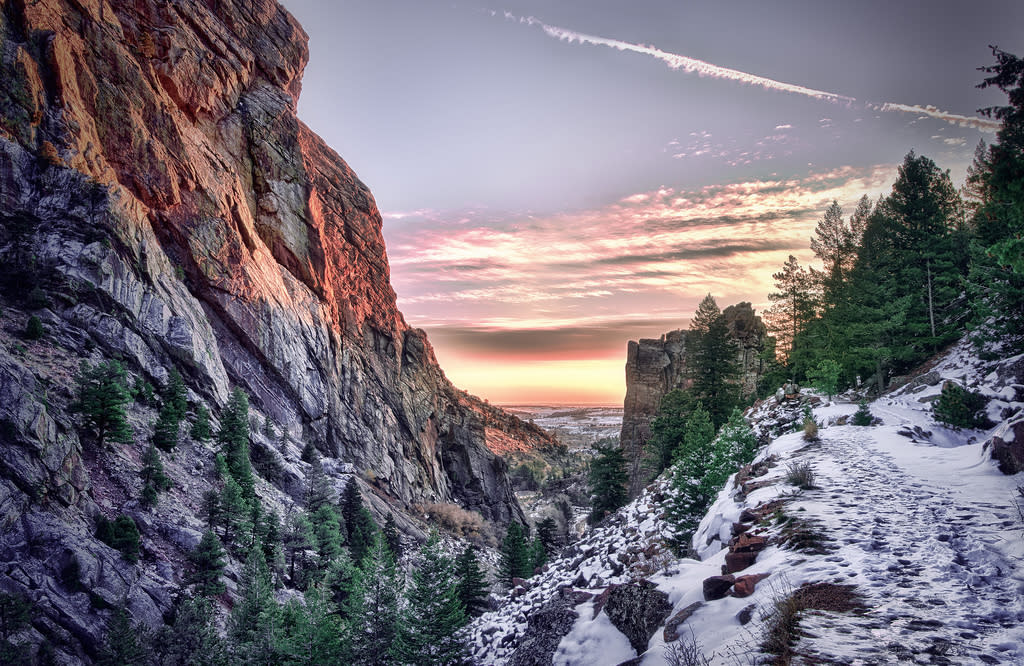 Photo: Flickr Creative Commons/Max and Dee Bernt