Boulder COVID-19 Information for Meeting Planners
Take advantage of Boulder's famously inspiring outdoor setting, while our hotels, venues and restaurants safely roll out the red carpet (and some added flexibility) for you and your attendees. 
Visit Boulder is your best resource for the latest meeting and event conditions and can assist you in making sound and safe decisions for your group. Don't hesitate to reach out to GroupSales@bouldercvb.com or 303-938-2088 with any questions.
Last Updated: September 5, 2023 
---
What Is Boulder's Current COVID-19 Safety Level? 
Boulder County's Current Status The number of new cases of COVID-19 per 100,000 people in Boulder County puts the community level at low, per guidelines from the Centers for Disease Control and Prevention (CDC).  
Face Coverings Masks are no longer required in Boulder County in most settings as of Feb. 18, 2022.
---
Event Capacity Guidelines
Currently, there are no capacity restrictions or vaccine requirements in place for outdoor or indoor gatherings.
Cash Incentives: Now Year-Round
Qualifying meetings can receive a cash incentive to help offset meeting-related expenses through Visit Boulder's incentives program. Previously, this program provided funds for meetings booked in the November-April window, and the great news it is now available year-round. Ask us for more info.
Getting to Boulder
Denver International Airport (DEN) is the closest major airport to Boulder and is about a 45-minute drive away. 
Face coverings are not required at Denver International Airport.
Accommodations
Boulder hotels are open for business, and all are taking extraordinary precautions to ensure sanitization and safety and follow the American Hotel Lodging Association's Stay Safe guidelines. They know just how to accommodate your group safely and are ready to talk to you. Let us connect you!
Dining
Restaurants and venues are happily accommodating private dining for groups.
What Can Groups Do in Boulder?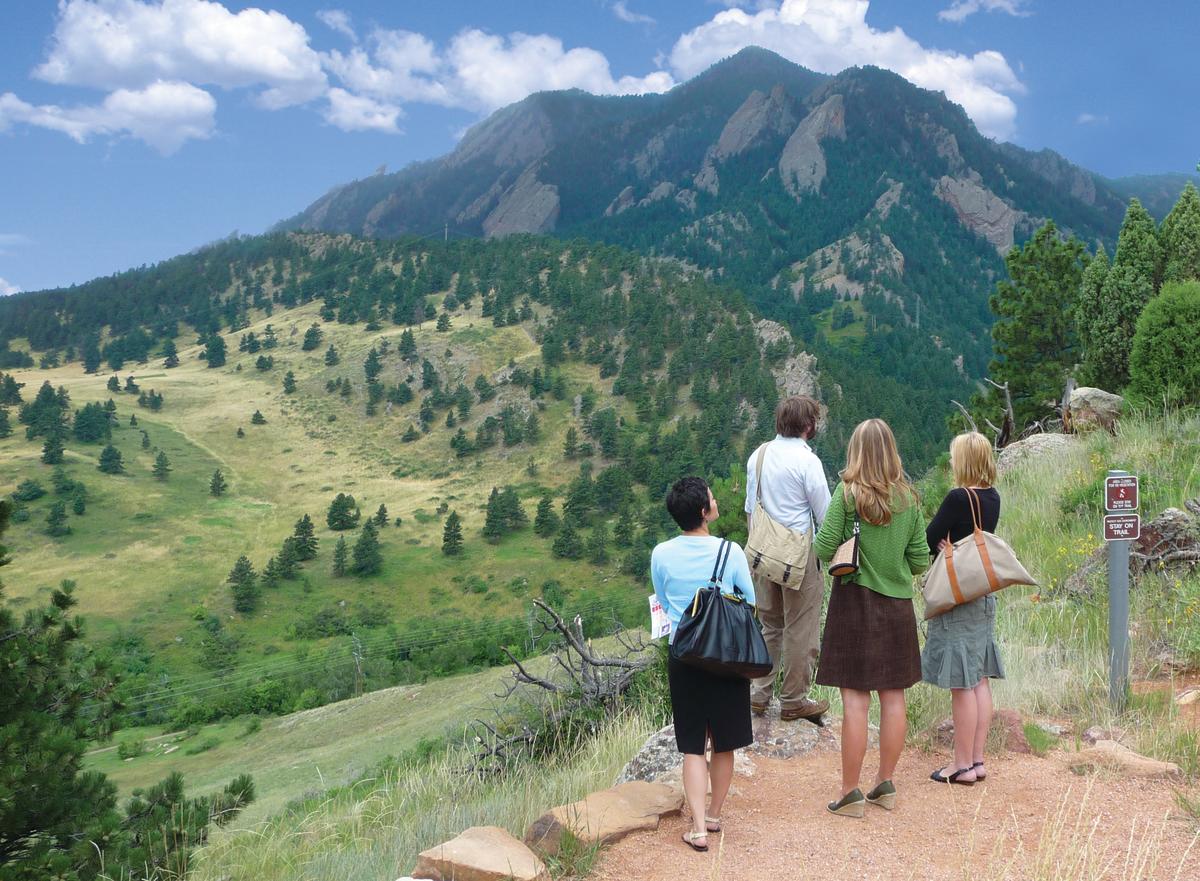 Boulder has over 45,000 protected acres of land and is set up against the foothills of the Rocky Mountains. There are plenty of wide, open spaces, fresh air and outdoor activities for your group. 
Your group will have a blast on a guided electric bike tour or try fat bikes — the outfitter will bring the bikes to you, if you like. Go on a hot air balloon ride or have our guides arrange an outdoor scavenger hunt for you. Take a downtown mural tour or a guided nature walk. The outdoor options are endless.
In-Person and Virtual Tours Available
We can help arrange a virtual or in-person site tour if you would like to visit spaces you are considering. Several of our hotels also have online tours available. Just contact us at GroupSales@bouldercvb.com or 303-938-2088 if you're interested.
---
Questions?
We're here to help. Don't hesitate to reach out via the contact information below. 
Contact Us

Angela "Fig" Wirkler, CMP

Director of Group Sales

Lindsey Rohrbaugh

Group Sales Manager

Natalie Cutter

Group Sales Manager