Steven Redzikowski of Oak at Fourteenth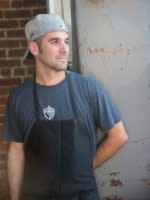 Steven Redzikowski is the executive chef/partner of OAK at Fourteenth in Boulder, where he oversees day-to-day operations, in addition to managing back-of-house operations and creating new menus. Redzikowski's eclectic new-American style of cooking has been praised on both local and national levels. In 2014 and 2015, Steve was voted Food & Wine's "People's Best New Chef: Southwest" and in 2015 and 2016, he was a James Beard finalist for "Best Chef: Southwest." 
The Long Island native moved to Manhattan after completing culinary school and worked in some of the city's most iconic kitchens, including Le Cirque and Jean Georges, before moving to Colorado to hone his skills at The Little Nell in Aspen and the acclaimed Italian restaurant Frasca Food & Wine in Boulder. There, Redzikowski met future business partner, Bryan Dayton. 
In March 2010, Redzikowski reconnected with Dayton to open OAK at Fourteenth in Boulder. The duo opened their second concept, Acorn, in the fall of 2013. Both have received rave reviews since, and have consistently ranked on 5280's 25 Best Restaurants list. In 2015, Redzikowski and Dayton opened Brider, a fast-casual rotisserie concept in the LoHi neighborhood of Denver. Today, Redzikowski still remains a partner in Acorn and Brider, but his focus lies at OAK at Fourteenth.
My Perfect Day in Boulder: 
For a quick lunch, I go to Audrey Jane's Pizza Garage. It's fast, tasty and they have great customer service. You can order full pies or slices. I usually get one Spicy Pig slice and one white slice with mozzarella, olives and basil. 

I've been to Steakhouse No. 316 with my wife 20-plus times for either happy hour or dinner. I love when the classics are executed well. Their tableside Caesar is always spot on and the French onion soup is one of the best I've had. The GM's name is Ish and she is always on her game. She treats us like royalty. Pound for pound, it's the best service I've consistently had in Colorado. 

Peppercorn is a cookware store just two blocks from OAK. I love going over there on a Sunday to peruse their cookbooks. They have a huge selection. It's also a really great spot for gifts.