Valmont Bike Park
How can an outdoor attraction the size of 30 football fields be a "hidden gem"? Boulder's Valmont Bike Park has remained relatively under the radar for visiting cyclists, perhaps because Boulder's mountainside trails beckon on the horizon, while the bike park is tucked away on the east side of town.
Help protect Boulder's natural beauty by remembering these Leave No Trace principles.
Valmont Bike Park is completely free, features 42 acres of natural-surface terrain, has incredible views of the Flatirons and was created when residents decided to dedicate the land to fostering a love of cycling. Mission: accomplished! On any given day, you'll see families and riders of all ages tearing it up, going for big air or cautiously taking to the trails for the very first time.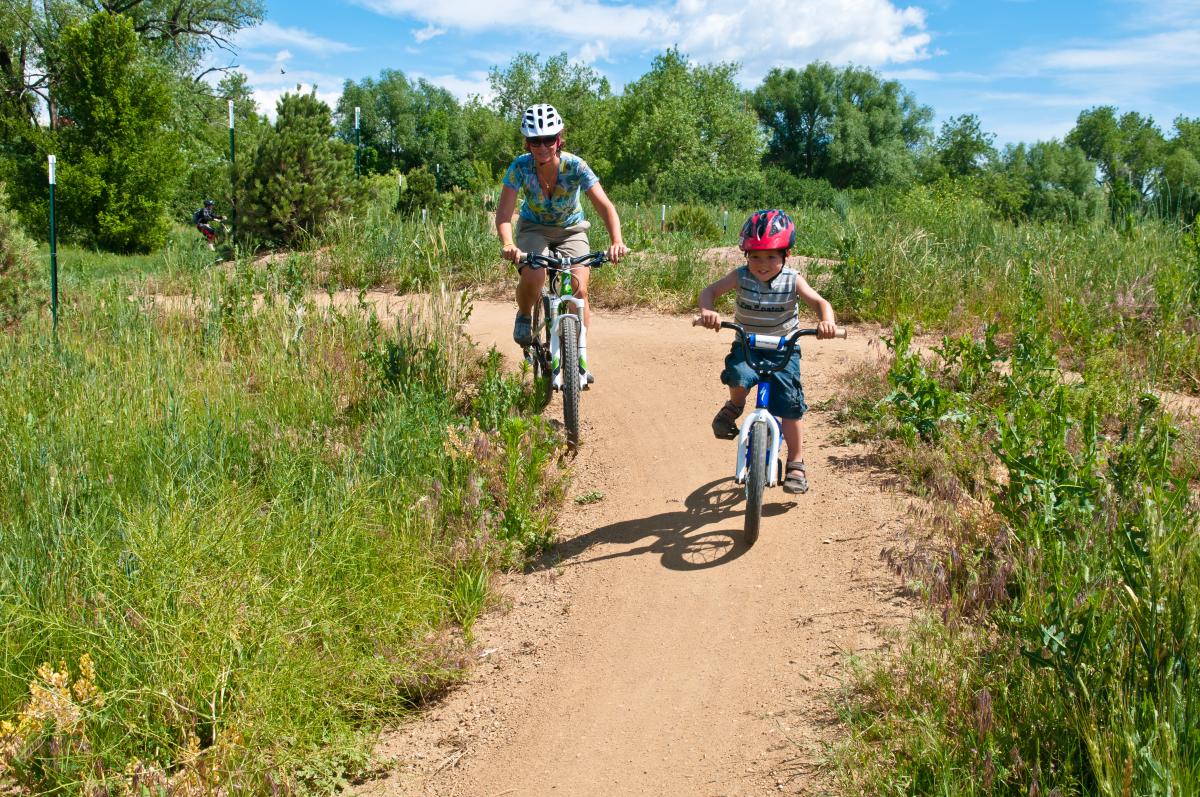 There are tracks suitable for every level of rider. If you just want to pedal around some flat trails, you're covered. Ready to hit some massive jumps? You'll love it here, too. Just about every obstacle, from bridges to logs to ramps, has an "easy way out" right beside it, which makes it a perfect learning environment.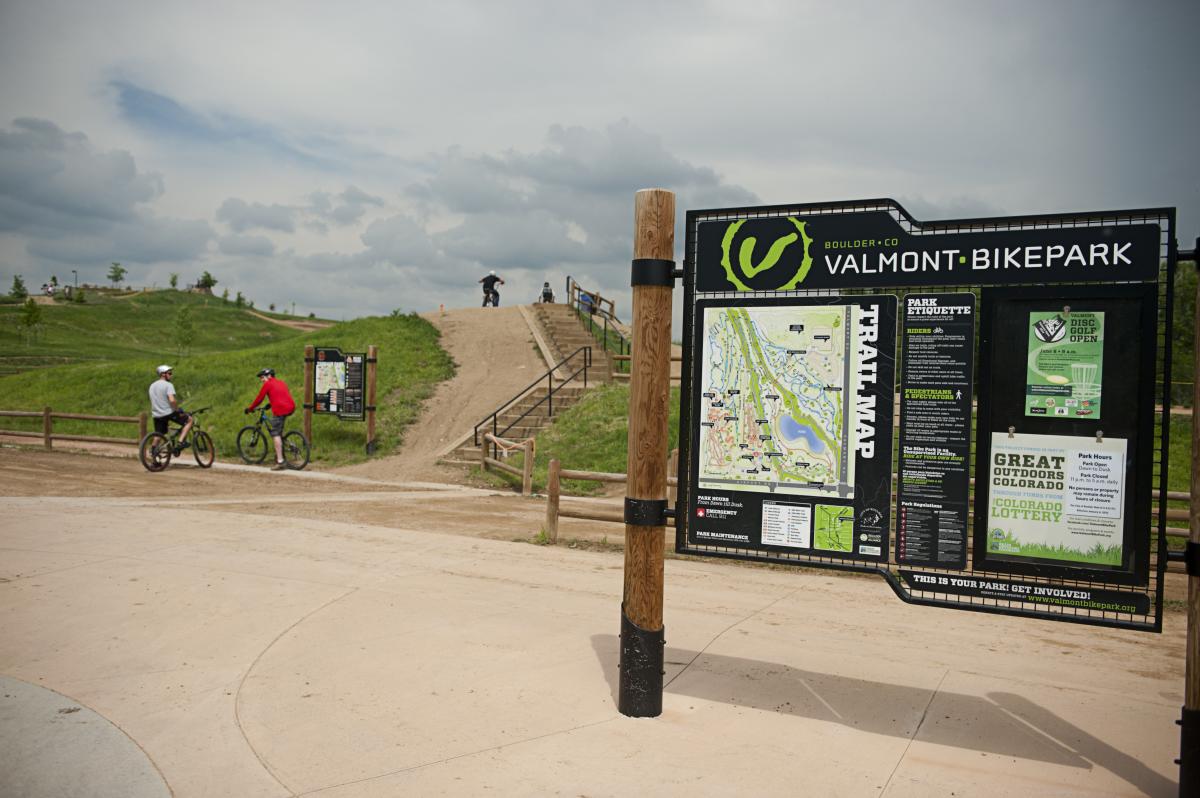 When Is Valmont Bike Park Open?
The park is open 5am to 11pm daily and is free to visitors.
Check the Valmont Bike Park Twitter account for updates and closures that can happen due to muddy conditions or maintenance.
New Skate Park
A sprawling 10,000-square-foot concrete skate park has been added to Valmont Bike Park. It's been designed with bowls, transition elements and street features for novice and experienced skaters to try.
Bike Park Features
The Valmont Bike Park trails are rated using a color-coded system similar to ones you'd find at ski resorts. Green is less difficult, blue is more difficult and red means the terrain has technical challenges which are in turn rated XS (easiest) to XL (most challenging).
Terrain park: Pump park, dirt jumps, slalom and slopestyle courses
New 10,000-square-foot bike pump track
Skills course
Singletrack trails 
Tot track: This track near the playground is perfect for toddlers on their Strider bikes
Podium: Step up after your ride and claim your championship 😊 
Playground
Dog park
Picnic areas
Free parking
New 10,000-square-foot skate park
Across the street is a disc golf course if you want to keep the outdoor fun going.
Bike Park Map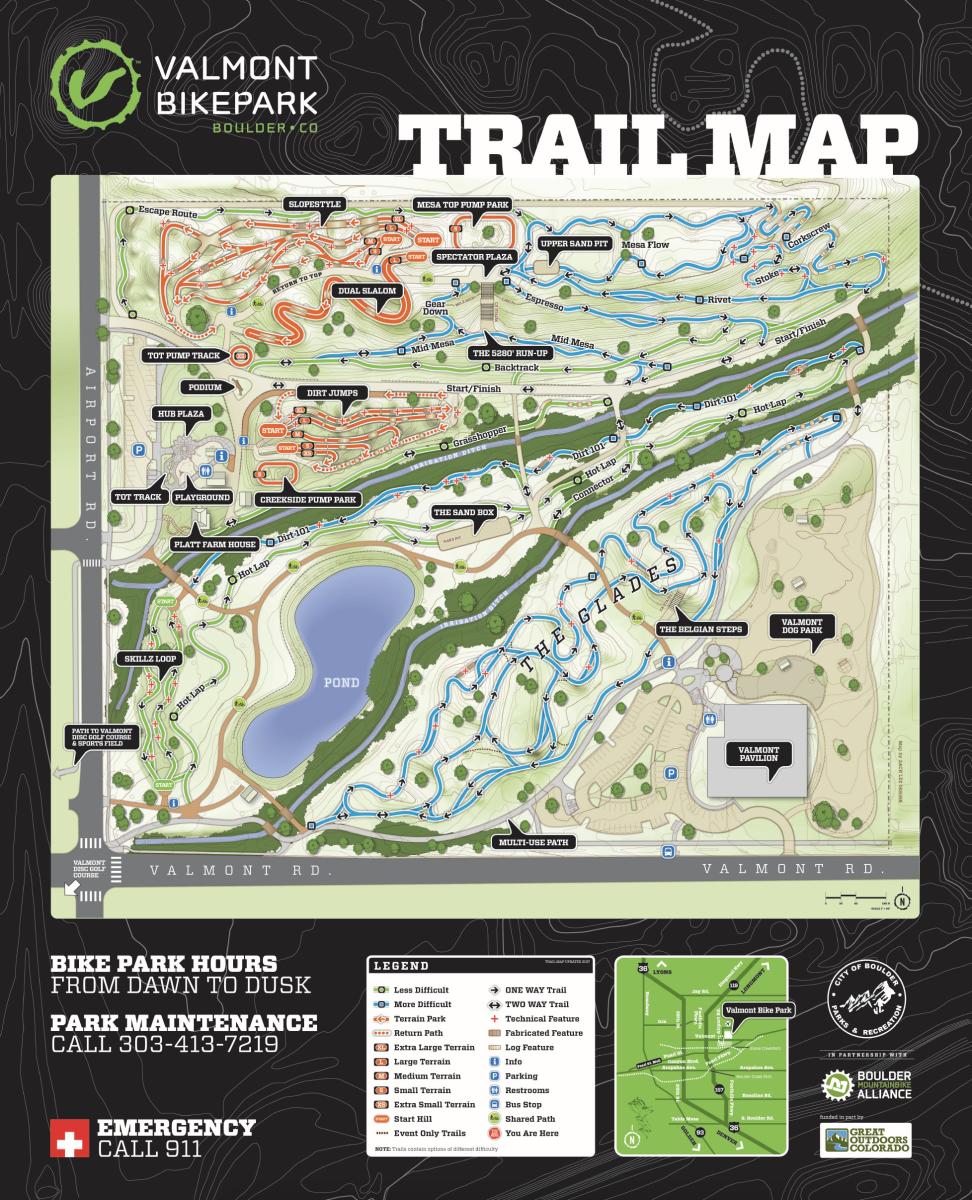 Where to Rent Bikes
Full Cycle and University Cycles are a couple of local bike shops that provide rentals. Make sure you also rent a helmet and protective gear.