Park to Park Shuttle to Chautauqua 2023
Free Summer Weekend Shuttle
Memorial Day Weekend to Labor Day
Headed to the Chautauqua Trailhead to hike among the Flatirons in the summertime? Parking is extremely limited on summer weekends. We strongly recommend riding the free weekend shuttle to get there stress-free and to avoid parking fees.
How the Shuttle Works
The Park to Park shuttle runs during summer weekends only. This year, it will begin Saturday, May 27, 2023, and run through Monday, Sept. 4, 2023. 
Free
Every 15 minutes
May 27 through Sept. 4, 2023
Saturdays and Sundays, 8am–8pm
plus holidays, 8am–8pm:

Memorial Day (May 29)
Juneteenth observed (June 19)
Independence Day (July 4) — Note: no shuttle Monday, July 3
Labor Day (Sept. 4)

Short, 10-minute-or-so ride
Leashed dogs are welcome (but please be mindful, for before or after your hike, that dogs are not allowed on the Pearl Street Mall)
Shuttles feature bike racks
Strollers and hiking gear welcome
Parking for the Shuttle Park for free at one of the five downtown parking garages shown on the route map; the Regent lot at the University of Colorado-Boulder; or New Vista High School. Then hop on the shuttle. See the route map below for shuttle stops and parking. When you're downtown, look for this parking symbol

 to indicate garages that are free on the weekend.
Accessibility Info

All Park to Park shuttles are ADA-compliant and accessible for people using wheelchairs. Accessible parking is provided in designated downtown parking structures. Free accessible parking is available in Chautauqua Park around the Chautauqua Park green parking area.
Visitor Information
Look for the orange vintage VW bus at New Vista High School parking lot and Chautauqua Trailhead. Here, friendly visitor ambassadors can help answer questions about hiking, dining, shopping and exploring Boulder.

Shuttle Route and Stops
(Click here or on the map to enlarge)
Note: The CU Regent Park-n-Ride will not be available July 1 and 2, 2023, due to an event on CU campus. The New Vista High School lot will be available.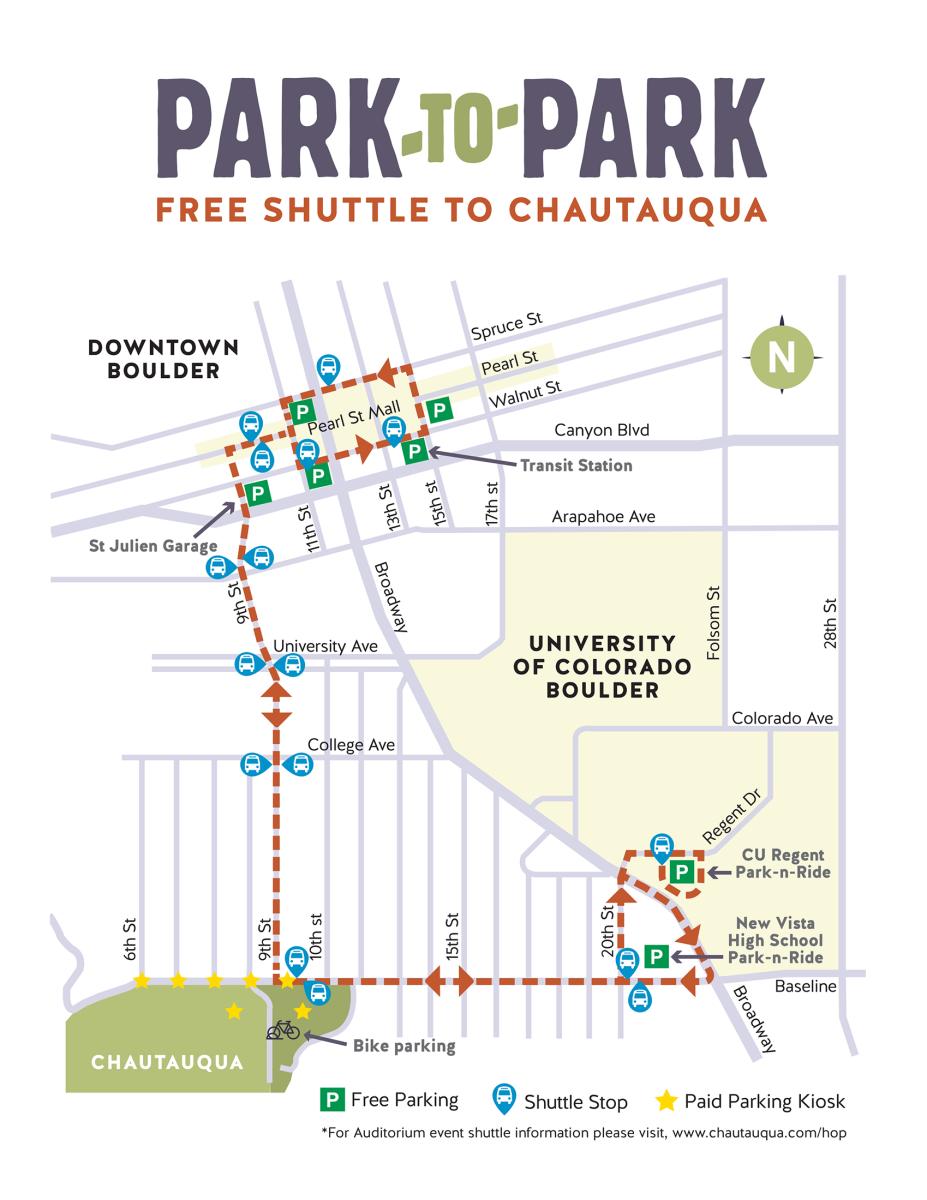 Ranger Cottage
At the Ranger Cottage at the Chautauqua Trailhead, rangers are available to help answer questions about the trails, provide hiking recommendations and share information about local ecology and wildlife. 
Paid Parking at Chautauqua: Paid parking is $2.50 per hour from 8am to 5pm on summer weekends and summer holidays along the Chautauqua Park green parking areas, on Baseline Road near the park, at the Chautauqua Ranger Cottage lot and in the neighborhood north of Chautauqua Park. Download the Parkmobile app or the WaytoPark app to pay, or use the kiosks on Baseline, at the Ranger Cottage and near the Dining Hall to pay using your license plate.
Free accessible parking is available in Chautauqua Park around the Chautauqua Park green parking area.
During fall, winter and spring, there is no shuttle or satellite parking service, and parking is free at Chautauqua.
Looking for Chautauqua Auditorium concert and event shuttle info? Visit chautauqua.com/hop.
Additional Tips
Bathrooms You'll find bathrooms at the Ranger Cottage and the Chautauqua Dining Hall.
Please stay on the trail. If conditions are muddy, walk through mud and not around it. When letting others pass in narrow spots, step onto a rock or a bare spot whenever possible.
Real-Time Trail Map This OSMP map is great for checking for real-time closures due to wildlife nesting or for other reasons. You can also see how busy your trail tends to be with the colored dots. Zoom in to see specific trails more closely.