Park to Park Shuttle to Chautauqua 2021
Free Summer Weekend Shuttle
Memorial Day Weekend to Labor Day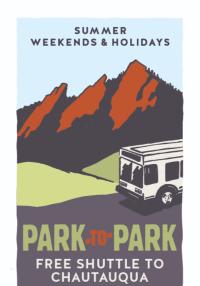 Headed to the Chautauqua Trailhead to hike among the Flatirons in the summertime? Parking is extremely limited on weekends. We strongly recommend riding the free weekend shuttle to get there stress-free and to avoid parking fees. 
How the Shuttle Works
The Park to Park weekend shuttle runs during summer only. This year, it will begin Saturday, May 29, 2021, and run through Monday, Sept. 6, 2021. 
Simply park for free at one of the five downtown parking garages shown on the map; the Regent lot at the University of Colorado-Boulder; or New Vista High School. Then hop on the shuttle. See the map below for shuttle stops and parking. When you're downtown, look for this parking symbol

 to indicate garages that are free on the weekend.
Free
Every 15 minutes
Saturdays and Sundays, 8am–8pm
(plus Memorial Day, July 5 and Labor Day, 8am–8pm)
May 29 through Sept. 6, 2021
Dogs welcome (but please be mindful—for before or after your hike—that dogs are not allowed on the Pearl Street Mall)
Short, 10-minute-or-so ride
Where the shuttle picks up downtown: The downtown shuttle stops next to Salt's patio on 11th Street (at Pearl Street). There are also several stops on Walnut Street and another at Spruce and Broadway (see map below). Plus, the 5 parking garages marked on the map below are free on weekends. Their signage will include this symbol: 

. See the route map.
Shuttle Route and Stops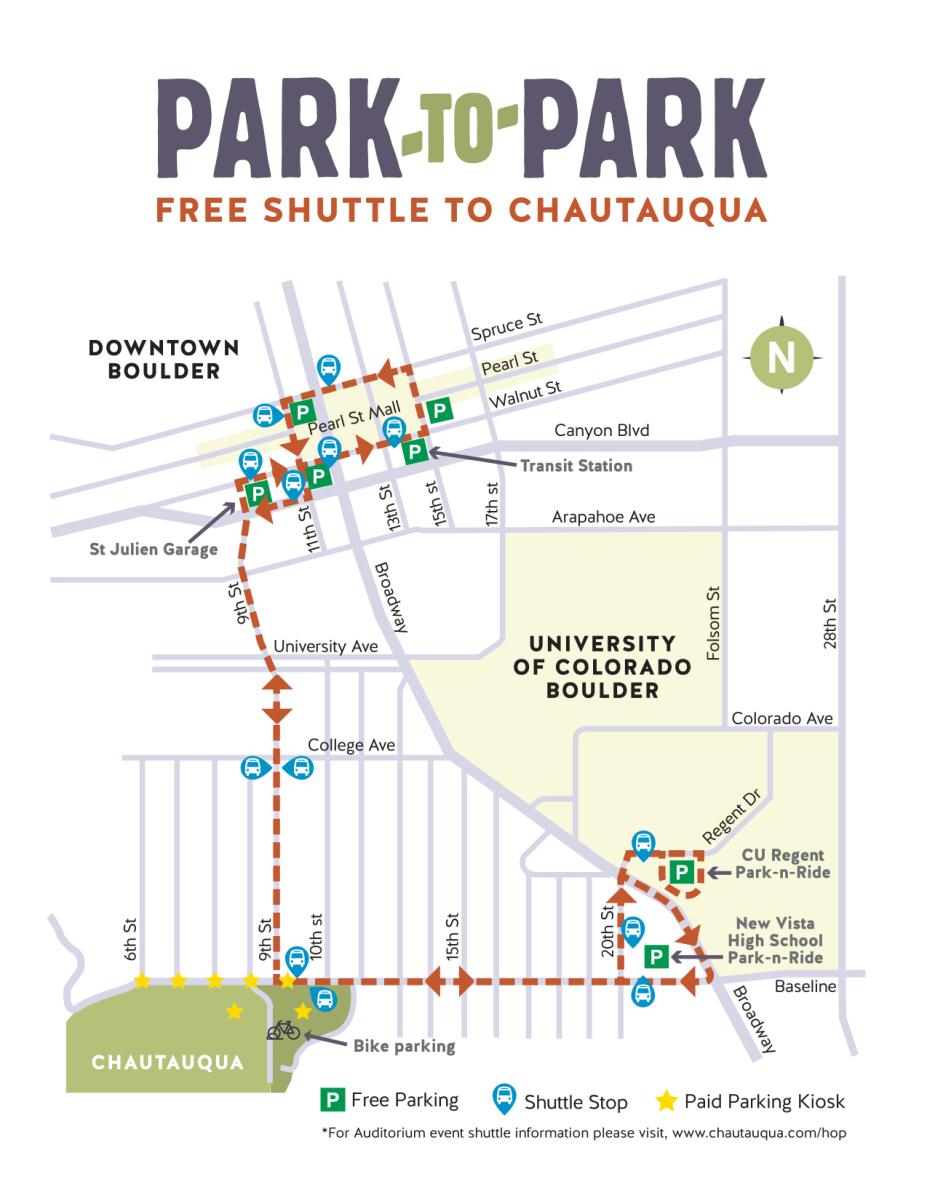 Paid Parking: Paid parking ($2.50/hr) is very limited (you've been warned!) but is available in designated areas in and around Chautauqua. Download the Parkmobile app or the WaytoPark app to pay, or use the kiosks on Baseline, at the Ranger Cottage and near the Dining Hall to pay using your license plate.
More Hiker Shuttles
Did you know you can get to other popular trailheads via buses from Boulder? Ride for free (or nearly free) and avoid parking hassles.
COVID-19 Safety Steps
The Park-to-Park shuttle is taking extra steps to keep you safe and help prevent the spread of Coronavirus.
Shuttle capacity is limited to allow for social distancing.
All passengers will enter at the rear door.
Face coverings are required for all passengers, regardless of vaccination status.
Dogs, strollers and gear are still welcome aboard.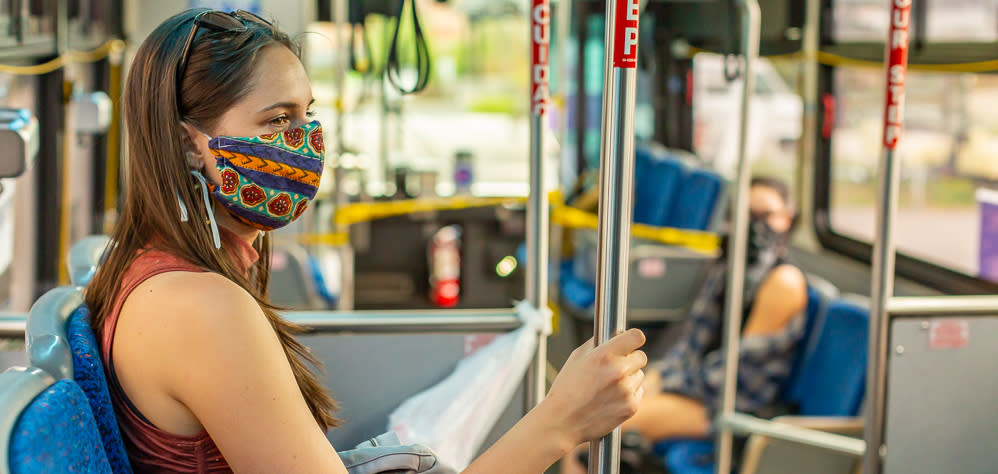 ​
Additional Tips
Ranger Cottage The Ranger Cottage at the Chautauqua Trailhead is currently closed, but there are rangers outside the cottage offering advice. 
Bathrooms The bathrooms at the Ranger Cottage are still open. Plus there are more porta-potties this year. The bathrooms beneath the Chautauqua Dining Hall are also open.
Stay on the trail and walk through mud. If needed, step off the trail to maintain distance. Please avoid stepping on vegetation. If possible, step onto a rock or a bare spot to let others pass, then step back on the trail.
Real-Time Trail Map This OSMP map is great for checking for real-time closures due to wildlife nesting or for other reasons. You can also see how busy your trail is rated with the colored dots. Zoom in to see specific trails more closely.