Go Fat Biking in Boulder
Crunching down a snow-packed trail through a hushed and stunning wintry landscape on a fat-tire bike (while your fair-weather buddies are stuck inside) will have you feeling like a superhero. The giant, cushy, nubby tires on fat bikes make it all possible — even in heavy snow and icy conditions (but all year-round, really). If you haven't tried it, it's a must. And if you have tried it, you'll love Boulder's trails.
Anything that helps Boulderites get outside regardless of weather gets a big thumbs-up from this outdoorsy town, so there are a growing number of ways to fat bike here.
Where to Rent
Are you a mountain biker ready to try fat biking, or maybe an experienced fat biker ready to see if Boulder's trails live up to the hype? You can rent your own fat bikes at these local bike shops.
Located downtown, U Bikes is staffed with longtime bike experts and enthusiasts. Rent on their website (just scroll down to "type of bike" and click on "Fat Bike").
With locations in north and south Boulder, the pros here will get you set up with ease. Rent online (select from various Giant Yukon models of fat bikes).
Want an extra boost? Try electric-assist fat bikes for riding in-town paths and roadways. Advance reservations required in winter (303-415-9999). Here are a few Boulder County trails that allow e-bikes.
You can easily rent a fat bike online from Full Cycle (click Reserve Your Bike Here and scroll down to the bottom where it says Fat Bikes). The friendly folks at Full Cycle will be happy to help with any questions.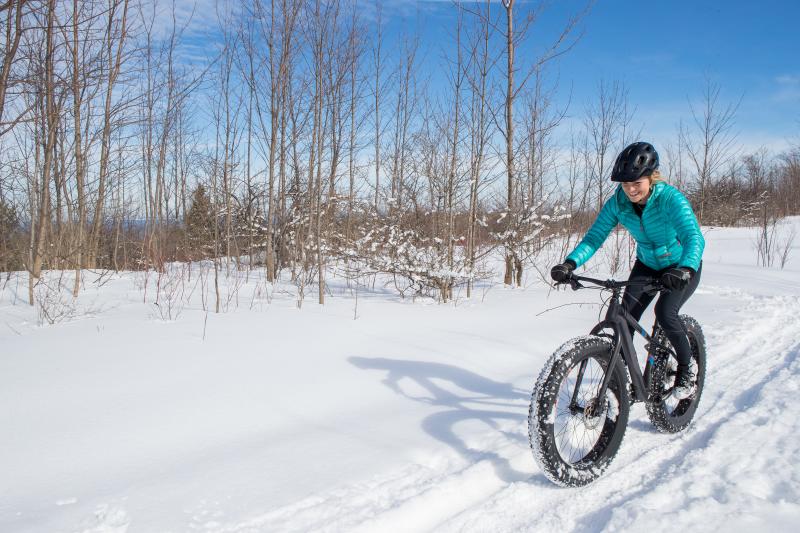 Shutterstock/Grogol
Where to Ride
These in-town paths and mountain biking trails are great for fat bikes in winter, or any time of year, really.
The 3-mile Sage Trail from North Boulder's Boulder Valley Ranch is relatively flat, but is a sight to see in winter, with sweeping vistas.
A sidelong view of the dramatically slanting Flatirons is one of the highlights on this large network of trails south of Boulder. Doudy Draw Trail itself is 2.2 miles, but 18 miles of mostly singletrack connect to it.
This 5.2-mile out and back is atop dirt road and is good if you don't have a lot of time, since it starts at the base of Boulder Canyon near downtown.
Near the town of Lyons, about 30 minutes from Boulder, is this beloved network of singletrack that's a delight to ride in winter on a fat bike. Keep an eye out for wildlife, particularly wild turkeys.
Fat Bike Night Rides
Boulder Mountainbike Alliance holds a fun and thrilling fat bike group ride — at night — in winter twice a month on Mondays. You'll need to bring your own bike, headlight, headlamp and warm gear. The rides happen in Peaceful Valley, about 50 minutes from Boulder. Get all the details here.

Guided Fat Biking Adventures
Prefer to let someone else wrangle the bikes and find the perfect trails? Each of the tours and excursions below is available in winter on fat bikes.
 
1561 S. Foothills Hwy

(720) 470-1627
Operated by: Front Range Ride Guides DESCRIPTION: Experience the mountain snow in a unique way. The famous mountain snow put Colorado ski country on the map. Get out and enjoy that Colorado snow in a unique way, with a custom guided winter fat biking tour! FRRG will get you out…
2512 Broadway

(303) 415-9999
Operated by: Pedego Boulder Visiting Boulder in the winter? Come try out electric bikes featuring fat tires for extra traction and flotation on snow and ice. This two-hour tour will cover some of Boulder's iconic parks and greenways without letting the snow slow you down. Whether…
985 34th St.

(720) 772-9659
Operated By: Beyond Boulder Bike Adventures Bike Terrain: flat, paved path away from traffic plus short distances on bike lanes along roads. Highlights: visits to inspiring local breweries and distilleries, views of the iconic Flatirons and even wildlife! Duration: 3-4 hours