Where to See Boulder's Fall Colors
Every fall, as the breezes off the Flatirons turn crisp and cool, Boulder's cottonwoods change from green to yellow, aspen leaves quiver and take on a brilliant golden hue, and maples become ablaze in fiery reds. Fallen leaves float down to be whisked away by Boulder Creek and the foothills glow with brilliant color. Boulder's fall colors offer a dazzling autumn show that's eagerly awaited every year, and we're happy to let you in on all the secrets to scenic drives, perfect fall hikes and colorful neighborhood walks.
The Best Dates for Fall Colors in Boulder
While the exact timing is different each year, the fall foliage in Boulder tends to be best Sept. 27–Oct. 25, and it's at its very best Oct. 5–20. If you want to capture that quintessential Colorado photograph of the golden trees against a snow-capped mountain peak, nearby Longs Peak usually gets its first snowfall around Oct. 5–20.

Fall Foliage Drives
Peak to Peak Scenic Byway
Come September, locals routinely ask each other, "Been up to see the colors yet?" And "up" almost always means west to the Peak to Peak Scenic Byway, famous for the colorful aspens lining the roadway. It's one of the best places to see fall colors in Colorado. In mid- to late September, this is your best bet for a spectacular fall drive. There are plenty of places to stop and explore, such as charming Allenspark, picturesque St. Malo Chapel, and Estes Park, a tourist destination in itself and a gateway to Rocky Mountain National Park (reservations required for entry through Oct. 10, 2022).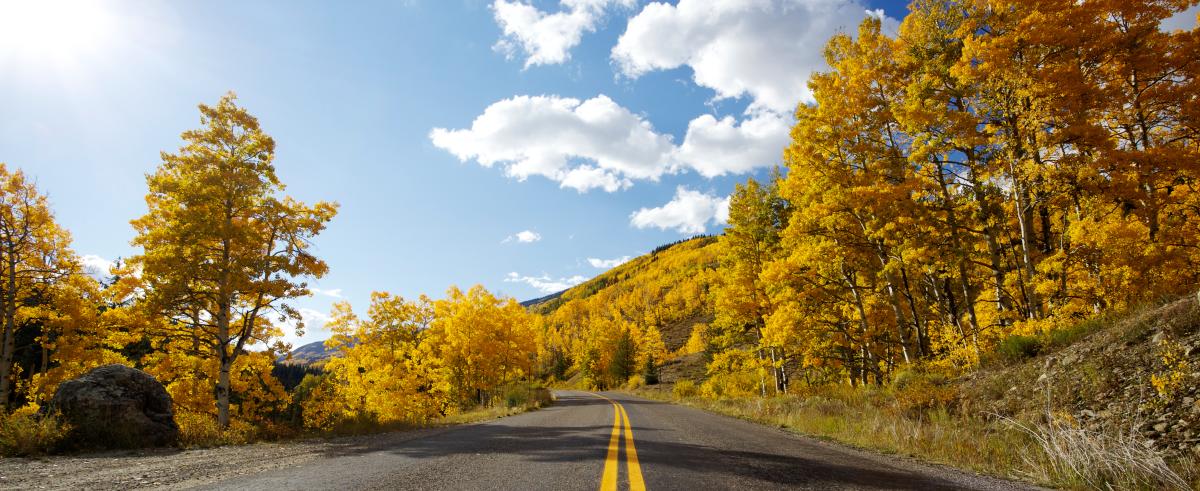 Pro Leaf-Peeper's Tip: Before you hit the road, stop by Le Frigo, Dedalus Wine Shop & Market or Lucky's Market in Boulder for picnic provisions, and make a fun day of it. 

Fall Foliage Hikes
McClintock Trail to Enchanted Mesa
A gentle trail with the good fortune of being at the foot of the famous Flatirons, McClintock is a popular one for families especially, although anyone would enjoy it. As the cottonwoods, willows and bushes along this leafy path change color, they perfectly frame the Flatirons for a stunning autumn view. Start the trail from the parking area south of the Chautauqua Auditorium. (Parking here fills up fast, but you'll find parking around adjacent Chautauqua Park or along Baseline Road.) From the McClintock Trail, you'll have access to the vast network of trails heading up into the Chautauqua hiking area.
Difficulty: Easy-Moderate
Distance: 1.6-mile loop
Trail Map
Where to Park (Fee)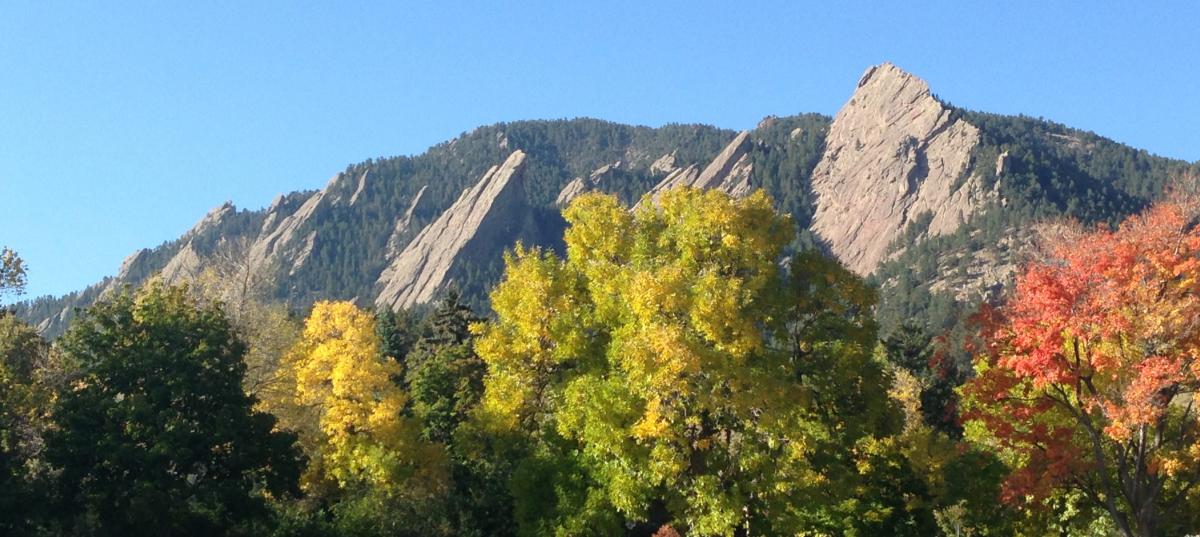 Pro Leaf-Peeper's Tip: Finish with lunch on the patio of the on-site Chautauqua Dining Hall for a cup of soup or a wild mushroom Flatbread, just right for a fall warmup.
Sawhill Ponds
The patchwork of 18 small bodies of water at Sawhill Ponds is teeming with waterfowl and wildlife. Best of all, this protected area is far enough east that you really get a zoomed-out panorama of the Flatirons, foothills and the snow-capped peaks just beyond. This is a particularly lush area, given all the water sources, and the profusion of deciduous trees means a big range of pretty fall colors.
Difficulty: Easy
Distance: 1.6-mile loop
Trail Map
Where to Park (No Fee)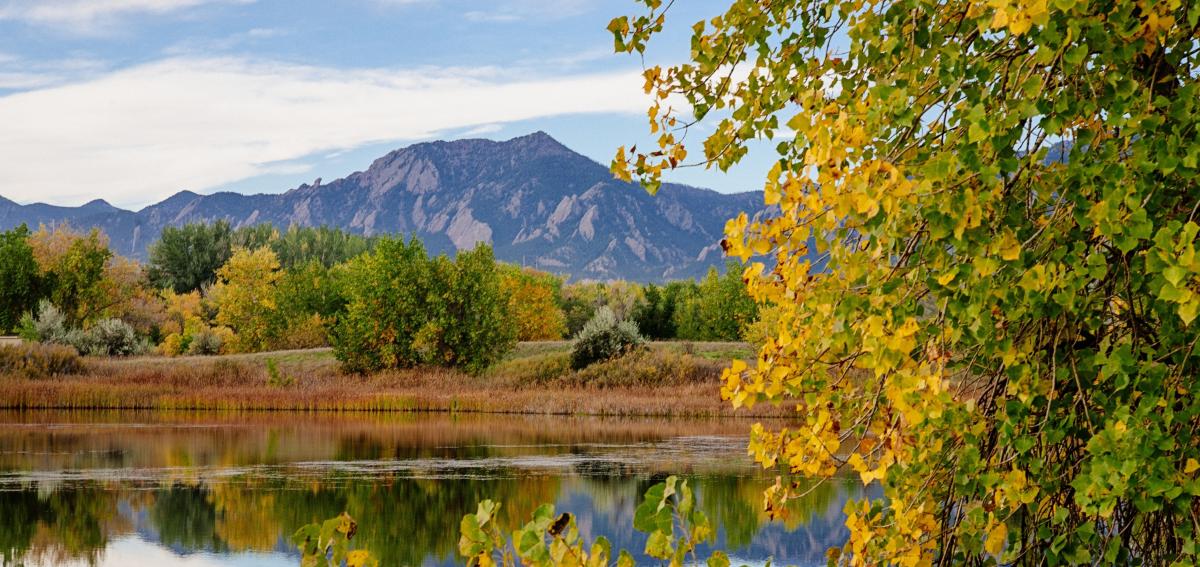 Pro Leaf-Peeper's Tip: Stop at the bird blind so you can watch migrating species without them detecting your presence.
Long Canyon
This lesser-known trail follows Upper Gregory Creek. So tucked away is it that it actually harbors a stand of ancient paper birches that survived the Ice Age. The narrow pathway is practically overcome with forest growth in sections and has the accompanying color changes perfect for a fall hike. You can start at the top (at Long Canyon Trailhead) and walk down and back, but we'd recommend parking at Realization Point and taking Ranger Trail for .2 miles before meeting up with Long Canyon. That way you tackle the uphill first and enjoy a leisurely downhill stroll as your reward.
Difficulty: Moderate
Distance: 1.3 miles
Trail Map
Where to Park (Fee)
Pro Leaf-Peeper's Tip: On the way up to (or down from) the summit of Flagstaff Mountain, where you'll park, pull off at Panorama Point for a view that takes in all of Boulder from above.
Eldorado Canyon State Park
A gem of a state park, Eldo is just 20 minutes from Boulder. It's something of a rock-climbing mecca, so be sure to look up at the canyon walls to see climbers in action. With South Boulder Creek running through the canyon, there's plenty of mature trees along the park's trails. Choose the Streamside Trail for a short, sun-dappled jaunt along the creek.
Difficulty: Easy
Distance: .5 mile
Trail Map
Where to Park (Park Entrance Fees Apply)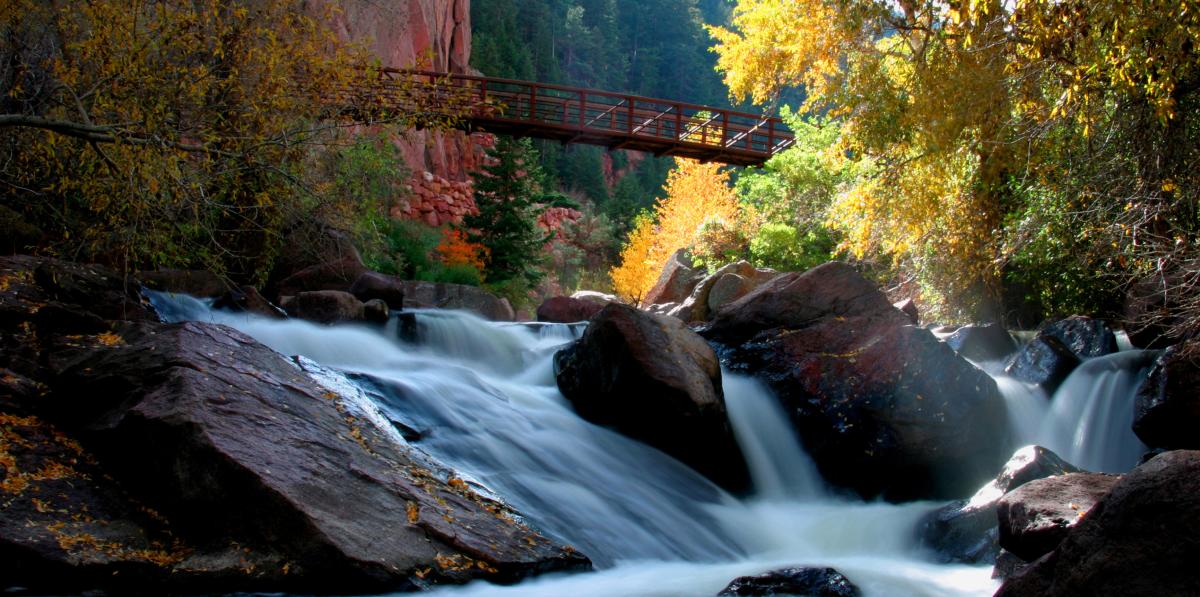 Pro Leaf-Peeper's Tip: On the drive into the canyon, you'll pass hillsides covered in sumac, which turn a deep burgundy red in autumn.
Fall Foliage Walks
Mapleton Hill
One of Boulder's most historic and beautiful neighborhoods, Mapleton Hill is positively luminous with fall color each year. Stroll Mapleton Avenue between Broadway and 4th Streets to admire the stately homes and old-growth trees.
Pro Leaf-Peeper's Tip: It's just a short walk to Mapleton Hill from Pearl Street's East End — full of coffee shops, boutiques and even a chocolaterie — so you can park once and explore on foot.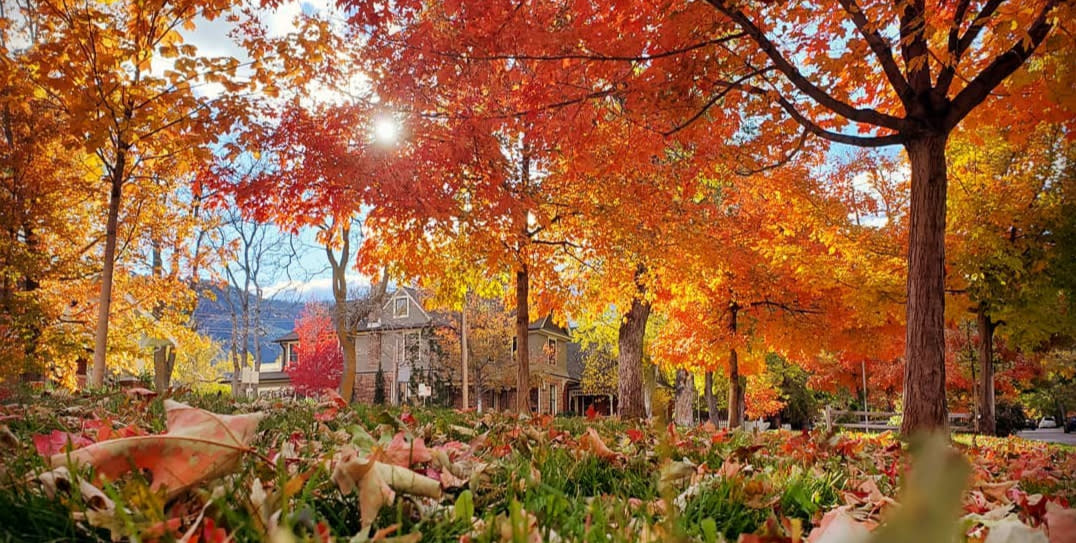 Photo: Courtesy Jinyang Du
Wonderland Lake
A gentle loop path at Wonderland Lake provides reflecting views of the golden cottonwoods, cattails and the Flatirons in the distance. The rolling hills at Wonderland Lake Park would be an excellent spot for a picnic.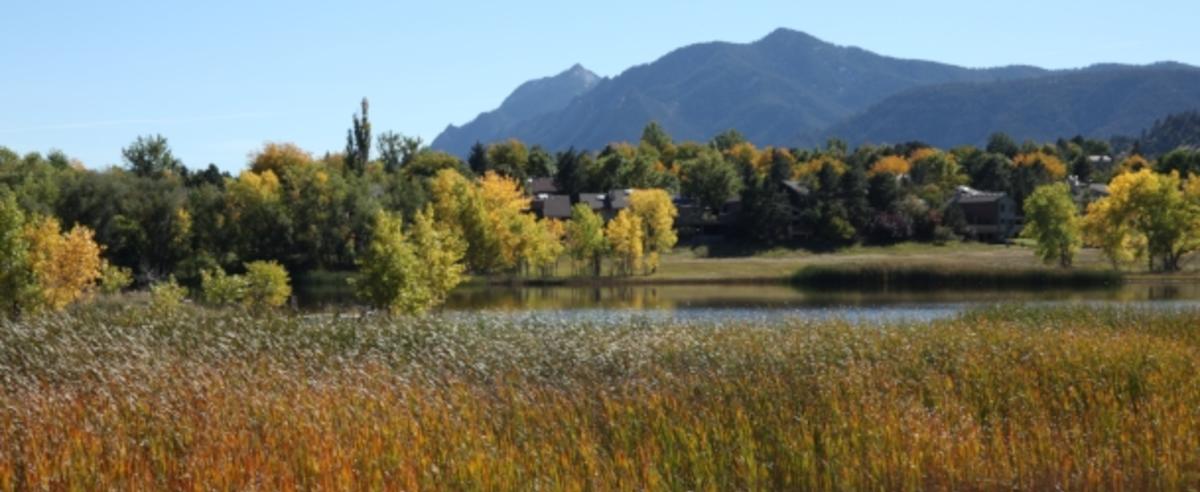 Pro Leaf-Peeper's Tip: Nearby is a ton of good food in Boulder's NoBo district: taquerias, pizzerias, trattorias and more abound.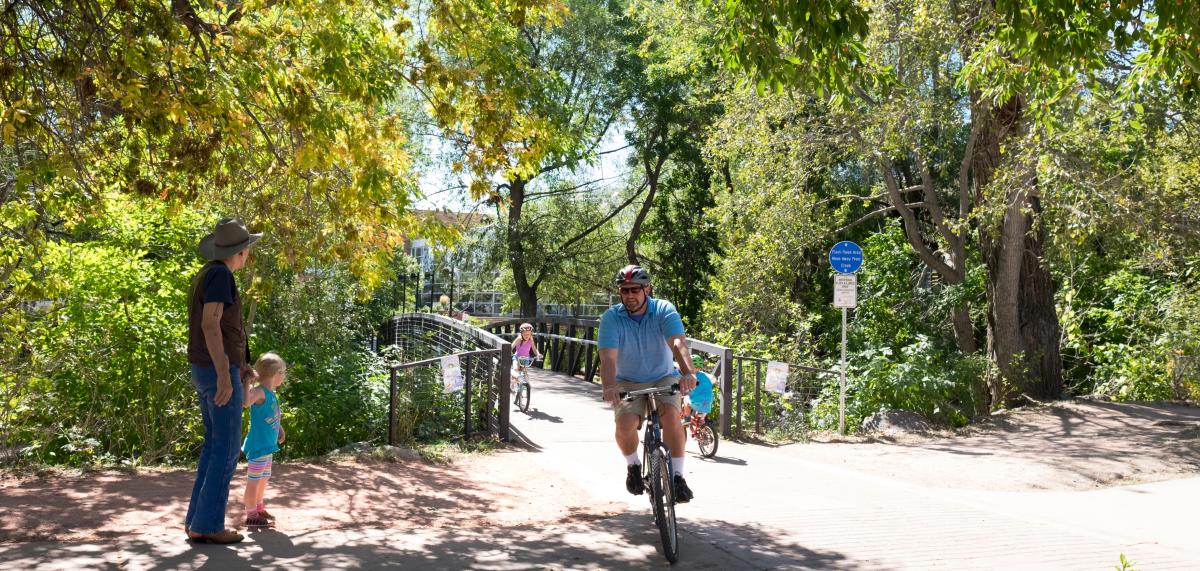 University of Colorado Campus
The red-tiled roofs of the CU buildings pair well with the scarlet and yellow fall foliage found throughout campus. A perfect place for a photo op is Varsity Bridge, which gracefully arches over a Varsity Lake. From here, you can stroll past the architecturally stunning Old Main and Macky Auditorium buildings and through Norlin Quad.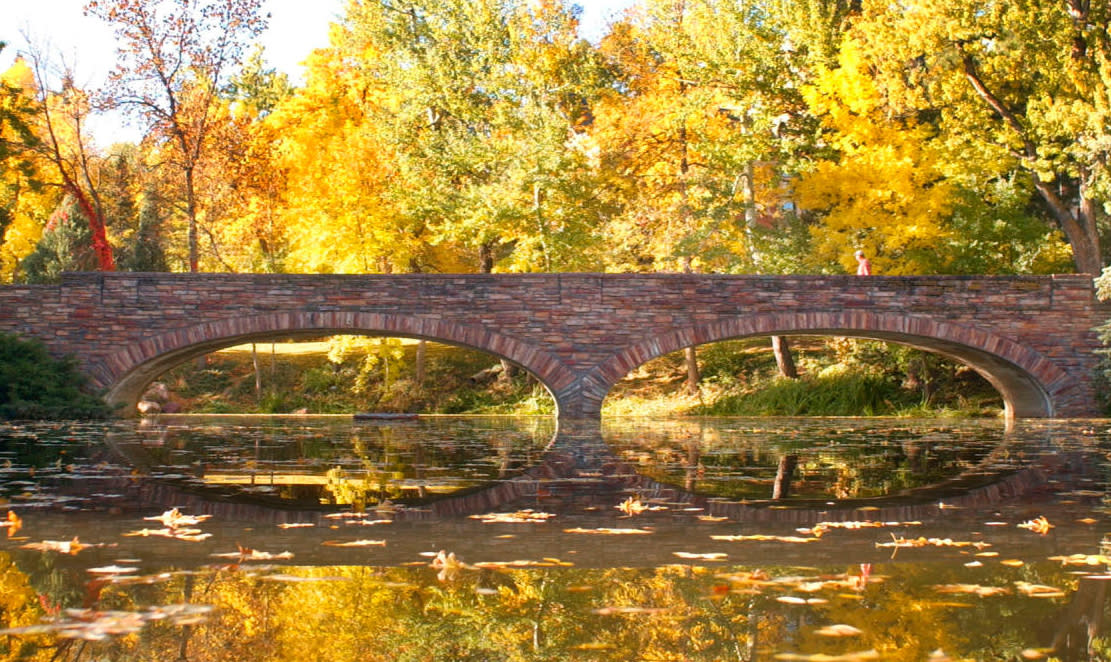 Photo: Courtesy University of Colorado
Pro Leaf-Peeper's Tip: Visit The Hill, the neighborhood closest to campus, to grab a bite to eat at The Sink or the many other eateries.