Boulder Coffee Shops
Boulder is brimming with college students, tech professionals, artists and entrepreneurs, so naturally, this town is highly caffeinated at all times! You'll find a coffee shop around every corner in Boulder, ready to cater to the laptop-and-latte crowd — and casual coffee connoisseurs, too.
Boulder was recently named one of America's hottest up-and-coming coffee cultures by Expedia and is tied with Portland, Ore. for coffee shops per capita. Below is a sampling of hot spots to get you started, but you could well make a grand tour of Boulder coffeehouses that would have you buzzing for days.
Chefs' Favorite
Working closely with farmers in far-flung regions, OZO Coffee has a well-deserved reputation in Boulder for its top-quality beans, precise roasting and flavorful brewing. In fact, many of the chefs we interviewed named OZO as a favorite way to start the day (with four Boulder locations to choose from). So well versed in the art of coffee roasting and brewing is OZO that their training lab is one of the few accredited by the Specialty Coffee Association of America. Men's Journal named OZO one of the Top 25 Coffee Roasters in America.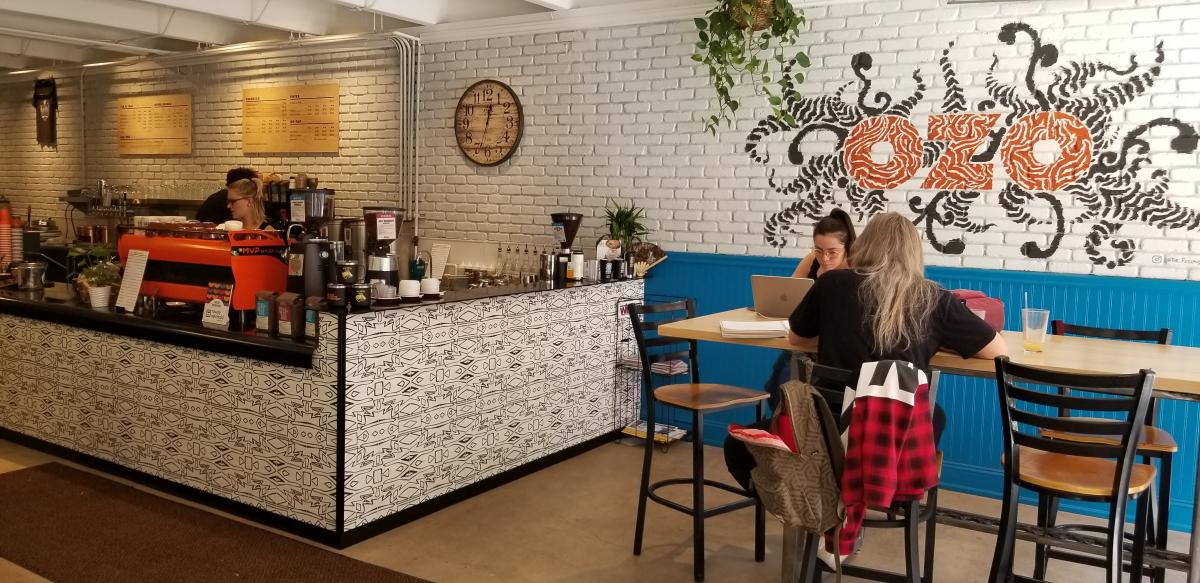 Coffee Artisans
Boxcar's chic space (shared with a gourmet deli) and the science-lab beakers and burners behind the counter clue you in right away to the fact that this coffee shop takes its craft seriously. Boxcar's knowledgeable baristas take their time creating the perfect cup, so don't expect to be slung a half-caff soy toffee macchiato in 10 seconds flat — it's just the basics here, and they are slowly, meticulously hand-crafted to perfection.
Also ranking as top "coffee nerds" with their knowledge about and passion for coffee making is January Coffee, located in central Boulder, close to Twenty Ninth Street. Sit downstairs, take in the Flatirons views and discuss the nuances of coffee harvesting with the owners, or head upstairs to the plant-filled loft to read in a bright, airy space. Speaking of plants, get your daily dose of quality caffeine along with a new houseplant (or four) at Terracotta on downtown's bustling Pearl Street. Not only do they know their coffee, the staff is full of true plant experts, and the space is divine.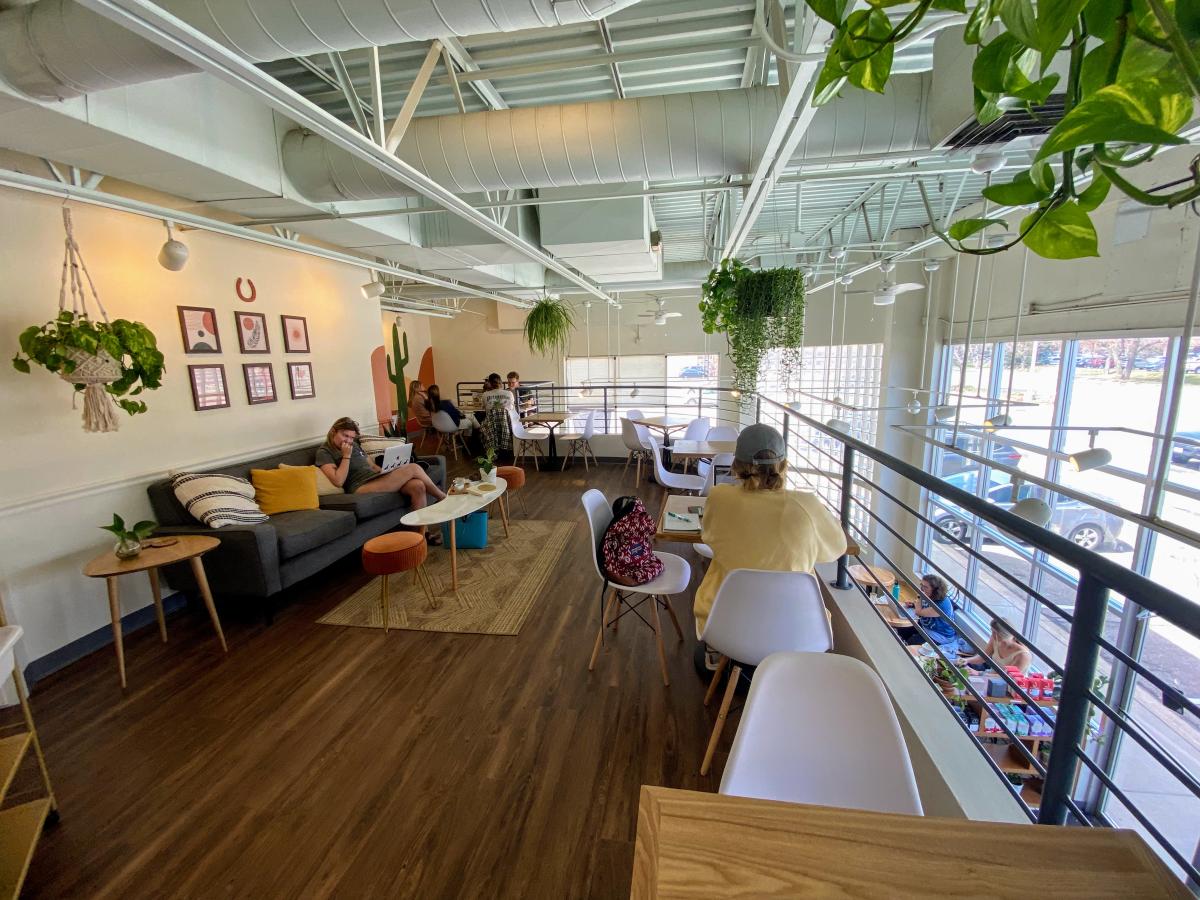 January Coffee
Fuel for Your Hike
In one of the cottages at Chautauqua (a historic district at the foot of the Flatirons) is this charming little shop. The General Store is steps away from Boulder's most popular hiking area, Chautauqua Trail Head, and serves up a mean latte, fragrant local teas, ice cream and other yummy treats, great for a pre- or post-hike pick-me-up.
Fresh-Pressed Goodness
The folks at Wonder are sticklers when it comes to only using the finest, most nutrition-packed ingredients in their smoothies, broths and bites. The same is true for their coffee drinks. This is the place to get your turmeric-rich golden latte,  bullet coffees and frothy cappucinos that use their house-pressed nut milks.
Sweet Synergy
Coffee and chocolate, anyone? Local chocolatier Piece, Love & Chocolate is stocked floor to ceiling with mind-blowing confections, and they also have a full espresso bar. Opt for a creamy-dreamy mocha, or forget coffee altogether and go all in with a cup of their famous sipping chocolate. If you'd like to add some carbs to the mix, grab a chocolate croissant with your café at Le French Café, which is run by a French native and is authentically delicious.
Prose and Coffee
Founded in 1979 by three Buddhist students, Trident Booksellers and Cafe is a longtime local's favorite. One side of the shop is warmly lit and filled with bookcases brimming with a well-curated selection of tomes, while the other is a cozy coffee shop perfect for reading your newest book purchase.
Coffee and Music
The Laughing Goat has a super-artsy vibe, with regular live music nights and poetry readings. Their Pearl Street location is a favorite local haunt, with a newer East Boulder location (affectionately referred to as Baby Goat) that's gaining popularity, too. 
Mountain Chic
Boulder tastemakers Lon and Lauren McGowan are the geniuses behind the Alpine Modern cafe in Boulder. The Hill location of their coffee shop was named one of The Best Places to Buy Coffee in the World by the Financial Times and they have a second location at Twenty Ninth Street. Stop in for scrumptious avocado toast and a finely crafted espresso drink. Another option: While Red Rock Coffeehouse is tucked safely inside an unsuspecting strip mall, the walls are covered in jaw-dropping nature photography and the super-friendly staff is always a breath of fresh air.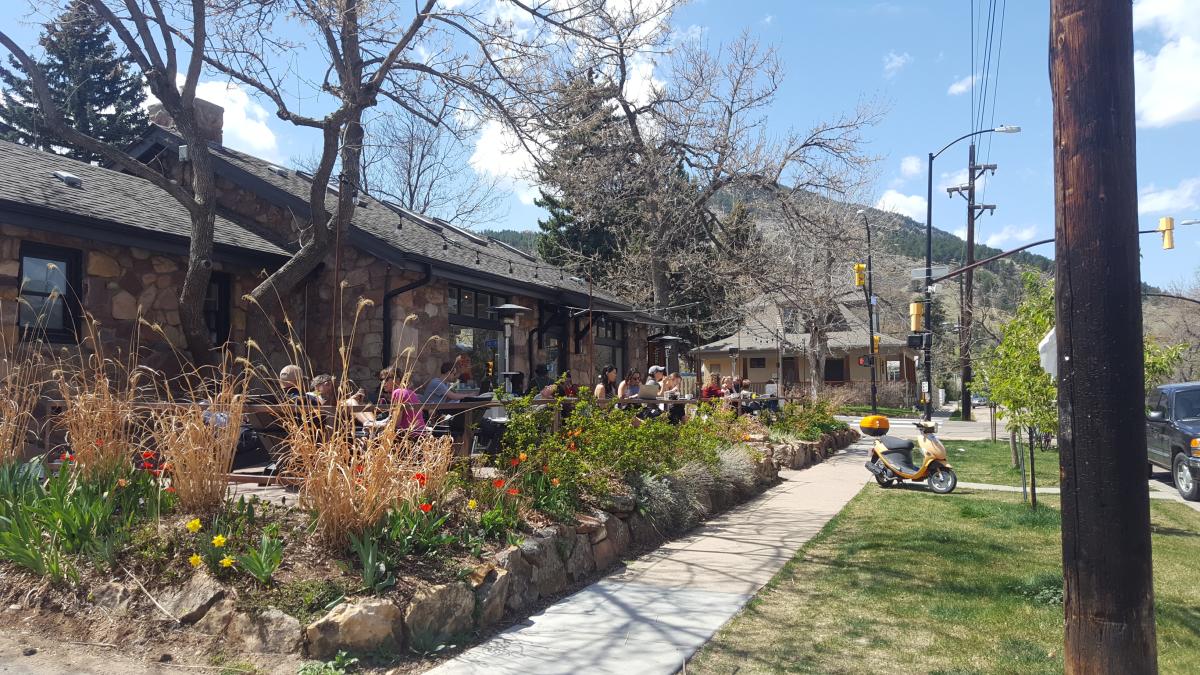 Baked and Brewed
A happy marriage of Colorado-roasted coffee and insanely delicious baked goods (you've gotta try the Old B. cookie) make this tiny shop on the West End of Pearl Street a go-to for neighbors and those finishing hikes in the nearby foothills. Kick back in Spruce Confections' lovely courtyard on a sunny day and enjoy the people watching. There's a North Boulder location to explore, too. Coffee shop and artisan bakery Dry Storage is on a mission to change the way people think about grains. Through heirloom, organic and regenerative practices they bring tasty and healthy baked goods to their menu, along with all the coffee standards and favorites.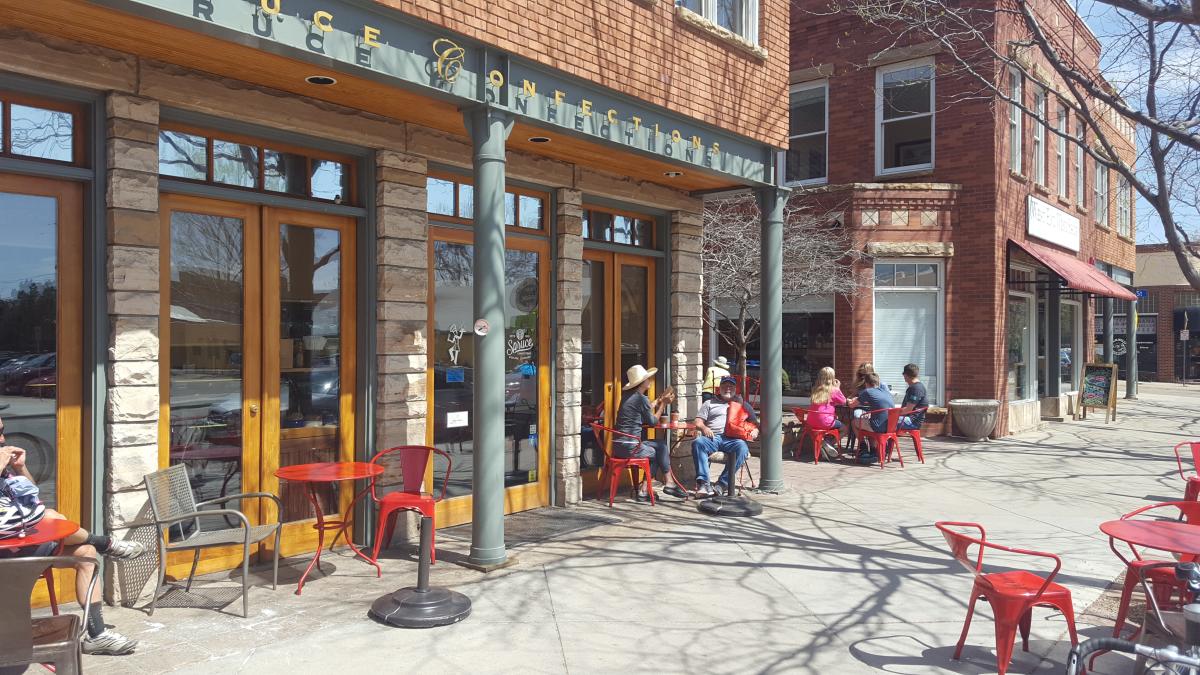 Bike-and-Coffee Combos
Two shops are helping keep Boulder's avid cyclist population caffeine-fueled, outfitted and repaired: Stop into Full Cycle to rent a bike for a cruise around town, to shop some killer bikes, or for a tune-up in their repair shop. Then get your head right with coffee from their Tune Up Taproom and Espresso Bar. On Pearl Street is Rapha, a high-end bike shop with a quiet atmosphere, great takeaway coffee and sick gear — plus check their impressive roster of weekly group rides. In North Boulder, Amante Coffee is particularly popular with Boulder's avid cyclist community, too. There's a Wednesday morning bike ride that leaves from (and returns to) Amante every week. Maybe there's something about an Italian-roasted espresso (the owners import beans direct from Northern Italy) that gives Boulder's bikers extra pep.
Worldly Brews
Gabee Coffee, named for gabee or gabi, the South Korean word for coffee, was opened by South Korean coffee expert Mr. Chae, who has trained several champion coffee baristas and roasters back in his home country. Gabee's beans are roasted in house, with unique lattes on offer, such as the cherry blossom latte. Check out their latte art on Yelp! Over at Brewing Market, next to the old favorite McGuckin Hardware, you can enjoy a traditional Turkish coffee pour-over, made in beautiful copper pots and served in delicate ceramics. At Beleza Coffee Bar (Beleza is pronounced 'bell-ay-za' and is a Portuguese word for 'beauty'). Try the yerba mate latte or a full range of standard espresso drinks.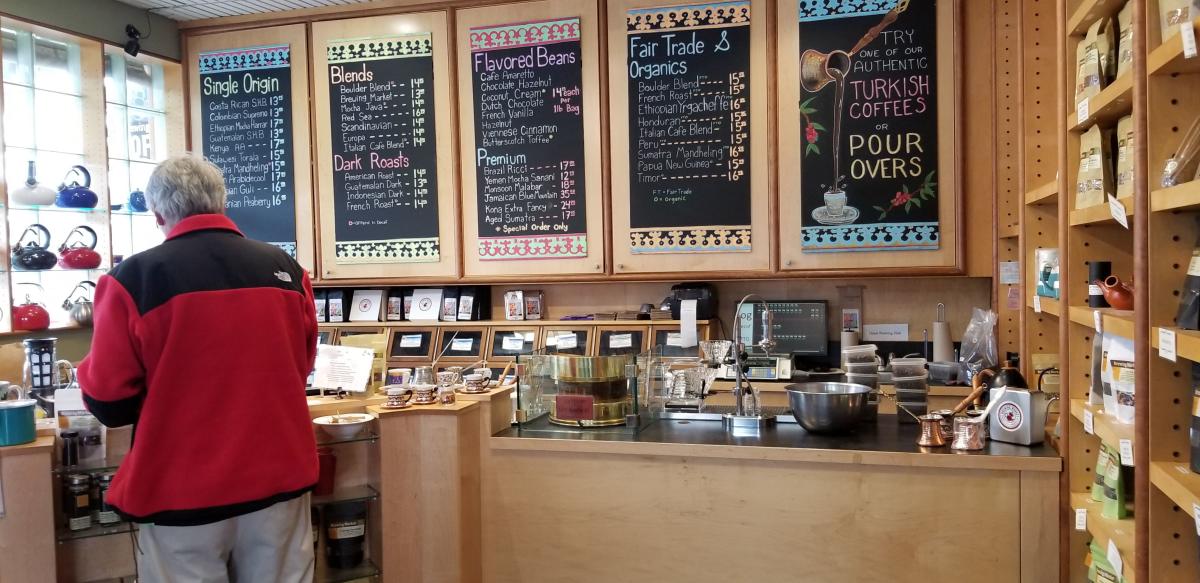 Coffee with a Cause
Ampersand Coffee Roasters, located in Boulder's Gunbarrel neighborhood, makes an effort to source all their beans from women-owned or -vested farms and co-ops with the goal of empowering female workers in coffee-producing companies. Call to visit their tasting room and lab, or to learn the art of espresso pulling, pour-overs and cupping at one of their regularly scheduled classes. Boulder's own Conscious Coffees is making an impact, too. They are a Certified B Corp, which means that social and environmental contributions are as important as profits. You can taste Conscious Coffees at Tod's Espresso Cafe in the Gunbarrel area, a cozy neighborhood shop. McDevitt Taco Supply has a grab-n-go coffee shop, heady coffee co., which also serves Conscious Coffees (add a CBD infusion if you'd like) along with McDevitt's own tasty breakfast burritos.
Caffeine with a Side of Creativity
Tucked away in the heart of the North Boulder (NoBo) Arts District you'll find Verb Coffee Roastery and Cafe (hot tip: get the cold brew). Look out for their sign on the north side of the large cluster of bright teal industrial buildings, where you can grab your coffee in their cool, sleek cafe and then peruse the grounds. Just a short stroll and you'll find all sorts of hidden gems — artists working away in their studios, a few under-the-radar galleries and art stores, an antique furniture shop and more.
A Shout Out for Tea Drinkers
Did you know Boulder is home to a hand-carved Persian teahouse, North America's largest tea factory that you can tour, and a pretty serious tea obsession, in general? Get more information on this Tea Tasting in Boulder page.