How Your Group Can Give Back in Boulder
More and more, groups are using their time at a retreat, conference or meeting to band together for the good of the community. Such volunteering opportunities often are a great complement to organizations' corporate social responsibility (CSR) goals, and just as importantly, they help your group bond over a common cause and give greater meaning to your gathering.
A perfect fit in Boulder. Boulder is full of like-minded souls for whom marrying business with giving is second nature. In fact, Boulder has the highest per-capita concentration of B Corps in the nation. Those are companies where environmental conservation and social responsibility are equally as important as revenues. Plus, a large number of nonprofits means a broader range of group opportunities.
Colorado Wilderness Corporate and Teams
The folks at Colorado Wilderness Corporate & Teams are long-time pros in bringing groups together in the Boulder area. They will design a community program specific to your values and philanthropic preferences. Past projects have included assembling bikes for kids in need (with team competitions built into the activity), building prosthetic hands for people around the world who cannot afford the devices, trail maintenance gamified to become team adventures and community service projects that suit your group. CBST Adventures, another branch of Colorado Wilderness Corporate & Teams, has additional community impact options. Ask about custom ideas at info@cwrag.com. 
Group size: 10-350+
There With Care
Boulder-headquartered There With Care supports families with critically ill children. Visiting groups can assemble care bags and other items, like bundles of books, LEGO kits and no-sew blankets, to be sent out to families. Projects vary based on the interests and size of the group. Email sophie@therewithcare.org for more info.
Group size: 2-15
Growing Gardens
Growing Gardens is a local farm located in downtown Boulder, with space dedicated to community gardens, a goat dairy, horticultural therapy, and teen and children's programs. They're focused on sustainable agriculture education and empowerment, which makes their activities a great fit for groups. Depending on your group's size and time allotted, volunteer activities could include farm chores, gardening tasks, caring for animals and more. Email carly@growinggardens.org to schedule.
Group size: 5-60
City of Boulder Open Space and Mountain Parks (OSMP)
In 1967, Boulder became the first city in the U.S. to tax itself for the express purpose of acquiring and managing open space. Today, Boulder has acquired more than 46,000 acres of protected land. A network of volunteers helps maintain this beloved terrain. Volunteer programs are available to corporations and groups and may include climate change action, restoration, trail building, agricultural projects, ditch maintenance, vegetation management, forestry projects and seed collections. You can request a project through the city's volunteering program. 
Group size: 5-50
City of Boulder Parks and Recreation
Volunteer with the City of Boulder to help improve and beautify our parkland (Boulder has more than 1,800 acres of urban parks!). Groups can help clean up litter, weed and garden, and do other important tasks around Boulder. Request a project for your group. 
Group size: 5-50
Boulder Bridge House
Bridge House provides programs and services to help adults experiencing homelessness have access to resources for a better future. Their programs span from assisting with basic needs to employment and housing
Group size: 5-50
Boulder Shelter for the Homeless
The Boulder Shelter for the Homeless provides safe shelter, food and support services to more than 100 people year-round. Volunteers are needed to cook, prepare and serve meals on an ongoing basis.
Volunteers for Outdoor Colorado 
Volunteers for Outdoor Colorado relies on thousands of volunteers annually for outdoor stewardship projects. For corporate teams, VOC can customize a "Stewardship with a Team" (SWAT) project based on your group's needs. Projects may include existing trail maintenance, new trail construction, ecological restoration, park and open space improvements or other areas of need. Please note that these SWAT projects require a minimum donation to address the additional coordination, logistics and supplies needed. Start planning your corporate team building by filling out an application.
Group size: 15 and up
Harvest of Hope Pantry
Harvest of Hope Pantry provides healthy food to Boulder families and individuals in need of assistance. Occasionally, the organization recruits small groups to help with a variety of projects including repackaging bulk foods, bagging lunches, stocking and organizing donations and more. Email outreach@hopepantry.org for more info.
Group size: 6-8 people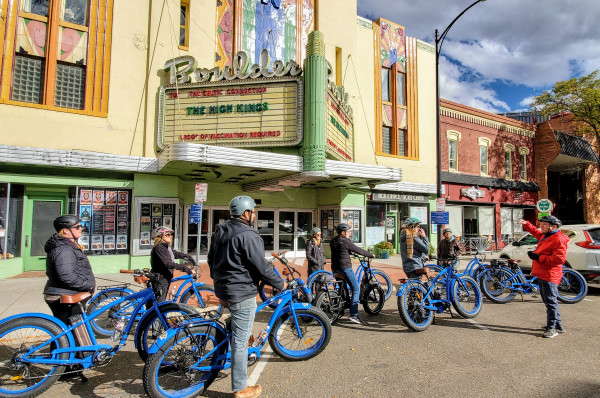 Our Visit Boulder team is here to answer questions and connect you to the right activities, venues and hotels!

Contact Us

Angela "Fig" Wirkler, CMP

Director of Group Sales

Lindsey Rohrbaugh

Group Sales Manager

Natalie Cutter

Group Sales Manager