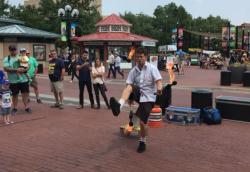 Stacy Nick
KUNC
August 30, 2017
For Jeff West and his family, a stop in Boulder is a must when they visit from Chicago. That stop always includes the Pearl Street Mall for some shopping, some dining and some unique entertainment.
"We're looking for a guy who folds himself up into a clear box," West said.
That may sound strange unless you're familiar with one of Pearl Street's longest running tenants. Up the mall, about 50 people gathered around Ibashi-I while he artfully folded his 6-foot tall, 160-pound body into a 20-by-20-inch clear, plastic box.