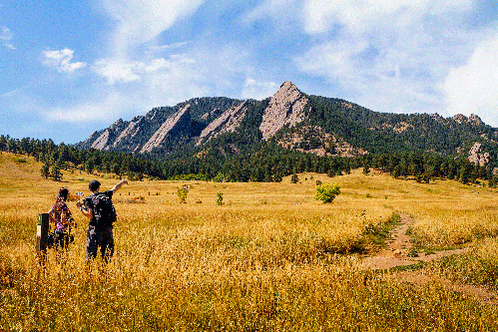 Photo Credit: Denise Chambers
Just About Travel
Irene Thomas 
In what other small city of just under 100,000 would you find an outdoor Shakespeare Festival, over 1,300 live music performances annually from a Philharmonic Orchestra, a Chamber Orchestra and a Symphony Orchestra as well as gorgeous mountain hikes just moments from downtown, fabulous rock climbing, snow sports and world-class cuisine?
Boulder, Colorado, once called the "Athens of the West," is so much more than the 60's hippie image that many people still believe is true. This progressive, urban playground, just a 45-minute drive from Denver International Airport, is situated at the base of the Rocky Mountains, beside the banks of a rushing creek and alongside a lush green valley, framed by the spectacular Flatirons rock formation.
Boulder is known for its diverse, eclectic populations - throw-back hippies, students at Naropa (a Buddhist-inspired liberal arts university,) yoga practitioners, IT geeks, extreme athletes, environmentalists, scientists, academics (home to University of Colorado,) musicians, dancers, poets and foodies. Those funny-looking Crocs shoes were invented here, and the irreverent "South Park" series was created by two film students at the University of Colorado. Somehow, the varied groups all get along in Boulder, sometimes referred to as a "New Age granola" town. Indeed, now there even IS such a thing as Boulder Granola, and it's tasty!